National Football League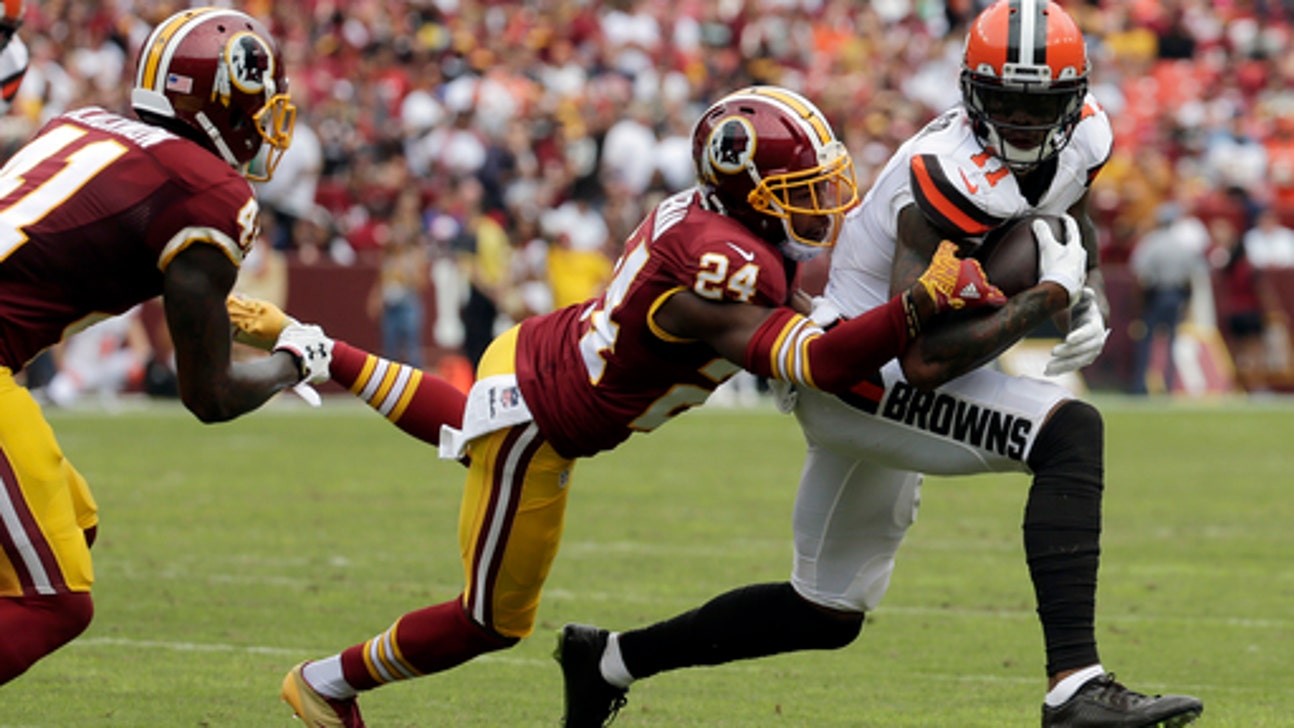 National Football League
Washington CB Josh Norman proving worthy of hefty contract
Published
Oct. 7, 2016 3:33 p.m. ET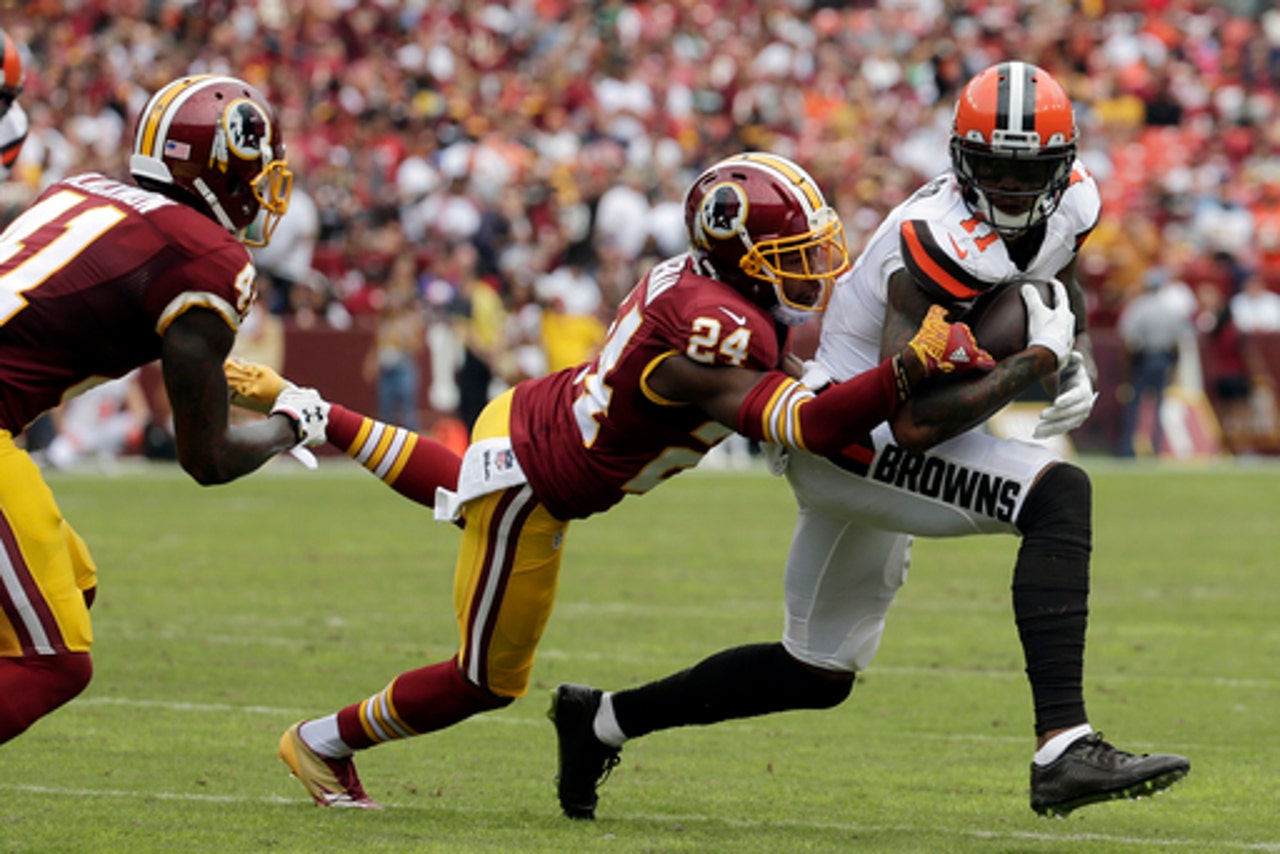 ASHBURN, Va. (AP) Steve Smith doesn't see the same Josh Norman everyone else sees.
The veteran Baltimore Ravens receiver remembers the young cornerback he'd always run into in the film room back when they were Carolina Panthers teammates, the man he considers ''almost like a little brother.'' Smith knows Norman has become ''a top-tier, elite, All-Pro, Pro Bowl'' cornerback - one the Washington Redskins are thankful they picked up when the Panthers relinquished the franchise tag and let him go.
It's difficult to imagine where the Redskins would be a quarter of the way through the season without Norman, whom they signed to a $75 million, five-year deal in April. As injuries have decimated the defense and especially the secondary, Norman is among the NFL leaders in passes defensed and had a key interception against Cleveland to help Washington improve to 2-2.
''That was the reason we brought him in because he's always around the ball,'' coach Jay Gruden said. ''He makes plays. He's forced fumbles, he's recovered fumbles, and he's got a big interception so far in four games. He makes his presence felt, presence known. That's why we went out and got him.''
Norman is proving his value as a shutdown cornerback and will be tested again Sunday against Smith and the Ravens in Baltimore. Whether Norman matches up against Smith or Mike Wallace, the onus is on him to make plays, especially with No. 2 cornerback Bashaud Breeland out for a second consecutive week because of an ankle injury.
Smith, now 37, doesn't pay attention to the TV specials or magazine articles that have increased Norman's national exposure. But he's noticed the 28-year-old's rise as one of the more imposing defenders in the game.
''I mean, he's a Pro Bowler. That's self-explanatory,'' Smith said. ''He wasn't a Pro Bowler when he first came on the scene. He was a guy, like every other young guy, trying to figure out which way is up. He's developed into the player that he is.''
Norman, an All-Pro who helped get Carolina to the Super Bowl last season with four interceptions, believes he's still developing and adding new skills each season to keep opponents off guard.
Smith won't be caught off guard by Norman or vice versa. ''Epic'' practice matchups in 2012 and 2013 made each player better, as Norman said he learned from their on-field tussles.
''Every time you're out there is a time to get better, every play,'' Norman said. ''There's not a time to take off because he's going to be hunting to get one up over you, and when he does, he's going to let you know about it. For me, I know I've just got to be smart and be keen and cunning.''
Norman has talked the talk against a receiver known for trash-talking as much as he does. Smith said jokingly that the Ravens wouldn't put him up against Norman, a preemptive jab that Norman brushed off because he's relishing the chance to resume this one-on-one rivalry.
''A lion against a lion, a dog against a dog, a beast against a beast, man,'' Norman said. ''His will imposing upon mine and mine imposing upon him and trying to edge out and see who can get the best of each other that day. It was always a trying to steal your food, eat your food, take your dog plate kind of matchup. It was fun and it was definitely challenging. I know what I face when I get him.''
Opponents know what they face in Norman, who's tied for second in the NFL with nine passes defensed. Quarterback Joe Flacco could look long and hard to the other side and throw at fill-in starter Quinton Dunbar as part of Baltimore's plan.
''There's a significant number of weeks during the year that you go against a top-level corner like Josh,'' Ravens coach John Harbaugh said. ''You have to always account for those guys. Those guys are the guys that can turn the game and they do it. You have to try to figure out ways to not let that happen.''
Notes: In addition to Breeland, CB Dashaun Phillips (hamstring), LB Su'a Cravens (concussion) and WR Josh Doctson (Achilles) are out Sunday. ... Doctson won't go on injured reserve yet, Gruden said, even though the first-round pick has been bothered by the sore Achilles tendon since May.
---
AP NFL website: www.pro32.ap.org and www.twitter.com/AP-NFL
---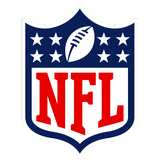 Get more from National Football League
Follow your favorites to get information about games, news and more
---