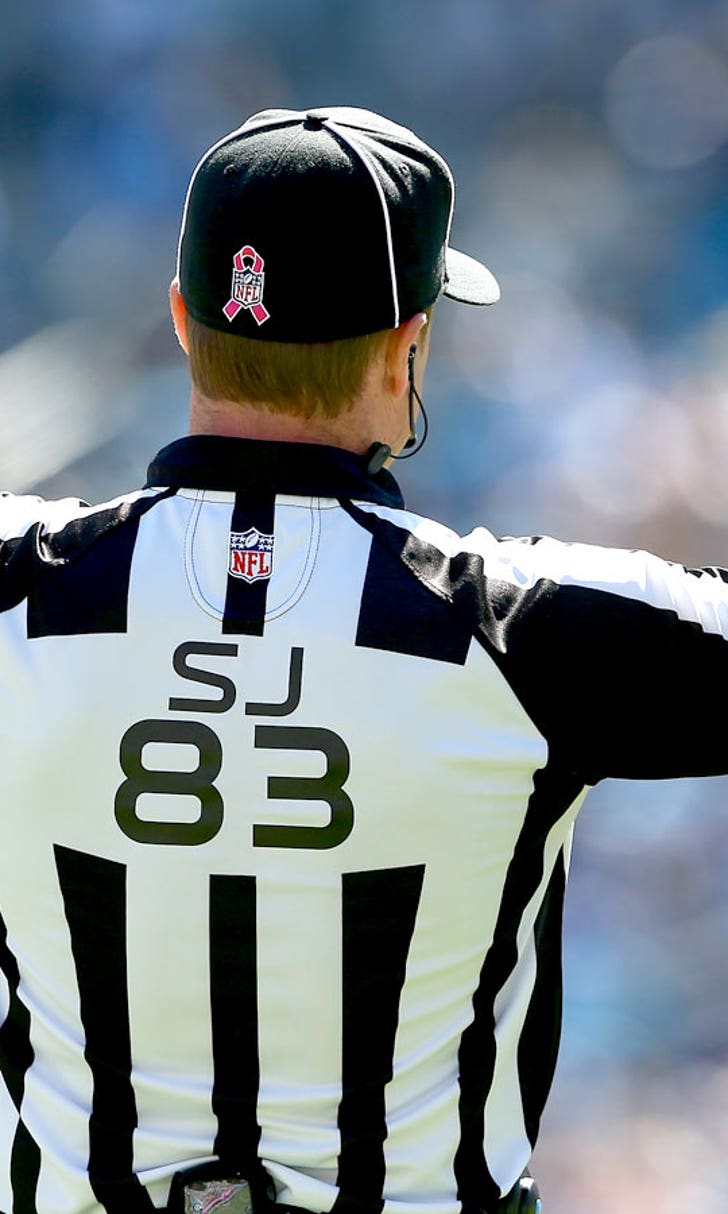 Unofficially official: Mike Pereira previews Week 15 on FOX
BY foxsports • December 14, 2014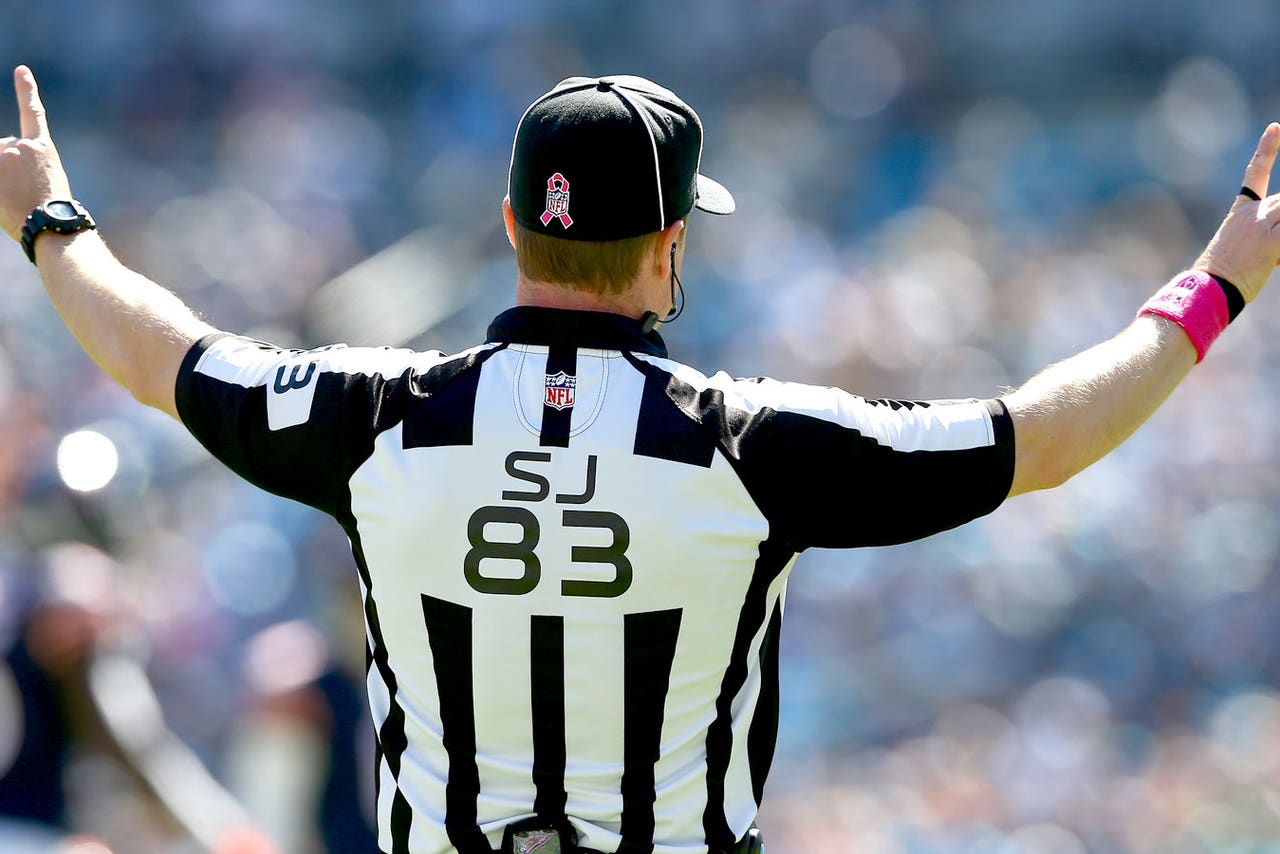 Here's a viewer's guide to what you need to know about the referees and their crews who are calling today's games on FOX.
The early games are highlighted by Johnny Football's NFL debut as a starter as Johnny Manziel will be at the helm for the Cleveland Browns, who take on the Cincinnati Bengals. The late games are headed up by the defending champion Seattle Seahawks hosting the San Francisco 49ers.
CINCINNATI (8-4-1) AT CLEVLEAND (7-6), 1 PM  ET
Referee: Walt Anderson. Walt is a retired dentist who lives in Sugarland, Texas. He is the current coordinator of officials for the Big 12, whose crew will work the National Championship game this season. He has worked two Super Bowls, one as a line judge and one as a referee.
Anderson's crew: They call the second-most fouls in the NFL, trailing only Carl Cheffers' crew. These teams better keep their hands down. This crew calls far and away the most illegal use of the hands penalties. Anderson himself is the league leader in roughing the passer calls. If I were these coaches, I would warn my defense to be very careful around the QBs. Interesting, Johnny Football's first game as a starter and he gets the ref that protects the QBs more than any other referee.
Notes on Cincinnati: The Bengals have not been called for roughing the passer. On the other hand, they are tied for the NFL lead in unnecessary roughness calls with the Bears. No other categories jump out. Coach Marvin Lewis has challenged five times and won four.
Notes on Cleveland: The Browns are the fifth-most penalized team in the NFL. They are second to Tampa Bay for most holding calls. Nothing else stands out. Coach Mike Pettine is 2-for-4 on challenges.
WASHINGTON (3-10) AT NY GIANTS (4-9), 1 PM ET
Referee: Jeff Triplette. Jeff is in his 19th season.  He entered the league in 1996 and became a referee in 1999. A little-known fact is that he is a retired Army Reserve Colonel. He was awarded a Bronze Star for his actions in the Persian Gulf.
Triplette's crew: They have called the fewest false starts (16). Not sure what that means, but eight crews have called twice that amount or more.  As far as total fouls, his crew is right in the middle at 16.24 per game.
Notes on Washington: Not much has gone right for the Redskins this season except this they have been called for the fewest number of defensive holding calls in the NFC (four). Kansas City is the only team with less. Arizona and Atlanta have been called for 14. Nothing else penalty-wise is worthy of note. Washington is the eighth-most penalized team in the NFL. Jay Gruden has challenged more plays than any other coach in the league: He has challenged eight times and won once.
Notes on New York:  Ditto for the Giants on how the season has gone. However, the Giants have committed the second-fewest penalties in the NFL; only Kansas City has committed fewer. But the Giants have been called four times for illegal contact, which puts them in about the middle. The really interesting thing about it is that all four calls came in Week 2. It was not Triplette that worked that game. The Giants are one of five teams that have not been called for roughing the passer.
GREEN BAY (10-3) AT BUFFALO (7-6), 1 PM ET
Referee: Bill Leavy. Bill is a retired firefighter from San Jose, Calif. He came into the League in 1995 and is in his 20th season.
Leavy's crew: Leavy's crews are generally a low penalty group and are right in the middle this year. This crew has called the fewest illegal contact fouls (two). To give you some context, John Parry's crew has called the most illegal contact fouls with 14. Nothing else stands out.
Notes on Green Bay: With one of the best records in football, you would expect the Packers to be one of the best in the penalty department -- and they are. Green Bay has been called for the fourth-fewest penalties in the NFL out of 32 teams. The Packers are also disciplined, since they have been called for the second-fewest false starts (only Jacksonville has less). Will Mike McCarthy ever win a challenge? He has tried four times and has yet to win.
Notes on Buffalo: Nothing much about the Bills, except they need to stay onside. They lead the NFL in offside calls. Although they really don't show up in any other foul category, they are the fourth-most penalized team in the NFL. The one good note is that coach Doug Marrone has challenged five times and has won three. 
TAMPA BAY (2-11) AT CAROLINA (4-8-1), 1 PM ET
Referee: Ron Torbert. Ron came into the league in 2010 and this is his first season as a referee.  He came out of the Big Ten. He is an attorney and graduated from Michigan State. He is a good man with a bright future. I really liked the way he handled himself as a referee in the Big Ten. He has a ways to go at this level, but he will make it.
Torbert's crew: This crew likes to throw the flag. Through Week 14, they lead the league in offensive pass interference and unnecessary roughness calls. They are making up for lost ground in offensive holding calls, calling 10 in the last two weeks. They had Carolina/Pittsburgh in Week 3 and they called 25 fouls. Now they have Tampa Bay, the team that has been called for the most penalties. There's a good chance you might be seeing a lot of yellow today.
Notes on Tampa Bay: This crew will have had the Bucs two weeks in a row. The Bucs were only called for six fouls last week, which was a lot better than the previous four weeks when they were called for 13, 12, 12, and 16.
They are still the most penalized team in the league, including being the only team averaging 10 or more fouls per game. They hold! The Bucs have been called for the most offensive holding penalties in the NFL. About the only thing that's gone right for the Bucs is that Lovie Smith has challenged six times and won three. 
Notes on Carolina: Will Riverboat Ron Rivera ever win a challenge? The coach is better on fourth-down calls than he is on challenges He is winless in four attempts. Carolina commits a below-average number of penalties.  The Panthers rank 25 out of 32 in total penalties called and nothing stands out in any particular foul category.
SAN FRANCISCO (7-6) AT SEATTLE (9-4), 4:25 PM
Referee: Ed Hochuli. Ed is in his 25th season in the NFL, 23rd as a referee. He's worked in two Super Bowls.
Hochuli's crew: This will be the crew's second game in Seattle this season. That is unusual. They had the Raiders in Seattle in Week 9. Normally, a crew never goes to the same site twice in a season. When I was VP of officiating I never allowed that to happen. Their crew calls the fourth most penalties in the league. And pay attention here, folks: This crew is tied for the league lead in false starts. Why is that important? Read on...
Notes on San Francisco: Hold on your ear plugs, because the Seahawks' "12th man'' will probably be a factor for the 49ers as they lead the NFL in delay of game penalties. Colin Kaepernick has struggled in this area and playing in Seattle will probably only add to that. The Niners are one of only two teams that have yet to be called for offside, the other being the Falcons. A few of the other categories the 49ers would rather not lead in: San Francisco leads the NFL in illegal contact calls and the 49ers are tied with the Raiders for the league lead in offensive pass interference calls. The 49ers also lead the NFC in illegal use of hands calls and are second in the NFL, pretty much summing up their season so far. Coach Jim Harbaugh has never been the best at challenges and is only 1-for-6 through 14 weeks. 
Notes on Seattle: Seattle leads the NFL in false start calls, which is a bit surprising to me.  Like I mentioned before, Hochuli's crew is tied for the lead league in false starts calls, so today could be interesting. The Seahawks have yet to be called for roughing the passer, but are the sixth-most penalized team in the NFL. Coach Pete Carroll is 2-for-6 in challenges.
MINNESOTA (6-7)  AT DETROIT (9-4), 4:25 PM ET
Referee: Pete Morelli. Pete came into the League in 1997. He is high school principal at St. Mary's in Stockton, California, and graduated from St. Mary's College in Moraga, Calif. His father and uncles were officials and at one point in Stockton, and it was not unusual to see a four-man officiating crew made up of all Morellis. Pete has worked one Super Bowl as a side judge.
Morelli's crew: His crews have not been known over the years to call a lot of fouls. He is a laid-back guy and his crew seems to be prepared the same way. So far this year, this crew has called the fifth-fewest fouls out of the 17 crews. Not surprisingly, they are not near the top in any foul category.
Notes on Minnesota: The Vikings are in middle of the pack in terms of total penalties. Nothing stands out in any penalty category. Coach Mike Zimmer has challenged three times and won one.
Notes on Detroit: The Lions are the eighth-most penalized team in the League. They average nine fouls per game. Coach Jim Caldwell does seem to have them a bit more disciplined.  They don't lead in any of foul categories and are somewhere in the middle of the pack. Ndamukong Suh caught a break this week when he didn't get fined for a hit on Bucs quarterback Josh McCown. Suh was called for roughing the passer but no fine, which makes no sense to me. Caldwell has challenged only once this season -- and he won it.
---
---