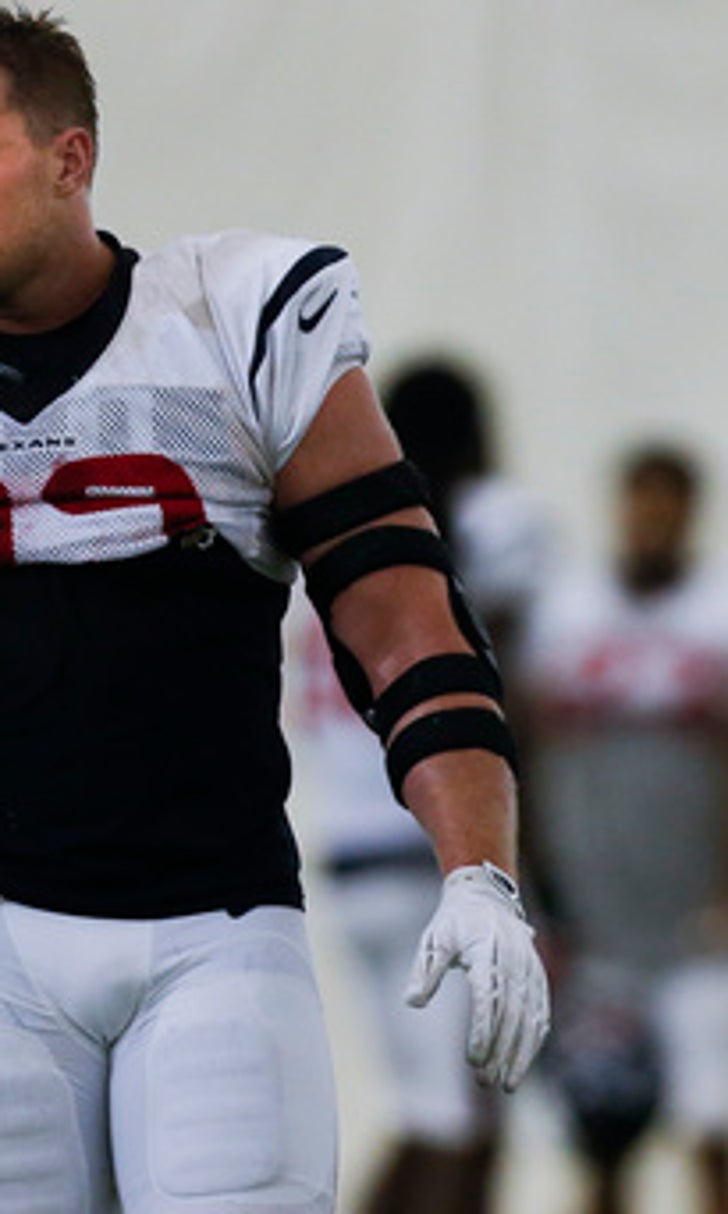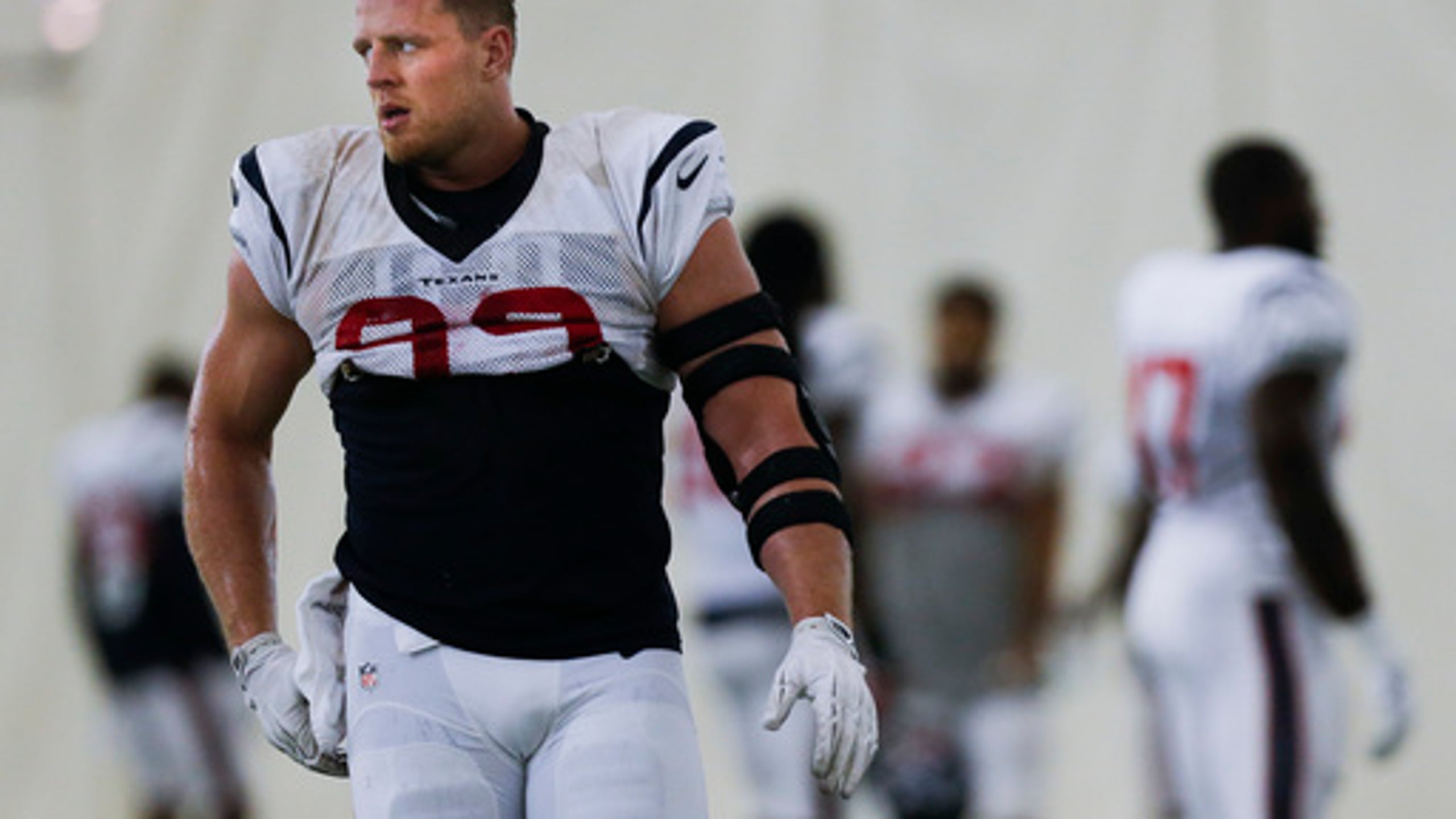 Texans' Watt never doubted he'd return for opener
BY foxsports • September 7, 2016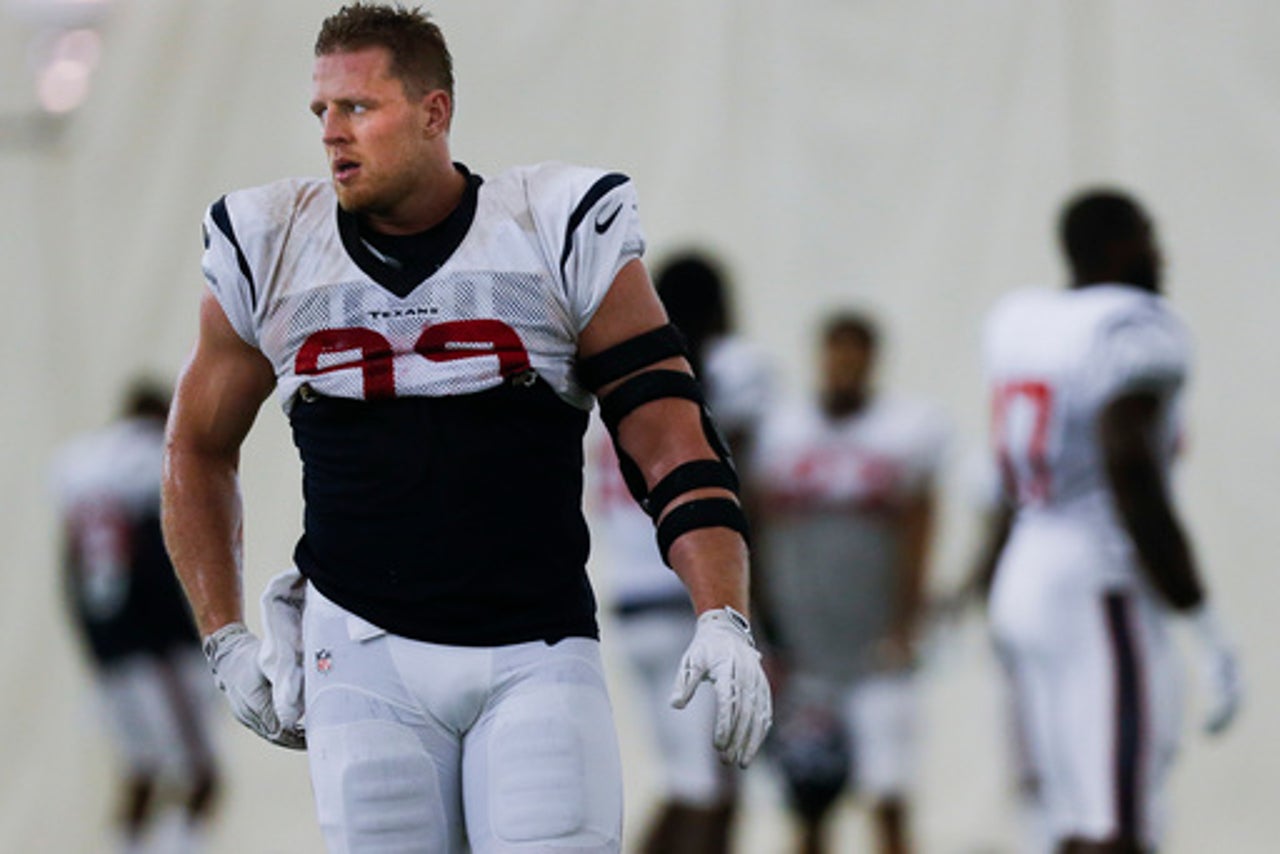 HOUSTON (AP) J.J. Watt never doubted he'd play in Houston's season opener while recovering from back surgery that forced him to miss all of training camp.
Watt returned to practice this week and will be on the field when the Texans host the Chicago Bears on Sunday. He had been out since surgery to repair a herniated disk in his back in July.
Last year's NFL Defensive Player of the Year, who has never missed a game in his career, was asked Wednesday what he expects to contribute on Sunday.
''Anything and everything I'm asked,'' he said. ''I feel great. I feel no limitations whatsoever. My body actually feels better than it did for the second half of last season, obviously with everything we were dealing with. So I'm in a pretty good spot.''
Coach Bill O'Brien said Watt has looked good in practice this week and that they'll increase his workload every day heading into Sunday's game.
Watt's back surgery was his second of the offseason after he had a much more involved procedure in January to repair five torn muscles in his core.
''Both of my lower abs had to be reattached,'' he said. ''My right adductor had to be reattached and then two of my left adductors had to be reattached. I don't know the technical terms. A few of them were off the bone. A few of them were partially torn. That was pretty serious stuff.''
Watt's comeback from back surgery seemed like a breeze after the weeks of painful rehabilitation following his procedure in January. It was then, while recuperating in a hotel in Philadelphia that he became discouraged and wondered about his future in the NFL.
''After the first surgery there were some days there where I really questioned whether or not I'd ever be able to play again,'' he said. ''Just some of the stuff we were dealing with from a rehab standpoint, just the way that the recovery was going early on ... there was a very low point there and it was tough.''
For quite some time after the surgery, the 6-foot-5, 289-pound defensive end struggled not only to walk, but to simply get out of bed. He slowly started to feel better and began doing a new method of rehabilitation exercises with team trainer Roland Ramirez. But he still struggled with some basic moves. A big thing was not being able to lift his right leg straight up while lying down.
Every morning he would try the move and he simply couldn't do it. Then Super Bowl week rolled around and he attempted it just like he did every morning. Only this time, mission accomplished.
''I called (Ramirez) right away and I sent him a video,'' Watt said. ''Then I got up and tried some other stuff ... I was like: `Dude it worked. Everything we did worked.' And from that point forward as soon as you get that little bit of light, it's full steam ahead, and that's what's awesome.''
Watt, entering his sixth NFL season, said this offseason was undoubtedly his most difficult. But his tough times helped him gain a different perspective on his career.
''It definitely gives you a new outlook, kind of a fresh approach,'' he said. ''You see things through a different light when you're going through stuff like that and you go through the ups and downs, and I'm really looking forward to coming out and having a new mountain to climb.''
Watt led the NFL with 17 + sacks last season to win his second straight Defensive Player of the Year award and third in four seasons. He knows the coaching staff will try to put some limitations on him against the Bears after he missed so much time, but he doesn't feel that's necessary.
''I'm a guy that likes to play every play and likes to do whatever I can to help the team win, so if they let me do that, great,'' he said. ''If they put a play count on me I'll fight it as hard as I can.''
---
Online:
AP NFL website: www.pro32.ap.org and www.twitter.com/AP-NFL
---
---