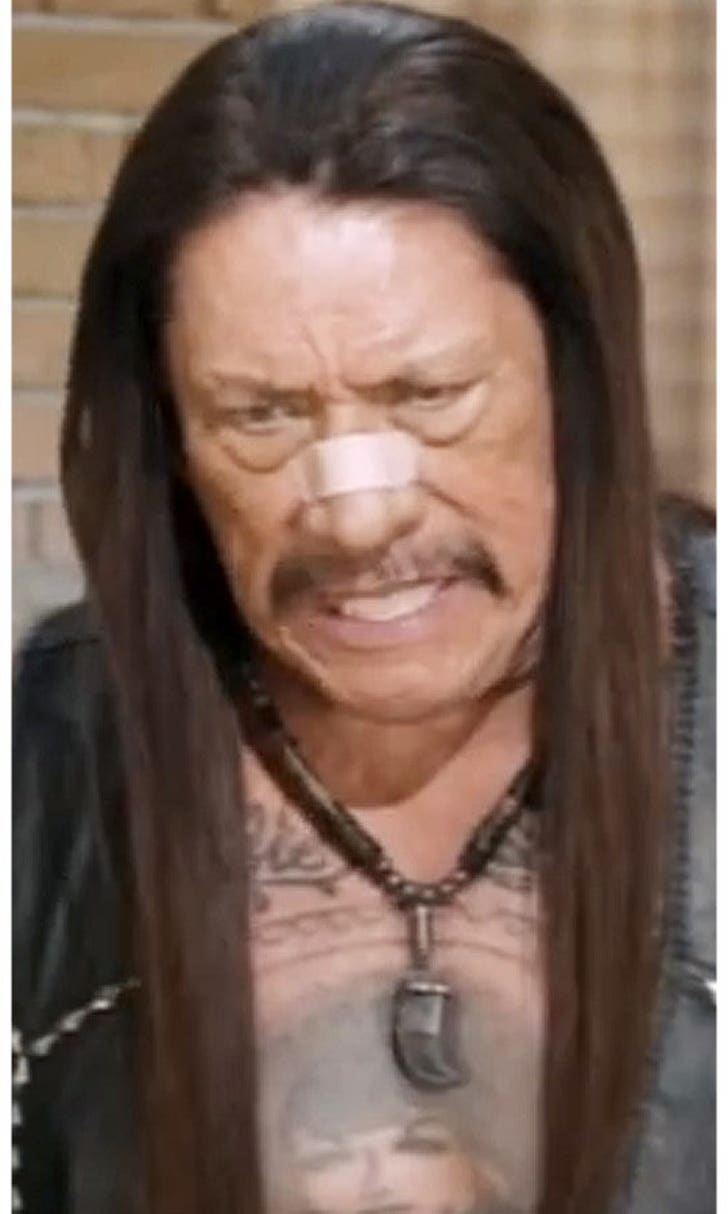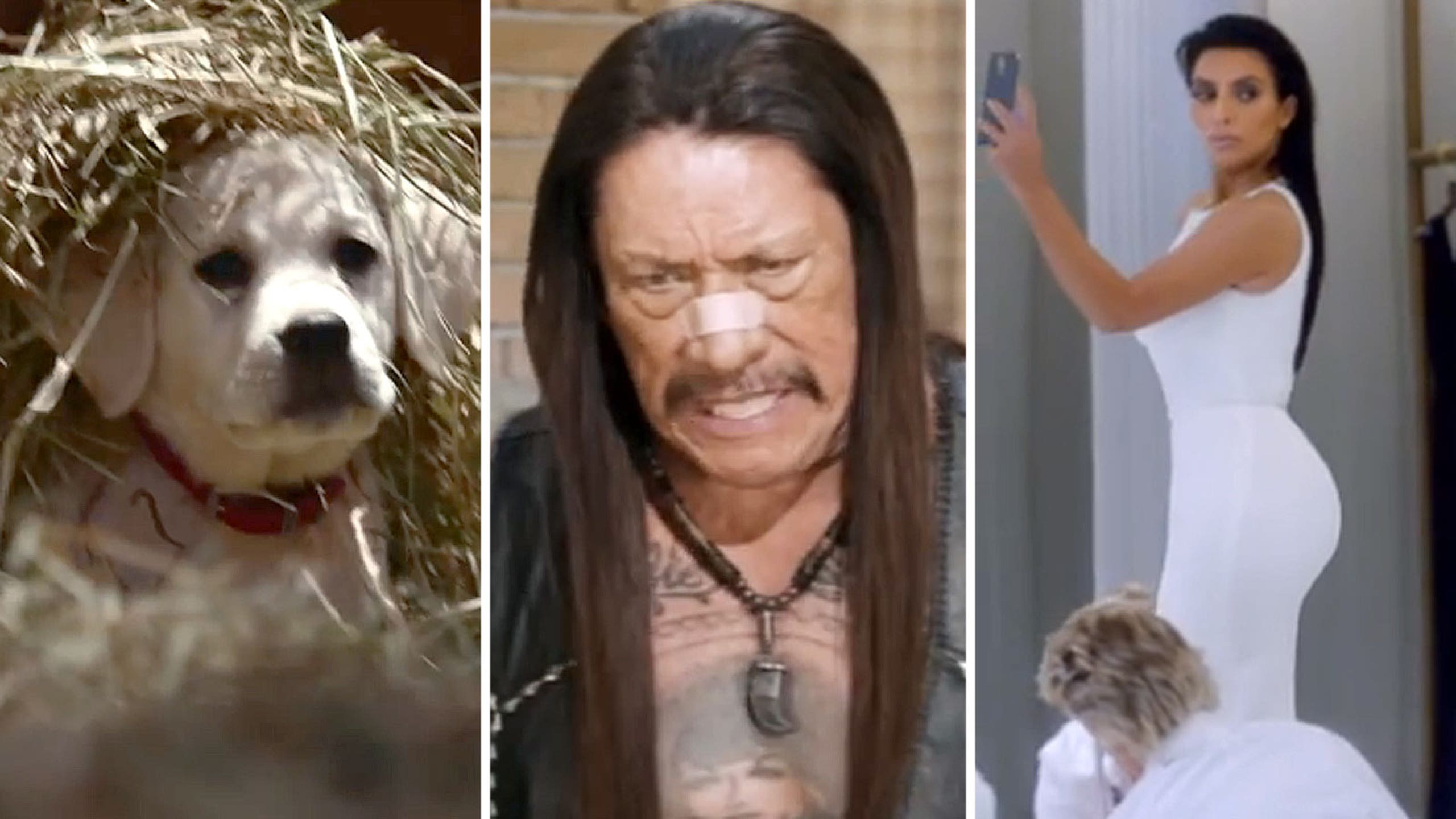 Super Bowl commercials: Relive every ad from Sunday right here
BY foxsports • February 1, 2015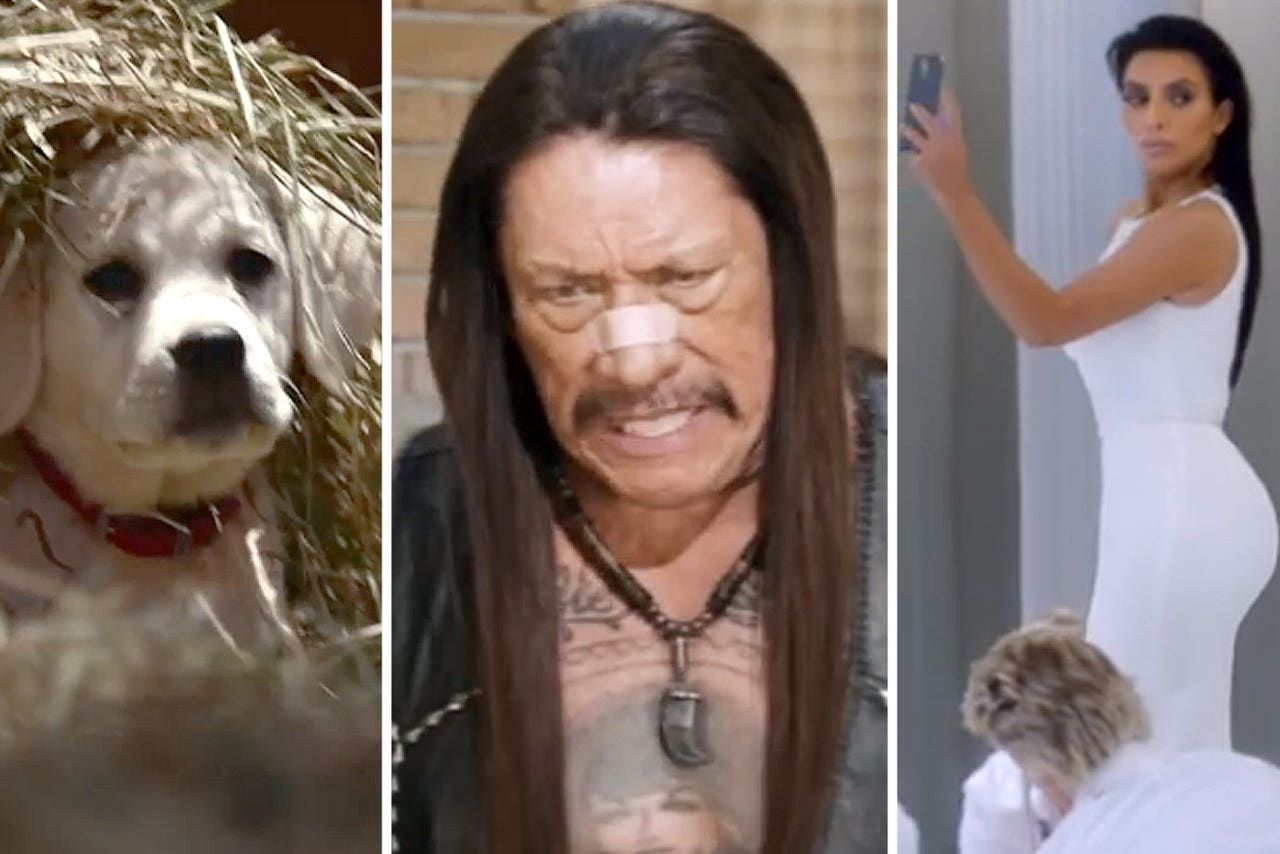 The commercials. For some of us, it's the best part of Super Bowl Sunday. The cute, the funny, the sexy, the flops -- good or bad, they always leave an impression.
Before the Super Bowl even started, the ads were making news. GoDaddy had to pull a controversial spot that made light of the puppy mill situation. Meanwhile, several other commercials have already hit YouTube, highlighted by a Budweiser spot highlighting a dog in a much more cute and tasteful fashion.
Miss any of the ads from Sunday's game? Just want to see them again? We've got you covered below.
EAT24: SNOOP AND GILBERT
Snoop Dogg kicks off this commercial for a food-ordering app by asking if we're "Hangry" and imploring us to know the signs -- which apparently consists of turning into Gilbert Gottfried and barking at a goldfish. Snoop caps it by declaring, "In my medical opinion, it's the best m----- f----- way to order food." Very solid -- if not a little weird -- effort from the outset.
REEBOK: BE MORE HUMAN
PIZZA HUT: REX RYAN'S CRUST FLAVOR CHALLENGE
Welp ... here's Rex Ryan throwing challenge flags at pizza. One of them misses and hits a guy in the crotch. And there's a cameo from Tony Romo at the end. Enough said about that.
CHEVY COLORADO: TV GOES DARK
This spot starts by tricking you into thinking you are experiencing the doomsday scenario: your TV has cut out moments before Super Bowl kickoff. Of course it hasn't, but what would you do if it did? Well, Chevy is here to tell you that their new 2015 Colorado has built-in 4G LTE Wi-Fi, so you could always stream the game in your truck. Very cheeky, Chevy.
ESURANCE: LINDSAY LOHAN
Well, who better to appear in a commercial for car insurance than noted reckless driver Lindsay Lohan? That's enough to get a chuckle.
CAMRY: AMY PURDY
Amy Purdy is a noted Paralympian snowboarder. She also happens to be a model and a dancer. Camry uses all this to full effect, showing her overcoming her impairment -- she lost both of her legs below the knee due to meningitis -- in all these endeavors while a Muhammad Ali speech is heard over it. Inspiring stuff.
TURBOTAX: BOSTON TEA PARTY
A depiction of the famed Colonial-era protest gets a twist when the British suggest a solution -- what if we let you Americans file your taxes for free? Of course, that does the trick. Tea stops catapulting into the water. Troops retreat. George Washington calls off the crossing of the Delaware. "OK, maybe that's not exactly how it went down," a narrator concedes at the end.
GAME OF WAR: KATE UPTON BATH
Once again, the video game is putting all its eggs in the Kate Upton basket. Which is probably not a bad strategy. In this spot, she takes a bath and then walks for awhile and what else do we really need to say?
BMW: CAR OF THE FUTURE
Remember that time in 1994 when Katie Couric and Bryant Gumbel didn't know what the Internet was? Well, BMW has resurrected an old TV segment of them having trouble with the "@" sign and the concept of a ".com," then shows them in present day marveling over the all-electric BMW I3, produced in a wind-powered factory.
SNICKERS: THE BRADY BUNCH
The "You're Not You When You're Hungry" motif has been one of the better commercial gimmicks of recent memory, and this one is right up there with the best. Danny Trejo plays the part of an irritated Marcia Brady having a conversation with her parents. At the end comes Steve Buscemi to be Jan.
CARNIVAL: COME BACK TO THE SEA
Carnival uses a JFK speech about the human desire to be near the water to deliver a powerful message in favor of confining yourself to the cramped quarters of a cruise ship.
SKITTLES: ONE LEMON LEFT
There's only one lemon Skittle left in the bowl, and two guys want it. So what do they do? "Settle it the usual way," which involves arm wrestling for it. Turns out everyone in town has insanely muscular right arms as a result of the frequency of arm wrestling. Is there a Skittle shortage we didn't know about? Just buy a new bag.
VERIZON: SAVE THE DATA
Kim Kardashian delivers a faux PSA talking about the tragedy of wireless companies taking back unused data that could be used to view her various social media activities. It would be funnier if it wasn't so true.
BUDWEISER: LOST DOG
This one made plenty of headlines before the game ever started. A cute puppy goes to great lengths to follow his good buddy on the road -- a Budweiser Clydesdale. The owner thinks the dog's gone missing, but the horses team up to shepherd him home.
NATIONWIDE: INVISIBLE MINDY KALING
Actress Mindy Kaling, the story goes, spent so much time feeling invisible, she thought she might actually BE invisible. So she does what anyone who is invisible would do -- goes to the park naked, eats ice cream by the tub, walks through a car wash. But when she leans in to kiss Matt Damon at a restaurant, she learns the hard truth. One of the funnier efforts on the list.
COCA-COLA: MAKE IT HAPPY
A simple, powerful message as Coke advocates for turning negative words into positives.
MEXICO AVOCADOS: FIRST DRAFT EVER
In the first draft of all time, Australia selects the kangaroo, Brazil picks the sloth, and Mexico picks ... the avocado. Doug Flutie, Jerry Rice and a caveman provide the commentary. Pretty good stuff from an unlikely source.
DOVE: MEN + CARE + CARE
Several different scenes of people, from babies to adults, celebrating their fathers with cries of "Daddy!" and "Dad!" play on the screen as Dove asks "What makes a man stronger?" The answer: caring. Aww.
DORITOS: AIRPLANE SEAT
We've all been there. You're on a plane and the middle seat is still open and you're hoping no one takes it. Our character here goes to great lengths to make sure no one takes that seat -- pretending to be sick, playing a recorder, reading a book about irritable bowl syndrome. He stops all this when he sees an attractive woman, but he gets more than he bargained for when he encourages her to sit next to him by flashing a bag of Doritos.
NISSAN: RACE-CAR-DRIVING DAD
Not a word is spoken in this emotional ad from Nissan -- aside from Harry Chapin's "Cat's In The Cradle" providing the soundtrack -- but the message is clear. Dad's dangerous career as a race car driver is taking its toll on his family, until he trades in his racing Nissan for a more street-legal model.
ESURANCE: WALTER WHITE
This is a fine ad if you've ever dreamed of scoring crystal meth at your local pharmacy. Starring Bryan Cranston in character as Walter White (the science-teacher-turned-drug-lord from "Breaking Bad") posing as "Greg," the local pharmacist, the ad features a woman caught off guard when Greg is not behind the counter. Instead finding "Sorta Greg" (Cranston) in his meth-cooking garb. The commercial seems a bit half-baked as the ad's message is shoved into a fast talking voiceover at the end urging you to only pay for what's right for you, not somebody "sorta" like you. And that was only perceptible after three watches. But … it's Walter White, everybody! Who cares?
FIAT: VIAGRA FOR CARS
This commercial's for Viagra, right? A middle-aged Italian dude walks into the bedroom and finds his wife wanting to get it on. Aforementioned dude goes to the bathroom to pop his blue pill, but accidentally throws it out the window and sends it skipping across the Italian cityscape until … it falls into a Fiat gas tank. Blue pill causes typical Cinquecento to swell into a "bigger, more powerful, and ready for action" model. It's a sweet ride, but guys hoping to compensate for other shortcomings still shouldn't take the message literally.
MCDONALDS: FEEL THE LOVE
McDonalds offers its customers the opportunity to pay with love in another inspirational offering. This would feel exceedingly lame and cheesy if it wasn't a real thing ... but it is! According to the company, "participating locations" will choose some customers at random from Feb. 2 to Feb. 14. Good luck finding such a location, or being the random customer chosen to get this deal. But still, there you go.
GODADDY: GUY MISSING THE PARTY
No room to be offended here. GoDaddy -- which had to scrap a planned puppy-centric ad over outcries from animal rights groups -- decided to air this rather simple ad showing a guy working through the Super Bowl as he tries to establish his small business. They even appeared to take a shot themselves with a line about how he will "miss the puppy and celebrity ads" by not watching the game.
MICROSOFT: TECHNOLOGY CHANGING LIVES
A young boy with prosthetic legs is the subject of this spot, which celebrates what technology has been able to do for the disabled. The company aired another commercial in the same style later in the game.
SQUARE SPACE: DREAMING WITH JEFF
Well, this is weird. And excellent. Square Space, a website that helps you build websites, gives us this spot with Jeff Bridges chanting "Ommm" over the bed of a sleeping couple. Then comes a promo for something called "dreamingwithjeff.com." Yes, this is an actual website you can go to right now that provides Jeff Bridges sleeping tapes. This is a game changer.
DOMESTIC VIOLENCE PSA
This chilling spot shows images of a house in disarray. On the audio, you hear a woman having a conversation with a 911 dispatcher, only she's trying to order a pizza. The dispatcher discerns that she is in trouble and the man is still in the house and pledges to send officers over. One of the more emotionally arresting anti-domestic violence spots we've seen.
CAMRY: BEING A DAD
Another inspirational/emotional bit from Toyota, as they show a dad helping his daughter through a number of rite-of-passage situations as she grows up. It ends with her exiting the family car to head into the airport. She's off to serve in the military. Kind of a cruel ending for the hard-working dad.
ALWAYS: 'LIKE A GIRL'
Throwing, running and fighting "like a girl" get a new definition in this ad promoting gender equality. A series of boys are asked what that phrase means and respond in typical flailing fashion. Then they ask girls the same questions, and it's very clear that perception and reality aren't entirely aligned.
CARL'S JR.: ALL NATURAL BURGER
We'll give you one guess who is the star of the latest commercial from the fast-food giant. Yes, it's a scantily clad model. Go ahead and click play. We won't tell.
CLASH OF CLANS: LIAM NEESON
The mobile strategy game capitalizes on the popularity of the "Taken" movie franchise, showing Neeson looking at his phone and spouting off some lines akin to those iconic menacing speeches from the films. The camera then flips to a coffee shop employee who calls out his name (pronouncing it "LIE-um") and says his scone his ready. "It's LEE-um," Neeson fires back. Great combo.
SPRINT: CALLING OUT THE COMPETITION
The ad is framed as an "apology" to Verizon and AT&T, but it's anything but. Sprint uses braying animals to announce a rate-cutting plan that will purportedly make them cheaper than their competitors. Brazen.
DODGE: TURNING 100
A cast of 100-year-olds share their wisdom on enjoying life to the fullest, which includes such gems as "live fast," and "don't bitch." It all sets up as a nod to Dodge's 100th anniversary. The company was founded in 1914.
KIA: GETAWAY CAR
Actor Pierce Brosnan -- James Bond, once upon a time -- gets pitched on a new movie idea. He continually imagines an action plot and is repeatedly rebuffed. He wants a sniper, the pitchman offers an owl. He wants a missile launcher, the pitchman gives him a moose. All the while, Pierce is driving a Kia on a long road to what turns out to be a cabin with a beautiful woman waiting inside. Now he's on board.
T-MOBILE: GOOD RECEPTION
Chelsea Handler and Sarah Silverman team up for another one of the funnier efforts of the day. The two have a phone conversation in many various exotic locations in their house -- Silverman has a hilariously barren "trophy room;" Handler goes underneath her house entirely -- all the while celebrating their great reception on T-Mobile's Wi-Fi calling feature.
BUDWEISER: TAKE THAT, CRAFT BEERS
The beer company ditches the heartstring-tugging style and goes right after the burgeoning craft beer market in this spot, which pumps up the tradition and simplicity of its trademark brew while taking shots at the sorts of "pumpkin peach ale" that have become increasingly popular.
JEEP: THIS LAND IS YOUR LAND
One of those ads where you're not sure what's being advertised until the end, and then when you figure it out, you're confused. It starts out as a pretty cool commercial, showing shots from all around the United States while "This Land Is Your Land" plays, then it expands out to include other countries as well. In the end, it's an ad for taking care of the environment, pinned to Jeep's "smallest and lightest" SUV. Bit of a stretch, maybe?
MOPHIE: GOD RUNS OUT OF BATTERY
We see a very chaotic and strange disaster-stricken world, where dogs walk people and nothing is as it seems. The reason? It turns out God's phone has run out of battery. Whoops. Pretty good stuff from the mobile phone battery pack company.
LOCTITE GLUE: GETTIN' WEIRD
Well, if you're a glue company and you want to cut through the noise in the realm of Super Bowl commercials, something like this is probably your best bet.
MERCEDES: THE BIG RACE
The classic fable of Tortoise vs. Hare gets a spin from Mercedes. The arrogant hare starts off strong, as usual, then takes a break to play some cards. The turtle, meanwhile, stumbles upon a Mercedes factory and drives his sweet ride to victory. Not sure if illustrating that your car is faster than a rabbit is the best way to advertise. And they've also made the tortoise into a giant cheater. This is a scandal surely worse than Deflategate.
NATIONWIDE: BOY WON'T GROW UP
The biggest talker by the end of the day was this spot from Nationwide, which controversially depicts a boy lamenting what he won't be able to do in life ... because he's dead. Yikes.
...
We passed on writing up a few of the spots, but you can check them all out at our Super Bowl commercials hub page.
---
---