New Orleans Saints
New Orleans Saints
Six Points for Week 8: Brees and the Saints march back in
Published
Nov. 1, 2015 11:01 p.m. ET

Ben Watson got vertical, squeezed between the linebacker and the safety, looked back, located the ball from Drew Brees and made the catch for a touchdown. That play put 42 points on the board for the New Orleans Saints and gave them a two-touchdown lead with less than a minute left in the third quarter.
Not enough, Watson realized.
"I'm thinking we're going to get a big punch from the Giants because in my entire career the Giants are the team that never backed down and they proved that today," Watson, who is in his 12th NFL season and was a member of the 2007 New England Patriots team that lost to the Giants in Super Bowl XLII, told FOX Sports by phone after the Saints' 52-49 shootout victory on Sunday.
"They're a very resilient team, a tough football team and they always fight back. We knew at some point they were going to make a move."
The Giants made that move with three consecutive scores -- two touchdowns from Eli Manning to Dwayne Harris (one on a lob and a prayer on fourth-and-5) and a 63-yard fumble return by Trumaine McBride that was made possible by a big hit by Dominique Rodgers-Cromartie. The Saints responded with Brees' touchdown on a quick slant to C.J. Spiller with 36 seconds left, a wild punt return and then a 50-yard field goal by Kai Forbath as time expired.
More on that ending and the Saints' recent surge of four wins in five weeks in a bit. But first a rundown of the offensive records that were set, tied or challenged in this game:
--The 13 combined passing touchdowns for the teams (Manning threw six) is a new record;
--Brees became the eighth quarterback to throw seven touchdowns in a game, joining Nick Foles and Peyton Manning as the only ones to have done it this side of the 1960s;
--The 1,030 total yards for the two teams combined is an interesting stat because it was only 103 yards short of the NFL record -- 1,133 yards for the New York Yankees (not a misprint) and Los Angeles Rams on Nov. 19, 1950 -- yet it's still only 71st all time;
--The 101 points scored was the third-most ever, just behind the 106 the Cincinnati Bengals and Cleveland Browns scored in 2004 and the record 113 points the Giants and Washington Redskins scored in 1966.
--Brees' performance marked the 10th time in his career he's thrown for at least five touchdowns, nudging him past Peyton Manning for the most in NFL history.
So naturally, after all of that offense, the game was decided by a facemask penalty against a punter to set up a game-winning field goal by a kicker who was out of the league just a few weeks ago. That would be Forbath, cut by the Washington Redskins after Week 1 and now the recipient of the game ball from Sean Payton in the locker room.
Seriously.
"Coach Payton talked about what an amazing game Drew had but he said the game ball goes to the kicker," Forbath said by phone a few hours after his big kick, adding with a laugh: "I can't say I necessarily deserved it from one field goal, but it was an awesome team win."
Forbath, who was also offered free piano lessons for life by New Orleans native and big Saints fan Harry Connick Jr. via Twitter, certainly deserves kudos for his resilience after he was cut by Washington following the team's Week 1 loss to the Miami Dolphins.
With kickers around the league struggling, he worked out for the Philadelphia Eagles, Houston Texans, Pittsburgh Steelers and Tampa Bay Buccaneers. In each of those places, he was the runner-up to the kicker who was eventually signed. Forbath also worked out for the Saints, though initially the team decided to stick with Zach Hocker before finally making the change two weeks ago.
Forbath hadn't attempted a field goal for the Saints until Sunday, when a 24-yard punt return by Marcus Murphy, plus a recovery of Murphy's fumble by Willie Snead and a facemask penalty on Giants punter Brad Wing (who was also having his facemask grabbed by Snead) set up Forbath's kick.
But not before the officials picked up the flag, then enforced the penalty, then set the ball at the spot of the recovery and then moved it back to the spot of the fumble. And then, after the Giants called a timeout to ice Forbath.
"It was probably the longest I've ever had to stand on the field and wait for a kick," he said.
Forbath also had to wait a while for that first field-goal attempt because the Saints kept scoring touchdowns. He was 7 for 7 on extra points, and given the 33-yard kick, that's more impressive a feat than it used to be.
"I'm not talking bad (about Washington), but I'm not used to scoring that many touchdowns," Forbath said. "It was kind of fun. I was almost watching as a fan on the sideline. There were times I was getting ready for a field goal and, boom, we scored another touchdown. It just kept happening and happening."
Watson, who is now on pace to set career-highs in receptions (38 through eight games) and yards (427 as of now), also hadn't experienced such a pace.
"I knew Drew was on a roll," Watson said.
And he knew even before the game started the Saints would have the Brees of old, not the one who had been bugged by a shoulder injury suffered in September that caused him to miss the team's Week 3 game.
Brees' dart to Snead on a 34-yard touchdown off a flea flicker in the first quarter proved the arm isn't an issue. That ball didn't die like some of the throws he'd made while recovering from his injury.
"Obviously, the first week after, he was struggling a little bit. But the last few weeks, we seemed like his old self to me," Watson said. "If he's hurting, we can't tell. He's a very tough football player, so he may be and we don't know. But in practice, he's been making all of the throws he usually makes."
Brees called it "one of the craziest games I've ever been a part of." Giants coach Tom Coughlin said the 49 points his team scored "should've been enough. It wasn't enough."
Watson said the Saints had a feeling after breaking down the Giants' defense in the film room and on the practice field the passing game would play a big role in this game. That's code for they saw some matchups they could exploit.
Brees made it happen. He had 300 yards in the first half alone and his 511 passing yards for the game were the ninth-most ever.
All of that work and he didn't even get the game ball.
"That's fine," Brees said. "That was a big kick, boy."
It got the Saints back to .500. And now, they have matchups against the Tennessee Titans, Redskins and Texans over their next three games. So before we start placing Payton in his next job, let's consider the fact the Saints are now once again a factor in the NFC.
MONEY WELL SPENT
On the first few days of free agency, there's often a lot of money thrown at players who don't seemingly deserve it. At least, that's what many often think when they see players getting deals they obviously couldn't get from their own teams -- clubs that know them better than anyone.
One of those deals that was roundly criticized was the five-year, $17-million contract the Giants gave Harris. The contract included $7.1 million guaranteed for a guy who was primarily a returner for the Dallas Cowboys over the previous four seasons. And with more touchbacks since the kickoff was moved up to the 35-yard line, who spends good money on a kick returner?
Well, Harris proved his worth in that department last week with his game-winning 100-yard touchdown return against his former team in a key NFC East matchup and then added his two touchdown catches this week. Harris has already set new career-highs in receptions (18) and receiving touchdowns (three).
Suddenly, $3.4 million per season looks like a bargain.
CONCRETE ISSUE
Last week, when Cleveland Browns quarterback Josh McCown ran all the way through the artificial surface on the sideline of the Edward Jones Dome, slipped on the concrete and crashed into the wall, some found it funny.
Never mind that McCown injured his shoulder on the play. He was nonetheless mocked on ESPN's "C'Mon, Man" segment.
Well, nobody is laughing about Reggie Bush's slip on Sunday. Or at least they shouldn't be.
As FOX Sports first reported, the San Francisco 49ers believe Bush suffered a torn ACL when he lost his footing on the concrete. Bush will have an MRI to confirm, though it's believed his season is over. Bush will be 31 in March, so it's fair to wonder if this is an injury that could end his career.
If so, that's no way to go out.
The Rams have to take a look at that concrete near the wall and possibly address the situation. The NFL Players Association will be looking into the issue this week. And yes, the Rams could address it by moving to Los Angeles after the season, but there are at least four more home games left in St. Louis before that potentially occurs.
CASSEL MADE OF SAND
The Dallas Cowboys looked to Matt Cassel to provide a spark. As I wrote as soon as they made that call, you know things are bad when Cassel is your spark plug.
What exactly has Cassel done to justify the move or holding on to the job over Brandon Weeden? Cassel has completed 58 percent of his passes for 324 yards, one touchdown and three interceptions in two games. That equates to a passer rating of 58.5.
Weeden completed 72 percent of his passes for 739 yards, two touchdowns and two interceptions in four games, three of which he started.
Why the Cowboys made the move so quickly, especially after Weeden led a comeback against the Saints, only to have the defense lose the game in overtime, is beyond me. And why the Cowboys wouldn't consider going back to Weeden, who didn't have Dez Bryant as a target like Cassel did in Sunday's loss to the Seattle Seahawks, would also be beyond me, provided that's the case this week.
Dallas is 1.5 games out of a playoff spot with a huge game against the Eagles coming up on Sunday. They then have a meeting with the Buccaneers in Tampa before Tony Romo has a shot to come back in Week 11. If I'm Jason Garrett, Weeden is getting these next two starts.
NOT OUR CALL
Nearly everyone wants Steve Smith to return for one more NFL season. He's a tremendous competitor and plays so much bigger than his listed height of 5-foot-9. That's called heart.
It'll take a lot of said heart for Smith to come back from a torn Achilles tendon, if that's what he decides. Even before the injury, there was speculation Smith's stated intention to retire after this season wouldn't hold up, not with the way the Baltimore Ravens' season was going. Now that Smith is down with a devastating injury, already many are speculating his pride will nudge him to come back for one more year.
But that's Smith's decision to make. No one should be trying to make that decision for him, even if John Harbaugh was already sending signals during his postgame press conference.
"I love him, respect him, admire him. I told him that," Harbaugh said. "That's the kind of man he is, and he'll be back."
Maybe, but no one should think less of Smith if he isn't. He doesn't have anything to prove. To Anyone.
MANY HAPPY RETURNS
The Minnesota Vikings were having trouble getting started on Sunday until Marcus Sherels went up the right sideline for a 65-yard touchdown on a punt return.
It was the seventh regular-season touchdown on a punt or kick return for the Vikings since the start of the 2011 season. That's when special teams coordinator Mike Priefer arrived for what's been the longest of the nine stops he's made in his 21-year coaching career.
Priefer is one of the best special-teams coaches in the business and the Vikings' seven return touchdowns during his tenure prove it. That figure ties Minnesota with the Baltimore Ravens for most during that time frame.
---
---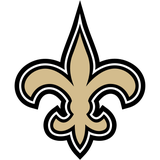 Get more from New Orleans Saints
Follow your favorites to get information about games, news and more
---