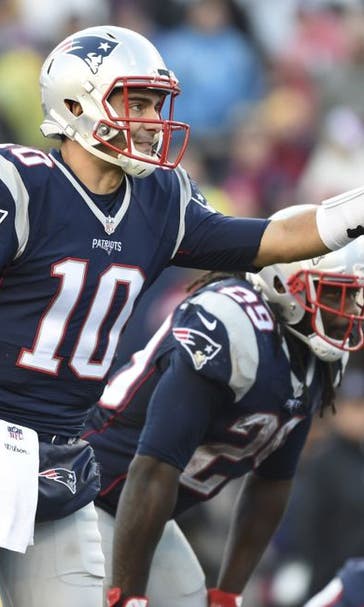 Should the 49ers Trade for Patriots Quarterback Jimmy Garoppolo?
December 28, 2016

Fansided, Peter Panacy/FanSided via Niner Noise
The San Francisco 49ers are going to be in the market for a quarterback this offseason, and New England Patriots QB Jimmy Garoppolo has been made available. But is he worth anything close to what the Pats are asking?
The San Francisco 49ers are in line to lose all four quarterbacks on their current roster, including one — Thad Lewis — on injured reserve.
And with New England Patriots backup quarterback Jimmy Garoppolo on the trading block, should the Niners be interested?
Yes, they should. Why wouldn't they be, given the team's current circumstances. But there's a vast difference between interest and actually pulling the proverbial "trade finger."
Wednesday morning, ESPN's Adam Schefter — appearing on the Kirk and Callahan Show on WEEI in Boston — reported the Patriots are seeking a first- and a fourth-round pick in exchange for any Garoppolo trade.
The 49ers need quarterbacking help, but even that is an exorbitant price.
.@AdamSchefter says discussions for Jimmy G in a trade start at a 1st & 4th round draft pick (the Sam Bradford return)

— Kirk and Callahan (@KirkAndCallahan) December 28, 2016
Garoppolo's numbers from earlier this season, during quarterback Tom Brady's four-game suspension, are good enough to suggest he'd be an OK option:
Here's the thing though — Garoppolo looked solid in limited action and within a top-notch Patriots system, as Frank Schwab of Yahoo! Sports discussed.
Imagine a scenario where he's inserted onto a 49ers team with seemingly no offensive direction in sight and hurting for playmakers across the board.
Tack on the loss of (likely) a first- and a fourth-round pick, and this deal makes even lesser sense than before.
More from Niner Noise
It's unlikely New England backs too far down from its asking price. The free-agent market for quarterbacks is going to be pretty thin this offseason. Additionally, this year's NFL Draft class at the position has also been regarded as not the best.
So the Patriots are likely to get something close to what they want. Or they might not be inclined to move Garoppolo at all. Brady is getting up there in years, after all.
Even if the Niners were interested — they should be — no trade should involve the high asking price on the table.
San Francisco should look elsewhere for its future quarterback.
---
---