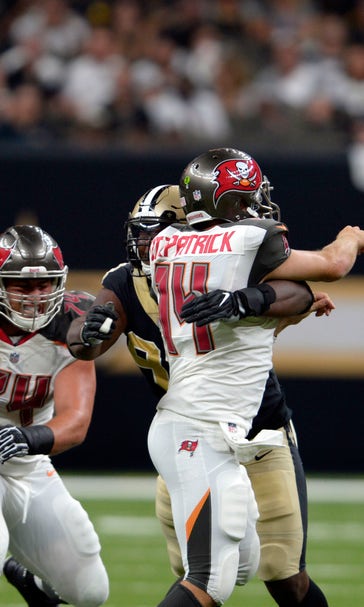 Saints' Onyemata fined $40.1K for 2 roughing passer calls
September 14, 2018
NEW YORK (AP) — Two illegal hits cost David Onyemata more than he made for playing in New Orleans' season opener.
The Saints defensive tackle was fined $40,108 by the NFL on Friday for two roughing-the-passer calls — $20,054 for each of the penalties — in a 48-40 loss to Tampa Bay last Sunday.
The first came in the third quarter on an incomplete pass by Ryan Fitzpatrick, when Onyemata violated the new rule requiring defensive players to avoid putting their full weight on quarterbacks. The second occurred during a 36-yard touchdown catch by DeSean Jackson in the fourth quarter when Onyemata made contact with Fitzpatrick's helmet.
Onyemata, in his third NFL season, makes a base salary of $630,000 this season — or $39,375 per game.
Onyemata was one of several players fined $20,054 for roughing the passer in the league's opening weekend, joining the Los Angeles Rams' Aaron Donald, Minnesota's Sheldon Richardson, Atlanta's Grady Jarrett and Dallas' DeMarcus Lawrence.
New England safety Duron Harmon was fined $26,739 for his hit on Houston wide receiver DeAndre Hopkins, which drew a flag for unnecessary roughness.
Los Angeles Rams cornerback Marcus Peters has to pay $13,369 for his excessive celebration after returning an interception during which he jumped backward into the end zone and grabbed his crotch against Oakland.
Pittsburgh cornerback Artie Burns was fined $13,369 for removing his helmet and slamming it to the turf after a scuffle with Cleveland wide receiver Jarvis Landry.
Miami defensive end Andre Branch was docked $10,026 by the league for taunting after a blindside block of Tennessee left tackle Taylor Lewan, who suffered a concussion on the play. After an interception of Marcus Mariota, Reshad Jones was returning down the sideline in the third quarter when Lewan was pursuing him. But Branch hit Lewan from the left side and knocked him to the ground, causing a shoving match between the teams.
Branch was later caught by television cameras shouting, "Body bag!" at Lewan as the offensive lineman left the field and headed to the locker room. Branch was not flagged for the hit, but was penalized for taunting — as was teammate Jordan Phillips, who was also fined $10,026.
Cincinnati safety Shawn Williams was fined the same amount for his late hit on Indianapolis quarterback Andrew Luck. He was ejected from the game for the penalty.
Also fined $10,026 by the NFL on Friday were Jets rookie Parry Nickerson (taunting), Baltimore's Matt Judon (unnecessary roughness), Buffalo's Dion Dawkins (unnecessary roughness) and Jacksonville's Yannick Ngakoue (facemask) and Cam Robinson (unnecessary roughness).
---
---