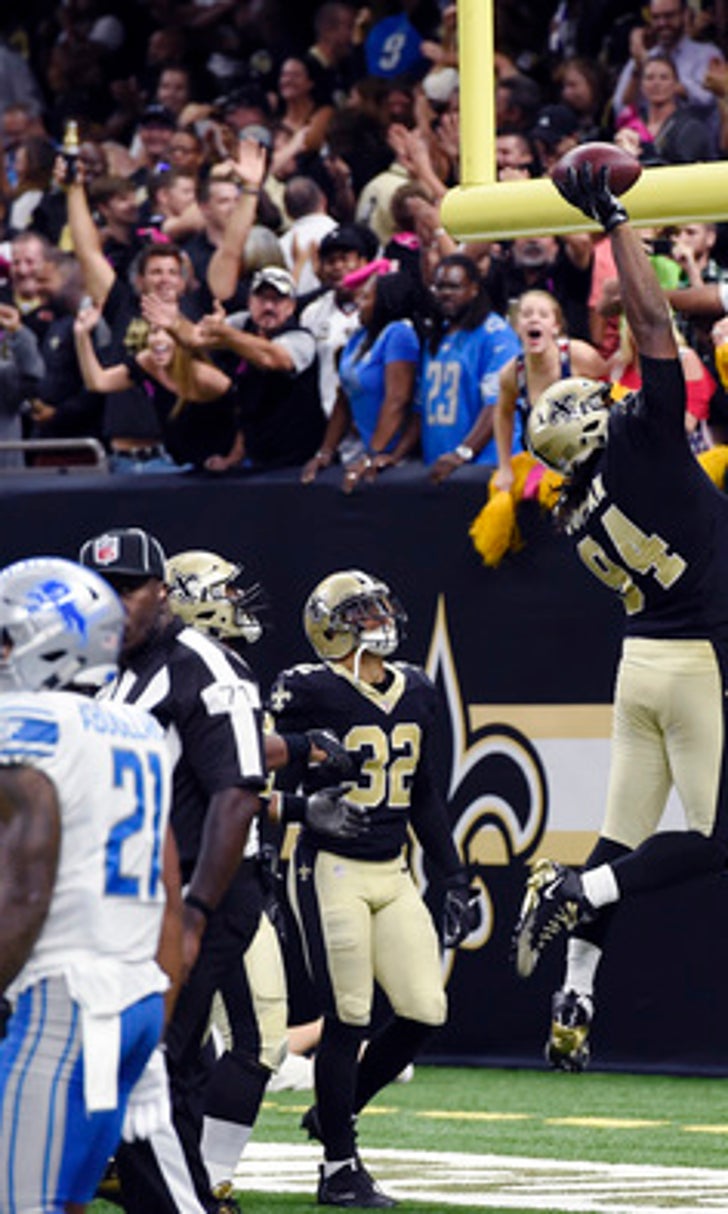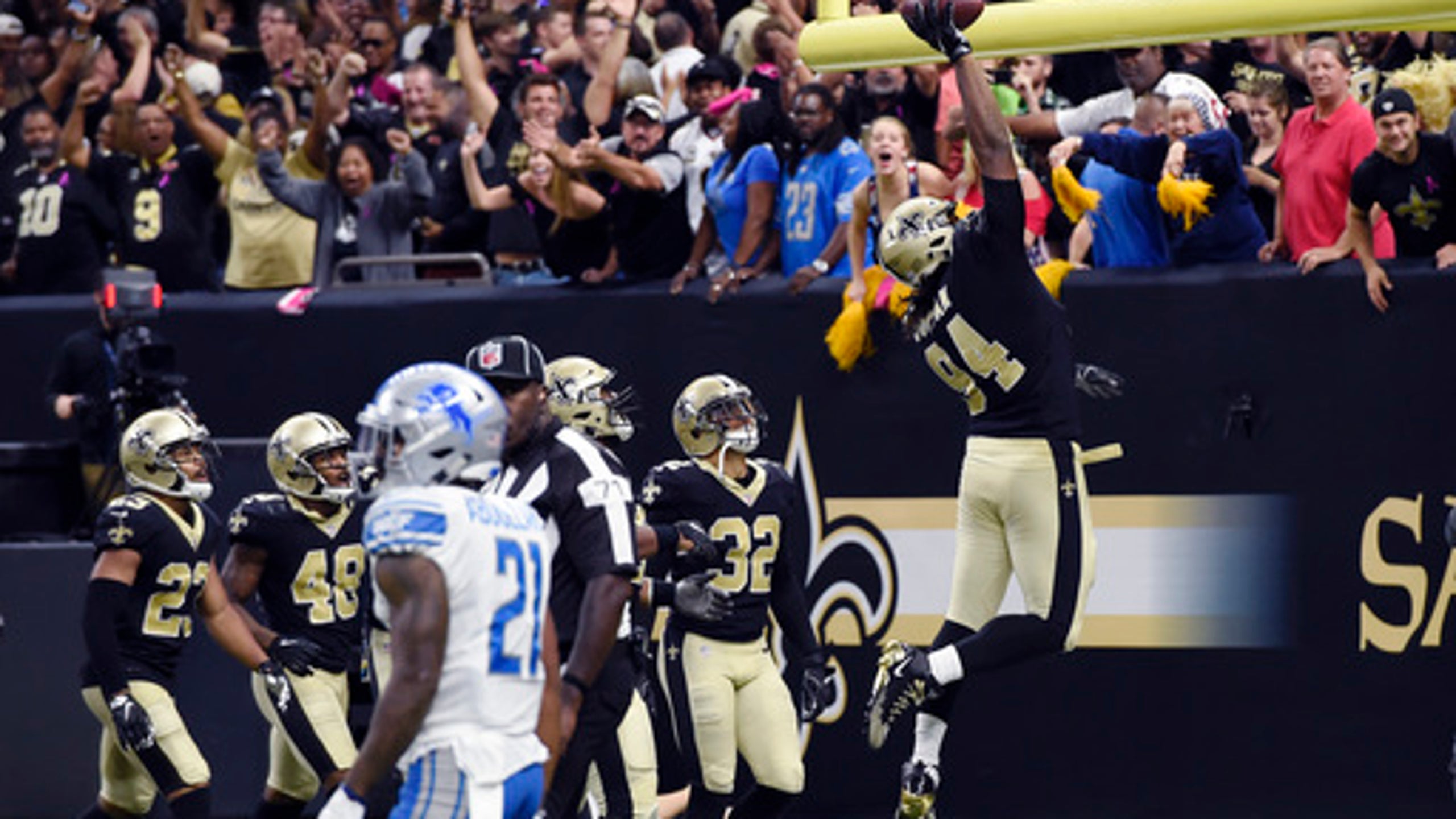 Saints credit Jordan for bolstering defense in myriad ways
BY AP • December 5, 2017
METAIRIE, La. (AP) Saints defensive end Cam Jordan's affinity for basketball was arguably counterproductive on the football field earlier this season, when he was flagged and fined for celebrating his interception for a touchdown by dunking the ball over the goal post.
But when Jordan mentions his pursuit of a ''triple-double'' for the season in sacks, tackles for loss and passes defended, coach Sean Payton is all about it.
''When I hear him say triple-double, I'm thinking Steak and Shake,'' Payton joked before adding, ''He came up with that? I like it.''
At age 28, in his seventh NFL season out of California, Jordan is as productive as he's ever been as a pro and will hope to build on that in a pivotal NFC South clash against the Falcons in Atlanta on Thursday night.
Jordan has 10 sacks, 13 tackles for losses and is listed with six passes defended on official NFL statistics, although the Saints say they've found additional deflections while reviewing game video that bring Jordan's total passes defended to eight. Jordan also has two forced fumbles, along with his interception of a tipped ball in the end zone for a score against Detroit quarterback Matthew Stafford.
''It would be fun to say, `Hey, I had a triple-double,' at the end of the season,'' said Jordan, a day after sitting courtside at an NBA game between the Golden State Warriors and New Orleans Pelicans.
Jordan said he never pursued organized basketball seriously, but always liked the pick-up variety and still plays at fitness clubs in the offseason.
''I'm a weekend warrior like any other guy,'' said Jordan, who doesn't boast about his shooting but can obviously dunk, considering a goal post is 10 feet high.
At 6-foot-4, 280 pounds, Jordan looks like someone who could have been a force at tight end - as his father, Steve, was with the Minnesota Vikings.
But Jordan never wanted to be a tight end, preferring to differentiate himself from his father by playing other positions - offensive tackle first before switching to defensive end.
Jordan said his father, who played at college football at Brown, never pressured him into football and didn't even allow him to play until he was 13. But when the younger Jordan decided to pursue football seriously, his father was eager to help.
Jordan said learning to play defensive end as the son of an NFL tight end ''worked perfectly.''
''He knows every block and he gave me every block look as a 16-year-old in high school,'' Jordan said.
The Saints drafted Jordan 24th overall in 2011. In 2013, he had 12+ sacks, his career high for a season - for now.
Jordan acknowledges that he'd like to be considered for NFL defensive player of the year. So his triple-double analogy was timely considering Oklahoma City Thunder star Russell Westbrook was the NBA's MVP on the strength of his double-digit averages in points, rebounds and assists for an entire season.
Yet Jordan often deflects opportunities for self-promotion.
''I can't talk about myself when I can talk about my teammates and how much they've elevated their play,'' Jordan said, alluding to the Saints' climb in defensive rankings from 27th in 2016 to 12th so far this season. ''The way they're playing has brought a lot of attention to us and I'm just benefiting from being able to play a little bit better than every previous year.''
But if Jordan won't pump up his own credentials, his coaches and teammates will. They sound awe-struck when describing his stamina.
''Whether we're coming in at 6 a.m. for a workout or flying home at midnight after a game, he has the highest energy in the room and it shows on the field,'' Saints defensive tackle Tyeler Davison said. ''He doesn't get tired. On top of that, not only does he play hard, he plays well. You don't see him getting beat against the run. He doesn't really have any weaknesses.''
Davison said it's obvious during reviews of game video how opposing offenses account specifically for Jordan by running away from him, or sending extra bodies at him in pass protection.
Saints defensive coordinator Dennis Allen asserted that Jordan is ''the best all-around defensive end'' in the NFL.
''All everybody ever wants to look at is, `How many sacks does a guy have?' But what Cam Jordan brings to the table is way more than that for us,'' Allen said. ''He's constantly a pressure player. He plays relentless. ... You're hard-pressed to find anybody that's better.''
Atlanta coach Dan Quinn, a former defensive coordinator, sounded equally impressed by the defensive star his team will try to slow down this week.
''Not only can he generate pass rush, but he is a handful in the run game,'' Quinn said. ''The tackles for a loss, the disruptive plays, batted passes - those are things that really make you a complete player.''
---
For more NFL coverage: http://pro32.ap.org and https://twitter.com/AP-NFL
---
Follow Brett Martel at https://twitter.com/brettmartel
---
---