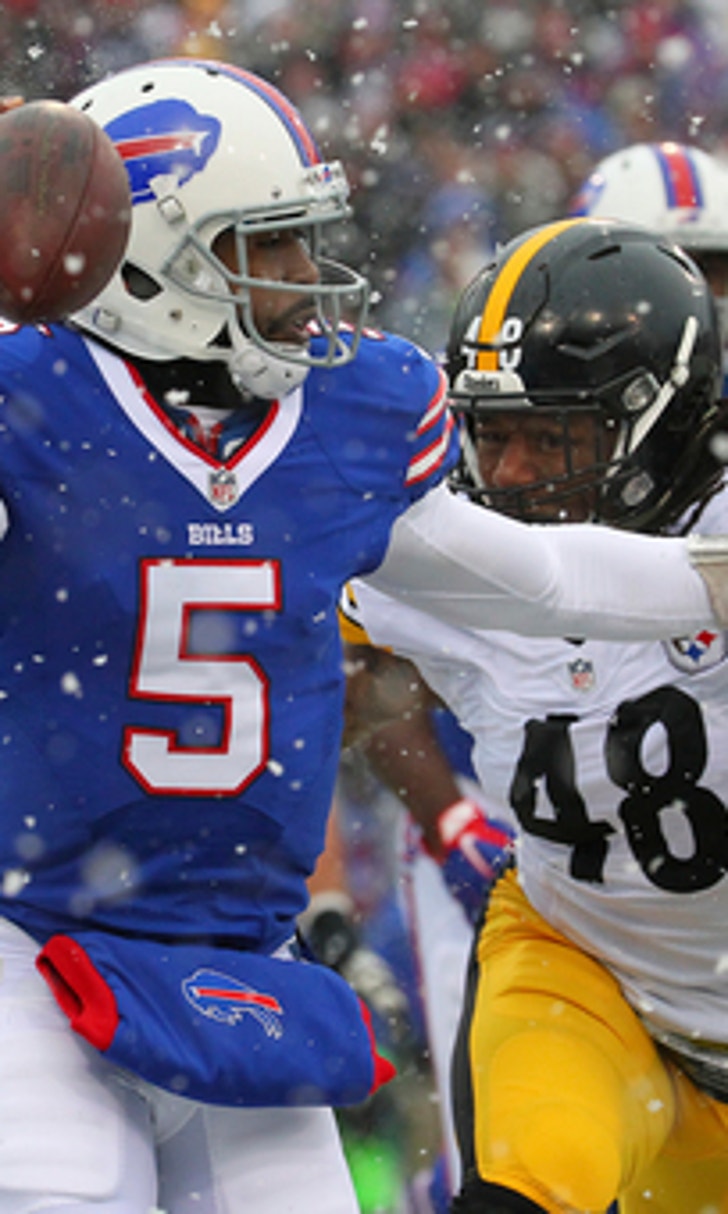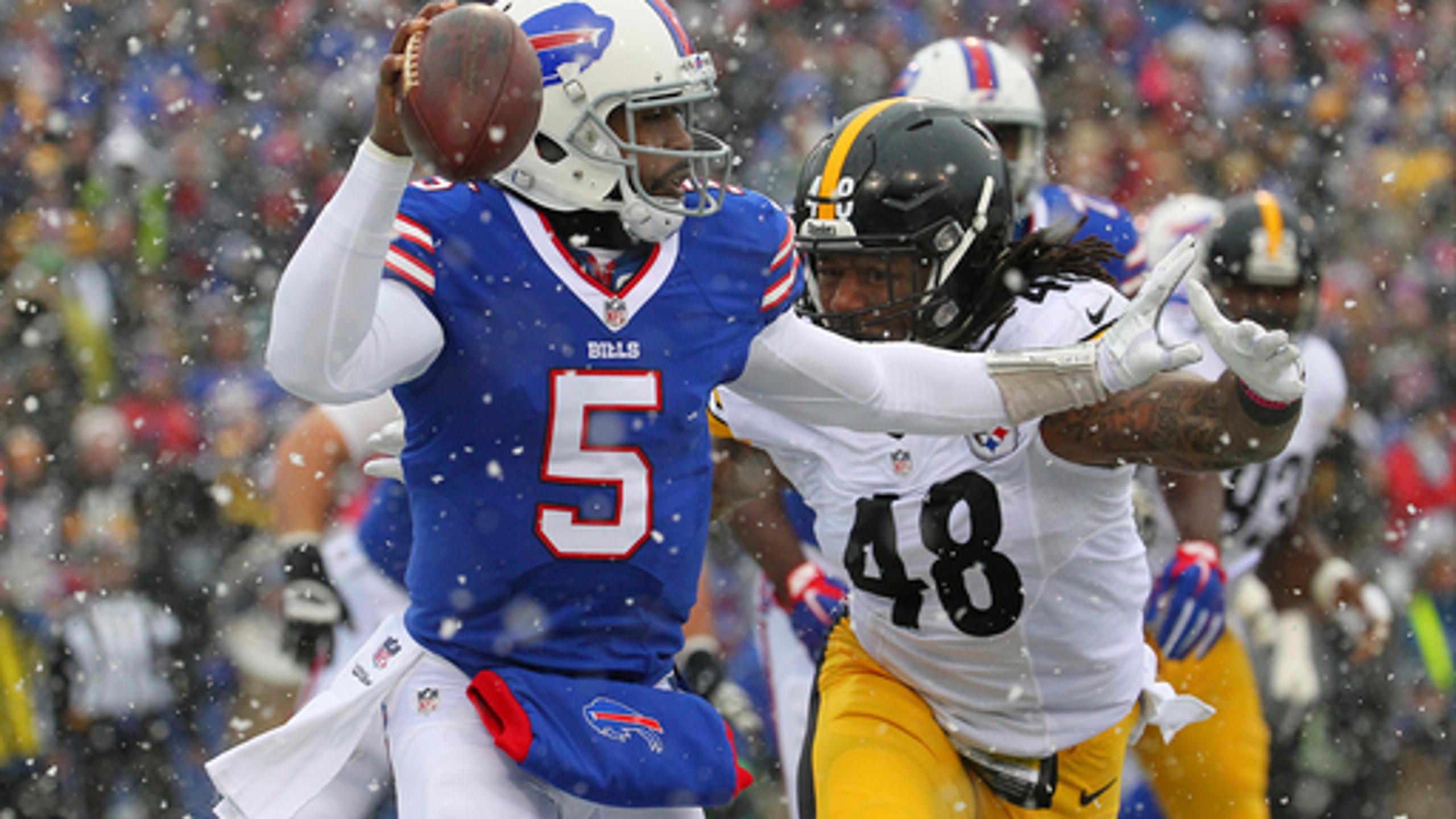 Ryan sticks with QB Taylor; focuses on Bills facing Browns
BY AP • December 12, 2016
ORCHARD PARK, N.Y. (AP) Tyrod Taylor remains the Bills starter, and coach Rex Ryan is focused solely on winning Buffalo's final three games, starting with the winless Cleveland Browns this weekend.
The one thing Ryan refuses to spend time on: questions about his future now that the Bills (6-7) are in jeopardy of extending the NFL's longest active playoff drought to 17 seasons.
''I'm not signing up for a dismissal either,'' Ryan said Monday.
''I really don't know what to feel,'' Ryan added when asked if he feels he's on the hot seat. ''I've been in this game a long time. And I know one thing, to do the very best job that I can do, I have to focus on what's right in front of me, and that's the Cleveland Browns.
''And I promise you that's exactly what I'm going to do. So I'm not going to think one minute about something that may or may not happen.''
Later, Ryan dismissed a question regarding whether he might consider playing backups if keeping his job might not be a concern.
''I'm assuming I'm going to be the coach,'' he said.
Ryan's comments come a day after the Bills unraveled on both sides of the ball in a 27-20 loss to Pittsburgh . A week earlier, Buffalo blew a 15-point third-quarter lead in a 38-24 loss at Oakland .
Buffalo has lost five of seven, with the skid raising speculation over Ryan's job security two seasons into his tenure since signing a five-year contract.
He now has a 15-16 record, and Ryan's prized defense is struggling. Steelers running back Le'Veon Bell scored three times and had a franchise record 236 yards rushing Sunday.
Buffalo's Taylor-led offense is hardly better after managing just seven first downs and 87 yards net offense on its first nine possessions before scoring twice in the final eight minutes against Pittsburgh.
The Bills' sputters on offense led to questions about Taylor. Saying, ''we'll see,'' Ryan was noncommittal about Taylor's status immediately following the game.
On Monday, Ryan backed the second-year starter by saying he continues to believe Taylor provides the Bills the best opportunity to win.
''And that's what we signed up for: We're trying to win these games,'' Ryan said.
He said the choice is his to make, and added he's not given any consideration to starting backup EJ Manuel or fourth-round draft pick Cardale Jones.
Taylor's future remains uncertain beyond this season.
In restructuring the final season of Taylor's contact and signing him to a five-year extension in August, the Bills retained the right to opt out of the deal - and the $27.5 million he is owed in salary and bonuses - before it kicks in this offseason.
Taylor has regressed this season, though his production has been hampered by an injury-depleted group of receivers.
Consistency, however, has remained an issue for a quarterback who has been dynamic as a scrambler but hit or miss as a passer. In his past seven games, Taylor has four touchdowns passing, five rushing with four interceptions and a lost fumble.
Receiver Sammy Watkins backed Taylor when asked about a potential change at quarterback.
''I'm rolling with Ty. That's our guy,'' said Watkins, who has missed eight games this season after aggravating an injury to his surgically repaired left foot.
''There could be speculation and people talking crazy. But that position is one of the hardest positions,'' Watkins said. ''We can't sit there and point fingers at anybody. He's our guy.''
Ryan pinned the Bills' problems on inconsistency.
''At times we look absolutely terrific on either side of the ball, and then there's other times we play poorly,'' Ryan said. ''We have yet to put a full 60 minutes together of playing a game that I think we're capable of playing.''
NOTES: Without revealing the severity of the injury, Ryan said S James Ihedigbo hurt his ankle against the Steelers. ... DT Kyle Williams was spotted at his locker following a walk-through session, though there's no update on his playing status. Williams did not play Sunday because of a back injury. ... LB Lerentee McCray remains in the NFL's concussion protocol.
---
For more NFL coverage: http://www.pro32.ap.org and http://www.twitter.com/AP-NFL
---
---