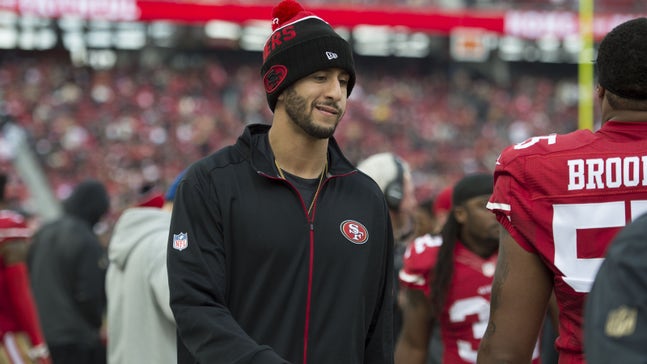 Report: 49ers close to keeping Colin Kaepernick as trade value plunges
Published
Mar. 17, 2016 4:20 p.m. ET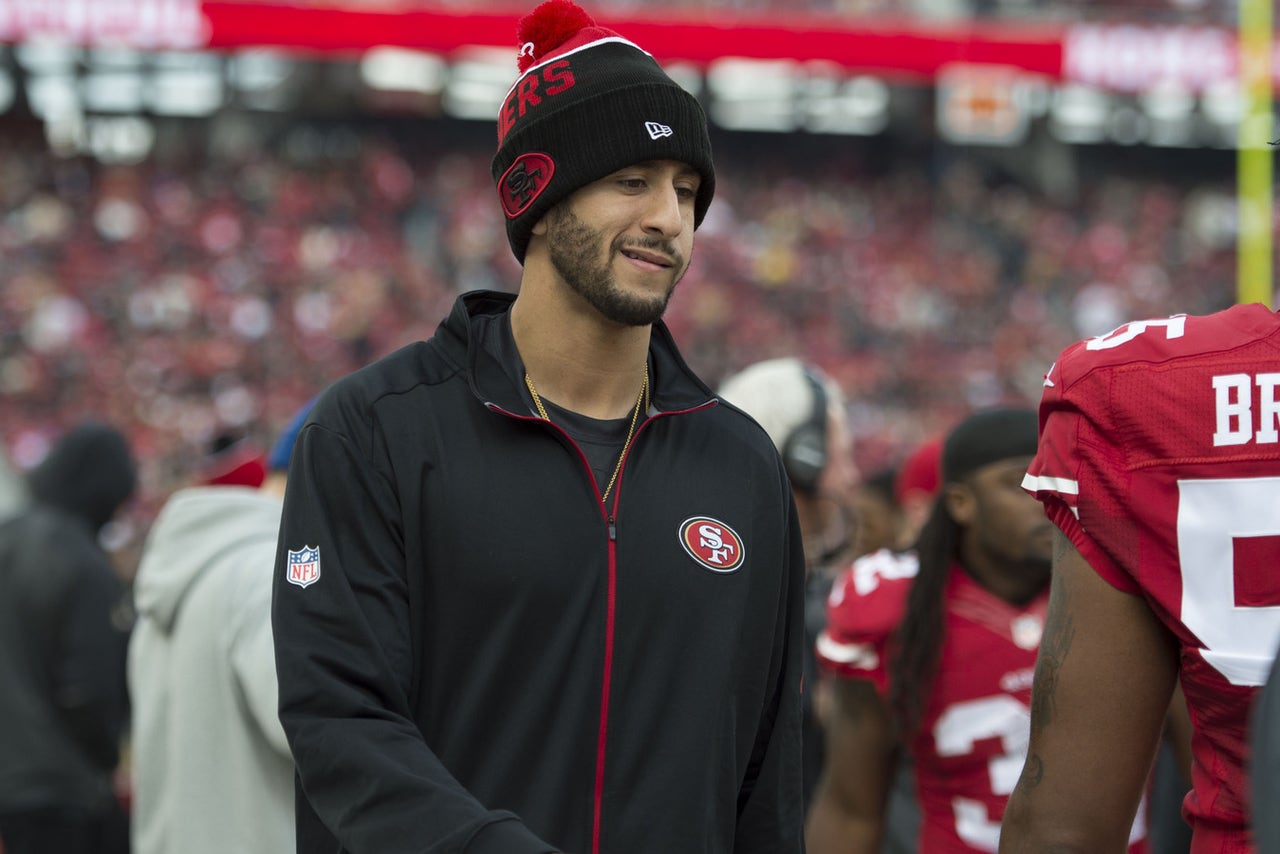 It looks more and more likely that Chip Kelly will get a chance to coach Colin Kapernick after all. The San Francisco 49ers have shopped Kapernick but apparently don't like what teams are offering and now are leaning toward keeping the fifth-year QB, CSNBayArea,com reported Thursday.
"There's a good chance he's still on the team the way things look now," a source told the outlet.
According to the same source, the Broncos, Browns and Jets — teams that are in need of quarterback help — haven't been aggressive in trying to trade for Kaepernick, who will receive $11.9 million for next season if he's still on the roster on April 1.
Kaepernick regressed badly last season, throwing for 1,615 yards with six touchdowns and five interceptions. The team went 2-6 with him starting. He's rehabbing from surgeries on his left shoulder, right thumb and left knee.
While others speculate whether Kaepernick wants to remain in San Francisco or if the 49ers still want him as their quarterback, Kelly is publicly committed to him.
Kelly said he talked to Kaepernick earlier this week and is staying hopeful the mobile quarterback will still be on San Francisco's roster when the offseason program begins April 4.
"I'd love to have him. I'm a big Kap fan," Kelly said Thursday after Stanford's pro day.
Last month, Kelly professed his commitment to Kaepernick during the NFL combine, only to have reports emerge soon after that saying the quarterback's agents had asked general manager Trent Baalke to be traded from San Francisco. The agents haven't responded to multiple inquiries from The Associated Press.
Kelly said he never has gotten that indication from Kaepernick directly.
"That was his agents talking to Trent," Kelly said. "I've never been privy to that kind of stuff. I talked to Kap two days ago. A really good conversation. There's a business side of this game. Whatever that it, that is. But if he's here on the 4th, we'll be ready to go."
Kaepernick went 2-6 in eight starts last season before being benched, raising questions whether the quarterback who led San Francisco to the Super Bowl following the 2012 season was still the man to lead the team.
After that early success of the Super Bowl run and a trip to the NFC title game the next season, Kaepernick has struggled. He took 52 sacks and saw his passer rating drop from 91.6 in 2013 to 86.4 the following season as the 49ers missed the playoffs in the final year under coach Jim Harbaugh.
Things only got worse last year under coach Jim Tomsula. Kaepernick completed just 59 percent of his passes with six TDs, five interceptions and a 78.5 rating before losing his job to Blaine Gabbert midway through the season.
Now there is some hope a new offensive system under Kelly that values mobile quarterbacks could help revive Kaepernick's career if he stays in San Francisco.
First he has to get healthy from medical procedures on his right thumb, his left knee, and on his non-throwing left shoulder to repair a torn labrum. 
"He says he's doing well," Kelly said. "He said he feels like he's on track, he's getting healthy and he's excited. That's the biggest thing for him, just getting healthy."
Despite going 5-11 last season and having plenty of salary cap room available, the 49ers have been relatively quiet this offseason, aside from the speculation about Kaepernick's future. They have signed no prominent free agents, with their biggest move so far being to re-sign kicker Phil Dawson to a one-year deal. But Kelly said that is all part of the plan he and Baalke have.
"Some of the money that was thrown around at the beginning, you have to be able to manage that," he said. "If you're going to pay some guy who never has been to a Pro Bowl more than anyone on your roster, that's a little bit difficult. There are a lot of things that get involved in this."
The Associated Press contributed to this report.
---
---