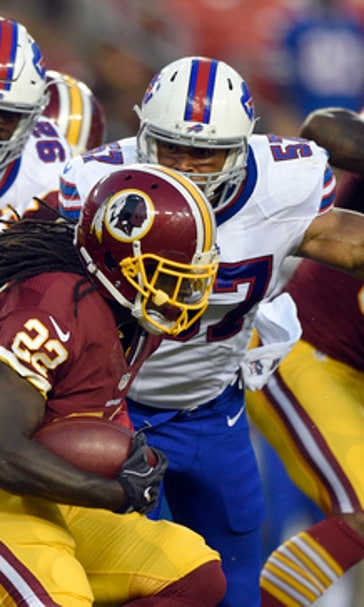 Redskins' Kelley has roster spot, not starting job, on mind
BY foxsports • August 27, 2016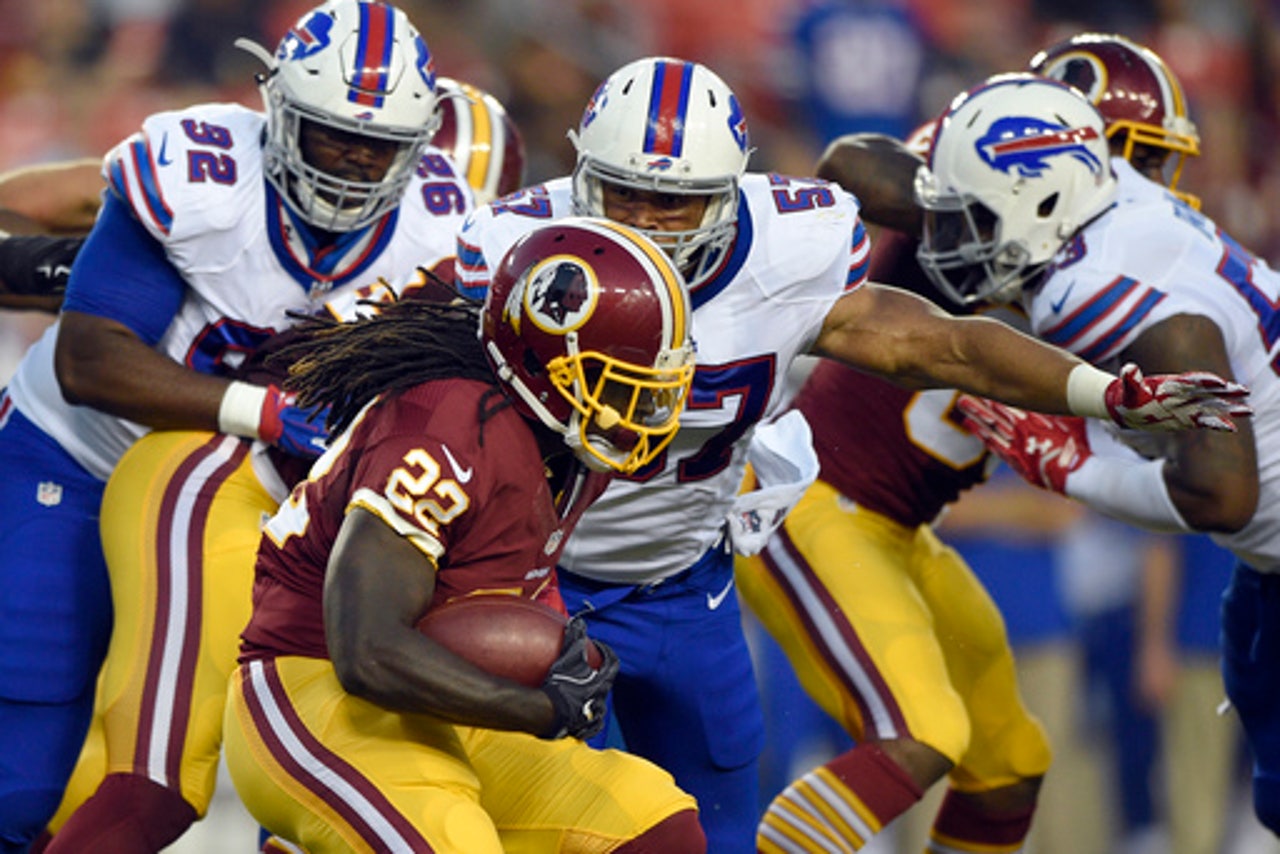 The dominoes couldn't have fallen any better to give undrafted rookie running back Robert Kelley an opportunity to show the Washington Redskins what he could do.
Starter Matt Jones and third-down back Chris Thompson were out of the Friday preseason game against the Buffalo Bills with injuries, and Kelley got the start. Fellow rookie Keith Marshall, a seventh-round pick, sprained his left elbow on his first carry of the game, making it Kelley's stage the rest of the first half with the starters.
Kelley ran for 51 yards on 12 carries, and the Tulane product looked every bit like a player capable of filling the top job Week 1 against the Pittsburgh Steelers if Jones' separated shoulder hasn't completely healed by Sept. 12.
''He looked good,'' left tackle Trent Williams said. ''He found the creases, he moved forward. Obviously there are some things we can clean up, but I think it was a good outing for him.''
Kelley stood out to everyone, except maybe himself. The 23-year-old thought he did well running and protecting quarterback Kirk Cousins but wasn't ready to express confidence in himself as the No. 1 running back if called upon.
He's still approaching it like he has to earn a spot on the 53-man roster.
''Once I get on this team, then we can start going on to other ventures,'' Kelley said after Washington's 21-16 victory. ''Every time I get up there I try to put myself in a better situation to make the team, take advantage of the opportunity.''
The opportunity was certainly there given the injuries to Jones, Thompson and then Marshall, but Kelley appeared to impress coach Jay Gruden early in training camp. Gruden gave Kelley rave reviews before players put on the pads and with contact liked more of what he saw from the 6-foot, 228-pounder who can shift direction without wasting energy.
Kelley made decisive runs against the Bills and fell forward to gain extra yards. Gruden said Kelley ran hard and well, but he was also looking to see what the young running backs could do in pass protection.
Kelley was strong in that department, too, taking care of plenty of Buffalo blitzes, though he acknowledged room for improvement.
''There's probably blocks I could've gotten more of his body or something like that, but for the most part I think I did pretty good in picking up protection with the O-line,'' Kelley said. ''I thought I did a good job, especially out there with Kirk. There's not too much thinking because he's pointing everything out there to you, so you're kind of getting the answers to the test.''
Kelley has passed each test so far in the preseason and feels he has most improved on special teams. Throw in the blocking and it's probably enough to show he should be ahead of second-year back Mack Brown on the depth chart and could be an every-down runner if required.
''A lot of guys can run the ball, but it's what you do when you don't have the ball: Can you help out the O-line? Can you protect that quarterback?'' Kelley said. ''I think all of us can run the ball well, so it's what you can do when you don't have the ball in your hand.''
Kelley, a New Orleans native, has impressed Cousins with his runs, blocks and overall approach.
''I think he showed a lot of confidence tonight as he got going, and he's a talented football player,'' Cousins said. ''I think when you're a rookie and undrafted and you're in that position, what you need is belief. You need people around you to believe in you and have confidence in you because he does have the talent and he can run the football well. You just have to continue encouraging him.''
---
AP NFL website: www.pro32.ap.org and www.twitter.com/AP-NFL
---
---