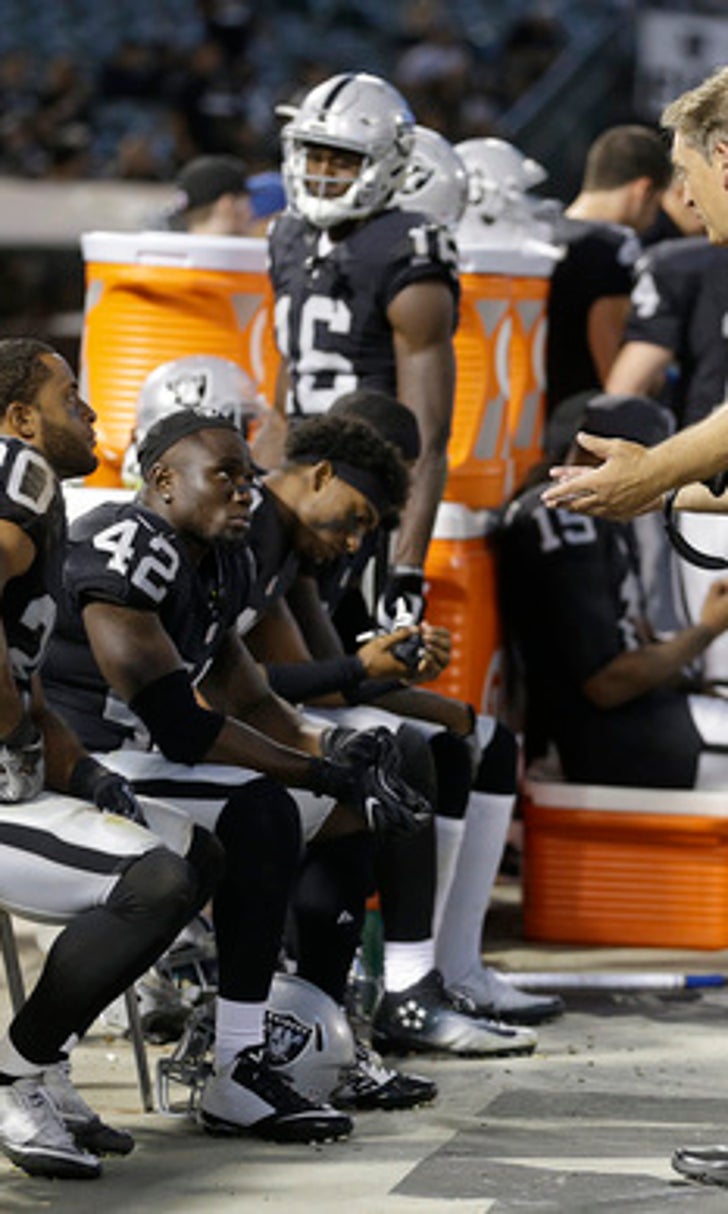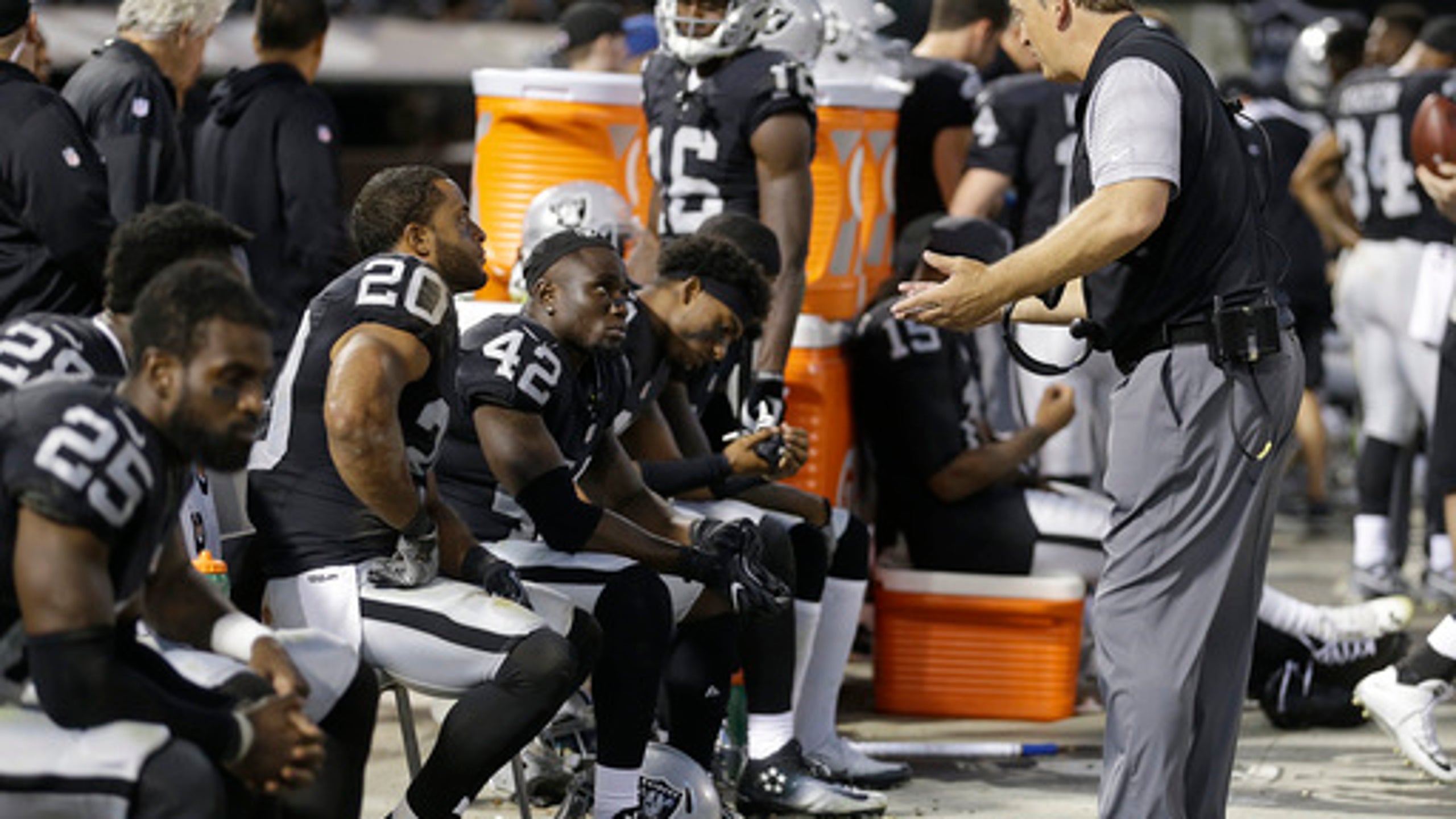 Raiders look to shore up run defense before start of season
BY foxsports • August 29, 2016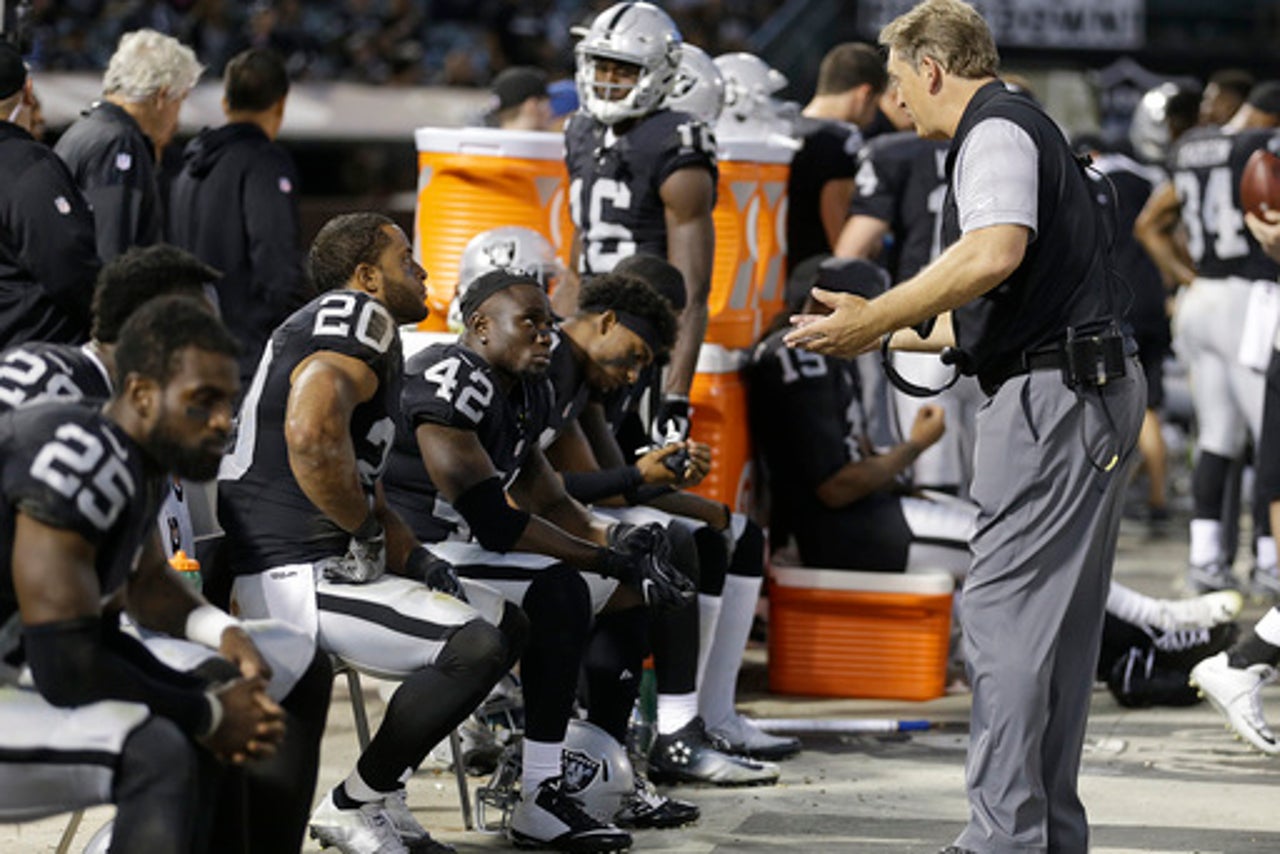 ALAMEDA, Calif. (AP) After watching DeMarco Murray and Derrick Henry run through his first-team defense with relative ease during the third exhibition game, Oakland Raiders coach Jack Del Rio said he took those struggles personally as a former NFL linebacker who prides himself on having a stout defense.
Del Rio wasn't as outwardly concerned Monday after the team's first practice following the preseason game against Tennessee, confident that the problems of players lining up in the wrong spots, staying in their gaps and not trying to do too much will be easily fixed before the games start counting for real on Sept. 11 in New Orleans.
''You can work on these things,'' Del Rio said. ''You get these opportunities during the preseason to tighten these things up. I expect we'll be ready to roll when the regular season gets here.''
The Titans had few problems moving the ball on the ground against the Raiders starting defense on Saturday night. Murray ran for 40 yards on eight carries in the first half, scoring one touchdown. He exploited the Raiders a few times with cutbacks into open lanes vacated by overaggressive defenders.
Henry, a more bruising rookie running back, also had success with 12 carries for 49 yards and a touchdown.
Quarterback Marcus Mariota also managed to beat the Raiders to the outside on an option run as Tennessee had three runs for more than 15 yards in their first 19 offensive plays.
''We just had a lot of misfits, guys just wanting to do too much rather than just play within the defense,'' defensive tackle Dan Williams said. ''Everyone was just trying to shed blocks too fast or jump gaps. DeMarco Murray and Derrick Henry did a great job finding holes. When we got out of our gap, they made us pay for it.''
That comes after the Raiders allowed three long runs in the first half against Arizona in the exhibition opener and struggled to contain Eddie Lacy the following week in Green Bay.
After fortifying the defense in the offseason by rebuilding the secondary and adding linebacker Bruce Irvin, the Raiders are counting on having a defense that won't be so easily pushed around.
''We're very young,'' Williams said. ''We're just learning how to play with each other. We have a lot of good pieces. Especially when you have guys from new teams you have to learn a new language.''
NOTES: Del Rio said he's not ready to announce whether Menelik Watson or Austin Howard will start at right tackle. But signs point to Watson winning that role as he has gotten the bulk of playing time with the first-team offense and has drawn praise from Del Rio. ... Del Rio said he also wants to see more of Cory James at first-team middle linebacker this week after James split time there last game with Ben Heeney.
---
Online:
AP NFL website: www.pro32.ap.org and www.twitter.com/AP-NFL
---
---