National Football League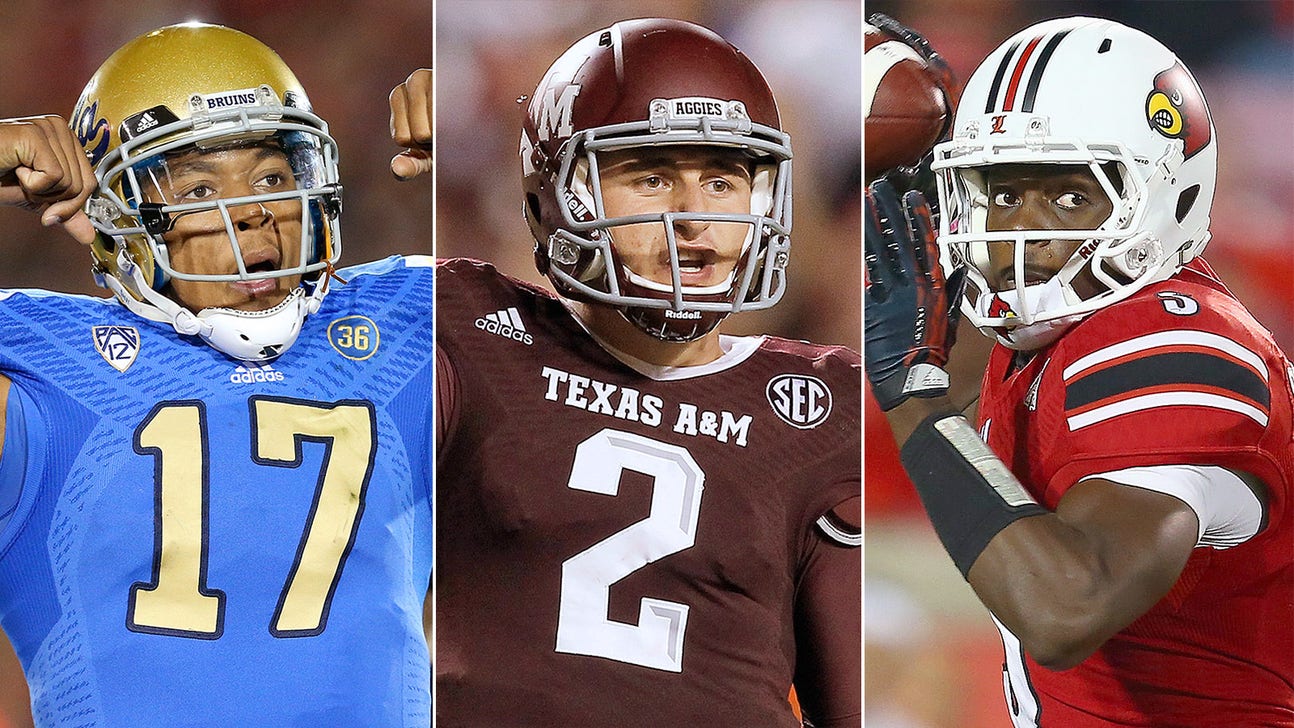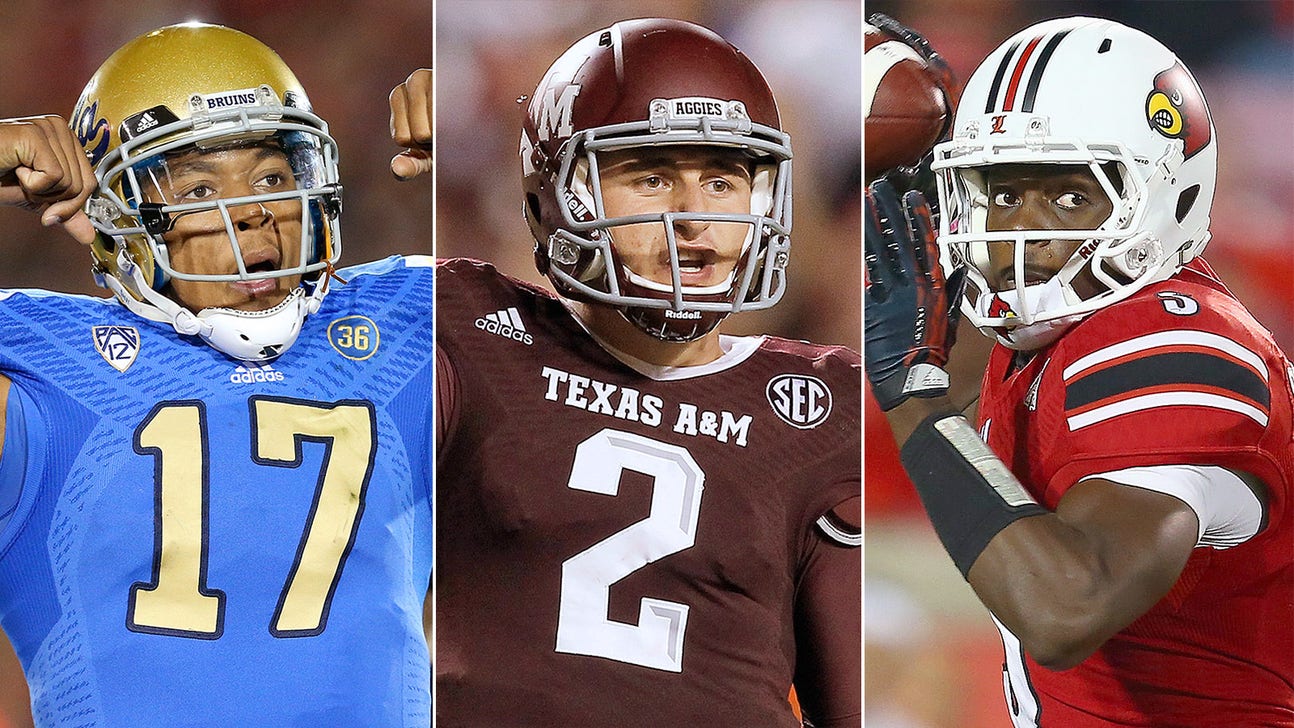 National Football League
QBs aplenty in Schrager's 2014 NFL Mock Draft, 1.0
Updated
Mar. 4, 2020 11:26 p.m. ET

Way too soon to do an NFL mock draft, you say? Well, certainly it's about three months too early to pull one off with any ounce of confidence. After all, last year at this time, I had Matt Barkley going in the Top 10 and didn't have Travis Frederick anywhere close to sniffing the first or second round.
But I also had EJ Manuel going in the first round and was hit with a barrage of emails calling me things so terrible, 'idiot' was a compliment. Well, I am, but I also follow this stuff pretty closely.
Things happen. Coaches get fired. Free agency starts. Prospects run the combine / pro day / front-office interview gauntlet. Drug tests are taken — and failed. Those factors will combine to shake up the first round a hundred times over between now and May. So, why bother?
Because they're fun. Here's my first of many for the 2014 first round. As always, two long-standing rules, and a new one based on the developments of the past year:
1. All draft-eligible players are eligible to be included in my mock draft, excluding players who have said they are returning to school next season, like Oregon QB Marcus Mariota has declared he's coming back to school.
2. This is, of course, all very much subject to change (key words: very much).
3. The new 'rule': Look, the NFL is a passing league. End of story. Last year, the first running back did not come off the board until early in the second round. And thus, you won't find any RBs on this list, either.
Notes:
1. The draft order used here is based on the current standings with teams' projected final strengths of schedule as tiebreakers. The final 12 picks will be determined by playoff finish.
2. Players with college eligibility remaining beyond this season are noted with an asterisk (*).
Now, on with the fun.
1. Houston Texans
*—Teddy Bridgewater, QB, Louisville
So many questions down there in Houston right now. Do the Texans stick with Gary Kubiak? Is Case Keenum the answer at QB, or does Matt Schaub get another shot? We will know by May, but as of right now, I think a quarterback's the way to go. For what it's worth, Mariota was my No. 1 QB prospect this year. But he proved to be one of a very rare breed: somebody who picks Eugene, Ore., over Radio City.
2. Jacksonville Jaguars
The Texans have QB issues. Could Teddy Bridgewater be the answer?

*—Brett Hundley, QB, UCLA
Hundley told Jim Rome this week he's likely returning to Westwood next season, but let's pencil him in here for now. This is a lot earlier than where most others have him, but I think he's got all the tools. Jags would be drafting on potential, which I think they're OK with. He's got the biggest upside of the entire QB crop this year. At 6-foot-3, 220 pounds, he's got the build and the spark to be a talented pro quarterback. Jacksonville's been patient with Blaine Gabbert; that patience has finally run out.
3. St. Louis Rams (from Washington Redskins)
Jake Matthews, OT, Texas A&M
Matthews is the franchise offensive tackle Jason Smith was not (for those who forget, Smith was taken second overall out of Baylor in the 2009 Draft — he started 26 games in three seasons in St. Louis, then played two games with the Jets and is now out of the league). With the 14th pick in their back pocket, the Rams have the luxury to take the best guy on the board at No. 3 instead of the third-best quarterback. I think Matthews is the guy.
4. Atlanta Falcons
*—Jadeveon Clowney, DE, South Carolina
A tremendous fit for both sides. Defensive coordinator Mike Nolan will do wonders with this kid.
5. Tampa Bay Buccaneers
*—Sammy Watkins, WR, Clemson
Is Mike Glennon the guy at quarterback? I think so. Of course, a lot can change with four weeks left in the season. Anthony Barr could be the guy here, but Watkins and Vincent Jackson could form one of the top receiving duos in the NFL. Watkins has all the tools to be an NFL great.
6. Minnesota Vikings
Derek Carr, QB, Fresno State
Twelve years ago, Carr's older brother David was the first pick of the draft, going to the Houston Texans with the first pick in franchise history. Well, the Texans are at No. 1 again, and they need a QB. But this Carr is going to hand off to Adrian Peterson, not Arian Foster. There's not a lot of buzz about the younger Carr at the moment, but give it a few weeks, a strong showing at the Senior Bowl, and some impressive workouts. You'll start hearing more and more about the Fresno State star. He could be the next great hope at quarterback in Minnesota — as if there haven't been enough of those lately.
7. Oakland Raiders
Anthony Barr, LB, UCLA
He does it all. Think Von Miller, Part II. Dropping to No. 7 is a bit of a surprise, but Oakland wouldn't blink.
8. Cleveland Browns
Khalil Mack, LB, Buffalo
A top-10 pick out of Buffalo? Yes. And he fits D-coordinator Ray Horton's scheme perfectly. Quarterback may be tempting here, but remember, Cleveland has a pick at the end of the first round, too. The Browns can be creative here.
9. Buffalo Bills
Trent Murphy, DE, Stanford
Proven run-stuffer. Another addition to a rebuilding defense that can play right from the get-go.
10. Pittsburgh Steelers
Taylor Lewan, OT, Michigan
Tough, hard-nosed player who can play right away. Played very well versus Ohio State. Looks like a future Steelers road paver. Big Ben could sure use him.
11. New York Jets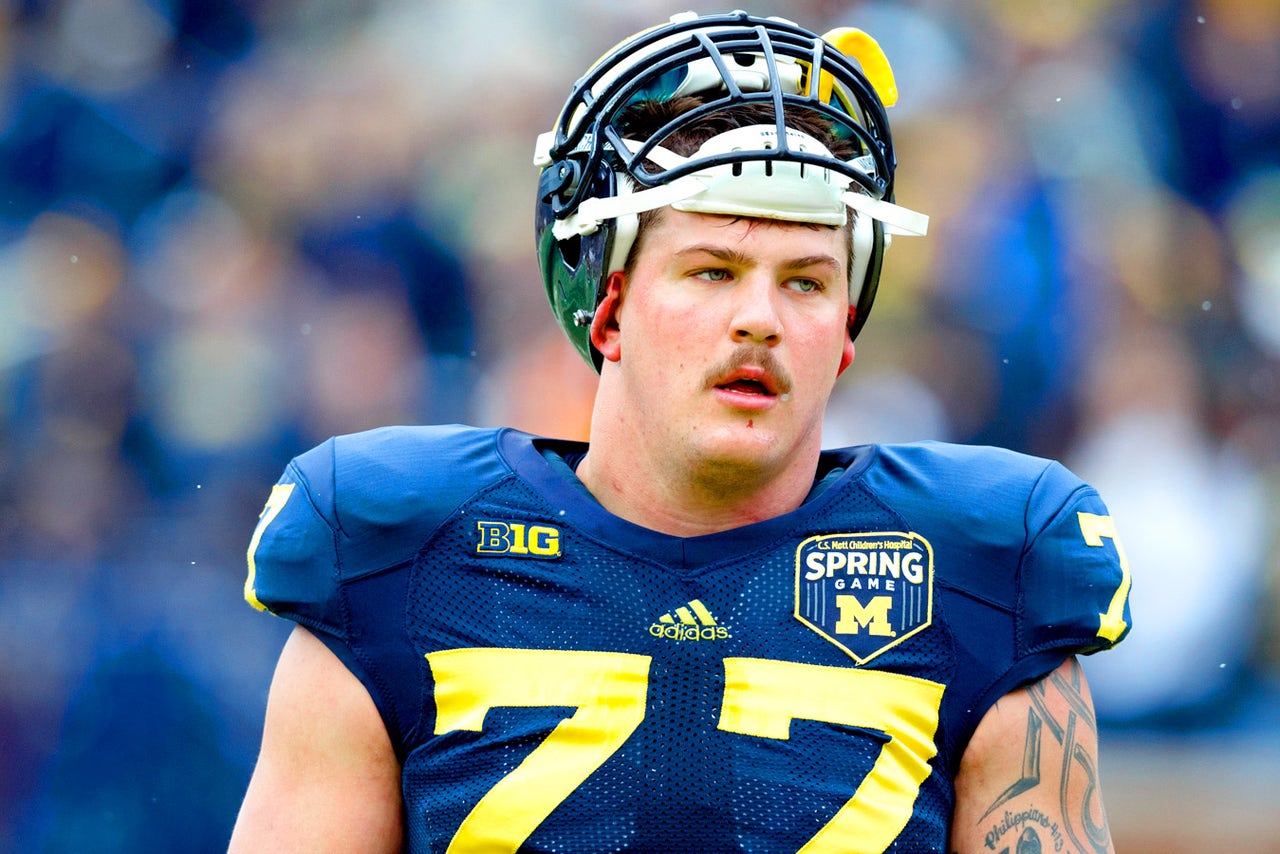 Big, bruising Michigan offensive lineman Taylor Lewan could be an ideal fit in Pittsburgh.

*—Johnny Manziel, QB, Texas A&M
The Jets have decisions to make all over the field, starting at quarterback. I know, I know . . . Geno Smith is already there. Well, Smith came into this season very much unproven, and with a month left in the regular season, the best we can say is he still looks unproven. Is Johnny Football capable of handling the spotlight of New York City? He sure played awfully well with all eyes on him this season. He's a hot-button topic, so why not be a New York Jet? And unlike many others, I do think his skill set translates to the pro game. Sure, he has got a lot of room for improvement. But they all do.
12. San Diego Chargers
*—Ifo Ekpre-Olomu, CB, Oregon
Mariota may not be coming out, but this Oregon underclassman should. He could be the top corner taken. San Diego's building a nice young core on D. Here's another addition.
13. Tennessee Titans
Tajh Boyd, QB, Clemson
I'm still of the belief that Boyd is a first-round pick. Whereas the Senior Bowl has burned prospects in the past, I think it will do Boyd a lot of good. The kid can play. He will be a first round pick, regardless of whatever and whoever else you're reading. He has too many tools and has shown too many flashes of brilliance over the past two seasons for him to drop out of Day 1. Write it down.
14. St. Louis Rams — Note: I originally had the Rams taking LSU QB Zach Mettenberger with this pick. But with reports surfacing Tuesday night the Mettenberger suffered a torn ACL, the pick has changed.
Trevor Reilly, DE/OLB, Utah
The Rams miss out on the QB that best fits, but they don't reach for one for the sake of bringing in a new arm, either. Reilly can play DE or LB at the next level and can do so right away. One of the league's best young defenses brings in another player who can get to the QB.
15. New York Giants
Louis Nix III, DT, Notre Dame
Nix has battled some injuries, the worst being the season-ending knee injury that required surgery last month. While there are some doubts as to whether he will come out (he is expected to graduate this month but has a season of eligibility remaining), he certainly fits the Giants mold. Tough, smart, and active up front. Can rush the quarterback and also stuff the run in the middle.
16. Green Bay Packers
Darqueze Dennard, DB, Michigan State
Talented corner and arguably the top in this year's draft class — certainly the best of the corners with four years of college experience. He could make a particularly big impact in Green Bay if the Packers lose Sam Shields to free agency this offseason.
17. Chicago Bears
*—Vic Beasley, DE, Clemson
All eyes are on his Tigers teammates across the ball in Boyd and Watkins, but Beasley could end up being the best professional player of the bunch. Chicago's defense has taken a hit this year with injuries and age. Beasley could be a nice piece for the core in Chicago. And I think Chicago brings Cutler back, so there is no need for QB this high.
18. Baltimore Ravens
*—Cyrus Kouandjio, OT, Alabama
The Ravens' offensive line has struggled this year and Michael Oher is a free agent. Ozzie Newsome loves his Alabama guys. This one's an athletic big body who can give Joe Flacco and Ray Rice some immediate help.
19. Arizona Cardinals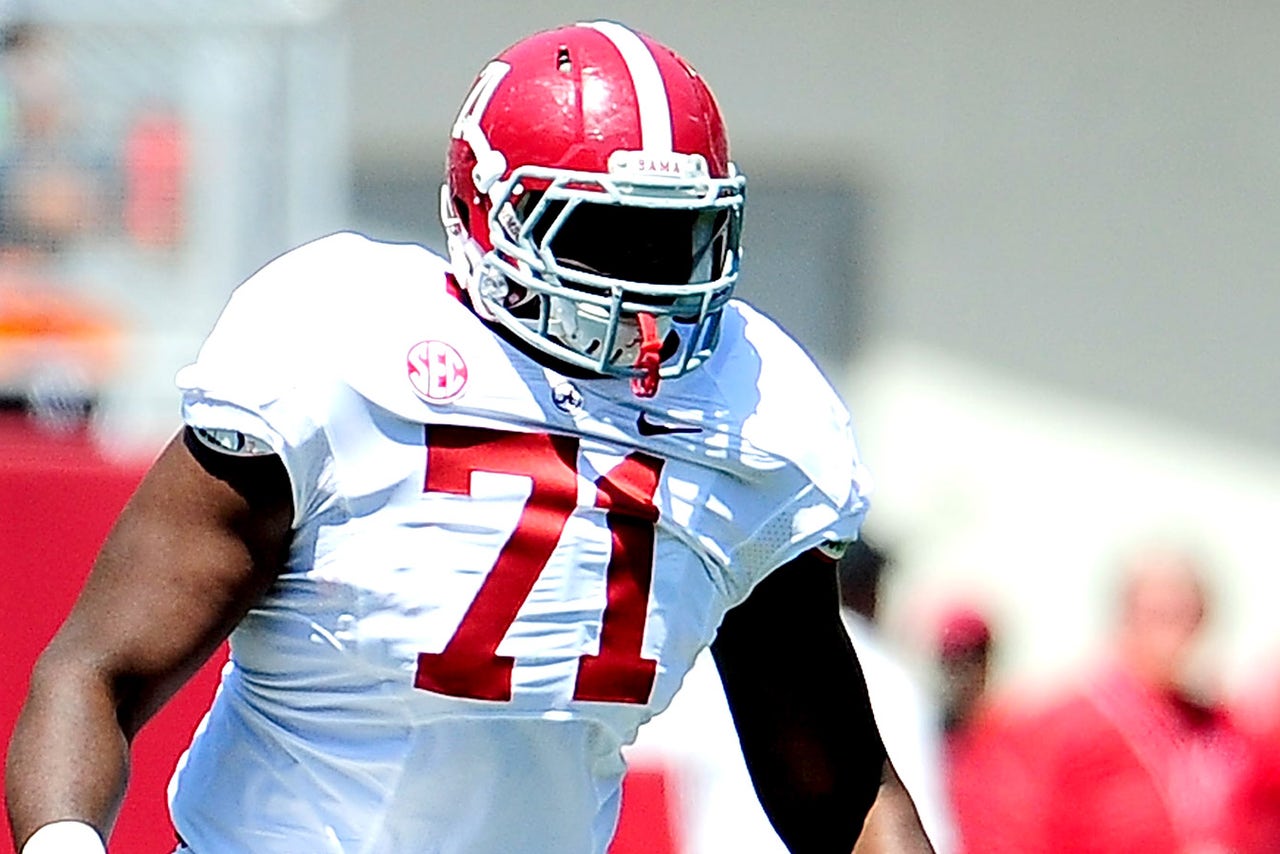 The Ravens need an upgrade on the offensive line, and Alabama's Cyrus Kouandjio has the look of a potential star.
*—Cedric Ogbuehi, OT, Texas A&M
The Cardinals lost 2013 No. 7 overall pick Jonathan Cooper to an injury before this season started. He'll be the anchor of the offensive line's interior. Ogbuehi would make for an awfully nice addition at one of the tackle spots.
20. Philadelphia Eagles
Jason Verrett, CB, TCU
The Eagles' defensive backfield was overhauled last offseason. The corners and safeties have played much better in 2013, but the secondary could use one or two more talented cover guys. Verrett's a player.
21. Detroit Lions
C.J. Mosley, OLB, Alabama
I've seen top-10 grades on Mosley. I like Barr and Mack a bit more, but do think Nick Saban's latest standout LB does go in the first round.
22. Miami Dolphins
Zack Martin, OT, Notre Dame
Big, mauling offensive lineman that can be inserted into the lineup right away. He plays at Notre Dame, so he used to media coverage, which should help. After all, the Dolphins' offensive line has not spent any time in the news at all this season.
23. Dallas Cowboys
Ra'Shede Hageman, DT, Minnesota
Dallas is always a hard team to predict come draft weekend, but I could see Hageman being on Jerry Jones' board. He's a versatile big guy who can play inside or outside and has good athleticism seeing how he came to Minnesota as a tight end. And in Big D, who knows what the defense will look like next year — or who will be running it?
24. Cleveland Browns (from Indianapolis Colts)
*—Mike Evans, WR, Texas A&M
Like Manziel, Evans is a redshirt sophomore who has thrown up mind-boggling numbers in two seasons in the SEC. A 6-5, do everything receiver that could be the perfect complement to Josh Gordon. Who will be throwing them the ball? Good question.
25. Cincinnati Bengals
*—Stephon Tuitt, DE, Notre Dame
This is a little earlier than I see others slating Tuitt, but the talented defensive end has a first-round grade in my book. Cincy's D-Line is among the league's best already, though all-world DT Geno Atkins did blow out his knee on Halloween. Get Tuitt in there and the Bengals become even nastier.
26. San Francisco 49ers
David Yankey, OG, Stanford
Is there a better fit in the first round? He's a 315-pound mauling guard; the 49ers love to pound the ball up the middle. He was recruited by Jim Harbaugh in high school; now he plays for him in the pros.
27. Kansas City Chiefs
Will Sutton, DT, Arizona State
Dontari Poe has been a sensation in the middle during his second season with Kansas City. D-coordinator Bob Sutton grabs another one in Will. By the way, Will is not related to Bob, but Will's dad Mickey played DB and returned punts in the NFL for five seasons.
28. Carolina Panthers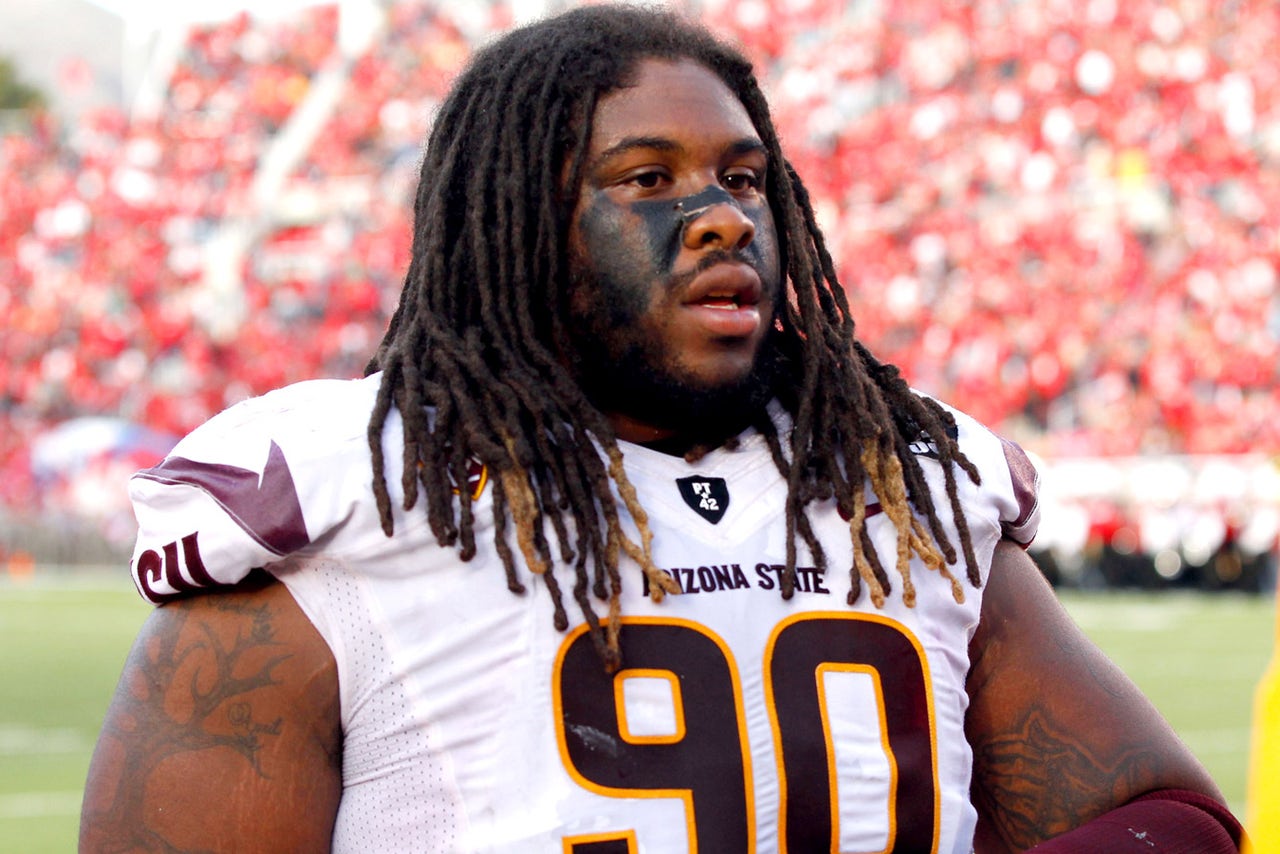 An already formidable Kansas City Chiefs defense could get another spark with Arizona State's Will Sutton.

Justin Gilbert, CB, Oklahoma State
The top young defense in the league could use some more depth at corner. Gilbert adds a little pop on special teams, too.
29. New England Patriots
*—Austin Seferian-Jenkins, TE, Washington
I am on an island here, but I like Seferian-Jenkins as a pro prospect more than the heralded Jace Amaro (Texas Tech) and Eric Ebron (North Carolina). Bill Belichick loves his tight ends. And in today's NFL, you can never have enough talented ones.
30. New Orleans Saints
Kyle Van Noy, OLB, BYU
A do-it-all guy who has had back-to-back impressive seasons in Provo. He is a first- or second-round talent who would be a nice fit in Rob Ryan's 3-4.
31. Denver Broncos
Morgan Breslin, OLB, USC
Breslin has battled injuries this season, but has been a beast when healthy and was on pace to do special things this season. Broncos D-coordinator Jack Del Rio, who I assume will be back next season, is an old USC linebacker, himself.
32. Seattle Seahawks
Pierre Desir, CB, Lindenwood
A small school guy you haven't heard of. Scouts like him — 6-2, 205 pounds, and all over the field making plays.
---
---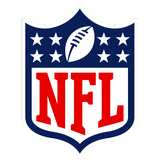 Get more from National Football League
Follow your favorites to get information about games, news and more
---