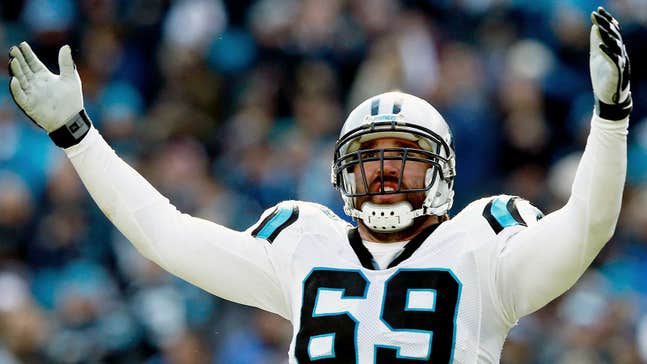 Panthers get Super news with Jared Allen's return to practice field
Updated
Mar. 4, 2020 2:29 p.m. ET

The Super Bowl may still be four days away, but the Carolina Panthers were certainly winners on Wednesday.
The club entered Super Bowl week with the two biggest question marks on either team in terms of health: linebacker Thomas Davis (broken arm) and defensive end Jared Allen (broken foot). Davis was a full participant in practice; Allen was a limited participant.
When the Panthers took the practice field at Stanford Stadium, both players were there. Coach Ron Rivera said that Davis "looked really good" and that he "used that arm well."
But that was not the surprise; Davis had been saying since he broke the arm in the NFC Championship Game that he would play against the Broncos in Super Bowl 50. But having Allen out there, after he missed the NFC title game with the foot injury, was the day's truly big news.
Allen, too, had been pledging to play Sunday. But seeing him on the field, and on the injury report as practicing, was a big deal for a lot people — except for Rivera, of course.
"Jared's was really about rest," Rivera told the gathered media after the workout. "He's been going full-blast since we started, and the doctors wanted to just make sure. So he earned the rest."
The Associated Press contributed to this report
---
---