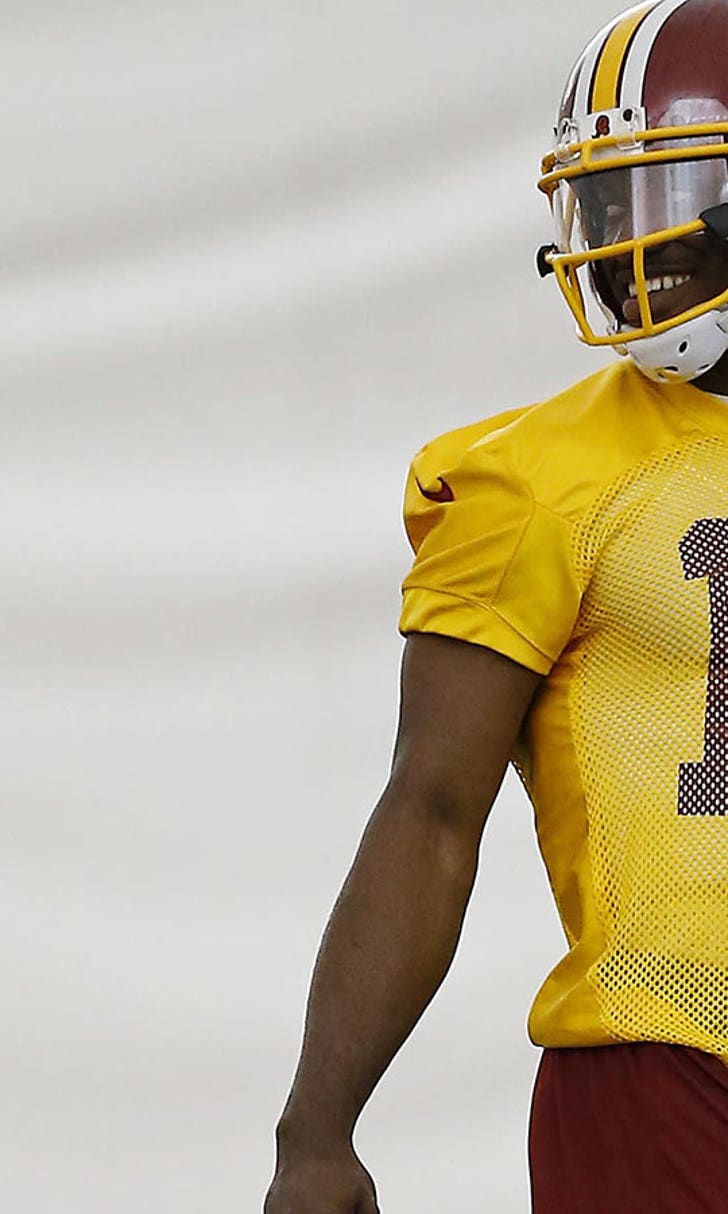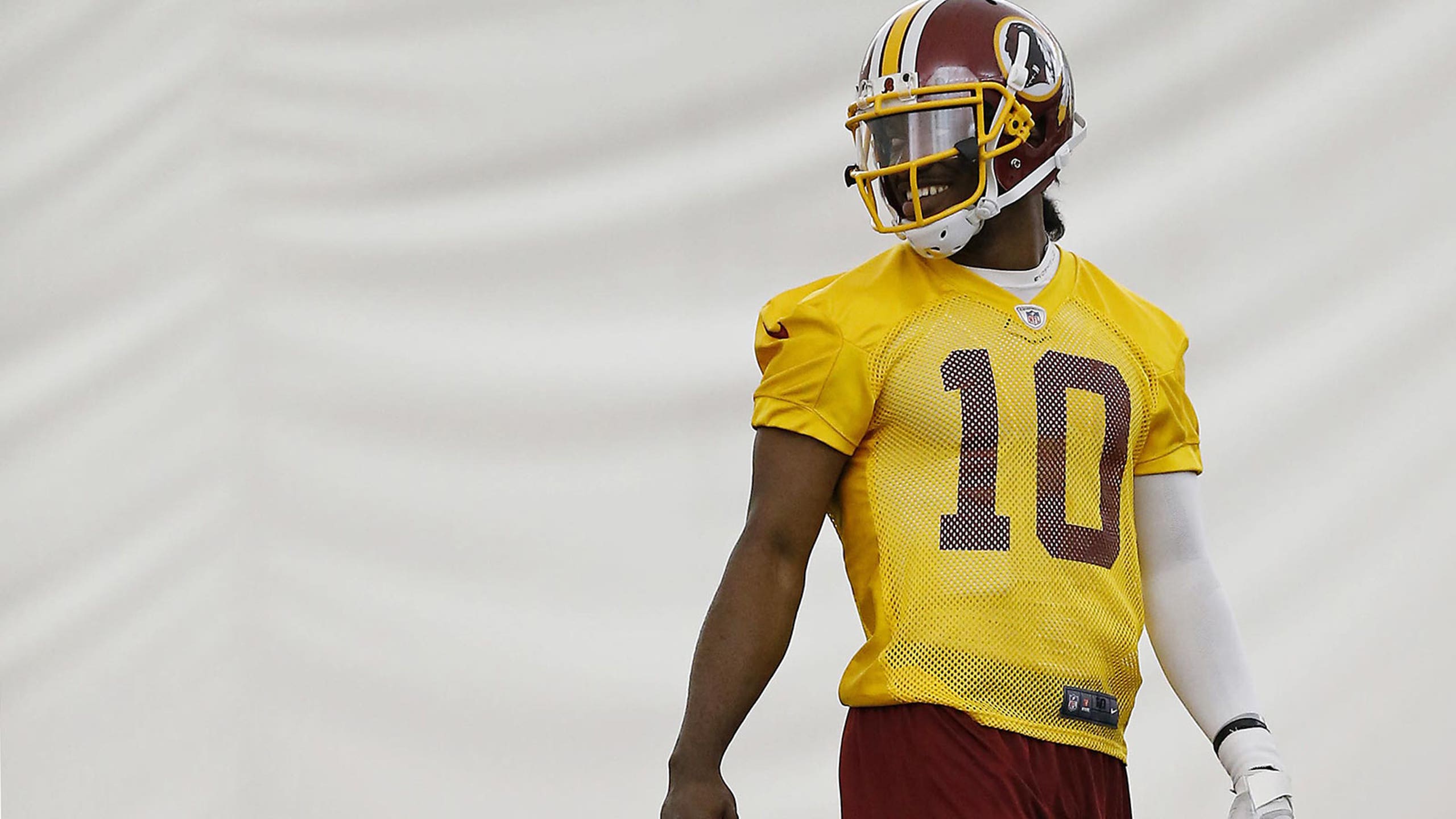 One year makes world of difference for Robert Griffin III
BY Ross Jones • July 3, 2014
LOS ANGELES — The difference a year makes in the world of Redskins quarterback Robert Griffin III is just about everything.
Coming off a Rookie of the Year campaign and the team's first playoff berth since 2007, Griffin spent last offseason rehabbing a torn ACL and MCL. Rigorous workouts and lengthy sessions were part of the routine, and the hours in the training room caused him to miss out on some time with his team. Bonding with teammates and building camaraderie often go overlooked. The third-year quarterback, though, is adamant that he'll maximize each moment when he reports to training camp July 24.
"That's what people don't understand," Griffin, 24, told FOXSports.com. "Being around my teammates, being able to work with them, condition with them and lift with them, just the locker room talk is all so important. It's important to me.
"Last year, I didn't have an opportunity to do that, but I didn't take that mindset into the season and say, 'This is going to hurt me. This is going to hurt me.' I'm going keep playing the hand that's dealt to me. Last year, I had the rehab. This year, I don't have to do that. I'm going to take full advantage of that."
The clunky knee brace, which stifled Griffin at times, isn't the only thing that's gone from Redskins Park. The coaching staff is now led by the energetic Jay Gruden, and everyone is on the same page.
"What I think is going to help us most this year is that everybody in that building is going to be for us being successful and for us winning," Griffin said. "There are no ulterior motives. That will be great. Jay has been phenomenal. (General manager) Bruce Allen has done great job of getting the right guys in that locker room. I tip my hat to them. They have given us everything we need to be successful. We're going to work our butts off for them."
Besides the new staff and the crop of new talent that arrived via the draft, the team added some dynamic veteran playmakers on offense. Wide receivers DeSean Jackson and Andre Roberts will contribute to an offense that sputtered at times last year, but Griffin is most excited about the re-emergence of tight end Jordan Reed.
Reed, who didn't play after Week 11 due to concussions, spent a week in March with Griffin and others in Arizona working on timing and developing chemistry.
"I think he's one of the most talented tight ends in the league," Griffin said. "He'll have an opportunity to show that. He's a guy that runs some of the best routes I've ever seen. Our offensive coordinator, Sean McVay, has said that you can't cover the guy. If (Reed) knows what he's doing, where he's going and he knows how he's trying to get there, you can't cover him. That's a good asset to have. I know last year we targeted him 11 times and he caught 11 balls in one game. That's what you want. You want to throw it to a guy that's going to catch it every time. You want to throw it to a guy who is going to secure that catch."
In addition to the stockpile of weapons, Griffin now has more freedom in the offense, including the ability to change protections and audible at the line of scrimmage. Though last year's offense was able to get out of bad plays when needed, Griffin's ability to operate all of the controls wasn't as pronounced.
The added responsibility is something Gruden, who played more than a decade in the Arena League and World League, suggested.
"Jay played the position of quarterback, so he can see what we're seeing," said Griffin, who was shooting an upcoming SUBWAY commercial with fellow Famous Fan Justin Tuck and newcomer Anthony Barr. "He can feel what we feel in the pocket. It's a different coaching philosophy and everyone is enjoying it."
One constant with the offense has been McVay. The 28-year-old coordinator spent three seasons coaching tight ends before he was promoted this offseason. Griffin, who has spent countless hours with Reed, also has built a strong connection with McVay. The young coordinator has witnessed Griffin progress since the team selected him No. 2 overall in the 2012 NFL Draft.
"He's been here and seen me grow from my first year to now," Griffin said of McVay. "He's seen the person that I am and has been here for some of the adversity that we dealt with. It was together. It's great to have him in our corner."
A year from now, the nightmare of the knee injury and downturn of 2013 could all be just lessons learned and distant memories.
"It's just a new feeling in the building, a new excitement and a new energy," Griffin said. "That's what we needed the most. We needed something new, and now we have that. We have that hunger. That hunger is there."
---
---