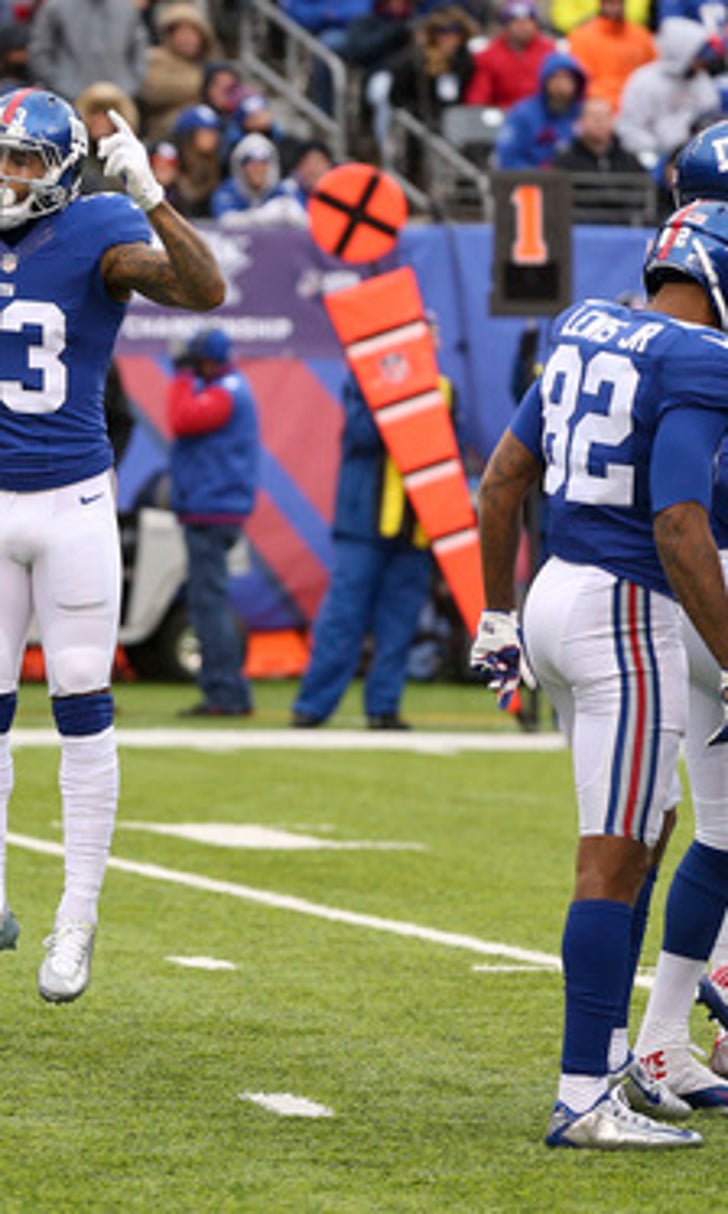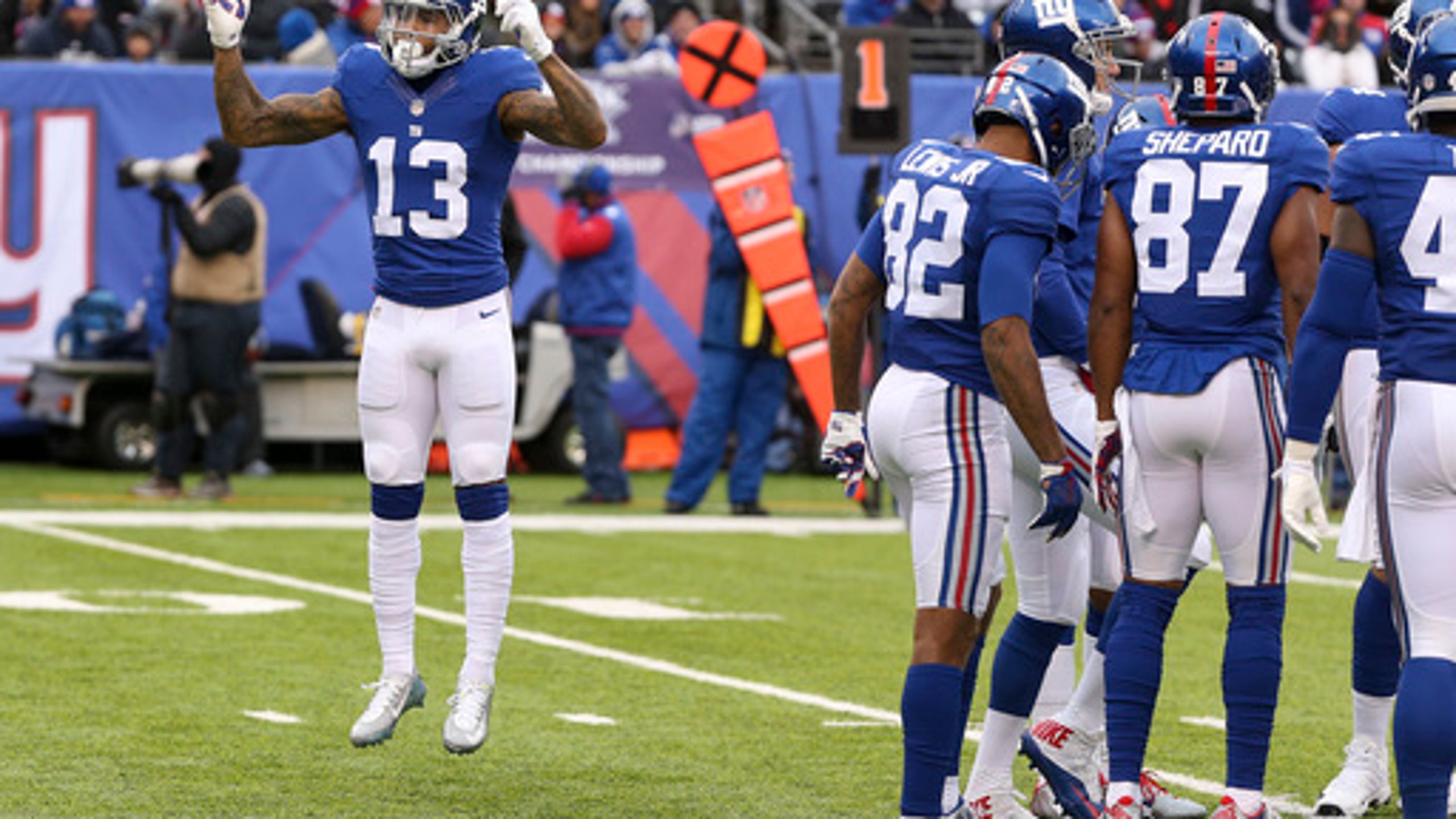 Odell Beckham's big plays have dropped off in winning streak
BY foxsports • November 23, 2016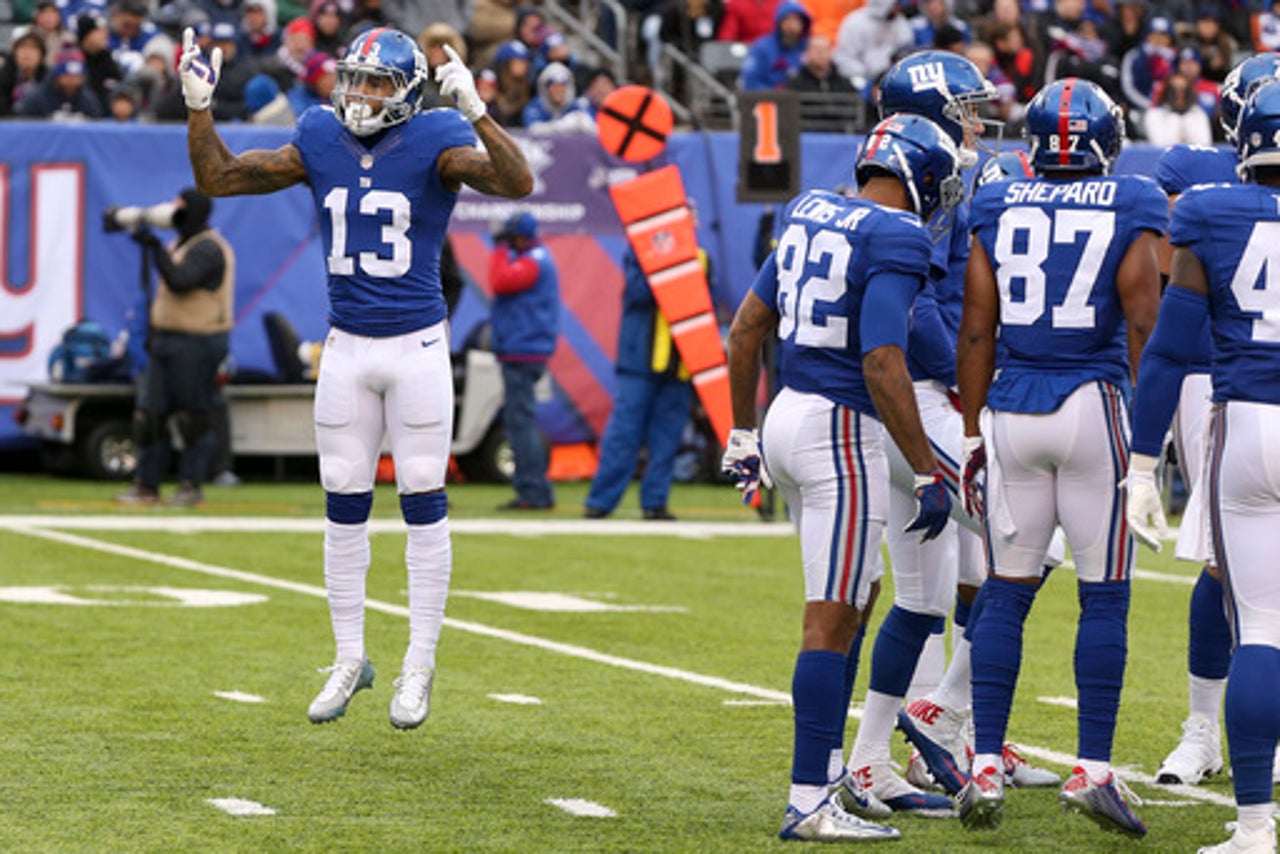 EAST RUTHERFORD, N.J. (AP) When the New York Giants started their five-game winning streak, it was Odell Beckham Jr. who led the way.
The big-play wide receiver had eight catches for a career-high 222 yards and two touchdowns, including a winning 66-yard catch and run with 1:24 to play, as the Giants snapped a three-game losing streak with a 27-23 win over the Baltimore Ravens on Oct. 16.
The performance started New York (7-3) on the way to its longest regular-season winning streak since 2010, and put it in the playoff hunt for the first time in years.
Ironically, Beckham hasn't had any other big games in the run, and he seemed annoyed answering questions after the Giants' 22-16 win over the Bears this past weekend.
For the record, Beckham has had 24 catches for 238 yards and three touchdowns in the last four games. He is obviously contributing to the offense, but he is averaging 9.9 yards in that span. It's almost five yards a catch less than his career average.
Opposing defenses have had something to do with that. He is drawing a lot of double coverages, but it's just not the same Beckham.
Beckham insists all he cares about are winning and getting to the playoffs for the first time since he drafted in the first round in 2014.
''We know that we haven't played to our full potential. We're still coming away with wins,'' he said of the offense. ''We just need to step it up in each and every way. Put games away when they need to be put away.''
That's been the job of the Giants' defense this season. In all five wins, Steve Spagnuolo's unit has stepped up with the game on the line.
''I think it's the difference between this year and last year,'' Beckham said. ''Last year, we just didn't have that same defense that's coming up with three or four stops in a row when we needed to. It was 22-16. We stopped them three or four times in a row. Last year, they may have scored once and it would've been 23-22 and we didn't score on offense. They're doing a tremendous job of closing out games.''
Beckham would like nothing more than to see the offense break out this week against the winless Cleveland Browns (0-11). However, he knows he will face a challenge going against cornerback Joe Haden.
''He's a great corner, someone who I've watched for a long time, even when he was at Florida,'' said Beckham, who two years ago made his famous one-hand touchdown catch against Dallas. ''We're friends in a sense. I'm sure when we get out there it's going to be all competition, but at the end, it's all love. I'm excited about the opportunity to go against one of the premier corners in this league.''
Like most of the team, Beckham uttered the company line that the Giants are taking this game just like any other. They are focused on the Browns and are taking nothing for granted.
The other thing the Giants were focused on Wednesday was Thanksgiving.
Practice will be early on Thursday and the players will spend time with family the rest of the day. Beckham's mother, stepfather and sister are coming to town.
''I'm not cooking, I'm eating,'' said Beckham, adding his mom and stepdad will probably cook. He also plans to watch some football on television.
NOTES: DE Jason Pierre-Paul (knee), OL Marshall Newhouse (knee), OL Brett Jones (calf) and WR Roger Lewis, Jr. (concussion) did not practice. ... G Justin Pugh (knee) and WR/returner Dwayne Harris (wrist) were limited.
---
For more NFL coverage: http://www.pro32.ap.org and -http://www.twitter.com/AP-NFL
---
---