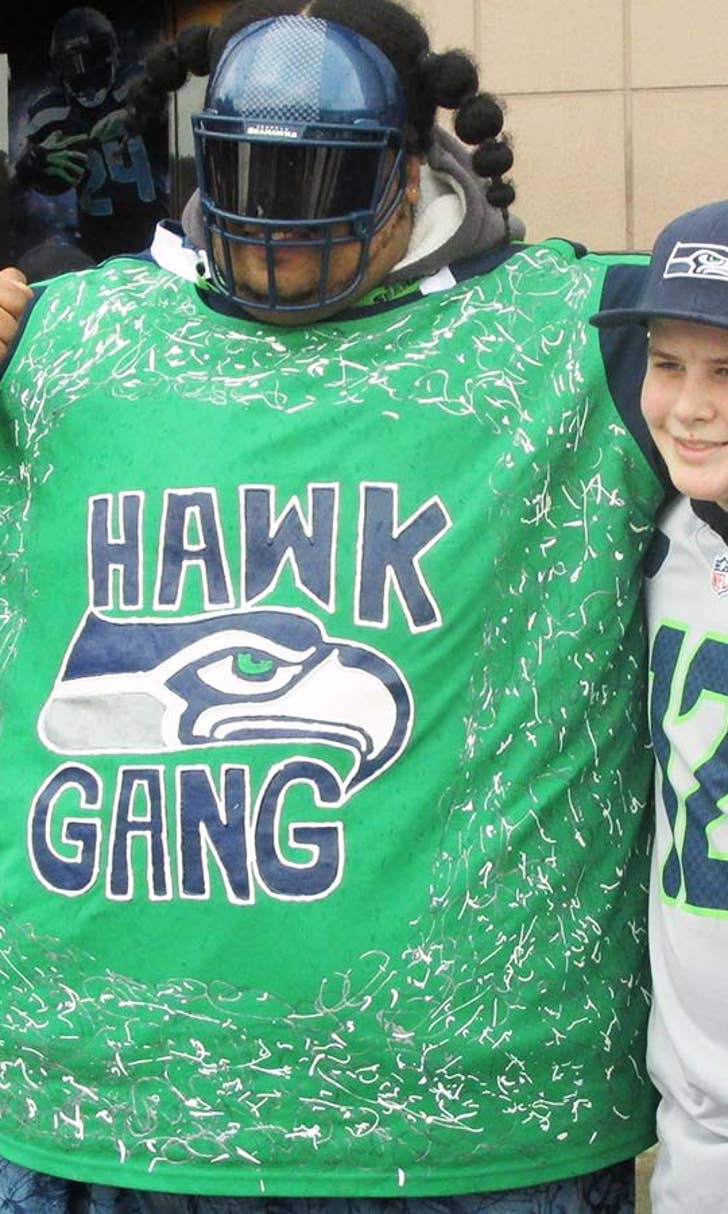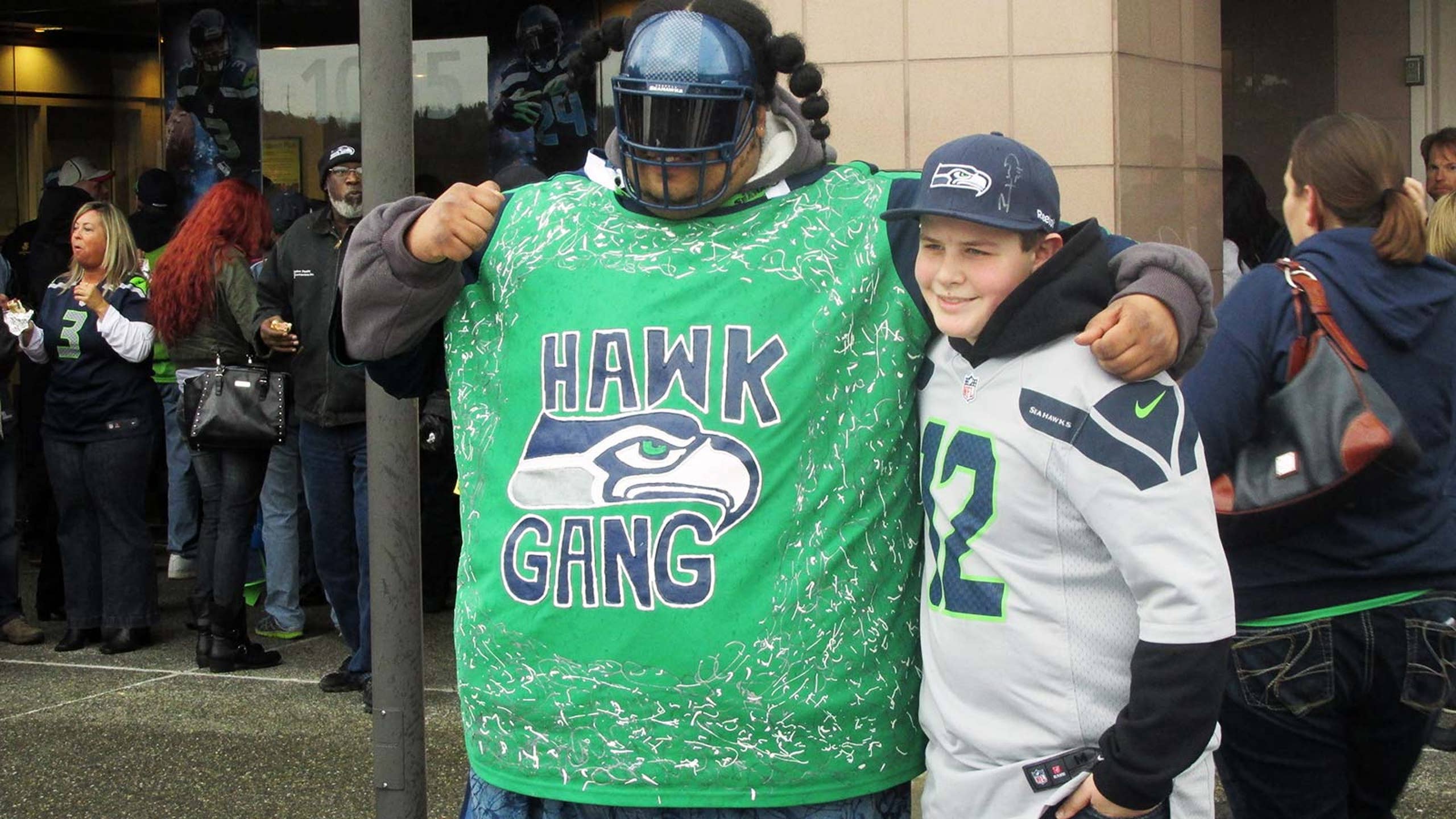 Not just noise: Diving into the culture of Seattle's 12th Man
BY Sid Saraf • January 14, 2014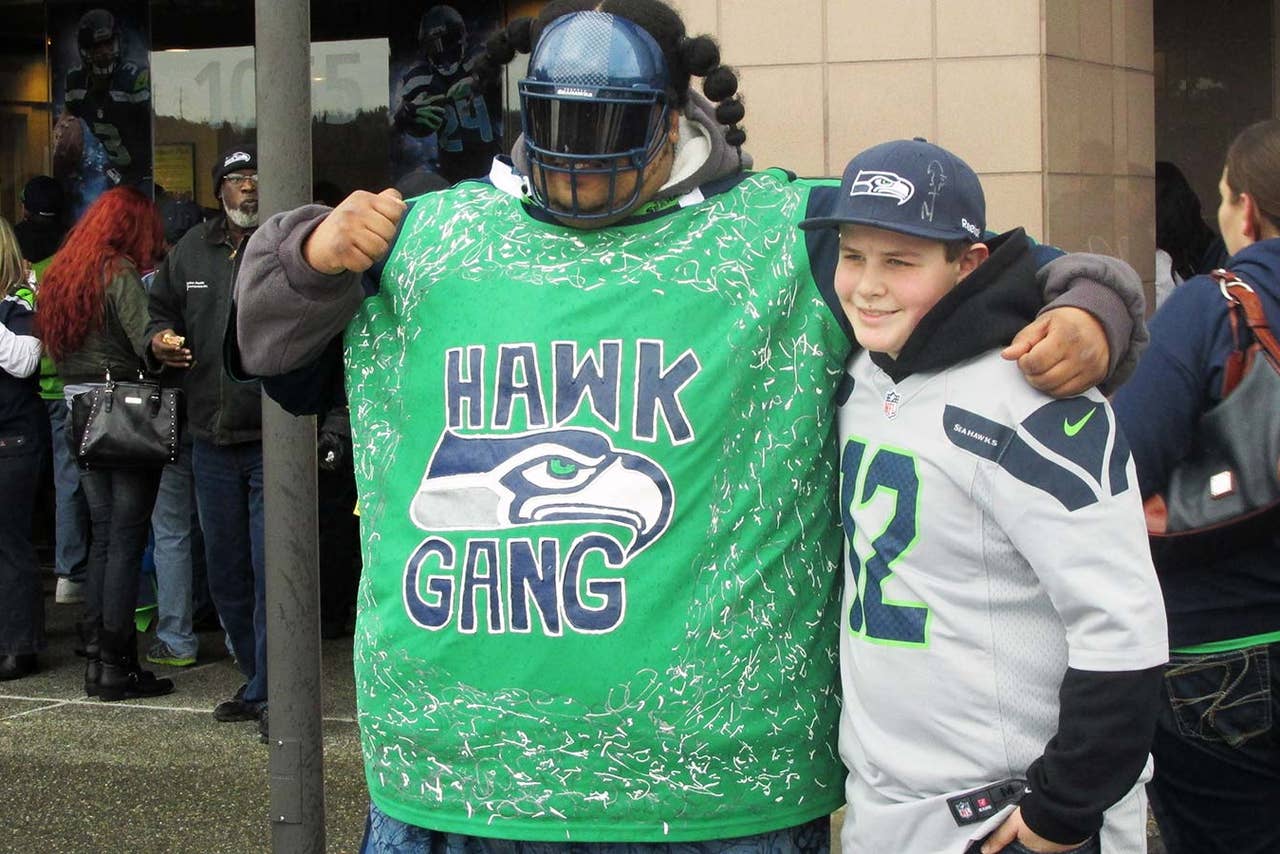 SEATTLE -- Step off the train at Westlake Center in the heart of Seattle on a wet -- and really cold -- morning and the 12th Man experience hits you ... immediately.
"Seahaaaawks!! SEEEEEEAHAAAAAAAWKS!"
Well, it was actually "men." Specifically, three down-on-their-luck men staggering in a disjointed circle screaming at the top of their lungs, vapor from their breath shooting into the cold air. The focus of their shouts? A slight man walking on the opposite side of the street, wearing a Seahawks beanie.
Wow, this is going to be easy. The assignment: Document Seattle's "12th Man" phenomenon. If you live here, you know all about it. If you don't, you've probably heard of it by now. The reputed passion of Seahawks fans has become a hot topic with the team one win from a trip to the Super Bowl. But can it really be true? Is it worth the hype?
At first glance, it didn't seem so. Trudging a few blocks further into the downtown area, the Seahawks sights disappeared. No beanies. No jerseys. No wild-eyed looks of extreme fandom.
I had only been in Seattle for minutes and I was close to writing off the 12th Man as some local weak-sauce groupthink.
"ANYONE CAN BE LOUD"
The staff in my hotel lobby on Friday morning are decked out in Seahawks jerseys. The staff at the Starbucks next door? All wearing Seahawks shirts.
Joe Tafoya played six seasons in the NFL for three different teams before a foot injury forced him into retirement. One of his stops was in Seattle from 2005-06. He's not a post-football tragedy story. Joe is a successful businessman and€" the co-owner of Volume 12, probably the most well-known Seahawks fan group.
"I really enjoyed my time here. I met my wife here," Tafoya says as he drove his wife's Mercedes toward CenturyLink Field. "I always knew I would stay and come back."
Volume 12, founded on a simple principle of taking pride in the team and community, has grown to the point that it opened a store at a mall in Redmond, selling various pieces of apparel. The team's recent run of success has only helped.
"It's amazing how much winning is good for business," he says.
Tafoya played on the Seahawks team that lost to the Steelers in Super Bowl XL, a game infamous around these parts for the perceived shoddy officiating that may have cost Seattle a trophy.
"It still upsets me," Tafoya says. "That was the best Seahawks team ever and it was just taken away from us."
Tafoya pulls into the parking lot at CenturyLink Field and we head into an entrance near the Pro Shop. There, we see a cornucopia of Seahawks madness -- "Blue Friday" they call it. A local TV station sponsors the rally that goes down on the Friday before every Seahawks game, home and away.
The first person we run into is Norm Johnson, former NFL kicker and the leading scorer in Seahawks history.
"How you doing," Johnson says as he shakes my hand. He's wearing a shirt promoting the beer label he started, "12 Man Pale Ale." Tafoya taps me on the shoulder and says, "You gotta meet this guy."
That guy is Big Lo, a local legend. Probably the most well-known Seahawks fan. His actual name is Lorin Sandretzky, but nobody calls him anything besides Big Lo.
And when you see him, you know how he got his name. Big Lo is a giant man with tattoos covering his arms and knuckles. But his eyes are kind and his fandom is earnest. After all, this is a man born into Seattle sports. His father did construction work on the Kingdome and his aunt was one of the first members of the board of directors of the facility.
"There's nothing like it," Big Lo says of the 12th Man experience. "The camaraderie between the fans is amazing. It's a brother and sisterhood, so to speak. It's an amazing thing to have so many people that are so close.
"We're all after the same thing, we're all striving for that one goal: And that's our city to have a championship."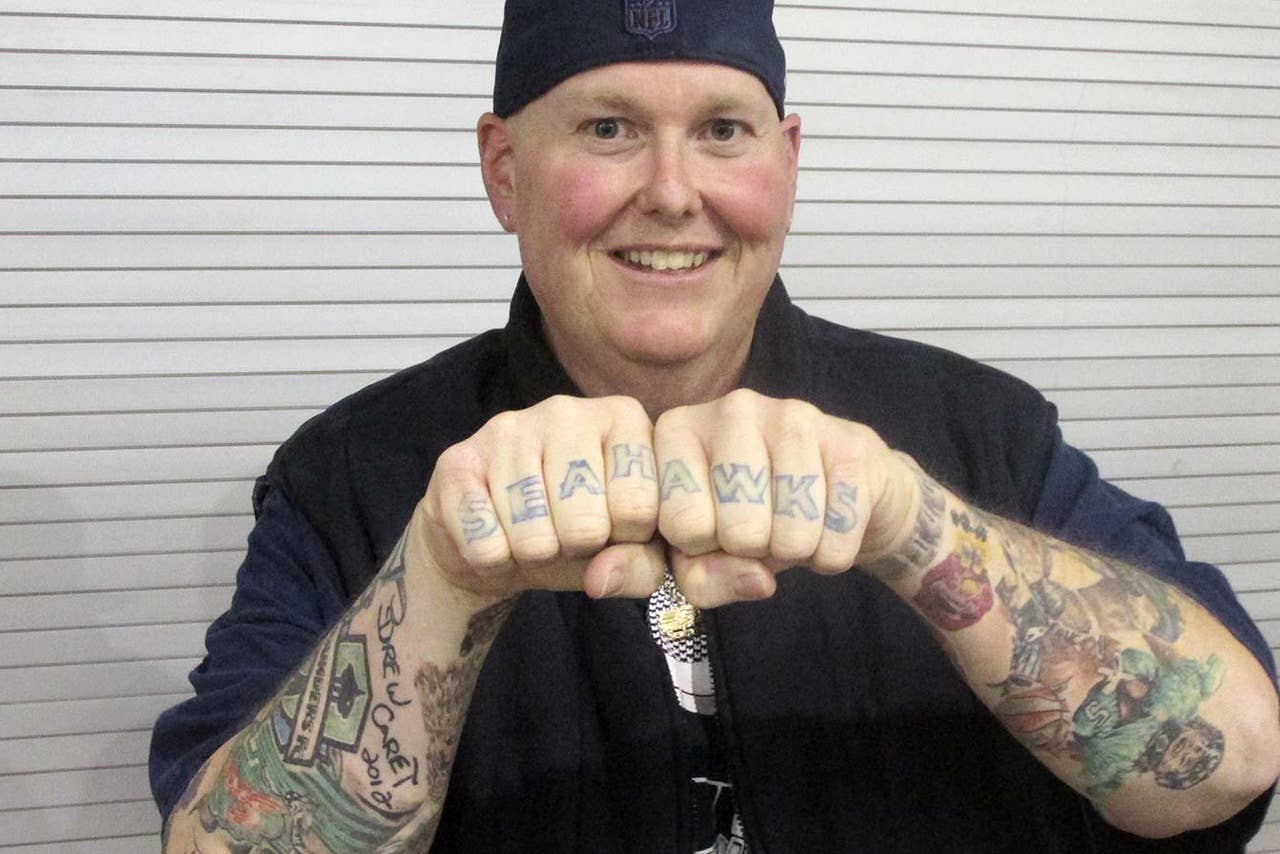 Meet Big Lo.
A round of applause breaks out in the crowd, unrelated but fitting.
Also at the rally are Eric Keith and his rap partner VellVett, local musicians who came up with the "Better Seahawks Anthem."
"To me, it's important to let the players know that we got their backs," says Keith, born and raised in Seattle. "Them knowing that, they go out there and play for us, too, not just themselves. It's big, man. It's bigger than what it looks like."
"It's the intimidation factor," VellVett says. "Every team puts 11 men out there, the Seahawks just happen to have an invisible man. You hear them, you know they're there, and it's the intimidation factor. It's just surrounding you."
That intimidating sound from the fans is owed in part to the design of CenturyLink Field. Though not domed, two large canopies hover over the seats on either side of the field, trapping noise. The sound doesn't have a place to escape and instead rains on the field. That isn't lost on Big Lo.
"The way they made CenturyLink Field is phenomenal. It's so intimate. How the sound projects down on the field, that's one thing the players really love. They built it like an amphitheater."
Another round of applause breaks out.
What's amazing about the entire Seahawks experience is how local it feels. The passion tends to get lost on the national stage.
"We've been overlooked for a long, long time," Big Lo said. "If we win a game that we're not supposed to win, they talk about us for a day and then it's back to Andrew Luck, it's back to Drew Brees, it's back to Peyton Manning."
Speaking of Brees, among the crowd there is a collection of mugshots of the Saints quarterback, all of them defaced. Mustaches. Blackened teeth. Devil horns.
Back toward Joe, there's a woman in a wedding dress walking toward the exit. Was there just a wedding here amid the craziness? Yes. That's why people were applauding. A local couple, Randy Kudijaroff and Amanda German, just tied the knot at the Blue Friday rally.
"After planning for a traditional wedding and spending a ton of money for the dress, it just wasn't going to happen," Randy said, wearing a suit coat with a white Earl Thomas jersey underneath. "We were short on cash and I was watching Blue Friday like I do every week, I got the idea that we should do it there."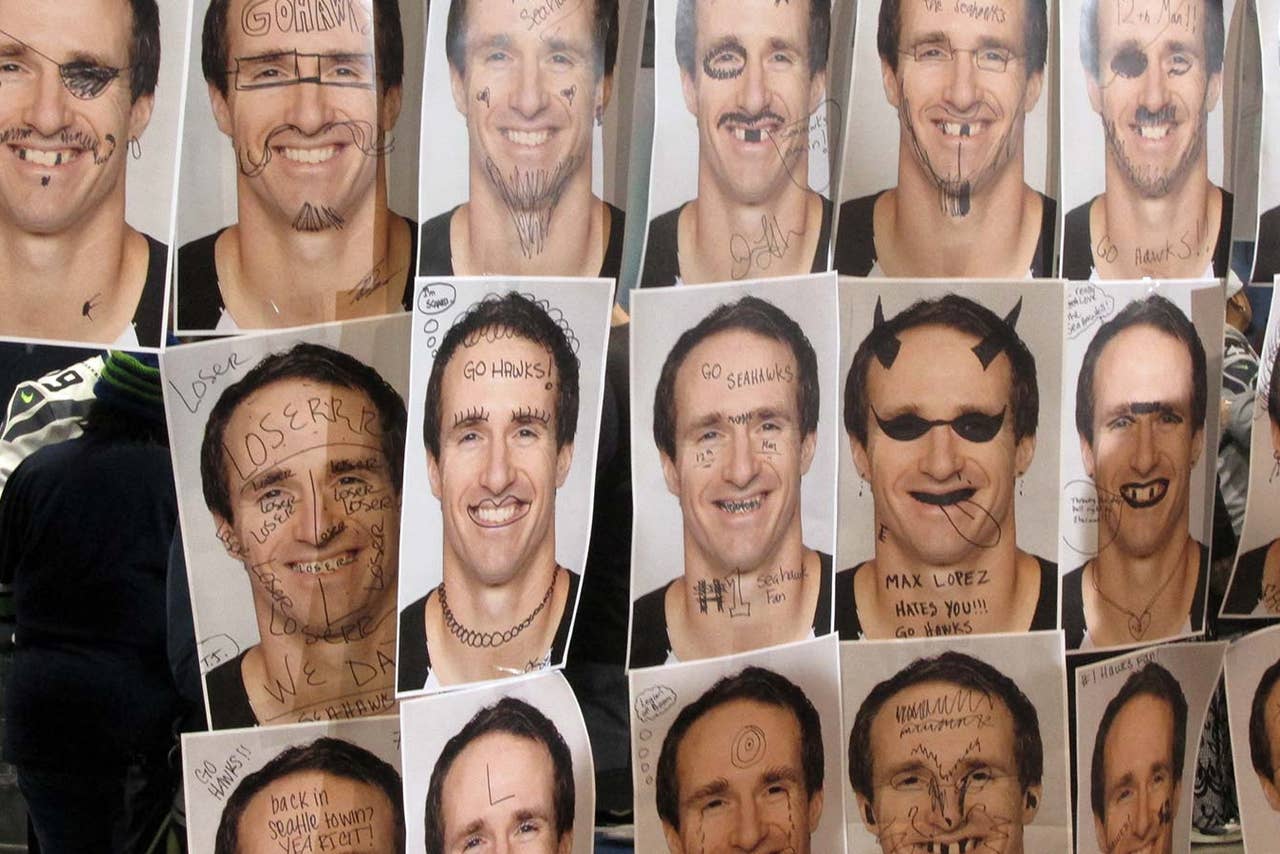 Drew Brees has never looked like this before.
OK ... how did he convince his wife-to-be to go along with this?
"Actually, when he first suggested it, I thought he was crazy and I think I called him stupid and dismissed it. Then within two days it was the plan," Amanda said.
"If I can't have my dream wedding, why can't he have his?"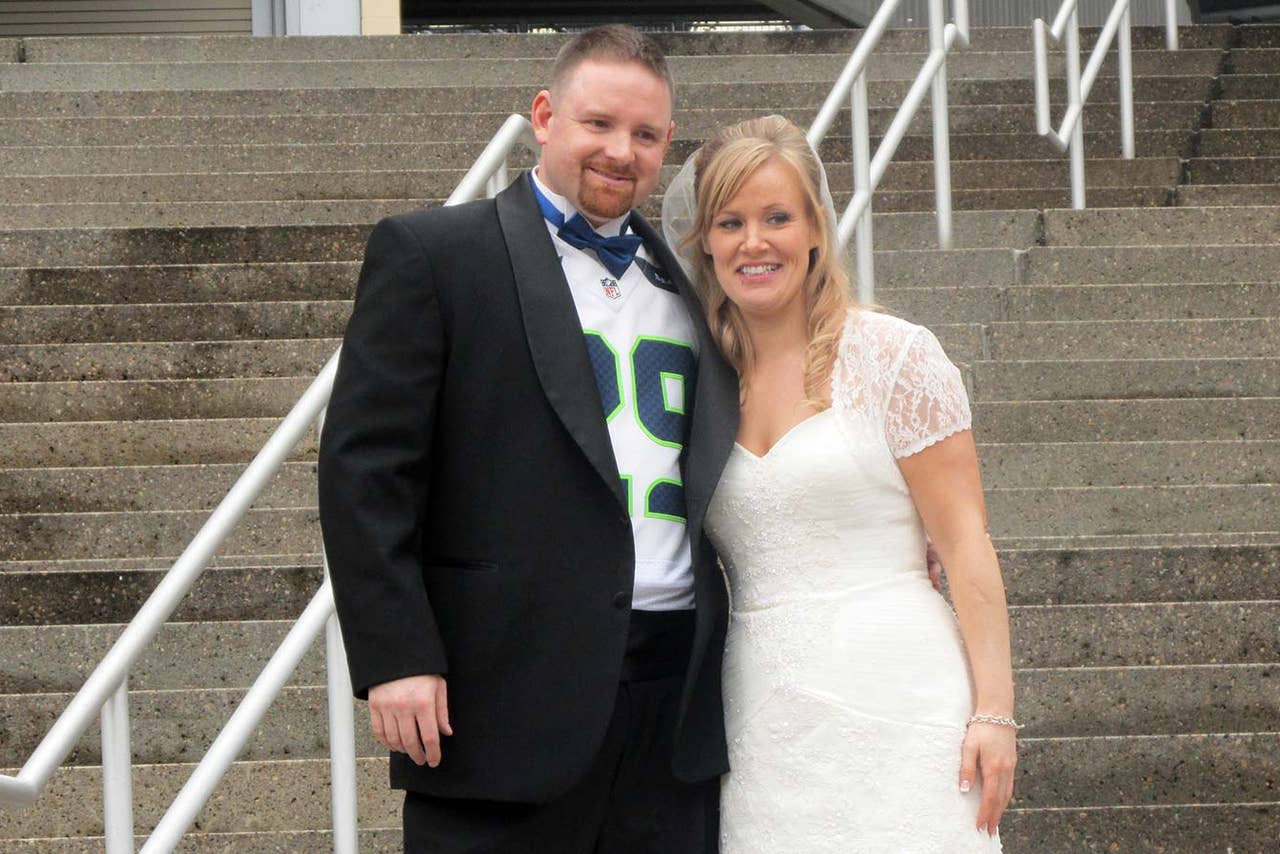 The happy couple ties the knot at CenturyLink Field.
Such is the simple, perfect logic of the 12th Man. My head is spinning.
"It's good to be passionate about something," Joe tells me later. "It's more than just being loud. Anyone can be loud."
SCREW THE 49ERS!
The next stop is Renton City Hall, where the Seahawks' team facility is located. A big rally is going down here too, one of 13 events approved by the team around the state of Washington on this day.
Among the crowd is a man with scraggly facial hair sporting a cat in a Marshawn Lynch jersey on his shoulder.
"Meet Meowshawn," Nathan Smith says. Meowshawn is sitting calmly and seems to not have a problem with wearing clothes. At least not these clothes.
"This is just actually dressed lightly," Nathan explains. "She actually does professional events in heavier outfits. Most of the time she's dressed up as a dragon or a pirate for Renaissance fairs and other events."
Meanwhile, Tafoya is in his element. Several fans ask for autographs and want to take a picture of his NFC Championship ring.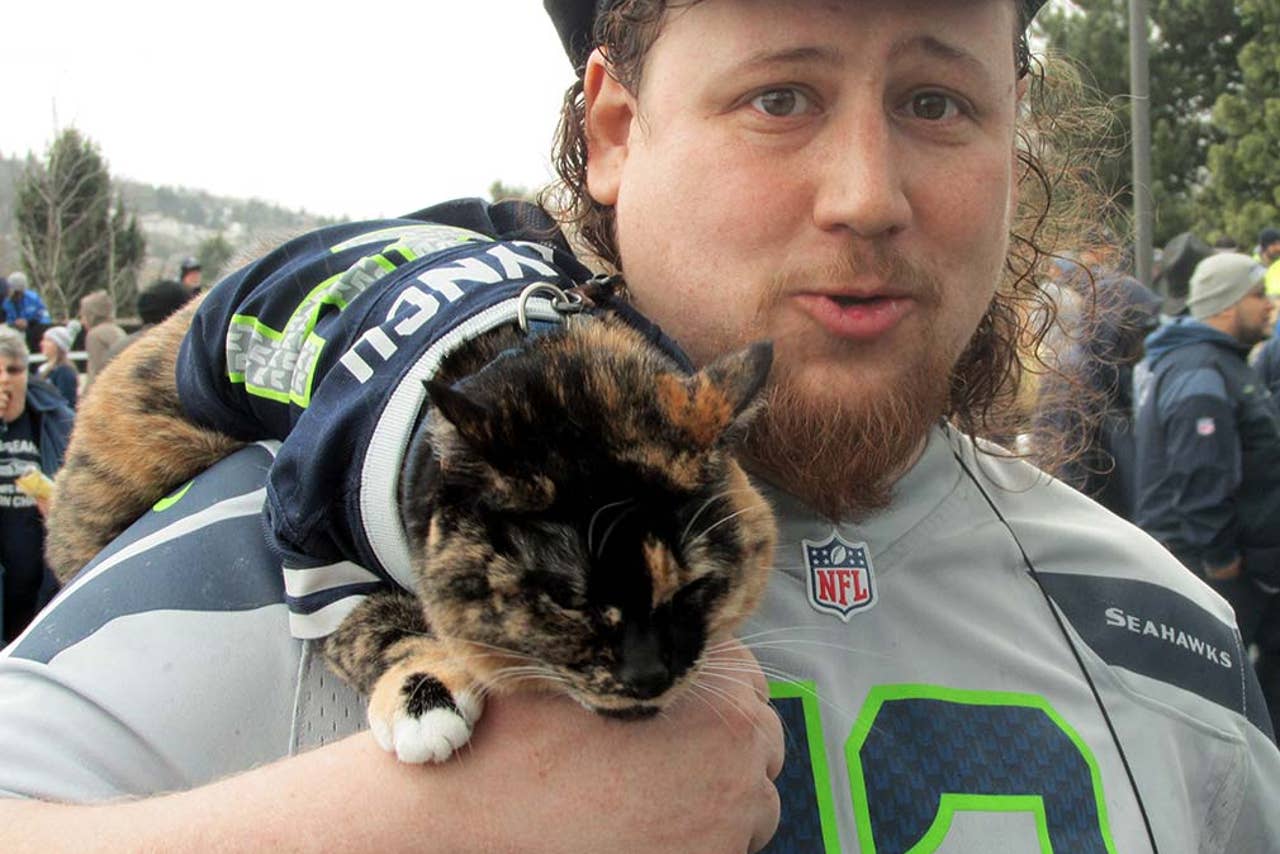 Nathan Smith and 'Meowshawn' are ready for battle.

"They don't get to see it often," Joe says. "That's the only time the Seahawks have ever got close."
Elsewhere, a group of drummers break into a routine and the rally starts with comments from Tafoya and other former Seahawks like Jordan Babineaux and Kerry Carter.
Even the mayor of Renton, Denis Law, gets into the act, as he unfurls a new sign that says "Renton: Home of the Seahawks." The old sign took a beating, either from a drunk driver, or as Law says, "possibly a 49ers fan."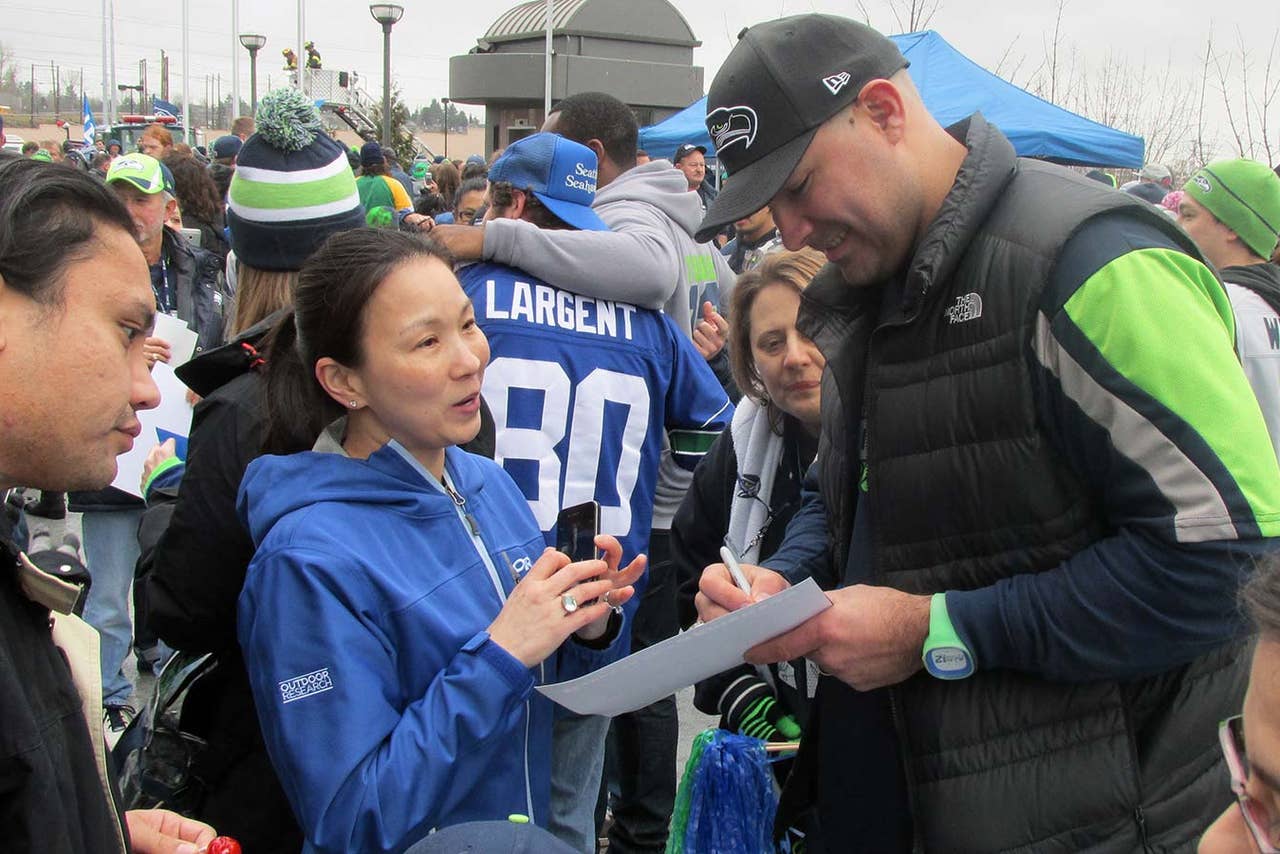 Joe Tafoya is a big hit among the Seahawks faithful.
"Screw the 49ers!" one man yells, the closest this crowd comes to being rude. Of course, the Seahawks aren't playing the 49ers this week. The Saints are up first. And the fans, polite as they may be, are ready.
"It's not the warmest day of the year; I think it's great," Law tells me. "The enthusiasm is obvious, people are so pumped up for the Seahawks."
"This is just an example of the enthusiasm the people of Seattle have for their team."
Well, we'll see what happens on game day.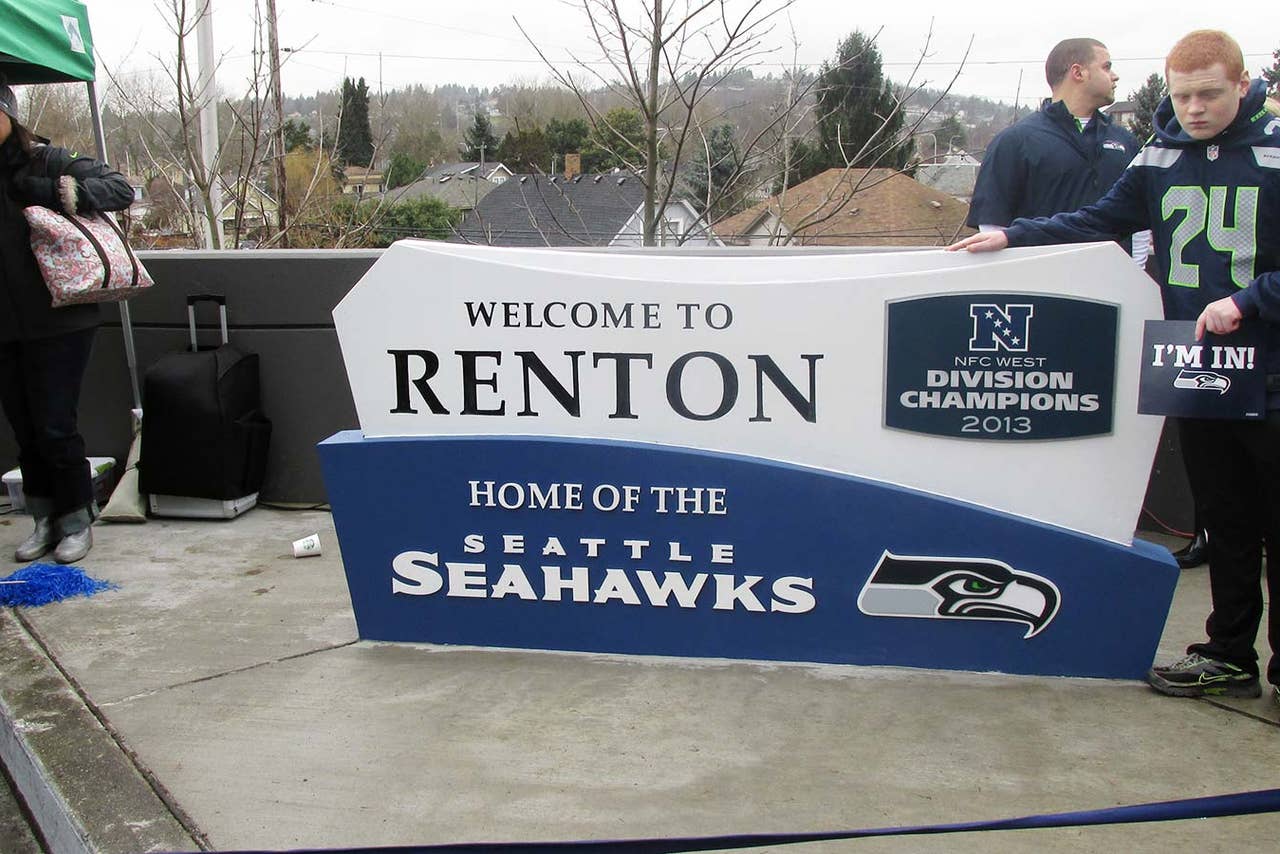 TAILGATING WITH A PURPOSE
It's 9 a.m. on Saturday and an old friend decides to poke his head out for the first time in my three days in Seattle: the sun. Maybe this a good omen for the 12th Man.
"It looks good now, but when the game starts I hope it just starts dumping rain," says Eric, my friend from Blue Friday.
Eric and I are on "Hawk Alley," a narrow strip surrounded by docks and shipping yards down past Safeco Field, home of MLB's Seattle Mariners, which is right next to CenturyLink Field. The continuity of the sports experience continues here, with the stadiums in such close proximity to each other.
The sights and smells are familiar: meat on the grill, fans with beers in their hands, games of cornhole going down.
But one thing makes me stop short: a group of fans outside a tent called "Blueline Express." They're all surrounding a table with a collection of Jägerbombs, a drink made from dropping a shot of Jägermeister into a beer. This is going to be good.
"We're Seattle's first licensed charity tailgate. We call it 'tailgating with a purpose,'" says Tom Brown, the director of this particular group. Brown started a movement that has chapters in Boston, Houston and Arizona that all support their local teams.
OK, that's nice, but what about the drinks?
After a countdown, someone knocks the first shot into a beer, which sets off a chain reaction all the way down the line. Seconds later, every shot has fallen into its assigned beer and everyone lifts up his or her glass and celebrates.
"We started with six glasses and the record is 70," Brown says. On this day, there are just 50.
Hawk Alley has picked up over the past few years, as people show up the day before a game to mark out and claim their spots.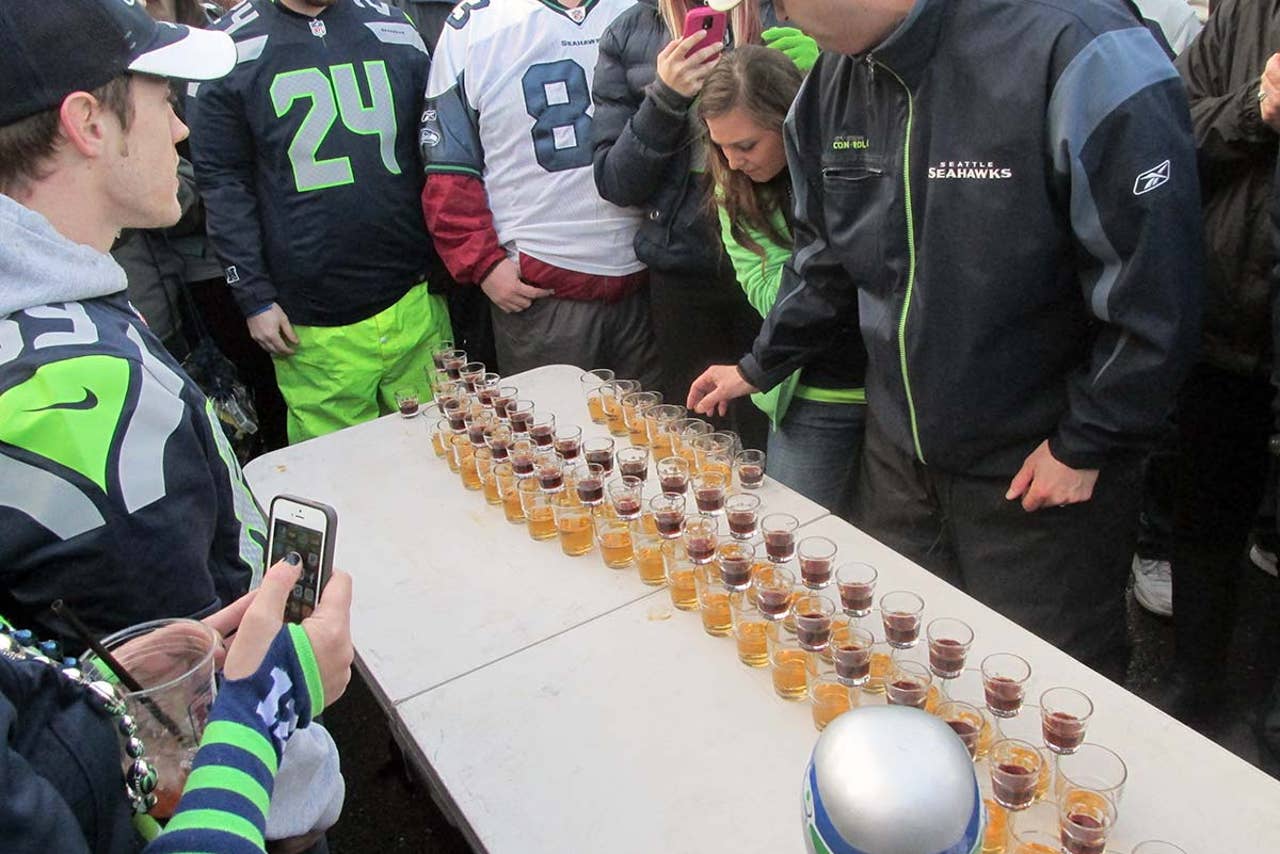 Now that is epic.
"It just depends, you'll have a couple thousand people here easily before game time," Brown says, who showed the previous night to stake out his spot. "Some of the best tailgaters in all of Seattle are located here. You haven't even smelled my Korean BBQ yet."
Korean BBQ? Time to leave before I lay waste to his entire food supply.
I start heading towards the stadium when the sun takes off and is replaced by a legion of dark clouds. I start to feel the drops and I head up the street past Safeco Field. Eric's wish for rain has come true.
"Beautiful day!" a random man says with a laugh as he walks by.
Near the stadium, I commission a guy working a food truck to make me a sausage.
"Hey, do you think the rain will stop by kickoff?" I ask.
"I saw the weather report, and they said it's gonna keep coming down even at kickoff," he replied. "It's Washington, what do you expect?"
I duck into the CenturyLink Events Center, a convention-like facility attached to the stadium. A party is going on around me. Booths are set up, with people taking pictures, playing Xbox Madden on giant television screens and of course, lining up to get beer.
There's a stage, where Blue Thunder, the very cheerful Seahawks-themed drum line, does its thing. But after they leave, one inspiring young man takes the stage.
Jake Olson, a 16-year-old who lost his vision due to cancer at age 12, met Seahawks head coach Pete Carroll while the latter was at USC years ago. The young man from Huntington Beach, Calif., and the coach struck up a friendship that has lasted to this day.
In fact, Jake makes occasional trips up to Seattle to take in a Seahawks game and be a part of the 12th Man experience.
"Being part of the fans is really cool," Jake tells me after he pumped up the crowd and left the stage. "Ever since I lost my sight, noise is something that I rely on. It's a big part of my life.
"Being able to know that we've got the loudest crowd here, I take an appreciation of how much it affects the game."
Oh, come on, how loud could it be?
"It's loud," says Jake, who is the long-snapper for his high-school football team. "When my Dad is trying to explain to me what happened, he's right in my ear and has to yell at the top of his lungs."
ENTER THE SEAHULK
It's around noon now and I'm waiting for Tim Froemke. If you know him at all, you probably know him as "The Seahulk." If you've paid attention to Seahawks games over the past few years, you might have noticed him in his spot in the south end zone at CenturyLink, dressed in his trademark "Hulk" costume and pumping up the crowd.
Out of character, though, he is a man with a childlike smile and a personality that instantly puts you at ease. When we finally meet, it has the air of a celebrity encounter.
"I kept my head down walking here, or I'd be out there taking pictures in the rain," Seahulk says.
His popularity is easily noticeable. Our conversation is interrupted frequently by fans asking to take pictures. Seahulk has been doing this since 2005 and was even at Ford Field during the Seahawk's lone Super Bowl appearance in January 2006. It took him an hour to reach his seat with all the requests for photographs with the green warrior with the ripped physique.
Is that just the paint job talking?
"No, this is all me," Seahulk says.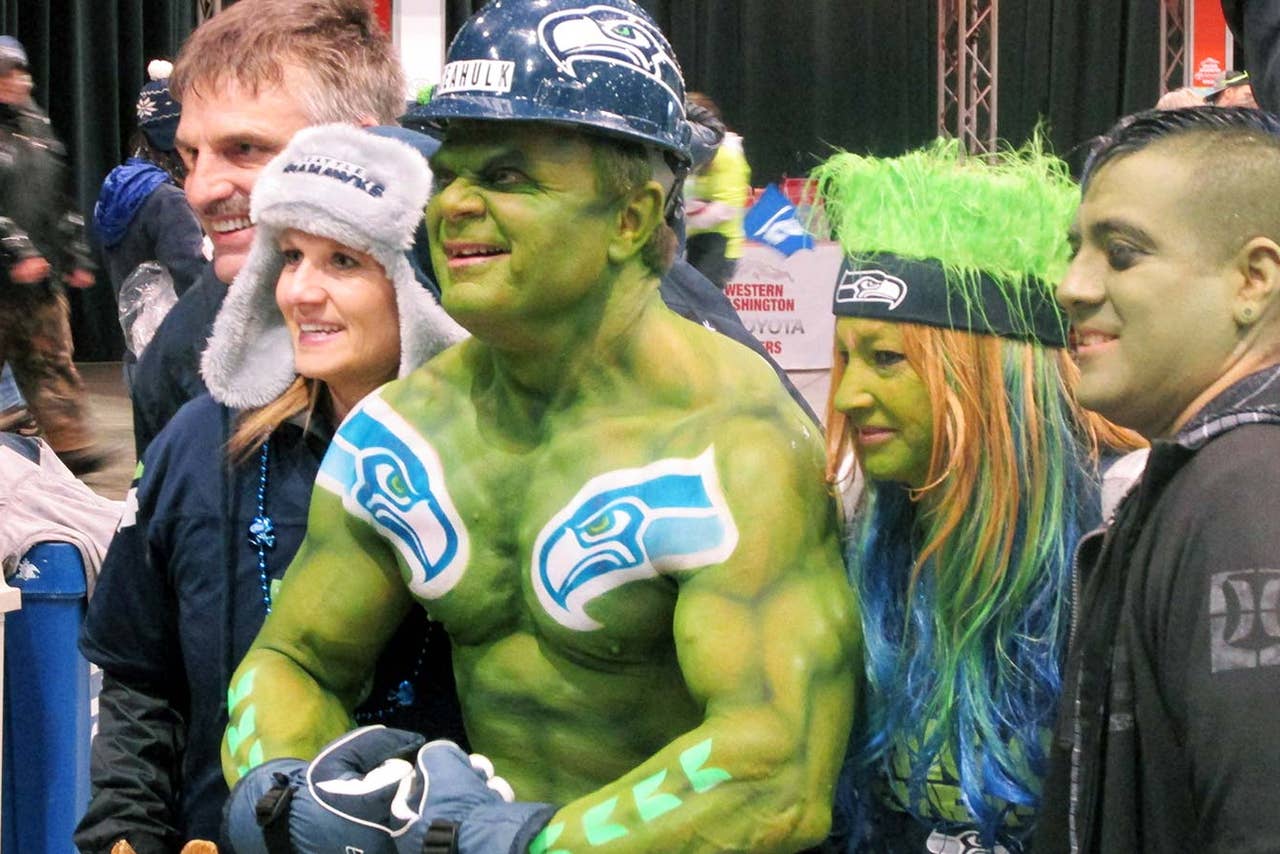 The Seahulk and his family show up for work.
Makes sense. Froemke is a construction worker by trade, but a bodybuilder by life. Starting in 1982, he's racked up titles such as Mr. Washington, Mr. Oregon, Mr. Northwest and on and on.
It's clear Seahulk was built for power. Despite being several inches shorter than me, his big hands engulf mine.
Tim works out seven days a week, five with weights and two on cardio. You can tell he's a former competitor, just by the professional poses he strikes in photos.
"I would have been a good fighter," he says. "You can't hurt me and I kinda like getting hit."
Accompanying the Seahulk is Mrs. Seahulk -- also known as his wife, Eva. She's the type of wife every man should have: utterly unimpressed and yet still amused by her husband.
She has a gem of a story from 2005, the first year Tim assumed the Seahulk persona.
"At the time we had upper-level tickets. So, I turn around and look and there's this drunk girl all over him rubbing his boobies. I looked at him like, 'Really?' And he goes, 'I was in shock!' ... Yeah, you're gonna be in shock, buddy!"
She's made a point of giving him good-natured grief about that incident over the years. Maybe just as a way of keeping any possibility of a runaway ego in check.
"She likes to keep me level-headed," Tim says. "She says stuff like, 'Now, if you had a personality to go along with that body, then you'd have something.'"
There's no questioning Froemke's passion. He and his family live in Eastern Washington and have to drive up to six hours just to attend a game -- and he doesn't miss a single one. He also spends hundreds of dollars to get painted in the signature Hulk/Seahawks green before each game.
This isn't a cheap hobby.
GAME TIME
The people are in their seats and everyone is ready to go. FOX has graciously provided me with field access during the game.
I'm in the tunnel when I run into Taima, the African Augur Hawk that entertains the CenturyLink crowd, and his handler, Robin. Taima, a Native American name that means "thunder," looks determined.
"It's his life; he lives for this," Robin says. "The fans just love him, so it works out really good."
I park myself in the south end zone, not far from where Big Lo and the Seahulk have their spots.
"Sure feels good," Big Lo says. "Everyone is fired up."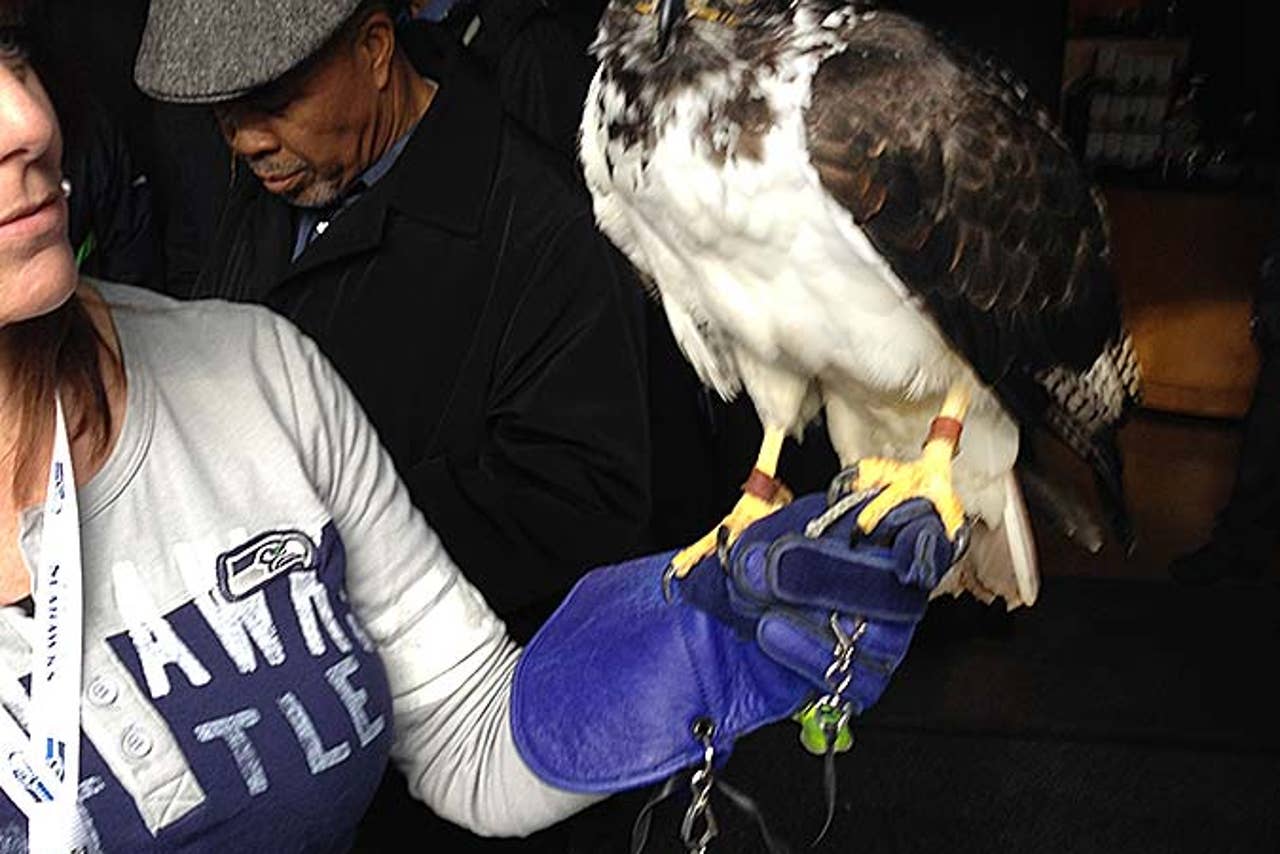 Taima is keeping a close eye on me. I think he wants to eat my face.

12:56 left in the first quarter
A big cheer erupts when Percy Harvin pulls down his first catch of the day. Seahawks fans were expecting a lot from the wide receiver when the team traded for him in the offseason and they're still waiting. Injuries kept Harvin sidelined for all but one regular-season game, but he's here now.
Even though the play went for a loss of a yard, the fans are happy to see it. Their enthusiasm is short-loved though, because Harvin later leaves with concussion symptoms.
9:04 left in the first quarter
Saints running back Mark Ingram rips off a couple nice runs. The crowd noise slows somewhat, causing a CenturyLink Field employee to yell towards the crowd, "Come on! This is weak!"
5:03 left in the first quarter
Saints kicker Shayne Graham botches a field-goal attempt, sending the 12th Man into a joyous mode, but I have yet to see them explode.
15:00 left in the second quarter
The rain has let up. The Seahawks defense pops the ball loose from the Saints and recovers it. The crowd is rocking now as Seattle takes over in New Orleans' territory.
14:17 left in the second quarter
Even though the Seahawks have the ball on the 15-yard line right in front of me, I turn away from the action and look towards the crowd. I'm trying to breathe in the 12th Man and really feel their presence echo.
Of course, a giant roar makes me whirl around. There he is, Marshawn Lynch in all his Beast Mode glory, barreling right towards me and reaching the end zone. The roar is deafening. I leap -- OK, I move semi-fast -- out of the way as Lynch and his teammates celebrate.
"This is awesome!" the Seahulk exclaims.
Big Lo looks too emotional to speak.
6:02 left in the second quarter
The rain is really falling. The Saints go for it on fourth down and get stuffed. Another giant roar fills the stadium and I can feel the polish sausage I ate earlier rumbling in the pit of my stomach.
0:00 left in the second quarter
The Seahawks run off the field at halftime holding a 16-0 lead. The players look focused, running back Robert Turbin even looks irritated.
But bringing up the rear is Carroll, prancing along in his boyish manner, as he breaks out a smirk and shouts a playful "Come on!" to the 12th Man.
It's at this point that I realize what a machine the NFL is. Every game is a mélange of a million different parts working together: from ball boys, television crews, stadium personnel, security, police, players, everything.
13:38 left in the third quarter
The rain is falling hard again. Hard to take notes. Russell Wilson throws incomplete on the Seahawks' first drive of the second half. A fan in the stands yells, "Come on, Wilson! Step your f****** game up!"
OK then.
10:33 left in the third quarter
Brees is sacked on third down and another crowd explosion. It's loud, just like Jake said.
I sidle up to Mr. Love, formerly known as the Sea Pimp, who is dressed just like one.
"Energy is up! Gotta love it!" he says.
Mr. Love has been a Seahawks season-ticket holder for the past 37 years.
2:38 left in the third quarter
There's timeout on the field and the video board is doing a comparison of New Orleans and Seattle.
Type of music: New Orleans -- Jazz; Seattle -- Grunge (huge cheer)
Type of food: New Orleans -- Frog legs; Seattle -- Oysters (huge cheer)
Nickname: New Orleans -- The Big Easy; Seattle -- The Emerald City (huge cheer)
Favorite actor: New Orleans -- Tyler Perry; Seattle -- Adam West (huge cheer)
Types of domes: New Orleans -- Superdome; Seattle -- Kingdome (huge cheer)
You get the picture.
13:11 left in the fourth quarter
The Saints score their first touchdown on a run by Khiry Robinson. The latter runs to his sidelines with his finger on his lips. It's the first time CenturyLink is quiet all game. But it doesn't last long as fans jeer Robinson. The Saints go for two and Ingram punches it in and spikes the ball with a loud "THUMP!" in front of me.
Another moment of silence. Now it's 16-8.
10:32 left in the fourth quarter
The Seahawks offense stalls and punts. The crowd is tense.
7:32 left in the fourth quarter
Seahawks safety Kam Chancellor almost picks off Brees. All 68,000 fans scream "AUUUUGHHH!!" in unison.
4:50 left in the fourth quarter
Safety Earl Thomas tips a Brees pass right into the arms of Saints receiver Robert Meachem. Will the Saints tie it up?
3:51 left in the fourth quarter
Graham misses another field goal, this time wide left. The 12th Man is overjoyed.
2:57 left in the fourth quarter
Seahawks wide receiver Doug Baldwin pulls down a huge catch for 24 yards. NFL Network analyst Darren Sharper walks by us and Big Lo shouts at him, "I told you! I told you!" Sharper nods and smiles.
2:40 left in the fourth quarter
Lynch scores on a 31-yard touchdown run. It's bedlam at CenturyLink.
"Game over," Mr. Love says.
He's right. There is some late drama from the Saints, but the time ticks off the clock and the Seahawks are victorious.
"Lotta heart right now," Big Lo says. "Like I said yesterday, we dat team that beat dem Saints!"
The Seahulk is pumped up, too.
"NFC Championship right here next week, 38 years we've been waiting. This is our year," he says with his friendly smile.
DID YOU GO TO THE GAME? THEN YOU KNOW
Lest you think the Seahawks players don't know about and appreciate the 12th Man, you're mistaken.
"Best fans in the league," offensive tackle Russell Okung says in the locker room. "There's nothing like the 12th Man. They bring such a crazy dimension to the game, it's like they're playing with us."
The brash Richard Sherman: "Their energy was amazing. They did an amazing job staying up the whole game. Even in the rain."
Linebacker Bobby Wagner: "The crowd always plays a factor. ... The energy they have in this weather, we definitely fed on that."
Fullback Michael Robinson, with a grin: "Did you go to the game? … Then you know."
-------
I'm back in my hotel room after walking back from CenturyLink Field. It didn't take long to navigate the streets and wind my way through crowds of joyous fans. So much color. It could've been Mardi Gras.
My thoughts wander to that statement Tafoya told me in that car ride.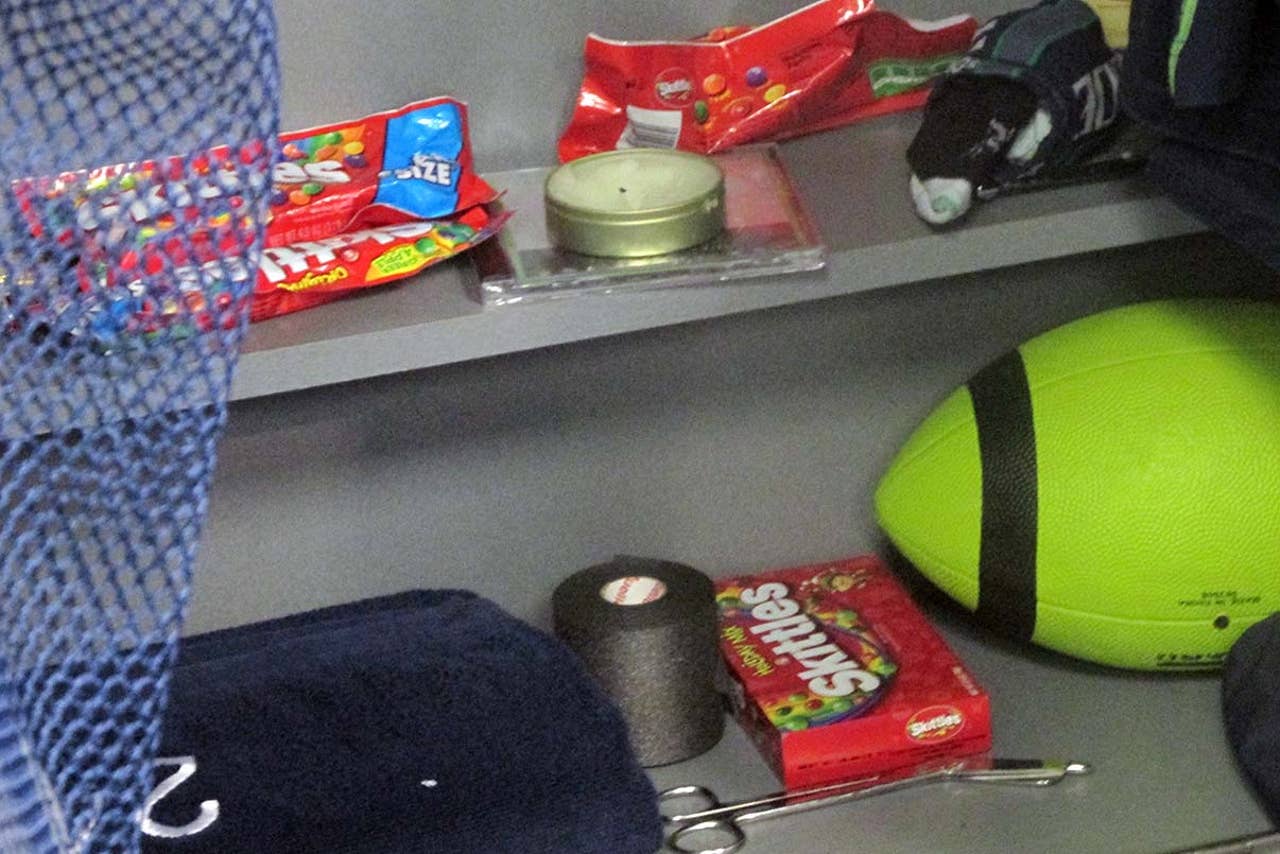 That's a lot of Skittles right there in Marshawn's locker.
"It's good to be passionate about something."
There is certainly passion here. That's a good thing. It leads to greatness. Will the Seahawks win the Super Bowl? Does it matter? In the long run, probably not, even though the 12th Man would love to have their first taste of a title.
A wiser man put it best:
"You feel it in your heart, you feel it in your soul. It's amazing."
Well said, Big Lo. That's good enough for anyone.
---
---