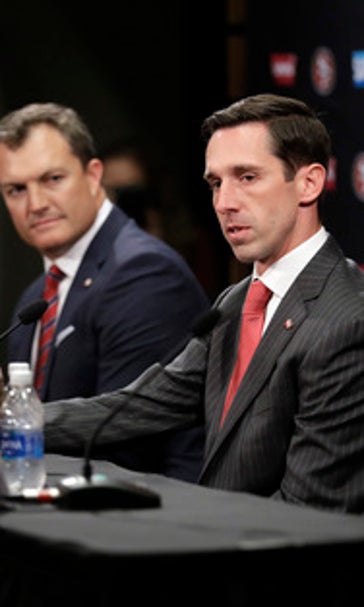 New 49ers regime begins winning over returning players
February 10, 2017

SANTA CLARA, Calif. (AP) If there's one thing Eric Reid knows well after four years in the NFL as a safety for the San Francisco 49ers, it's reading the first impression from a new coach.
After playing his first two seasons under Jim Harbaugh, Reid has watched Jim Tomsula and Chip Kelly take over for failed one-year tenures. Now as Reid gets ready to play for his fourth coach in his career after the hiring of Kyle Shanahan and new general manager John Lynch, he sees reasons for optimism that the Niners might finally have the leadership team in place to revive the struggling franchise.
''It's a different feeling. I believe in what they're saying,'' Reid said. ''A lot of times, at least in my experience, when you talk to a coach, you leave and are like, `Yeah, yeah. OK, that's what you say, let's see what happens.' But when I walked out of that room I felt very confident that what they were saying was true and that I could believe the words that were coming out of their mouths.''
Winning over the players is just the start for Shanahan and Lynch as they take over a team that just matched the worst record in franchise history with a 2-14 mark last season that led to the firing of Kelly and general manager Trent Baalke.
But they have started to do just that. Receiver Torrey Smith praised Shanahan for running an offense that caters to players' strengths.
Shanahan has had success as a coordinator with quarterbacks as different as Matt Schaub, Robert Griffin III and Matt Ryan. He said his offense is flexible with the only constant being the language and a commitment to running outside zone plays that fuel the play-action game.
''Every year it's changed,'' he said. ''It depends on what our players are, it changes if you have injuries, it changes what types of fronts you're going against.''
Linebacker NaVorro Bowman said he was extremely impressed with the offense Shanahan ran as coordinator in Atlanta that led the NFL in scoring this past season and helped the Falcons make the Super Bowl.
''Standing on the sidelines watching the Falcons move the ball up and down the field with my intellect, he had me off my beat,'' Bowman said. ''I'm glad to have him on my side.''
The players also are hoping for some stability. After Harbaugh's successful four-year run ended in 2014 in part because of friction with Baalke, the Niners' next two coaches lasted just one season each as San Francisco was the first franchise in nearly four decades to fire coaches in successive seasons after one-year tenures.
Shanahan and Lynch come in together, pledging a partnership, and both have received six-year contracts in a sign of patience from CEO Jed York. They have an unusual division of responsibility with Lynch controlling the draft, free agency and the 90-man roster and Shanahan having final say of the 53-man roster. They both report directly to York.
But the two leaders seem eager to find consensus instead of the conflict that doomed the team in recent years.
''We have let go of a few coaches the last few years,'' Bowman said. ''It shows the organization and Jed is committed to giving guys a shot to show what they can bring to the table. Six years may be a reach, but it shows Jed is committed to two guys that are proven.''
While Shanahan is proven as a coordinator and Lynch as a player and broadcaster, neither has been in their current role before and they have little time to learn on the job.
Shanahan is rapidly trying to build his own coaching staff after getting a late start following the Super Bowl run in Atlanta.
The next task is preparing for the draft and free agency and scouting San Francisco's own roster. The biggest decision is at quarterback where Colin Kaepernick can opt out of his contract and become a free agent next month. Shanahan and Lynch said they look forward to sitting down with Kaepernick, who already reached out to them after they were hired.
Lynch said the decision on Kaepernick will be based on football, not Kaepernick's national anthem protest, and said he has a good rapport with Kaepernick from times they talked during Lynch's announcing career.
''I'd say we hit it off,'' Lynch said. ''I'd say there was a trust there. I'd say that trust extends and I look forward to reaching out to him.''
---
For more NFL coverage: www.pro32.ap.org and http://twitter.com/AP-NFL
---
---