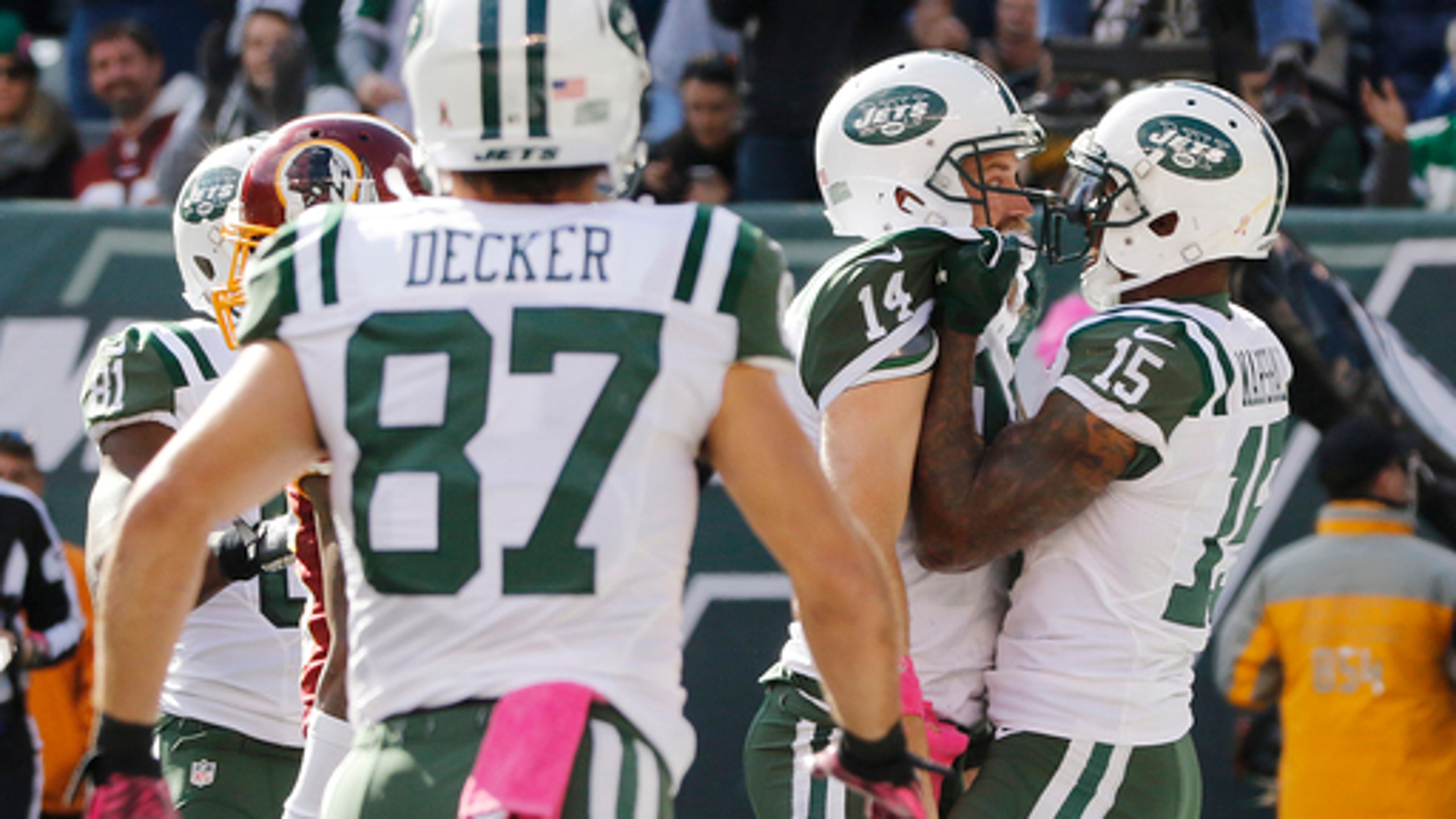 Marshall recalls 1st impression of Fitz: 'He was terrible'
BY foxsports • August 26, 2016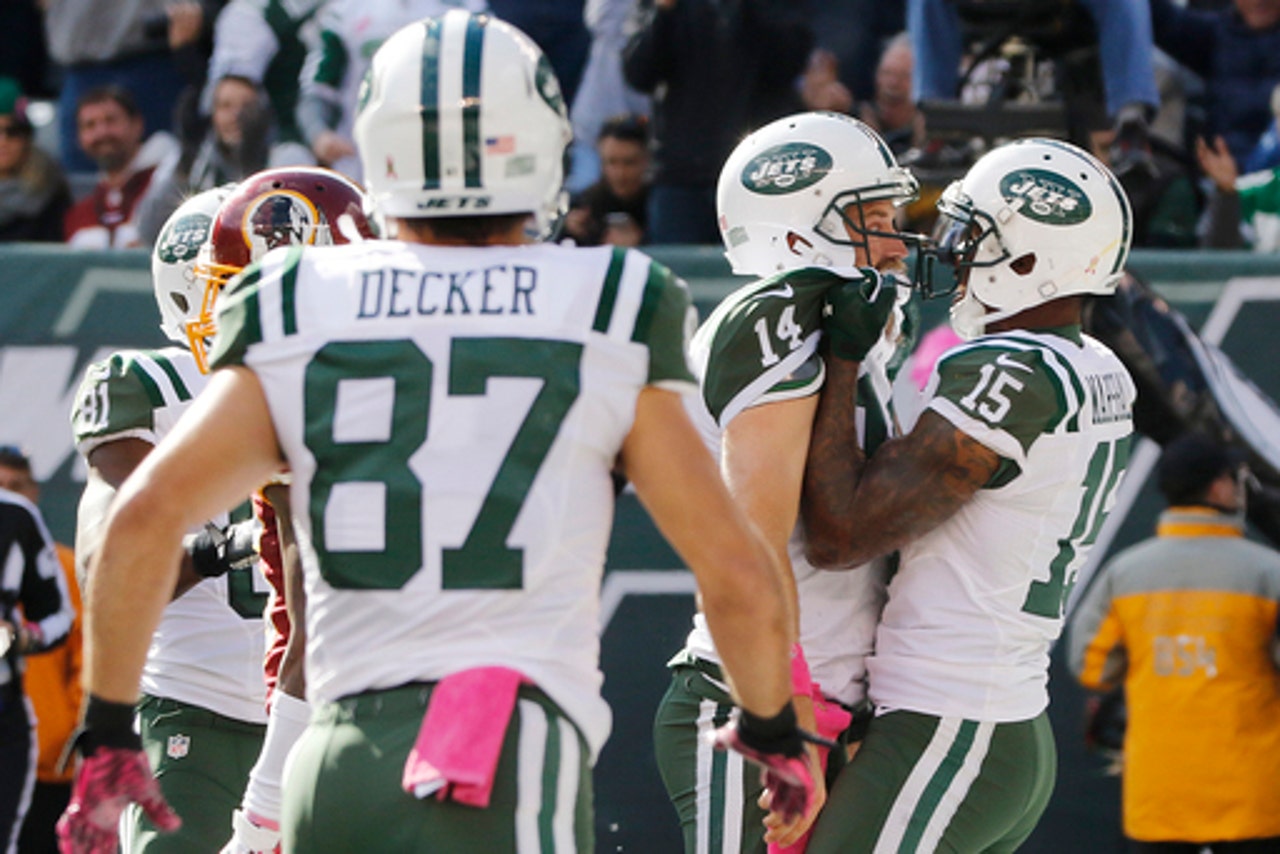 FLORHAM PARK, N.J. (AP) Brandon Marshall knew very little about Ryan Fitzpatrick when they became teammates last offseason.
The New York Jets wide receiver had heard of the quarterback, of course. But it was Fitzpatrick's unusual choice to wear his wedding ring during games and practices that stood out to Marshall.
''I thought that was really weird and awkward,'' Marshall joked after practice Thursday.
And then, he saw Fitzpatrick throw.
''He was terrible,'' Marshall recalled. ''He really was. I mean, he was coming off a broken leg. A 5-yard hitch route and he'd throw it in the dirt.''
Fitzpatrick, who was acquired from Houston as a veteran backup to Geno Smith, came to the Jets still rehabilitating from a fractured left tibia suffered in a game in December 2014.
During offseason workouts, the rust was still apparent and it concerned Marshall.
''Everybody felt that way,'' he said. ''We were like, `What the heck? If Geno goes down, we're in trouble.' That's how everybody felt.''
On Aug. 11, 2015, Marshall's fear - and everyone else's - would be put to the test.
Smith was slugged by then-teammate Ikemefuna Enemkpali and his jaw was broken. The Jets' season was thrust into uncertainty with one punch.
''I was scared,'' Marshall said, smiling. ''It was over. Season's over. We're done.''
Fitzpatrick hadn't worked much with Marshall, Eric Decker and the starters up to that point, so the process of gaining a rapport was gradual. Fitzpatrick's leg had fully healed, though, so those lousy-looking throws were no longer an issue.
Little could anyone have guessed at that time that the Jets would have one of the most productive offensive seasons in team history. Fitzpatrick galvanized the locker room with his leadership and play, tossing a franchise-record 31 touchdown passes while getting New York within a win of the playoffs.
Marshall, acquired from Chicago a day before the Jets traded for Fitzpatrick in March 2015, also set Jets records with 109 catches for 1,502 yards while scoring 14 TDs. Decker had an impressive season, too, catching 80 passes for 1,027 yards and 12 scores.
''He proved us wrong,'' Marshall said. ''He's pretty good.''
That's why Marshall and Decker were among a handful of Jets players who openly campaigned for the team to bring Fitzpatrick back this season.
The quarterback was an unrestricted free agent this offseason, but he and the team acknowledged that they wanted a new deal to happen. That process, however, wasn't easy. The sides were locked in a contract stalemate for months, creating concern on both sides and leaving the Jets' quarterback situation unsettled. Fitzpatrick finally agreed to a one-year, $12 million deal the day before training camp started last month.
So, with Fitzpatrick back in the fold, expectations are quite a bit higher than they were a year ago.
''I actually think he's better this year,'' Marshall said. ''He's throwing the ball with more velocity. He's throwing the ball deeper. He's comfortable back there. He's really good right now. He's impressive.''
The starters haven't exactly lit things up through two preseason games, with Fitzpatrick going 7 of 13 for 107 yards with no TDs or interceptions in limited action. The Jets' game against the Giants on Saturday night should serve as a better barometer of where the offense stands, with first-teamers expected to play at least the entire first half.
''We game planned this one a little bit more, just in terms of having some plays that we put in that we want to go out and execute,'' Fitzpatrick said. ''I'd love to see some of the stuff we've done in practice translate to the field.''
Despite Fitzpatrick missing all of the offseason workouts while waiting for his contract situation to be settled, Marshall insists the offense is ''light years'' ahead of where it was last summer.
From a communication standpoint, all the guesswork is gone. Fitzpatrick and his receivers know what to expect from each other. And that helps the Jets feel confident that they've got something special going on.
''It was hard to do what we did last year,'' Marshall said. ''We definitely came up short. We obviously didn't win it. But for us to have Ryan come in, get the ball late in training camp and me being new, having a new offensive coordinator, new head coach, new left guard, that definitely makes it hard for our offense to jell and bond the way you would want it to to be successful.
''It feels like it took us to seven or eight weeks to do that. And we just feel really good with where we're at right now.''
---
AP NFL website: www.pro32.ap.org and AP NFL Twitter feed: http://twitter.com/AP-NFL
---
---