Cam Newton
Cam Newton
Latest from NFL: Pats WR Edelman leaves with foot injury
Published
Nov. 15, 2015 6:04 p.m. ET

The latest from NFL games around the league on the 10th Sunday of the season (all times EST):
6:05 p.m.
New England receiver Julian Edelman sustained a foot injury in the first half against the New York Giants and his return is questionable.
The team's leading receiver had four catches for 53 yards before the injury, which was announced with no indication of when Edelman got hurt.
Edelman entered the game with 57 catches for 639 yards and seven touchdowns.
---
5:10 p.m.
The Patriots set an NFL record Sunday when they scored points in a 32nd straight quarter.
New England marched 80 yards with the opening kickoff to Scott Chandler's 1-yard touchdown reception to surpass the St. Louis Rams of 1999-2000 - you know, the Greatest Show on Turf - and the 2005 Indianapolis Colts led by Peyton Manning for the longest such streak in NFL history.
The last period in which the Patriots didn't score was the opening quarter of the season against Pittsburgh. They have been making up for it ever since.
- Tom Canavan reporting from East Rutherford, New Jersey
---
4:45 p.m.
Carolina is still perfect, Detroit has a win in Green Bay for the first time in 24 games and Dallas' longest losing streak since 1989 will make a playoff run difficult for the defending NFC East champion.
Cam Newton completed his first 11 passes for the longest streak of his career, and the Panthers won their 13th straight game going back to last season, beating Tennessee 27-10.
The Packers, who lost their third straight following a 6-0 start, got a break with two missed extra points by Detroit's Matt Prater and recovered an onside kick after a failed 2-point conversion. But Mason Crosby missed a 52-yard field attempt as time expired in the Lions' 18-16 win.
The Cowboys lost their seventh straight without quarterback Tony Romo, with Tampa Bay's Jameis Winston running 1 yard for the winning score in a 10-6 victory.
Dallas safety Jeff Heath was called for defensive holding a play earlier to negate a recovery of a Winston fumble that would have won it for Dallas.
Ben Roethlisberger was active but didn't start because of a left foot sprain but had to come off the bench when Landry Jones sprained his left ankle. Roethlisberger threw three touchdown passes in a 30-9 victory over Cleveland.
In other early games, Chicago beat St. Louis 37-13, Washington rolled over New Orleans 47-14, Miami rallied to beat Philadelphia 20-19 and Jacksonville topped Baltimore 22-20.
---
4:05 p.m.
Philadelphia quarterback Sam Bradford was knocked out of a game against Miami, with the team announcing he had a concussion after he walked off the field favoring his left shoulder following a sack.
Bradford held his left arm, his non-throwing arm, close to his stomach like it was in a sling as he trudged off the field in the third quarter. Bradford was 19 of 25 for 236 yards and one touchdown.
Miami linebacker Chris McCain crushed Bradford on a sack in the pocket and forced a fumble.
Mark Sanchez took over for the first time this season.
- Dan Gelston reporting from Philadelphia
---
3:05 p.m.
Down at the 1.
Detroit rookie Ameer Abdullah broke the opening kickoff of the second half up the middle for 104 yards before veering left and being taken down from behind by Green Bay's Micah Hyde just short of the goal line.
The Lions finally broke through for the game's first touchdown three plays later on Matthew Stafford's 2-yard touchdown pass to Brandon Pettigrew, breaking a 3-3 tie. Matt Prater missed the extra point.
Detroit, which is 1-7, has lost 24 straight games to the Packers on the road, a streak of misery stretching back to 1991.
---
2:55 p.m.
Cam Newton's longest career streak of consecutive completions has the Carolina Panthers leading the Tennessee Titans 14-10 at halftime.
Newton opened the game by connecting on his first 11 passes Sunday, including a 1-yard scoring toss to Ed Dickson early in the second quarter. His previous longest streak was 10.
Newton completed 12 of 13 passes for 126 yards with one touchdown and had 10 yards rushing on three carries.
Jonathan Stewart had a 16-yard scoring run for the Panthers.
Marcus Mariota also had a strong first half, going 8 of 12 for 110 yards. Dexter McCluster had a 25-yard scoring run for Tennessee.
- Charles Odum reporting from Nashville, Tennessee
---
2:45 p.m.
The Eagles started fast for change.
Sam Bradford led Philadelphia on touchdown drives on the first two possessions with a safety sandwiched in between, giving the Eagles more points (16) in the first quarter against the Dolphins than they had in the first quarter of their first eight games combined (10).
Bradford tossed a 60-yard pass to Brent Celek on Philadelphia's first play and connected with Josh Huff on a 2-yard TD pass for the team's first TD on the opening drive this season.
Celek had 120 yards receiving on three catches in the first half after entering the game with seven receptions for just 71 yards.
- Rob Maaddi reporting from Philadelphia
---
2:40 p.m.
Points are suddenly hard to come by for Green Bay.
The NFC North-leading Packers are locked in a 3-3 halftime tie with the last-place Detroit Lions.
Quarterback Aaron Rodgers moved the ball effectively down the field on short passes on the game's first drive. But the Packers only scored after Mason Crosby's 44-yard field goal bounced off the left upright and over the crossbar.
Since then, nothing against the Lions and their 26th-ranked defense.
Rodgers is 15 of 23 for 114 yards. He overthrew open receiver Davante Adams on one throw. Randall Cobb dropped another pass to that could have led to a big gain.
- Genaro C. Armas reporting from Green Bay, Wisconsin
---
1:40 p.m.
That New Orleans Saints' defense sure can make an offense look good, can't it?
On the Washington's opening possession Sunday, Kirk Cousins directed the Redskins 96 yards in 10 plays, capped by a 16-yard TD pass to tight end Jordan Reed.
It's the longest drive by the Redskins in 15 years - since a 98-yarder against the New York Giants in December 2000.
And on Washington's second possession, it marched 80 yards in eight plays for yet another TD pass by Cousins, this time 11 yards to rookie receiver Jamison Crowder.
To that point, Cousins was 9 for 9 for 116 yards, including a 42-yard completion to DeSean Jackson and a 29-yarder to Matt Jones.
The Saints did answer on their first drive, though. Drew Brees and Co. needed just five plays to go 83 yards for a touchdown.
- Howard Fendrich reporting from Landover, Md.
---
1:25 p.m.
Ben Roethlisberger is going to play after all.
The hobbled Pittsburgh quarterback entered Sunday's game against Cleveland in the first quarter when backup Landry Jones left the game with a left ankle injury.
Roethlisberger is wearing a special shoe on the left foot he sprained late in last week's win over Oakland. Roethlisberger was limited in practice this week.
The Steelers started Jones and made Roethlisberger the backup just in case of emergency. That emergency arrived on Pittsburgh's second drive when he turned his left ankle while throwing an incomplete pass to Heath Miller.
Roethlisberger is 18-2 against the Browns in his career.
---
1:15 p.m.
The St. Louis Rams didn't waste any time getting Wes Welker in the lineup, just as coach Jeff Fisher hoped.
Welker was active Sunday against Chicago less than a week after joining the team. His action might be limited, but Fisher wanted him to be activated.
The Rams had an opening when WR Stedman Bailey was suspended four games for violating the NFL's substance abuse policy.
The 13th-year pro went this far into the season without being signed. He has 9,822 yards receiving for his career with 50 touchdowns.
- R.B. Fallstrom reporting from St. Louis
---
12:05 p.m.
Workers have covered a section of bare concrete at the Edward Jones Dome, where at least two opposing players have slipped over the past two games.
As the St. Louis Rams prepared to play the Chicago Bears Sunday, a thick rubberized surface covered the concrete.
49ers running back Reggie Bush injured a knee when he slid and fell on the concrete on Nov. 1. He is out for the season.
Cleveland quarterback Josh McCown slipped on the concrete on Oct. 25, banging his shoulder on the padded wall.
- R.B. Fallstrom reporting from St. Louis
---
11:50 a.m.
Pittsburgh Steelers quarterback Ben Roethlisberger will dress on Sunday though it appears backup Landry Jones will start against the banged-up Browns, who will send out Johnny Manziel with Josh McCown sidelined by a rib injury.
Roethlisberger is dealing with a sprained left foot suffered in the fourth quarter of last week's 38-35 win over Oakland. He practiced in a limited capacity late in the week and the Steelers were encouraged enough to make him active while sitting Michael Vick. Linebacker James Harrison is also inactive for the Steelers with a knee problem.
Manziel will make his fifth career start for Cleveland.
The Browns, who haven't won in Pittsburgh since 2003, will be without McCown and three starting defensive backs with Justin Gilbert, Joe Haden and Donte Whitner inactive.
- Will Graves reporting from Pittsburgh
---
AP NFL website: www.pro32.ap.org and www.twitter.com/AP-NFL
---
---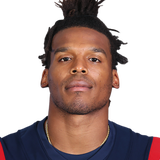 Get more from Cam Newton
Follow your favorites to get information about games, news and more
---