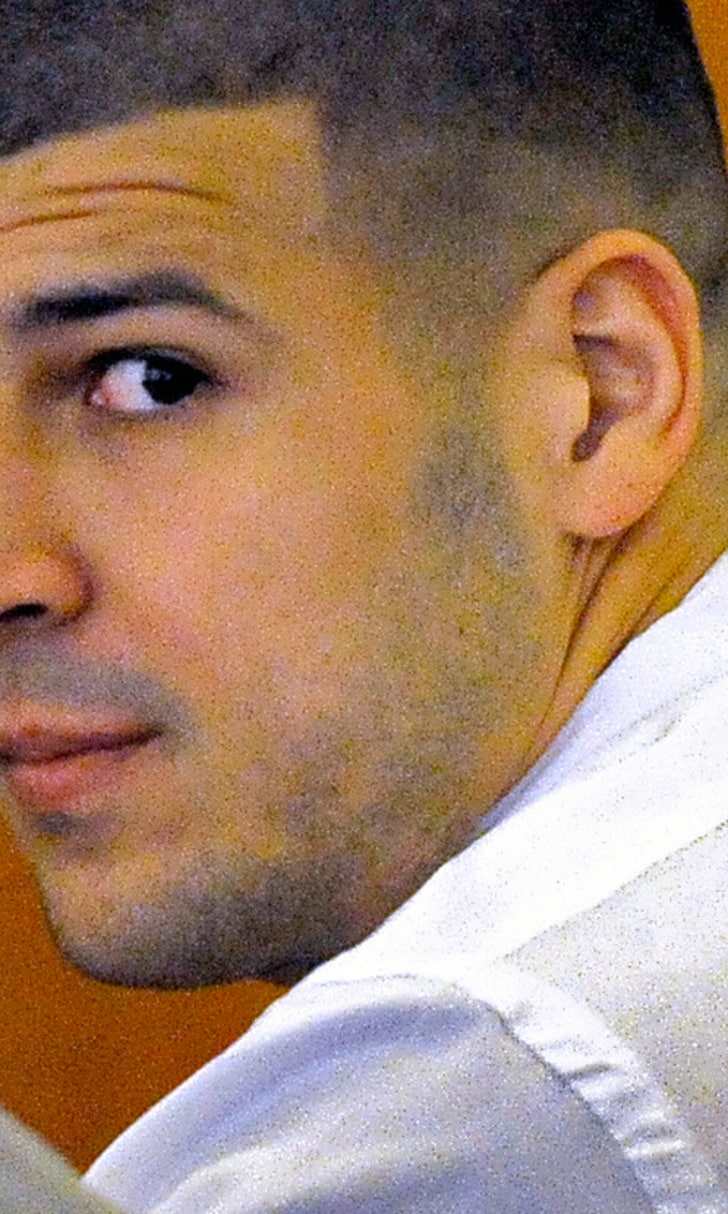 Judge tosses some evidence, allows others in Hernandez murder case
BY foxsports • December 12, 2014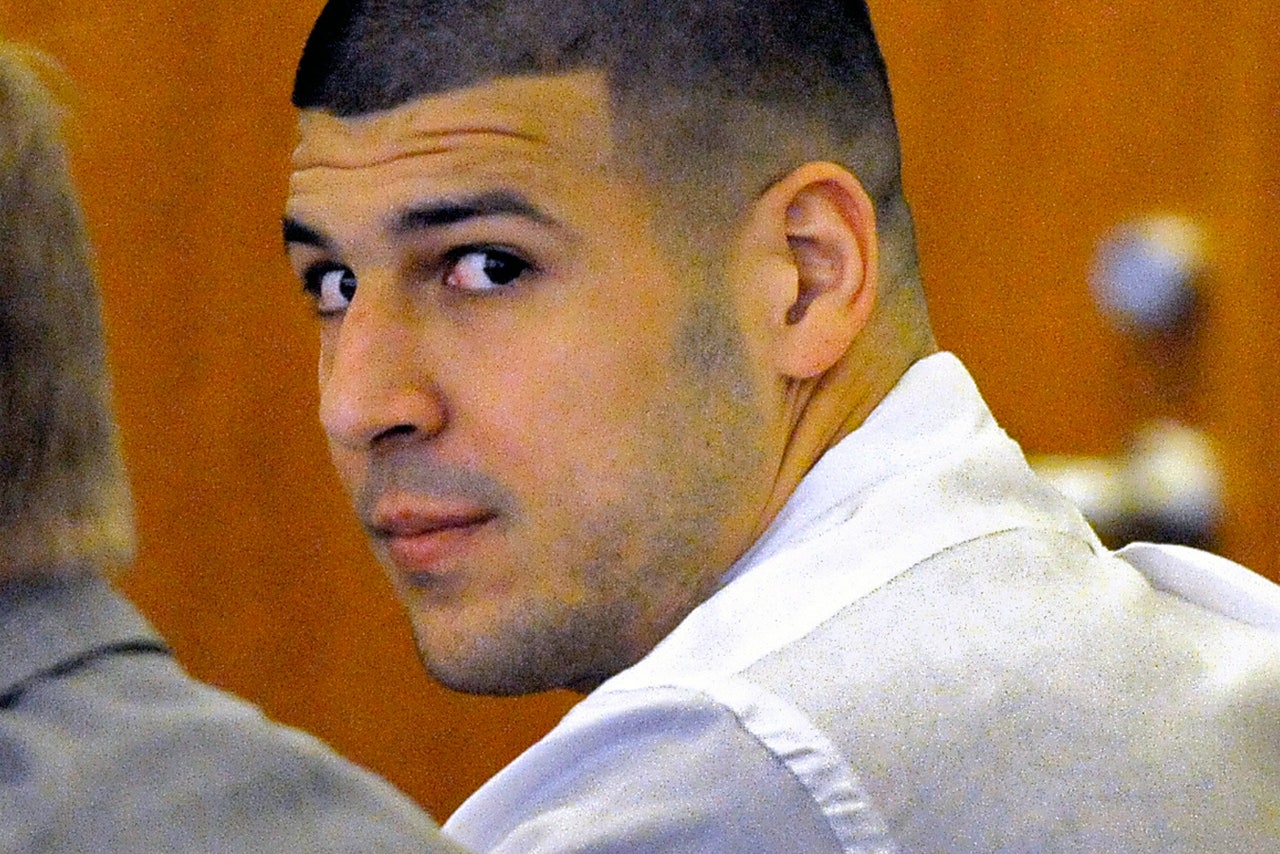 FALL RIVER, Mass. – Prosecutors and attorneys for Aaron Hernandez each won some rulings on evidence and lost others in a hearing Friday over evidence in the former New England Patriot's upcoming murder trial.
For the defense, there were victories on several issues that the judge concluded would unfairly taint Hernandez -- including the introduction of a 2009 photograph that purportedly shows the former player with a Glock pistol that may be the murder weapon or details about a 2013 shooting in Florida he allegedly committed.
But Judge Garsh also sided with prosecutors on several issues -- ruling they can introduce numerous pieces of evidence tying Hernandez to guns, including a pistol apparently tossed from a car near the murder scene. Prosecutors can also introduce evidence that Hernandez purchased marijuana from Lloyd.
The hearing was scheduled on a series of motions filed by Hernandez's attorneys that aim to block a jury from hearing evidence of other "bad acts" allegedly committed by the former New England Patriots tight end as well as sealed motions filed by prosecutors.
Hernandez's lawyers contend that evidence is irrelevant and would unfairly jeopardize his right to a fair trial in Lloyd's murder.
Among the issues Hernandez's lawyers attacked were details about other shootings he has been linked to, about his tattoos and alleged gang affiliation, and about guns and ammunition found in his home.
Hernandez also faces separate murder and assault charges in a shooting July 16, 2012, that left two men dead and other wounded. That trial is currently scheduled to start May 28, but a judge has already agreed to push it back, although no new date has been set.
For now, all of their focus is on the upcoming trial in Lloyd's death.
Lloyd, a semipro football player who was dating the sister of Hernandez's fiancee, was gunned down in a field about half a mile from the player's mansion in North Attleboro, Mass., which is located southwest of Boston.
In all, Hernandez's lawyers filed three motions seeking to exclude from the jury's consideration evidence of "bad acts," evidence that is unfairly prejudicial to the player, and evidence they argue is "irrelevant" and inadmissible.
Evidence of so-called "bad acts" by Hernandez that his lawyers want withheld from the jury include details about the double-murder in Boston; about guns linked to the player that were purchased in Florida and allegedly transported to Massachusetts by another man; about a confrontation involving him and Jets fans outside a Providence, R.I., nightclub in May 2013; about a rifle and ammunition found in his home; about a pistol found in the woods not far from his house; and about a shooting in Florida in February 2013 that Hernandez has been accused of in a civil lawsuit. In addition, his lawyers want to keep the jury from being shown a photograph of Hernandez, first published by the celebrity gossip website TMZ, that depicts him holding what has been identified as a Glock pistol.
Investigators believe Lloyd was murdered with a Glock.
Judge Garsh allowed the introduction of evidence about the guns purchased in Florida, and extensive testimony about weapons seen in Hernandez's home and tossed out evidence about the incident in Providence and the 2009 photograph, published by TMZ, that purportedly showed Hernandez holding a Glock pistol.
His lawyers also want the judge to order prosecutors to file detailed information about 22 other pieces of "bad acts" evidence.
"The 30 alleged 'bad acts' the Commonwealth seeks to present evidence about at the defendant's upcoming murder trial encompass a cornucopia of alleged activities, including other shootings, gun trafficking, firearms possession, drug use, a drunk driving arrest, a 2009 photograph and even a fender bender," Hernandez's lawyers wrote in their motion. "If permitted to introduce all or even much of this evidence, the Commonwealth will have succeeded in transforming a murder trial into a wide-ranging, collateral attack on the defendant's personal history, character, lifestyle and propensities."
Defense attorneys Michael Fee, Charles Rankin and James Sultan contend evidence of Hernandez's "alleged gang membership and his body tattoos" falls into the category of "irrelevant and unfairly prejudicial."
They also contend that the judge should exclude other evidence under the heading of "irrelevant and otherwise inadmissible." That includes recordings of phone calls involving others who have been linked to Lloyd's death, phone calls involving Hernandez's cousin, letters sent to him in jail, evidence about his cousin's refusal to testify before a grand jury, and jail "video surveillance pertaining to assault on inmate and threat to correctional officer" -- both incidents for which the former player has been indicted.
Prosecutors have alleged that Hernandez, angered at Lloyd after an incident at a nightclub in Boston, summoned two friends from his hometown of Bristol, Conn., to the player's mansion in North Attleboro late the night of June 16, 2013. At the same time, according to court documents, Hernandez allegedly contacted Lloyd and arranged to pick him up at his home in the Dorchester section of Boston for a night out.
Hernandez, joined by Carlos Ortiz, 28, and Ernest Wallace Jr., 42, allegedly drove to Boston, picked up Lloyd, and then returned to North Attleboro, pulling into a secluded field in an industrial park that was surrounded by trees and piles of gravel and asphalt.
There, Lloyd was gunned down with multiple shots from a .45-caliber handgun.
Ortiz and Wallace have also been charged with murder in Lloyd's death under a legal theory known as "join venture." Prosecutors have asserted in court that Hernandez orchestrated the killings, but they have not divulged their theory of the crime -- including their belief about who fired the fatal shots -- and they don't have to until they present their case at trial.
To convict someone of murder, it is necessary to show that person was involved in the crime -- but not that he or she actually carried out the killing.
Hernandez was arrested in Lloyd's death eight days after the man's body was found. The Patriots cut him hours later, and he has been behind bars without bail ever since.
In the Boston case, Hernandez has been charged with multiple counts of murder and assault in the deaths of Brian de Abreu, 29, and Safiro Furtado, 28, and the wounding of a third man. Prosecutors have alleged that Hernandez, angered that de Abreu bumped him on a nightclub dance floor, spilling his drink, seethed for more than an hour before he saw them leaving the club. At that point, Hernandez allegedly circled the block several times waiting for the men to emerge from a parking garage, followed them several blocks, and then opened fire on their vehicle as they sat at a traffic light.
Hernandez was not identified as a suspect in that case until after he was arrested in Lloyd's death.
---
---