National Football League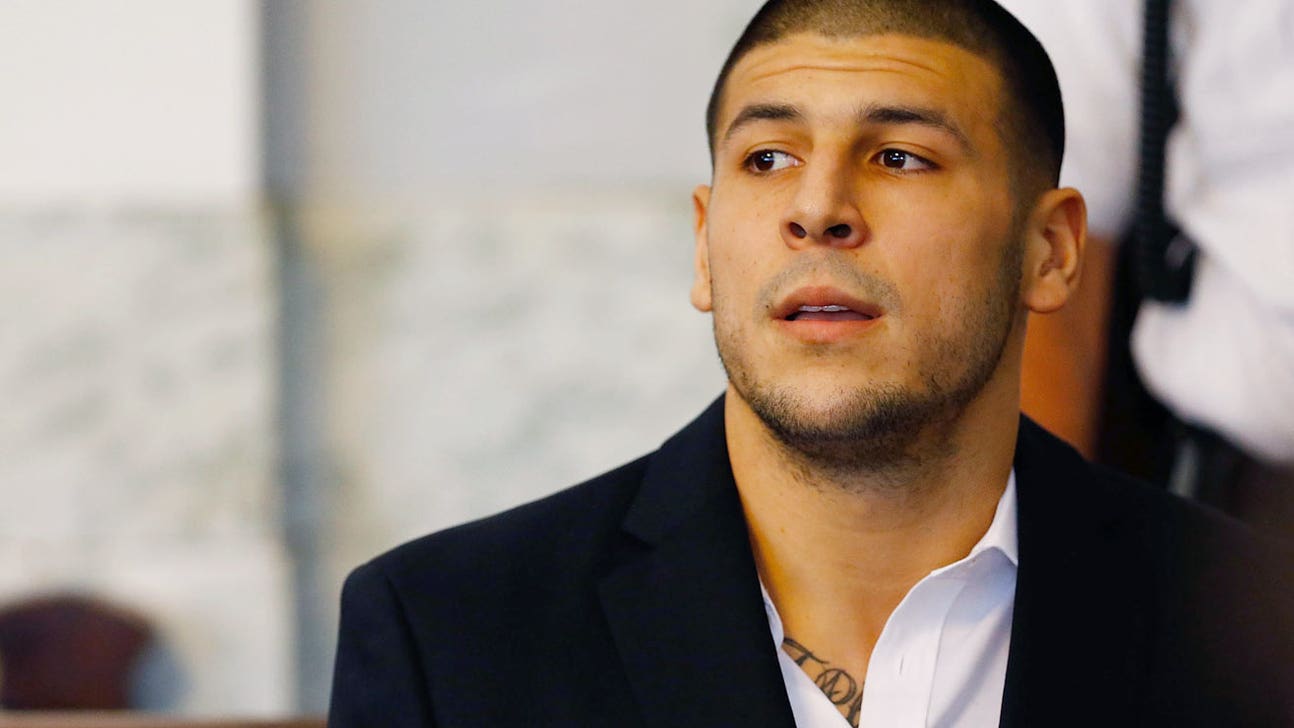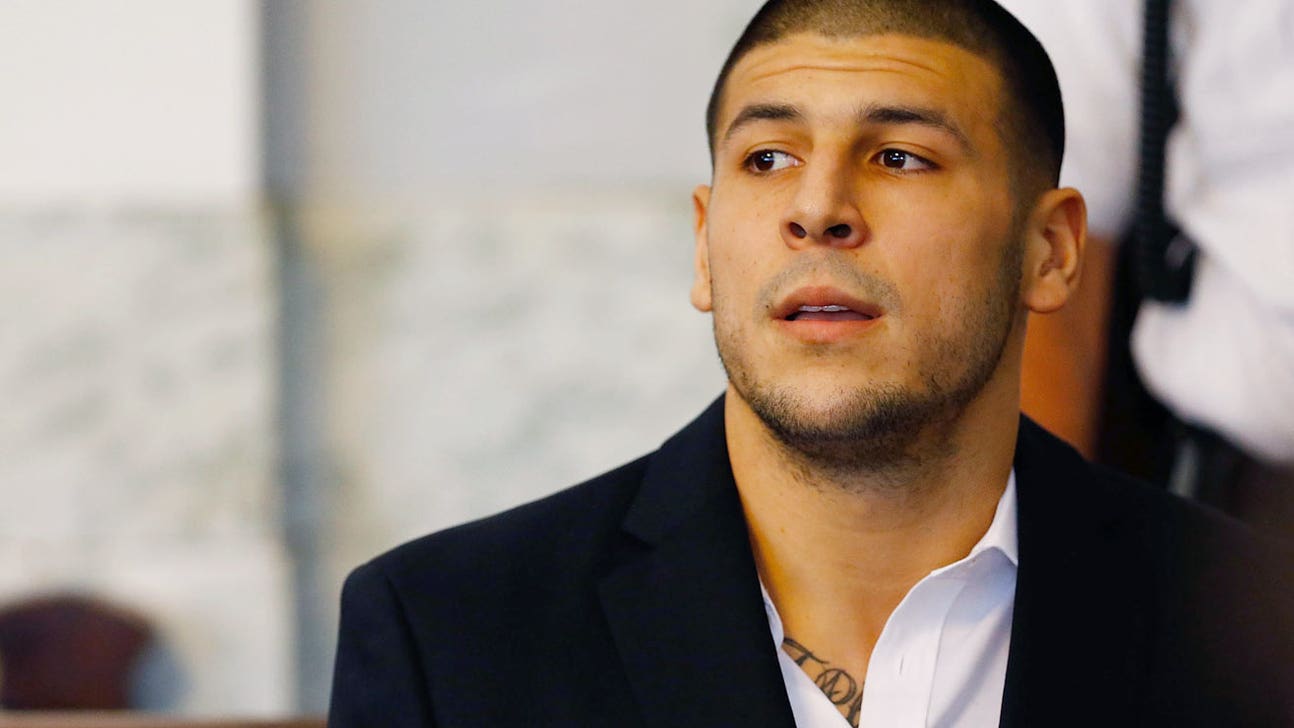 National Football League
Judge tentatively sets Hernandez murder trial for Oct. 6
Updated
Mar. 4, 2020 9:47 p.m. ET

FALL RIVER, Mass. – A judge on Monday tentatively scheduled a murder trial for Aaron Hernandez to start on Oct. 6, near the end of a court hearing that was rife with revelations about the allegations against the former New England Patriots star.
That trial, for the June 17, 2013 murder of semi-pro football player Odin Lloyd, is expected to last at least a month and perhaps two.
Two other men alleged to have been with Hernandez when Lloyd was killed have also been indicted on murder charges.
And while a trial date had been the subject of great speculation for months, the bigger news out of Monday's hearing emerged as attorneys for Hernandez and prosecutors grappled over two defense motions – one seeking the outright dismissal of the charges, the other seeking the suppression of evidence taken from the former football star's home.
In one case, defense attorneys asserted that prosecutors, armed with flimsy evidence, cajoled a grand jury into indicting Hernandez by introducing evidence that he was a bad person – that he was violent, liked guns, smoked pot. In the other, they asserted that prosecutors did not have enough evidence to obtain a search warrant that they used to confiscate the hard drive from Hernandez's home surveillance system as well as several cell phones and tablet computers.
Bristol County Superior Court Judge E. Susan Garsh did not rule on either motion – and won't until at least July 1.
Hernandez has been indicted in a separate case in Boston – the July 16, 2012, murder of two men and wounding of a third at a traffic light in the city's theater district.
That case is in its infancy while the killing of Lloyd now appears headed for a jury.
As Judge Garsh questioned attorneys for both sides, and as they sought to bolster their positions, new details emerged about the killing of Lloyd in a secluded field not far from Hernandez's mansion in North Attleboro, Mass.
For instance, it was clear from statements made by both Garsh and prosecutor William McCauley that one of the witnesses who testified before the grand jury that indicted Hernandez was Alexander Bradley. Bradley is a key figure in Hernandez's life – he is alleged to have been his one-time "right-hand" man, is alleged to have been with Hernandez when the 2012 killings in Boston occurred and has accused the former football star of shooting him in the face in 2013 in Florida.
Bradley lost an eye in that incident.
It had not been previously disclosed that Bradley testified before the Bristol County grand jury in Lloyd's death.
In testimony before the grand jury, McCauley said, Bradley put a Glock pistol in Hernandez's hand in the year before Lloyd's death. That could be a critical piece of testimony – prosecutors know from ballistics evidence that Lloyd was killed with a .45-caliber Glock pistol, but the gun has not been found.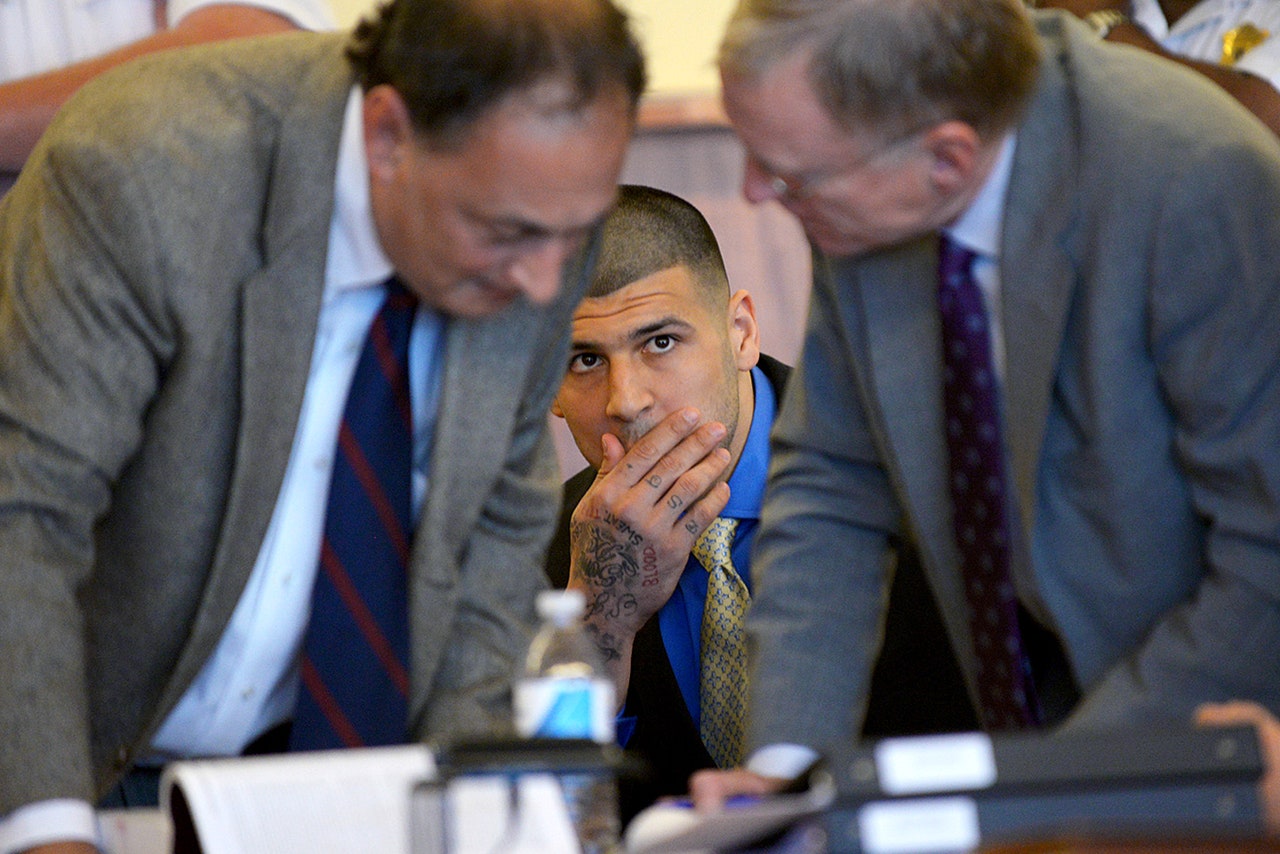 Aaron Hernandez on Monday watched his defense attorneys, James Sultan (left) and Charles Rankin, argue on his behalf during a hearing at the Bristol County Superior Court House.
According to McCauley, Bradley told the grand jury that he'd seen a Glock in Hernandez's North Attleboro home and in a hotel room in Florida.
"There is a theme of a Glock running through this case," McCauley said.
For instance, he said, investigators found a loaded magazine for a .45-caliber Glock in a Hummer that was parked outside an apartment Hernandez had rented in Franklin, Mass. Investigators found Hernandez's fingerprints on the gearshift lever, McCauley said.
And, more important, they found the magazine loaded with ammunition from multiple manufacturers.
Investigators also found that of the six shots fired at Lloyd, they came for four different ammunition manufacturers – and McCauley said in court Monday for the first time that they were the same manufacturers as the bullets found in that magazine.
Prosecutors have alleged that Hernandez summoned two friends from his hometown of Bristol, Conn., to meet him in North Attleboro and that at the same time he was making arrangements to pick up Lloyd in Boston. According to court documents, investigators believe Hernandez and the other two men, Carlos Ortiz and Ernest Wallace Jr., drove to the Dorchester section of Boston, picked up Lloyd and then drove him back to North Attleboro.
There, Lloyd was shot and killed in a deserted section of an industrial park used to store construction materials, like asphalt and gravel.
Although prosecutors have said in open court that Hernandez "orchestrated" Lloyd's death, they have not unveiled their theory of the crime – or details about who they believed fired the fatal shots.
Defense attorney James Sultan downplayed McCauley's assertions and alleged repeatedly that investigators, faced with a lack of tangible evidence – such as the murder weapon – instead inundated grand jurors with irrelevant testimony designed to "besmirch" Hernandez's character. The effort, Sultan said, was to show that Hernandez was "a violent person who liked guns, who used marijuana, and was not a law-abiding kind of a person – essentially as a substitute for evidence that he committed the crime in the hope the grand jury would indict him for murder, which is in fact what happened."
After Judge Garsh questioned Sultan on extensive evidence showing that Hernandez was with Lloyd shortly before he was killed, the defense attorney acknowledged that "there is a lot of smoke" but said there was nothing that showed who committed the killing.
Sultan and defense attorney Charlie Rankin also hammered away at a search warrant obtained for Hernandez's home security system. It yielded images of Hernandez with a gun in his hand.
But defense attorneys asserted that the warrant was defective – that investigators didn't have enough evidence to obtain it and that they took evidence, such as cell phones and iPads, that it didn't cover. For instance, Garsh noted that the warrant itself contained only a single cell-phone number and questioned whether that should have prevented detectives from taking other phones in their search.
The listing of that specific cellular number, Garsh said, would "suggest" that the judge who signed the warrant had not authorized detectives to take any other warrants.
Garsh scheduled a follow-up hearing Wednesday to look at whether an affidavit written to obtain the warrant was actually attached to it.
Another new detail that emerged Monday was a possible motive for Lloyd's death.
McCauley asserted that Hernandez and Lloyd got into a dispute at a nightclub. Afterward, Hernandez went to his car and got a gun, then later expressed regret that he had taken Lloyd to the apartment he kept in Franklin.
Hernandez's fiancée, Shayanna Jenkins, and Lloyd's girlfriend, Shaneah Jenkins, are sisters. But McCauley said the two men had met women at the club and took them to the Franklin apartment – and Hernandez later regretted that Lloyd knew about what has been termed a "flop house" in some court papers.
Finally, Sultan told the judge that the defense may not be done filing motions – that there was consideration being given to requesting a change of venue. If granted, that would mean the trial would be moved to another jurisdiction under the presumption that there has been so much publicity that an impartial jury could not be found in Bristol County.
Hernandez was also arraigned Monday on charges that he attacked another inmate in February and that he threatened a jailer last November. He pleaded not guilty to both charges.
Hernandez is scheduled to appear in court June 24 in Boston in the murders of Daniel de Abreu, 29, and Safiro Furtado, 28.
Prosecutors there alleged that Hernandez gunned down the two men and wounded a third after a dispute at a night club that allegedly began when de Abreu allegedly bumped the player on a dance floor and spilled his drink.
---
---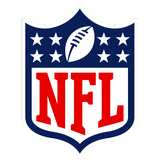 Get more from National Football League
Follow your favorites to get information about games, news and more
---