Jets sign DE Leonard Williams, WR Devin Smith to four-year contracts
Published
May. 8, 2015 9:49 p.m. EDT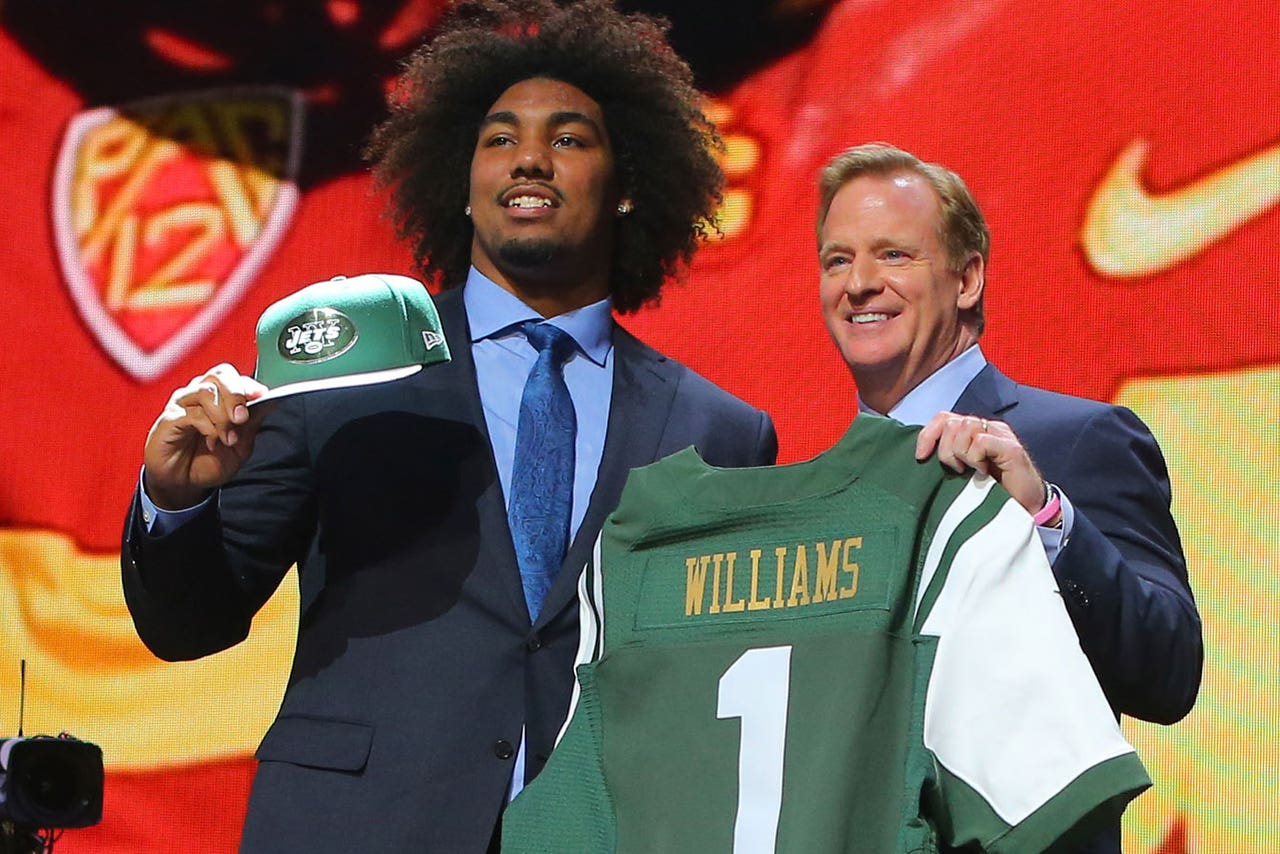 FLORHAM PARK, N.J. -- The New York Jets have their entire draft class under contract.
Defensive end Leonard Williams and wide receiver Devin Smith, the team's top two draft selections, signed four-year contracts Friday night.
All six of the Jets' selections practiced earlier Friday as New York began its three-day rookie minicamp. Third-rounder Lorenzo Mauldin, fourth-rounder Bryce Petty, fifth-rounder Jarvis Harrison and seventh-rounder Deon Simon signed earlier in the week.
Williams was the No. 6 overall selection last week out of Southern California. His deal is worth up to $18.6 million, including a signing bonus of nearly $12 million. He's expected to be an immediate contributor on a defensive line that includes fellow first-rounders Muhammad Wilkerson and Sheldon Richardson.
Smith's contract is worth about $5.8 million, including a $2.5 million signing bonus. The speedy receiver, who was the Jets' second-round pick, had 12 touchdowns as a senior at Ohio State.
Earlier in the day, the Jets released tight end Chris Pantale and linebackers Chris Young and Mario Harvey, and signed nine undrafted free agents.
The team also announced that offensive lineman Corey Hilliard retired, just a few weeks after signing as a free agent in March. Coach Todd Bowles said the 30-year-old Hilliard, who spent the last six seasons with Detroit, wanted to spend more time with his family.
The undrafted players signed and participating in rookie minicamp are: defensive ends Deion Barnes and Jordan Williams, safeties Durell Eskridge and Demarkus Perkins, linebackers Julian Howsare and Taiwan Jones, tight end Wes Saxton, defensive lineman Davon Walls and cornerback Greg Henderson.
Pantale was signed as an undrafted free agent in 2013 and spent most of the last two seasons on the practice squad. Young was signed to the practice squad last October, while Harvey joined the practice squad in December.
Among players receiving tryouts is tight end Mike Flacco, brother of Ravens quarterback Joe Flacco. The younger Flacco played at the University of New Haven, and spent time last year with San Diego and Jacksonville.
---
---