Atlanta Falcons
Atlanta Falcons
It's not wise to overlook the undersized NFL dynamos
Updated
Mar. 4, 2020 1:43 p.m. ET

DENVER (AP) After watching Kansas City Chiefs rookie Tyreek Hill speed into the end zone on a return, a rush and a reception last month, Broncos coach Gary Kubiak decided to give his own dashing dynamo a chance.
He promoted practice squad receiver/returner Kalif Raymond, a former sprinter from Holy Cross, to the active roster. Raymond quickly supplanted punt returner Jordan Norwood, who had two muffs in the Broncos' overtime loss to the Chiefs.
In Raymond, a 5-foot-9, 160-pounder who ran in the mid-4.3 range as a guest at Harvard's pro day, the Broncos hope they've found their own fireball like the Chiefs have in Hill, the Seahawks boast in Tyler Lockett or the Falcons flaunt in Taylor Gabriel .
All of these players give opponents headaches, and Kubiak said Raymond could soon join their ranks.
''Kalif's only played a couple of NFL games, but you'll see him doing some other things,'' Kubiak said.
For now, Raymond is trying to make his mark on special teams, where he's averaged 10.2 yards on six punt returns and is still itching to bring a kickoff out of the end zone.
''In the last two games we've had three returns over 20 yards, which we didn't have before,'' Broncos special teams coach Joe DeCamillis said. ''We ended up getting two balls over the 50 and a ball at the plus-25 going in. That's what we're looking for, short fields.''
From another undersized player overlooked by so many college recruiters and NFL scouts.
They're different body types, these burners. Raymond is similar to Gabriel (5-8, 166 pounds). Lockett is 5-11 but weighs just 170. Hill packs a hefty 185 pounds on his 5-foot-10 frame.
What binds them together is their blazing speed and relatively small size.
Raymond went undrafted, as did Gabriel, who has five touchdowns in his first season in Atlanta after two years in Cleveland.
Hill, who wasn't taken until the fifth round, has nine TDs this season, six receiving, one rushing, one on a punt return and one on a kickoff. Lockett scored six times as a rookie after the Seahawks selected him in the third round out of Kansas State. He was slowed by a knee injury in Week 2 this season and only returned to form this month, scoring his first touchdown on a 57-yard reception in Seattle's 24-3 win over the Rams.
''I think I finally got to hit that extra gear that I've been waiting on and some of my teammates have been waiting on because Doug (Baldwin) thinks he's faster than me. He said after that play that he doesn't think he can run with me anymore,'' Lockett said.
These petite players are used to being overlooked but they're not overwhelmed, their performances and impact anything but paltry.
''You see the things Tyreek Hill is doing. He is doing a lot of great things. You see what Odell (Beckham Jr.) is doing. Antonio Brown. T.Y. Hilton,'' Lockett said. ''There are so many people that are out here doing so many great things and they don't have the height the NFL thought receivers were supposed to have. You can't really put a limit on a player.''
Lockett said his dad always told him his future wasn't as a receiver but a football player, ''a playmaker with the ball in your hands.''
Every NFL team has players who are undersized. The very fact they made the roster shows they have a multitude of skills that make up for their lack of height.
As Chiefs linebacker Derrick Johnson once put it, ''A smaller guy has to have something different because this is a big guys' league. For one thing, they've got to be tough. For another, they've got to be quick. Slow, little guys aren't going to make it in this league.''
Both tough and quick, Raymond said his smaller size is actually an advantage.
''I like to think I play with a chip on my shoulder and a lot of that chip comes from my size,'' Raymond said. ''There's a certain look that a guy gives you when you're smaller than he is and when I recognize that look, I'm trying to throw everything I have at him. So, throughout my years of playing football I've developed that likeness to get hit and show people that I can hit. So, when I get hit, it's like nothing to me.''
Denver cornerback Chris Harris Jr., who covered Raymond in the slot on the scout team for the first three months of the season and has watched his progress firsthand, said he sees Raymond as the league's next small guy making a big impact.
''His quickness and his speed are off the charts,'' Harris said. ''He's learning how to get separation. He just has to take a punt return back. He has to do something. That's how Hill and Lockett got out there and got their roles expanded.''
---
For more NFL coverage: http://www.pro32.ap.org and http://www.twitter.com/AP-NFL
---
AP Sports Writer Tim Booth in Seattle contributed.
---
Follow Arnie Melendrez Stapleton on Twitter: http://twitter.com/arniestapleton
---
---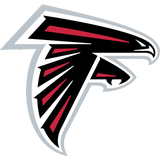 Get more from Atlanta Falcons
Follow your favorites to get information about games, news and more
---