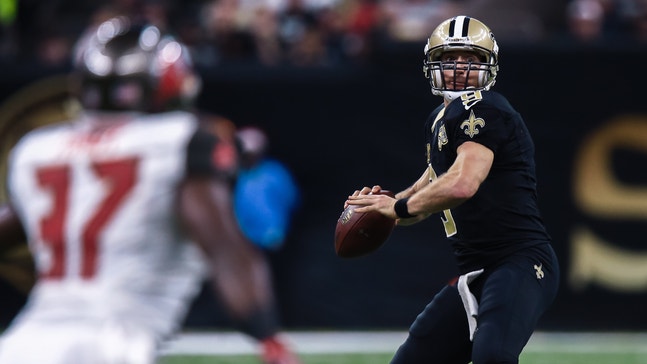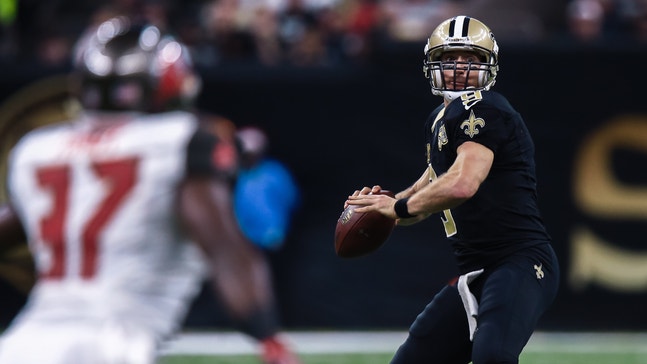 Is there another Dak Prescott out there for the Saints?
Updated
Mar. 4, 2020 10:05 p.m. ET

Fansided, Dean Mullen/FanSided via Who Dat Dish
After watching a 4th round draft pick win yet another game for the Dallas Cowboys, the thought has to be out there. Who will replace Drew Brees eventually? Here are the top 4 listed in probability, not in talent wise. Look for the Saints to draft a QB after the 3rd round hopefully to stay around.
Next: 1. Mason Rudolph- Oklahoma St.
FORT WORTH, TX – NOVEMBER 19: Mason Rudolph
Mason Rudolph is simply the best quarterback that could fit into the Saints' system. Here is just a sample of what he's done at Oklahoma State.
2016- Completion pct. of 63.6% with a passer rating of 146.4
2015- Completion pct. of 67.8% with a passer rating of 156.3
2014- Completion pct. of 67.9% with a passer rating of 188.6
Rudolph has started since a true freshman for OK State. Rudolph has gotten better every year. Look for him to go somewhere between the 2nd and 4th round. Rudolph's 25 touchdowns against only 4 interceptions seem like a bargain anywhere after the second round. How consistent is this guy? His yard total was 3,777 this year and 3,770 last year. Who Dat Nation wants this guy to be Drew Brees' heir apparent.
ARLINGTON, TX – NOVEMBER 25: Texas Tech Red Raiders quarterback Patrick Mahomes II (5) passes during the NCAA football game between Baylor University and Texas Tech on November 25, 2016, at AT&T Stadium
Mahomes is a little bit more far fetched for the Saints. However, it's not a total reach. Mahomes has completed 66% of his passes and 41 touchdowns against only 10 interceptions. The numbers definitely look juicy. Furthermore, Mahomes will also go around the 2nd to 4th round. The knock on him is the offense he plays in. Some will call it the gimmick offense that inflates his numbers. Mahomes has better mobility than Rudolph, but Rudolph is more NFL ready with more experience. Look for the Saints to take a look at him come draft time.
ORLANDO, FL – DECEMBER 03: Deshaun Watson
Ok, notice that Watson is the #3 quarterback on my list. This is mainly because Watson is more than likely not gonna be around long on draft day. Although this may be true, there have been some respected media outlets have him going as late as the third round. That's hard to imagine. Regardless, Watson has done it all at Clemson. His numbers and success speak for themselves. The Black and Gold would love to have him in a Saints uniform. All things considered, he's a long shot to still be on the draft board.
NEW ORLEANS, LA – DECEMBER 17: Southern Miss Golden Eagles quarterback Nick Mullens (9) back to pas during the R L Carriers New Orleans Bowl on December 17, 2016, at Mercedes-Benz Superdome, New Orleans, LA. (Photo by Bobby McDuffie/Icon Sportswire via Getty Images)
Nick who? Quarterback Nick Mullens is a long shot to get drafted. As a matter of fact, the seventh round may be his best chance. Nonetheless, Pro Football Focus has him as being the next big surprise in the NFL like Carson Wentz or maybe Dak Prescott.
Mullens is another guy that has plenty of playing experience. The knock on him is his average velocity on his throws. The scouts probably aren't going to salivate over his throwing power. With this in mind, no one though much of Tom Brady either coming out in the 6th round either. Keep an eye on this kid. Mullens will also play in the East-West Shrine game.
More from Who Dat Dish
This article originally appeared on
---
---