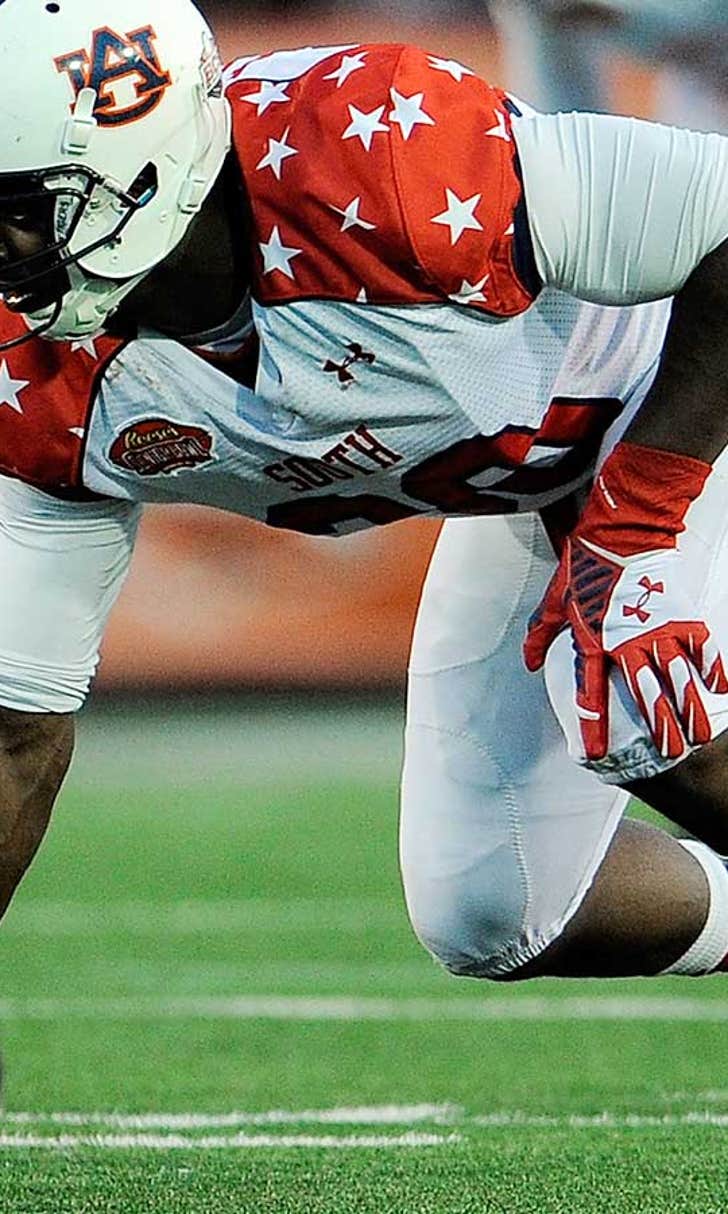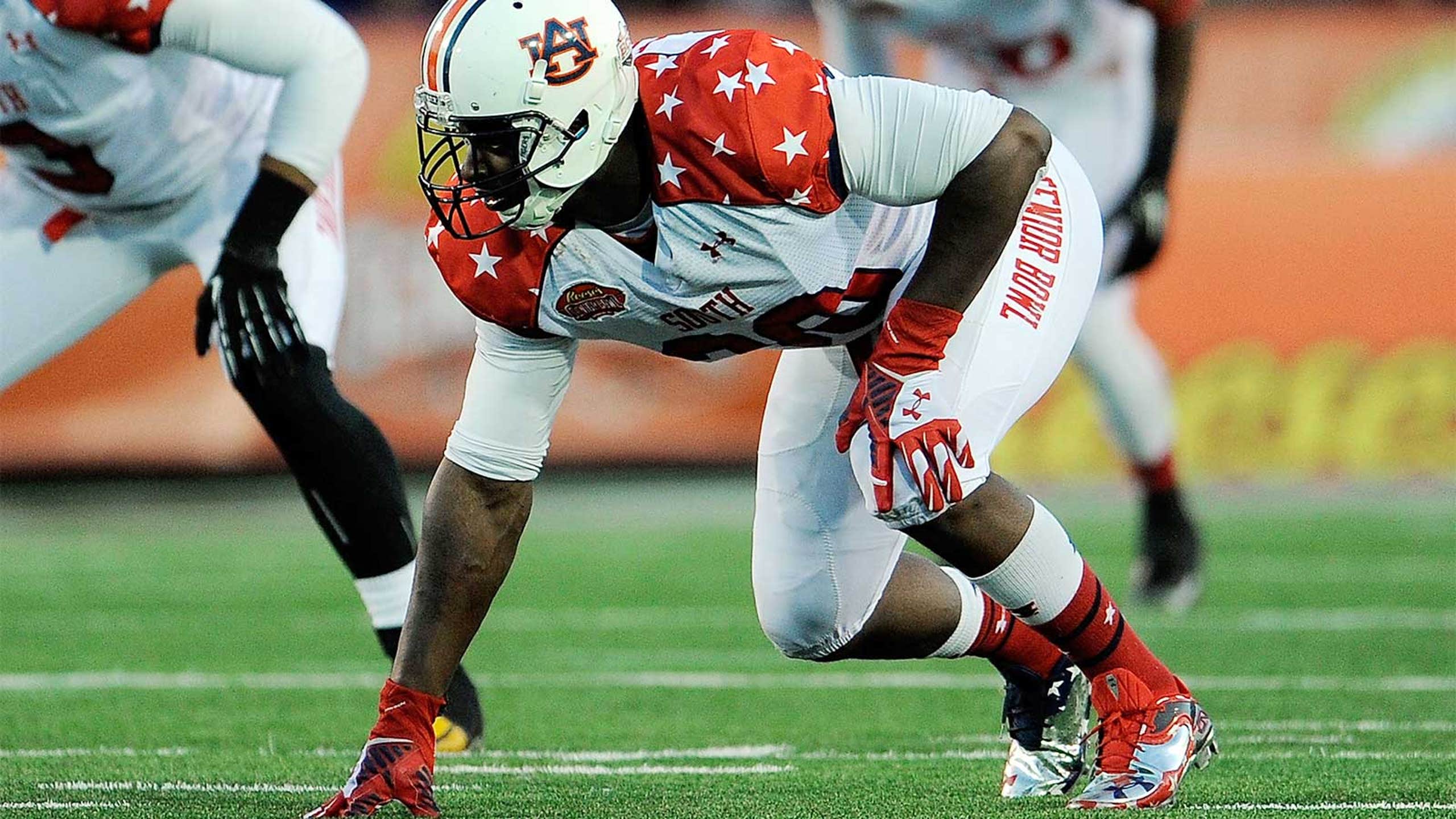 In Dee Ford, Chiefs believe they have another special pass rusher
BY Alex Marvez • May 22, 2014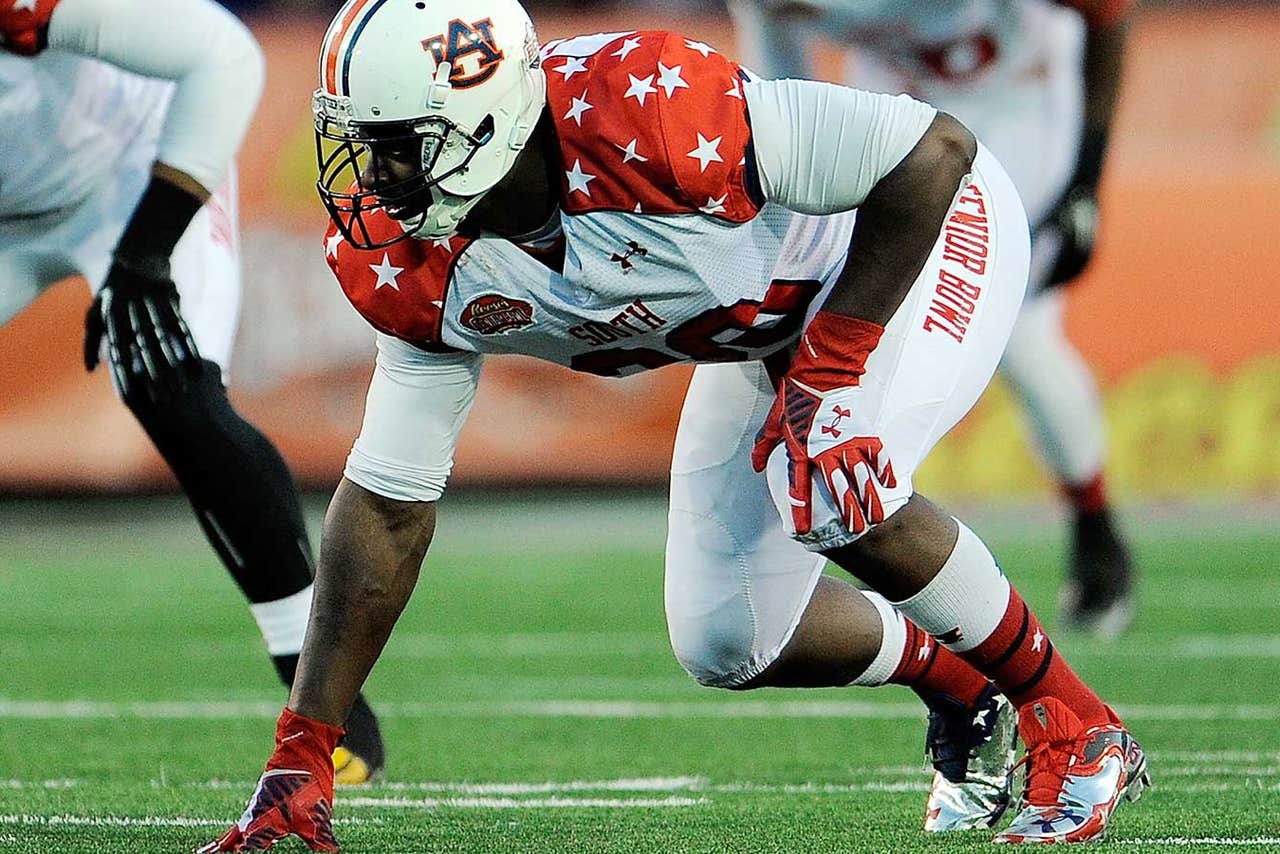 Jadeveon Clowney, Khalil Mack and Anthony Barr were widely considered the top pass-rushing prospects in the 2014 NFL Draft.
Kansas City Chiefs general manager John Dorsey doesn'€™t see it that way.
While all three of those players were chosen within the first nine picks, Dorsey had Auburn's Dee Ford rated much higher when making him the No. 23 overall selection of the first round.
"He'€™s a wonderful kid," Dorsey told co-host Gil Brandt and me Wednesday night on SiriusXM NFL Radio. "€œHe'€™s got an incredible work ethic. 
"€œI thought he was the second-best pass rusher in the draft."
Dorsey wouldn'€™t say whom he regarded as the top pass-rusher. The 6-foot-2, 252-pound Ford also must make the transition to outside linebacker in Kansas City'€™s 3-4 system after playing defensive end at Auburn.
Dorsey, though, believes it shouldn'€™t take too long for Ford to make an impact on a Chiefs defense that already has two top sack specialists in Justin Houston (11 in 2013) and Tamba Hali (11). The speedy Ford registered 10.5 sacks as a senior to help lead the Tigers into last season's national championship game against Florida State.
"€œWhat he will do during the course of the game is spell guys,"€ Dorsey said. "€œThat gives you the ability to have your guys fresh rushing the passer late in the game."€
It also should be noted that Houston and Hali failed to register a sack of Peyton Manning in two regular-season losses to Denver last year that ruined Kansas City'€™s chances of winning the AFC West (Houston missed the second game with an injury).
"We all understand you can'€™t have enough good pass-rushers because it's going to make that back seven look better the quicker you get to the quarterback," Dorsey said.
As for his own quarterback, Dorsey is optimistic the Chiefs will be able to strike a deal with quarterback Alex Smith as he prepares to enter the final year of his contract.
"We'€™ve had continual conversations with his representatives,"€ said Dorsey, whose team acquired Smith from San Francisco for two second-round picks in the 2013 offseason. "€œWe'€™re at that point now where we're going back and forth. Eventually, as (with) all negotiations, there will be a medium point where both sides agree. Time will move on and we'€™ll go to the next project.
"This thing will go on for a little bit. There'€™s a degree of patience here. There'€™s no reason to rush. We haven'€™t even gotten into rookie minicamp yet."
The Chiefs do have a rookie who could prove Smith's heir apparent in Aaron Murray. The former University of Georgia standout, who is still recovering from a torn anterior cruciate ligament suffered last November, was the highest-rated player remaining on Kansas City'€™s draft board when he was selected in the fifth round.
"€œHe'€™s been a winner in high school; he'€™s been a winner in college,"€ Dorsey said. "As we went along in terms of doing (pre-draft) research, I asked various defensive coordinators around the SEC what they thought about Aaron Murray. They all said what a headache he was to defend against because he was the guy toward the end of the game who would lead those drives to try and get Georgia across the finish line.
"Sometimes they didn't do it, but he'€™s got a unique trait in trying to push the ball at the end. He'€™s incredibly smart. And the one thing I like about him is that he's very competitive. I think the system fits his skill set ideally."€
---
---