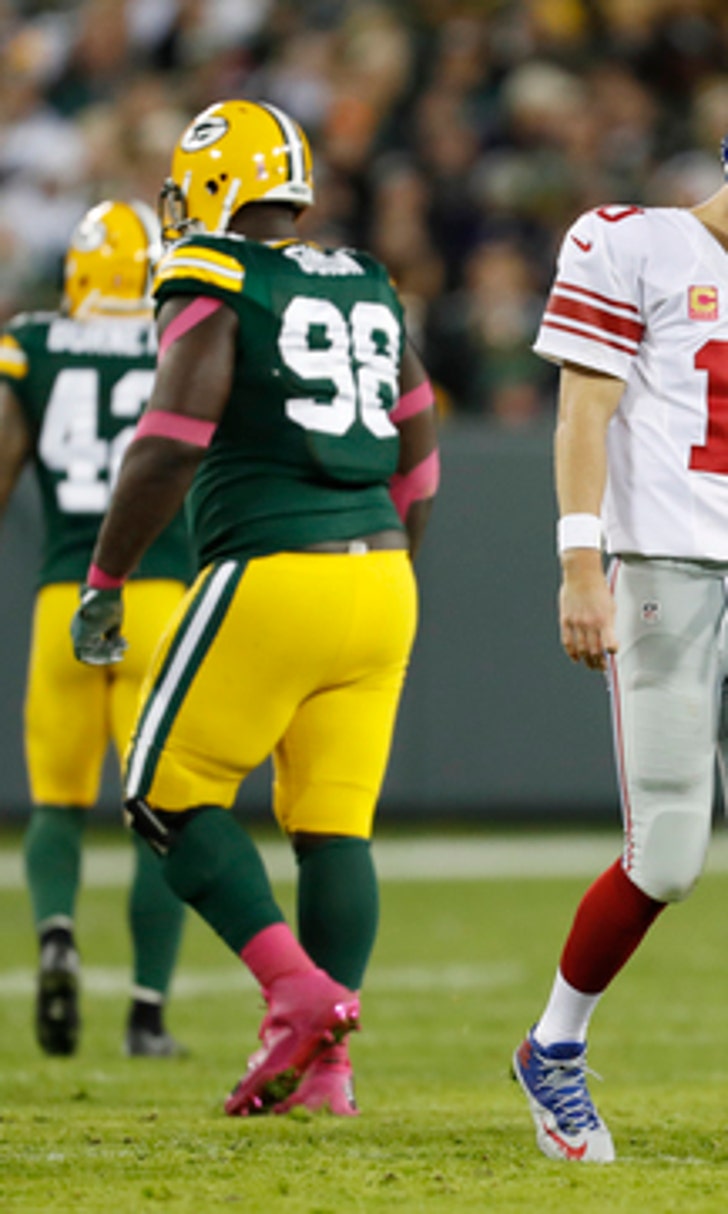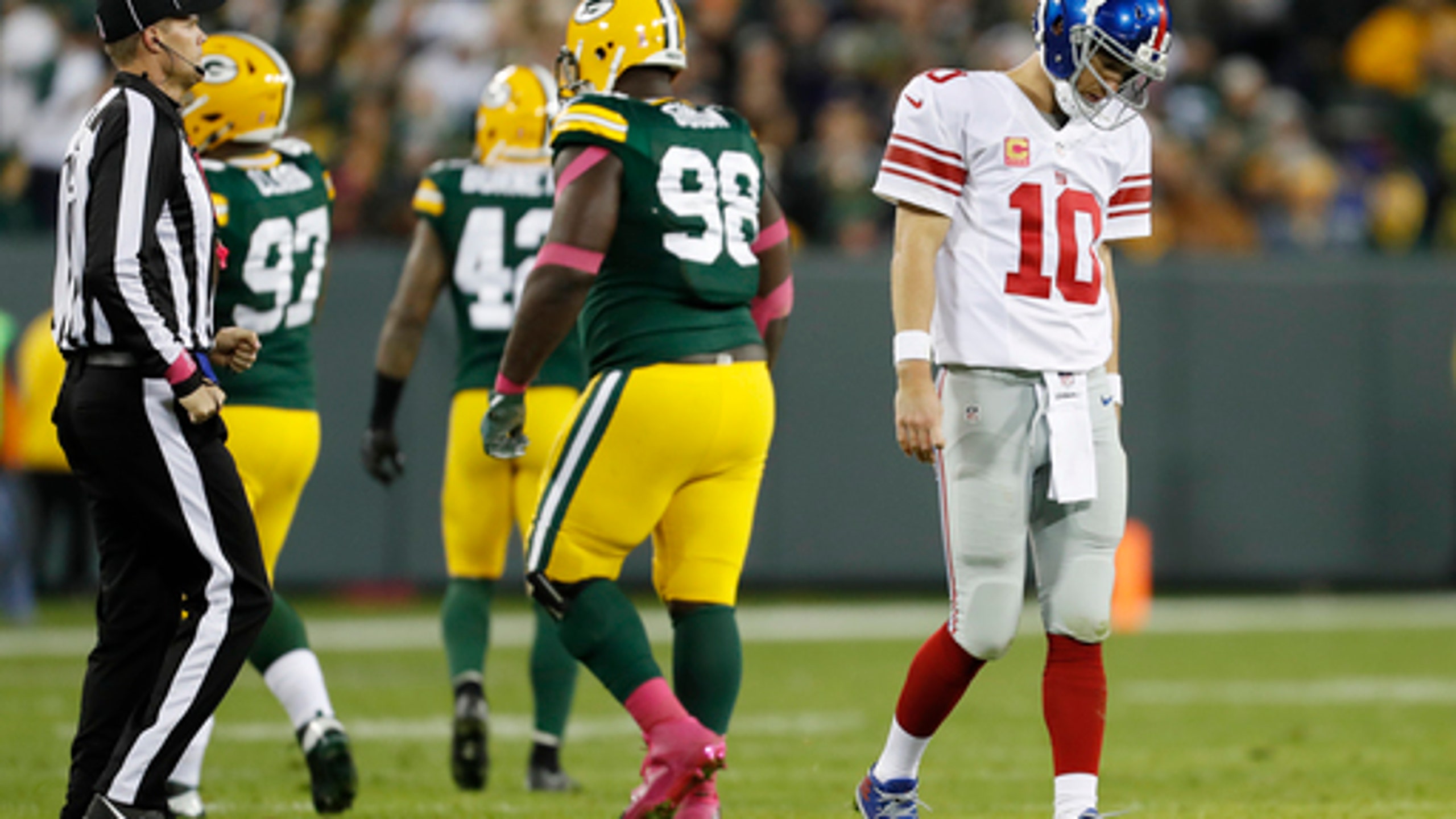 Giants not throwing Eli under the bus with O struggling
BY foxsports • October 12, 2016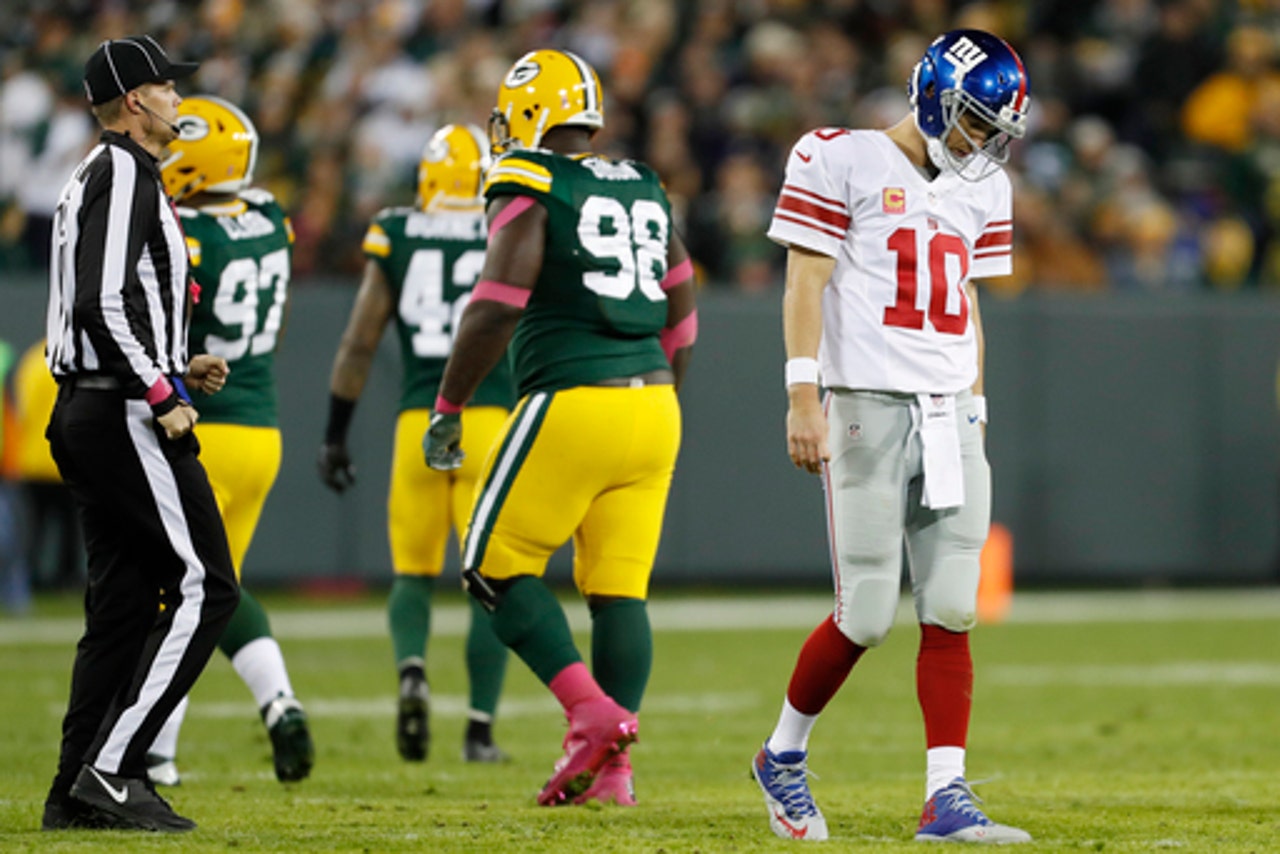 EAST RUTHERFORD, N.J. (AP) With the New York Giants' offense struggling, no one is pointing fingers, especially at quarterback Eli Manning.
There is no doubt the 35-year-old, two-time Super Bowl MVP has not played his best in recent losses to Minnesota and Green Bay.
There are a lot of reasons. The offensive line has been inconsistent. The running game has disappeared with starter Rashad Jennings missing the past three games and Shane Vereen lost for the season with a triceps injury in Week 3.
The supposed dynamic wide receiver trio of Odell Beckham Jr., Victor Cruz and Sterling Shepard has found itself covered way too often.
Then there is Manning. He just has not been as sharp as in recent years. The best example was his missing a walk-in touchdown pass to tight end Will Tye with New York trailing 14-6 late in the first half Sunday night against the Packers. Tye was wide open and Manning overthrew him.
That's not the Manning of the past two seasons in now head coach Ben McAdoo's West Coast offense.
It has critics wondering if Manning is starting to slip in his 13th season in the league.
''I think when things go wrong everyone needs something to point at,'' Beckham said Wednesday after the Giants (2-3) finished practice for Sunday's game at home against Baltimore (3-2).
''It's easy to point the finger here and there. Internally between all of us, we have to play better. We all need to do things to make it easier on him (Manning) and on ourselves. Everyone needs to step it up.''
Manning willingly took the blame after the Giants' third straight loss. He said he feels good physically, downplaying a big hit he took against Washington in the third game of the season.
Manning refused to say how he felt he was playing this season.
''I didn't play as well as I needed to last week,'' he said. ''I missed some throws. So I need to play better, I have to make some more throws, better decisions, can't turn the ball over, but we will improve. We will keep working hard and we will figure it out.''
The Giants have scored 89 points this season, with special teams providing a touchdown on a blocked field goal.
The offense has eight touchdowns. Five have been on pass receptions and three on runs. Josh Brown has added nine field goals.
Cruz said no one is panicking when it comes to Manning, who has hit 119 of 187 for 1,385 yards and four interceptions.
''He's still playing in great form,'' Cruz said of Manning. ''You can't just go off a couple of games and negate what he's done in the games that we've won and the good things he's done. Obviously, it's easy to harp on the negative things, but you've got to look at the positives as well.''
In the past two games, Manning has been under a lot of pressure. He seemingly has tossed balls away rather than take a sack or hang in there and try to make a big play.
New York also has hurt itself with turnovers and penalties. They are minus-7 in turnover differential and have been flagged 32 times for 313 yards in penalties.
Take away the mistakes, and the offense improves.
''We need to score more points, period,'' McAdoo said . ''We had four first downs inside the 30-yard line, two of them were inside the 15 and we need to score touchdowns in the green zone. Whether they're in the first quarter, second quarter, third quarter, fourth quarter, we'll take them. We need points, we need to score touchdowns. Whatever we're averaging right now is not nearly good enough.''
NOTES: Jennings said he practiced with the first team Wednesday and hopes to return Sunday. ... DE Jason Pierre-Paul (groin) did not practice along with LB Devon Kennard (concussion), CB Eli Apple (groin), S Nat Berhe (concussion), T Marshall Newhouse (calf), S Darian Thompson (foot). ... TE Larry Donnell (concussion) wore a non-contact jersey at the workout. ... CB Dominque Rodgers-Cromartie (groin) was limited Wednesday but says he will play. ... McAdoo said LT Ereck Flowers worked with the first team so expect him to start. The second-year player shoved an ESPN reporter in the locker room after Sunday night's game. There was some speculation that Flowers would be benched. The team said any punishment would be handled in-house.
---
Online: AP NFL website: www.pro32.ap.org and AP NFL Twitter feed: www.twitter.com/AP-NFL
---
---