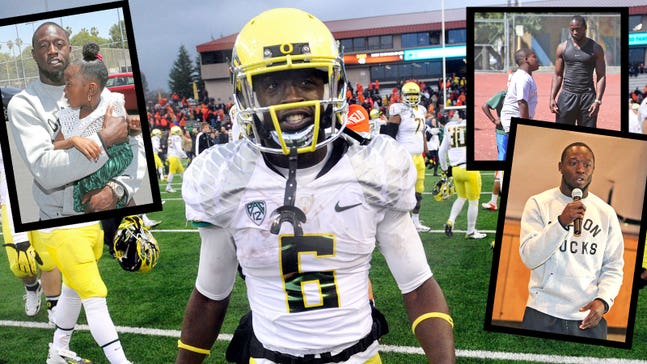 From South Central to the NFL: De'Anthony Thomas always had a master plan
Published
May. 5, 2014 10:27 a.m. ET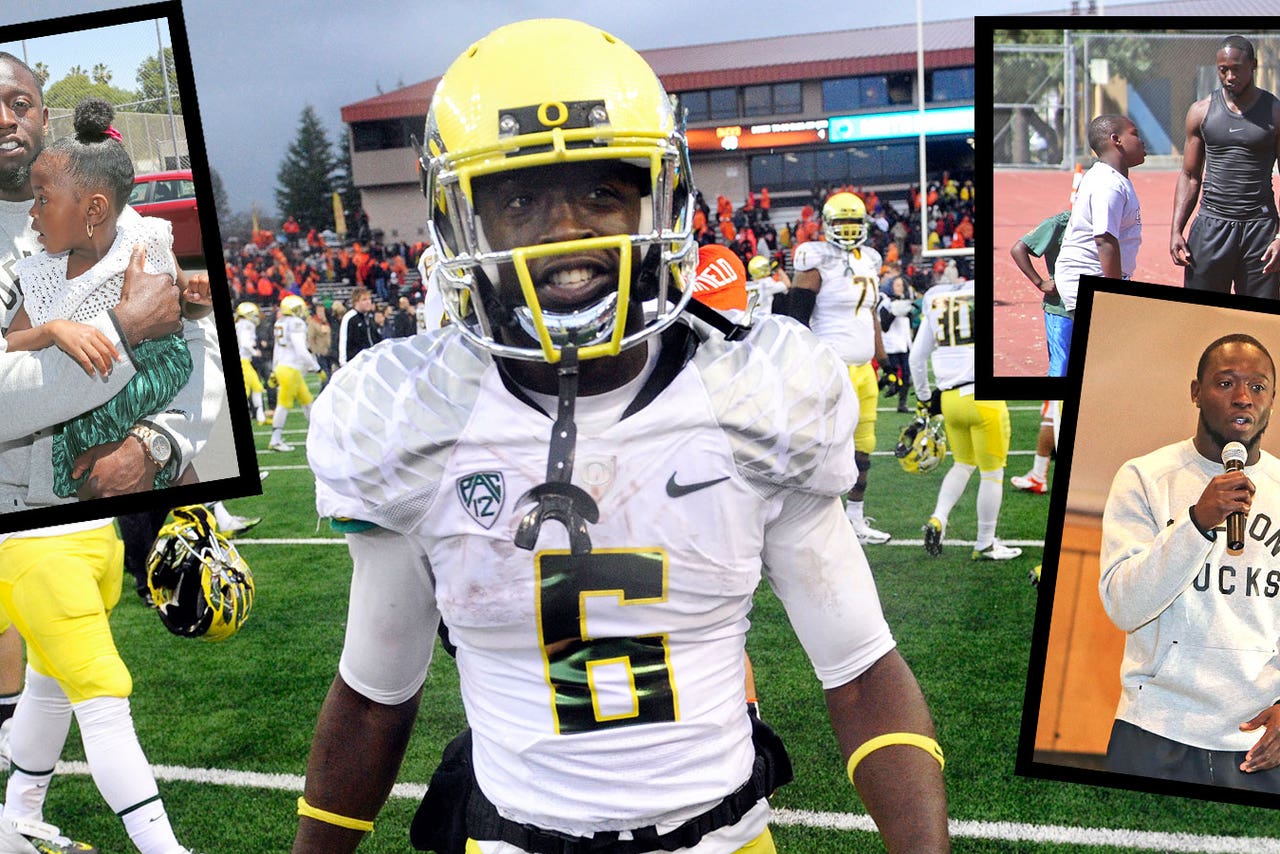 LOS ANGELES – De'Anthony Thomas had a message to deliver.
Thirty-eight months after making the emotional announcement he'd go play college football for the University of Oregon, as opposed to staying in his hometown and attending USC, the 5-foot-9, 175-pound, do-it-all weapon returned to the same auditorium at Crenshaw High School, located in the heart of South Central.
"A lot of people think they know me, but they don't really know who De'Anthony Thomas is," he said, pacing in front of 300 students, who are a part of the school's Business, Entrepreneurship and Technology program. "I can probably relate to 90 percent of the people in here. I come from a single-parent household. I'm the oldest of five boys. I had a lot of responsibility to be a role model, to be a leader, to be successful, to show accountability for my family.
"I've seen it all, but what made me different is I had a plan."
Since his Pop Warner days, those closest to Thomas sensed something special. By the time he was 12, his legend had already begun writing itself. While living with his maternal grandfather, Rayfield Dupree, in Moreno Valley, Calif., Thomas would play football in the city on the weekends. It was there he got the nickname "The Black Mamba" from rapper Snoop Dogg.
Playing in Snoop's youth football league had its perks. Before he walked onto a high school campus, rumors and stories of Thomas' play were shared amongst the community. He was the next big thing. And he didn't disappoint.
"I grew up on 42nd and 4th Avenue," said Thomas, as the whispers in the crowd suddenly silenced. "I had a plan. Make sure you have a plan. We're African-American. We have to change our lifestyle. That's what I'm going to do for my family. I'm going to change my family's lifestyle."
With days remaining until Thomas is selected in the NFL Draft, he's spending time giving back to the community that raised him, passing along words of advice that would hopefully sink in with a student or two.
"I'm not their father, but I'm like a father figure to those kids because I know that they don't have anybody to look after them," Thomas said, hours after delivering his speech. "It's important to be a leader and not to be peer pressured by others. Just be you. They just needed to hear that they have someone they can relate to. They don't want to hear it from their teachers. I've been in that situation. I've been in that school. I know how things work there."
Growing up in the inner city brings challenges. The attention that Thomas created on the football field spilled over to the community. People from all walks of life were interested in having their time with Thomas. 
"With De'Anthony, other people are like magnets to him," Thomas' high school football coach Robert Garrett said. "People need his attention for whatever reason. He didn't turn down anybody who wanted attention from him."
Thomas, in fact, lived with Garrett for a seven-month period. The two share a special bond. Garrett, along with a handful of relatives, is closest to Thomas. They, like anyone, have their concerns about the challenges that await him at the next level. 
"If he gets the opportunity to be on the big stage, I could see something like what happened with DeSean Jackson," Garrett said. "If he comes back to the area like he did today and he gives attention to people who are labeled to be not-so-good people, that could be misconstrued as he's hanging out with them. In reality, he's not hanging out with them. He's just doing what he's always been doing. He gives time. He probably needs mentoring in how to not give so much time to people."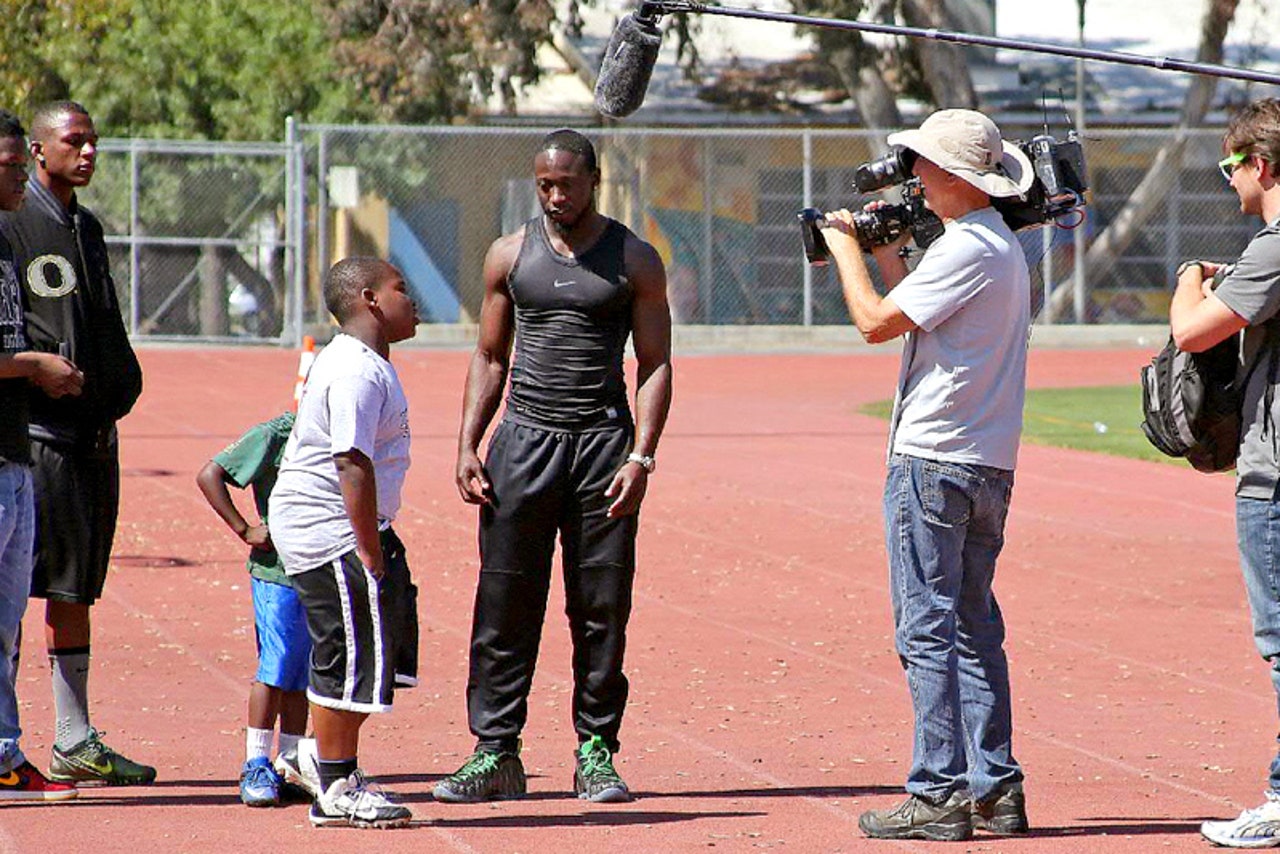 A camera crew follows De'Anthony Thomas and his four brothers at Crenshaw High School
With a camera crew documenting Thomas' path to the draft, he's able to spend some time with his family. Training for the NFL takes sacrifice. The last few months have been spent in Portland, Ore., at the Nike facility. Being away from home has its drawbacks, and a matured Thomas understands that. When he first left for Oregon after his senior season of high school, it took time getting accustomed to the lifestyle. He maintains that it was the best decision of his life and has no regrets. Why would he? Eugene is often referred to as Track Town, USA. It was a natural habitat for the Mamba.
"Everything is slower up there," Thomas said. "There's not a lot of distractions."
Unfortunately when you're a football prodigy, distractions seem to find a way to sprout.
Former Oregon head coach Chip Kelly personally made it a priority that Thomas would thrive in Eugene. Being a Parade All-American has its perks, but Thomas still wanted to prove himself on the football field. With running backs such as LaMichael James and Kenjon Barner on the roster, Thomas needed to carve out a role for himself.
"When camp was over, the coaches realized that I needed to play as a true freshman," Thomas said. "Coach Kelly brought me into his office and said that he needed to find a way to get me on the field."
Whether players or coaches agreed with the decision, Thomas would benefit from one-on-one tutoring via the head coach.
"Chip Kelly personally taught me the whole offense," Thomas said. "I had one-on-one meetings with him every day. He was my coach. You know how people have different position coaches? Well, my coach was the head coach. Pretty much a lot of people didn't like that because they would think that De'Anthony had favoritism or De'Anthony can do whatever he wants, but that wasn't my decision.
"Coach Kelly decided to bring me into his office so that I can learn like that. I really appreciate that he did that. Guys like LaMichael didn't like that I was always with the head coach. The older guys didn't like that at all. They thought I got away with a lot of stuff, but it wasn't like that. He was doing that for me so I could teach the younger guys that were coming in.
His success on the field was abundant during his true freshman season in 2011. He averaged a touchdown on every 6.3 possessions. Oregon was headed to the Rose Bowl. The trip to Pasadena was extra special as he was heading home to not only play in front of his family, but also his daughter that he had never seen before.
"I found out I had a daughter when I was at the University of Oregon," Thomas said. "That's what woke me up. That was my motivation. The first time I saw my daughter was when I was at the Rose Bowl. The Rose Bowl was one of the biggest games of my life. I honor that game to my daughter because she meant so much to me. Being there in front of my family and seeing my daughter for the first time was special."
Thomas took two carries for a total of 155 yards, scoring on each handoff. It was the perfect way to cap the season: Oregon 45, Wisconsin 38.
The Ducks continued to romp through the competition. Annual trips to BCS bowl games became the norm. Heading into Thomas' junior season, Kelly took the job with the Eagles. The decision affected Thomas in more ways than one.
"That was hard for me because he was a guy that I really trusted and respected," Thomas said. "I built a great relationship with him. On my behalf I didn't build a lot of relationships with the other coaches on the staff because Coach Kelly would bring me in his office and we had the one-on-ones."
This past season Thomas sustained an ankle injury while returning the opening kickoff in Oregon's first Pac-12 game of the season against Cal. The ankle sprain sidelined him for four games. His production may have taken a dip, but head coach Mark Helfrich used him in other ways as a decoy.
"To be honest, I didn't know who to trust," Thomas said. "I didn't know who had my best interests in mind. I had always been a team player, though. My junior year was a 'hold on' year. Can I hold on and survive without Coach Kelly being there? I had to go to a different meeting room and I met with coach Gary Campbell, the running backs coach. During the season I was trying to build a relationship with him and get to know him more. It was hard, though."
De'Anthony Thomas is seated at a rooftop restaurant in Beverly Hills, Calif., alongside his lawyer Matthew Blakely Esq.
The uncertainty of the NFL Draft is enough to eat away at any prospect. For Thomas, who is projected to go anywhere between the second and sixth round, the time could be agonizing. He chooses to appreciate the rare opportunity in front of him and focus on what he can control.
There was a period during Thomas' sophomore season where he was considered the most explosive player in all of college football. While there was uncertainty about where he'd be projected, Thomas' game-changing ability and the way he plays at warp speed is enough to make any NFL general manager consider him worthy of a high-end pick.
For some reason, though, Thomas isn't mentioned among the first to be selected at his position. Some question his durability. Some think he's a specialty back. Others believe he "goes down too easily." Whatever the criticism is that's holding him back, Thomas admits it doesn't sit well with him.
"It frustrates me just seeing the guys that are in the draft," Thomas said, forking into his plate of salmon. "In high school, I did it all. I feel like nobody did the things I did in college. A lot of guys started for their teams. I didn't even start. I was a backup player and I was putting up big numbers. If I would've had the opportunity to start, my numbers would've been even bigger."
Thomas has comfort in knowing that his former head coach is a massive influence for the Eagles. While he has met with just the Bears and Falcons during the draft process, Thomas has a feeling he could be wearing Philly green before it's all said and done.
"I think Chip is playing it low key," Thomas said. "He knows who I am and what kind of person I am. He's going to sneak and get me if he can. If someone doesn't pick me up early, he's definitely going to sneak up and get me.
"He knows what I can do in that offense, what type of person I am and how I can get the job done."
Kelly's detail-oriented offense hits its stride when all 11 players are in sync and the timing is just right. Thomas' wealth of knowledge of the intricacies in the offense would ease the transition from college to professional football.
"If I do become a Philadelphia Eagle, I could be the one -- more than the quarterback -- I could be the one having the meetings with everybody and telling them this is how the play works," Thomas said. "I could put on the meetings and stuff like that. I feel like Coach Kelly would have the confidence in me doing that for the team."
When reminded of the depth the Eagles boast at the running back position, including the offseason signing of scat back Darren Sproles, Thomas quipped: "I know the offense more than Sproles. He has a lot more learning [in that offense] than I do."
Whichever team decides to select Thomas will acquire a player with more heart and intensity than flash and dash on the football field. He cares for his people. And his people adore him for the person he has become.
"Being in LA, I had to make a name for myself," Thomas said. "I made a name for myself and I ran with it."
---
---