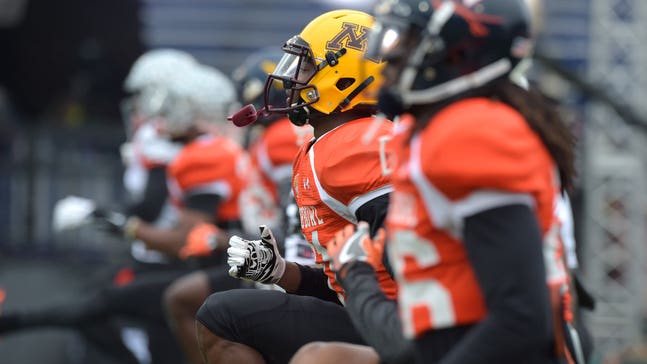 Former NFLers finding second life in pro football ... at Senior Bowl
Updated
Mar. 4, 2020 2:12 p.m. ET

MOBILE, Ala.
On the field at Fairhope Stadium, on the Eastern Shore of Mobile Bay, the NFL hopefuls were grinding their way through intermittent rain during the first practice of Senior Bowl week on Wednesday.
On the sideline, amongst the coaches, scouts and personnel evaluators, another group of men was doing its own form of hard work, hoping this event would spark these men's NFL careers -- albeit in a role that won't require pads or much physical exertion.
Thirty-one wide-eyed invitees of The Scouting Academy, a recently formed program designed to train those who want to be NFL scouts, participated in a three-day "live classroom" event at the Senior Bowl that gave them first-hand experience of what the scouting process entails -- from the practice evaluations, to the film study, to the interviews of the players.
Among those present were 18 guys who already knew a bit about the scouting process because they'd partaken before -- as players. As part of a partnership between The Scouting Academy and The Trust, an organization powered by the NFL Players Association that provides services for players including career transitioning, these men were on hand to see if they'd like to go from being the evaluated to the evaluators.
It's an avenue players of the past didn't have, and it's one Charlie Peprah appreciates. A 2006 fifth-round pick of the New York Giants who played seven seasons with the Green Bay Packers, Atlanta Falcons and Dallas Cowboys, Peprah knew that after his playing days were done he would want to remain involved with football somehow, though the hours and instability of the coaching profession didn't appeal to him.
But scouting? Yeah, that intrigued him.
"When I decided to retire in 2014, (Oakland Raiders GM and former Packers personnel man) Reggie McKenzie brought me in for a week internship in 2014, to see if it's something I wanted to do. I really liked it," Peprah said. "He did it as a favor to help me feel it out. I did another internship with the Packers in training camp. I was putting in 12-, 13-hour days but it didn't seem like work at all.
"That's when I knew this is something I wanted to do. It was fun and I was staying involved in the game."
With many players struggling to find direction once their playing days are over, Peprah's eagerness to find another way to remain involved with football, combined with the avenues to get it done, is precisely what the league and union have wanted to capitalize on for years.
But while the players know the game, there's more to making the jump into personnel evaluation than walking from the locker room into team's offices. That's why Dan Hatman founded the Scouting Academy two years ago after serving as a scout for the Eagles, Jets and Giants. He realized the need for a service to teach players about the organizational skills involved with preparing reports and the like while opening his doors to football hopefuls who needed a better understanding of the game.
Former Bears general manager Jerry Angelo has served as an instructor. One-time Rams head coach and offensive coordinator Mike Martz is an active instructor. Broncos defensive coordinator Wade Phillips taught students about X's and O's while out of the league last year, as did current Giants offensive coordinator Mike Sullivan.
Greg Blache, an assistant coach in the NFL and on the college level for nearly four decades, spoke to the group this week and helped them make connections with current coaches, scouts and GMs.
"I was someone who was on the inside and, in the early part of my career, I knew I didn't know enough. So the idea was to get the guys to hit the ground running for entry-level jobs," Hatman said. "We're not training guys to be GMs or heads of personnel right away. We're getting them ready to start their careers on the right note so they're not floundering around. That helps the individual and the team."
The players' Trust loved the idea of helping them transition, so that's how the organization got on board. But what really made the Scouting Academy's group interesting this week in Mobile was the company Peprah and other former players, like one-time Cardinals defensive back Jay Taylor, were keeping during the three-day event.
Alongside these pros stood some regular Joes who had always wanted to explore a pro career but didn't have the access to NFL personnel the way former players like Peprah do. We're talking engineers, office professionals and even Phil Rainey, a former equipment manager for several professional teams, including the Atlanta Braves' farm system.
Years ago, hopefuls like Rainey would be relegated to sitting in the stands or hanging outside the fences, hoping to grab a word with a coach or GM they recognized and maybe pass on their résumés, only to have them land in the trash shortly thereafter.
"Actually, I might have spammed a few teams already," Mike Backherms, a Scouting Academy student now in his third semester with the program, said with a grin.
Backherms is not a former NFL player. He is a former high-school player -- and not a good one.
"Here," Backherms said as he took out his old school ID. The picture was of an oversized kid who was trying to carry far too much weight. He had to, because the team didn't have enough offensive linemen, so they tried to manufacture them. After his playing career was over, Backherms easily dropped 100 pounds.
"We won six games in my three years," Backherms said. "We were an academic school."
Backherms used that education to get a job in IT with the government, one he said was "exciting at first." But football is his true passion, so when he saw an article mentioning the Scouting Academy, he jumped at the chance to see if he could kick-start a career in personnel.
"It's crazy, going around here and seeing it is a huge fraternity of scouts and coaches who know each other," Backherms said. "Being here and having Dan give an avenue to give you introductions and then turning them into further ones -- like 'Have you met this guy?' I'm a nobody so no they haven't."
Next to Backherms stood Matt Caraccio, a math teacher at Eastchester (N.Y.) High School. Caraccio is surely considered one of the coolest teachers at the school because he successfully pitched a sports-analytics class to the administration. Last year, instead of boring old equations, he taught 18 students about stats like WAR, TPR and other kinds of formulas professional baseball teams are using to evaluate players. Caraccio is passionate about football, so he also included some gridiron analytics. One student turned in an impressive breakdown of NFL offensive lines.
Analytics are hot in the NFL right now. The Cleveland Browns, who just hired former New York Mets exec Paul DePodesta, are the latest team to embrace this new way of thinking.
"My world is always going to exist in teaching, but what I can do to provide that liaison to that (educational) community would be fantastic," said Caraccio, who had to use personal days this week because the school wouldn't excuse his trip to Mobile as a professional venture. "Just to give these kids an opportunity. They all played fantasy football and all those things, why not make it worth more?"
Then, in a line that was directed to his students but certainly applied to all 31 of the eager minds in attendance, Caraccio added: "There's more there, if you're interested."
---
---