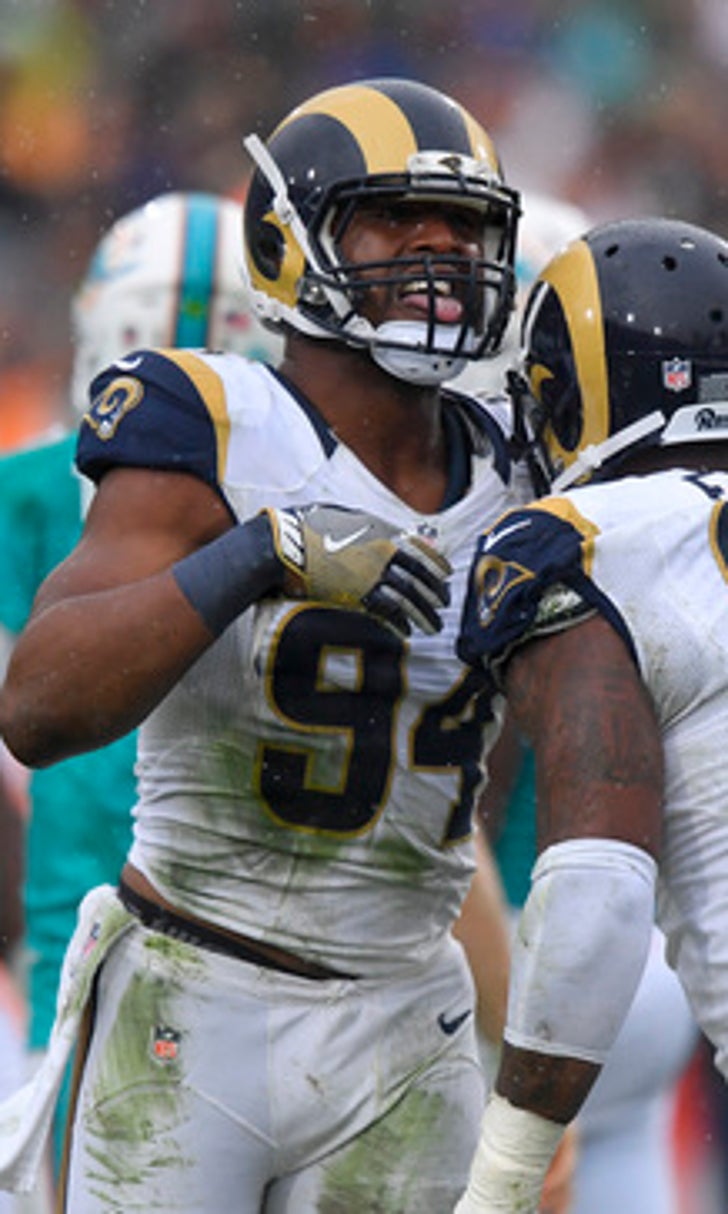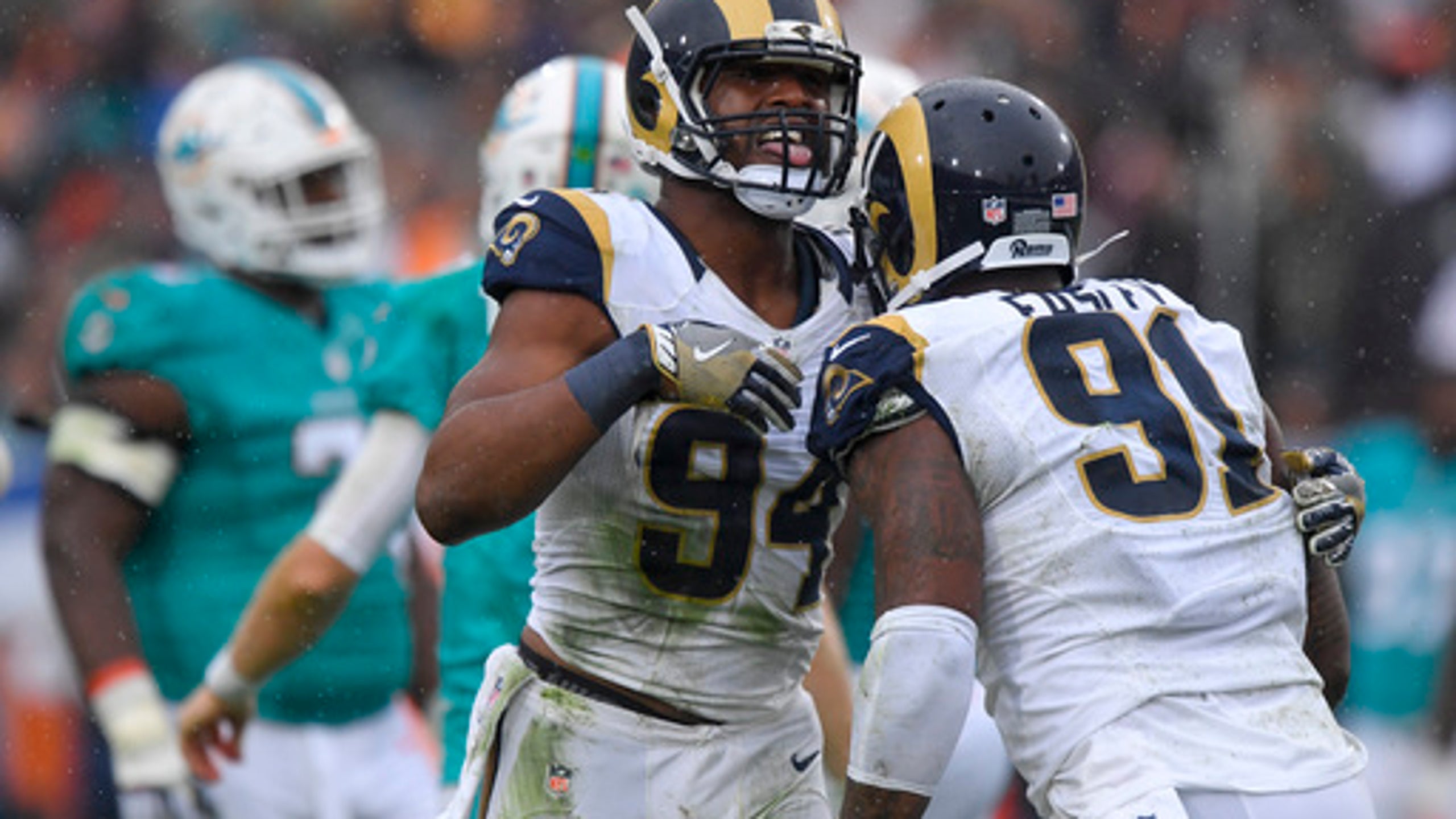 Fisher praises Goff, laments Rams' penalties in latest loss
BY foxsports • November 21, 2016
THOUSAND OAKS, Calif. (AP) Jeff Fisher thought Jared Goff handled his NFL debut splendidly.
The Los Angeles Rams coach isn't so happy with his prized rookie quarterback's teammates after another winnable game slipped away and left their playoff hopes in peril.
One week after Goff's promotion, Fisher is considering more lineup changes for the Rams (4-6) before their trip to New Orleans on Sunday. The coach cited Los Angeles' eight penalties for 70 yards as the biggest reason for a dispiriting 14-10 loss to the Miami Dolphins.
''It's those things that are hurting us, and those guys have to understand,'' Fisher said Monday. ''So there potentially may be some different guys playing this week.''
Although Aaron Donald and Alec Ogletree aren't going to lose their jobs, Fisher mentioned both of his defensive captains by name for ill-advised penalties on Miami's two touchdown drives after the LA defense excelled on the first 54 minutes.
Any lineup changes are much more likely to occur on offense, where errors also abounded.
Left tackle Greg Robinson drew Fisher's specific ire for his latest bad penalty in a career full of them: An illegal block far behind the play to negate an 11-yard scramble by Goff into Dolphins territory for a first down in the fourth quarter.
Robinson, the No. 2 overall pick in the 2014 draft, is the NFL's most-penalized player over the past two seasons with 28 flags.
''We're looking at everything right now,'' Fisher said. ''We need production. We need to minimize mistakes, and we've got some repeat mistake-makers, so that's still under discussion.''
Fisher might change his starters, but he said he won't change his coaching staff this season. He gave a vote of confidence to Rob Boras, his offensive coordinator and play-caller.
''I have not given any consideration'' to changing play-callers, Fisher said. ''I did that last year. I have confidence in Rob, and the offense has confidence in Rob. The offense knows that right now, they're not doing what they should be doing.''
Fisher replaced offensive coordinator Frank Cignetti with Boras in St. Louis last December while the Rams were mired in 31st place in total offense. Los Angeles is back in 31st place after 10 games this season, averaging a mere 299.9 yards per game.
Fisher sees no reason to blame Goff, who went 17 of 31 for 134 yards with no touchdowns and no turnovers. His longest completion went 21 yards, and the Rams didn't call many long passes to test the rookie's big arm.
''I was impressed with what he did,'' Fisher said. ''He's not going to say he was OK, because we lost, but I thought he managed things well. No delay of games. He was in complete control. ... We didn't take our shots down the field that, in retrospect, we probably needed to do, but he knew where to go with the football. I was proud of his first outing. We get a stop or intercept a pass, one of the two or three we had our hands on, to win the game, and we're talking about Jared right now and nothing else.''
Just as Case Keenum was rarely the problem during the Rams' recent four-game losing streak, Goff was far from the most glaring problem for the Rams. Fisher thought the No. 1 overall pick handled his first start with minimal jitters, as did Dolphins coach Adam Gase.
''I thought he did a pretty good job as far as what we were bringing at him,'' Gase said. ''We were trying to pressure him a little bit, give him some different looks, and he didn't really seem bothered by much of it.''
NOTES: Fisher is still gathering information to make a decision about CB Troy Hill, who was inactive after getting arrested Saturday morning following a freeway crash. ''I spoke to him briefly today,'' Fisher said of Hill, who has started four games this season. ''Very disappointed in him. Disappointed in his choices.'' ... LB Josh Forrest is probably out for the season after injuring his knee Sunday, Fisher said. The rookie from Kentucky has been a solid special-teams contributor. LB Nic Grigsby is likely to be promoted from the practice squad to replace him for the final six games.
---
For more NFL coverage: http://www.pro32.ap.org and http://www.twitter.com/AP-NFL
---
---