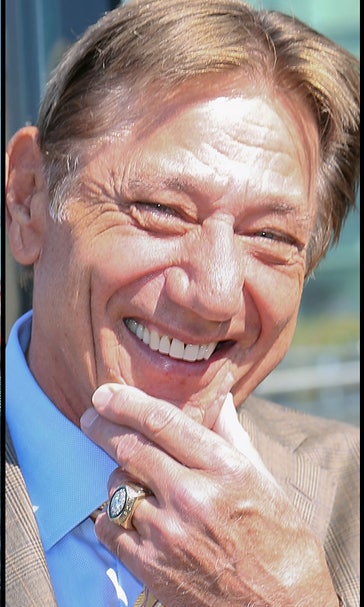 Broadway Joe does it again, opens can of worms on Jets' QBs
BY foxsports • May 14, 2014
Often when a person survives this crazy planet long enough to reach a certain age, along with old age means the throwing away of the ol' edit button as well.
When that person is also a Super Bowl legend and Hall of Fame quarterback who starred in New York? Yeah, we can understand that man not caring at all about, oh, I don't know, wearing a fur coat to the Super Bowl, sounding off on Johnny Football or inserting his opinion about the Jets' ongoing QB issues again and again and again.
So do you think Joe Namath, Broadway Joe himself, would bite his tongue about his take on who should start at quarterback for the Jets in Week 1? Of course not.
Namath, the Most Valuable Player of Super Bowl III, was asked Tuesday his take on whom the Jets should go with at QB in the 2014 opener vs. the Oakland Raiders on Sept. 7 — newly signed Michael Vick or second-year prospect Geno Smith?
"Of course, the coaches are going to decide who's out there, but, boy, I don't know any football fan that's been around for nine or 10 years that doesn't think Michael will be outstanding and probably is the best player at this time," Namath said Tuesday.
"Now, Geno's got some talent, no doubt, but we've obviously seen Michael and what he can do. To have some knowledge of [offensive coordinator Marty Mornhinweg's] offense, I think that's an advantage, too, for Michael to make the transition. It's a matter of how sound he is."
The Jets went 8-8 during Smith's up-and-down rookie season in 2013, and Namath cited the young QB's accuracy (55.8 percent completed in rookie season) as the part of his game that needs work the most. Vick, who turns 34 next month, has made four Pro Bowls in his career, though has been known more for his athleticism instead of accuracy (56.2 percent completed in 11-year NFL career).
The Jets have not officially named a starter yet for Week 1, hoping that competition with Vick can bring out the best in Smith during training camp.
That said, Broadway Joe also couldn't stay quiet on the juiciest name is this year's draft: Johnny Manziel.
"Manziel brings you out of your seat," he said, while acknowledging Manziel was not a first-round pick that made sense in New York this year. "Brought me out of my chair when I've seen the guy play. He's got something extra. He's got another sense, an anticipation, an intangible that most cats don't have when they come in [to the NFL] or in college. He's one of the most spectacular players I've seen at that position in college."
Let the Jets' QB circus continue.
Meanwhile, there's one Jets QB who was definitely worth a first-round pick back in the day . . .
[fsnewslettersubscription]
---
---