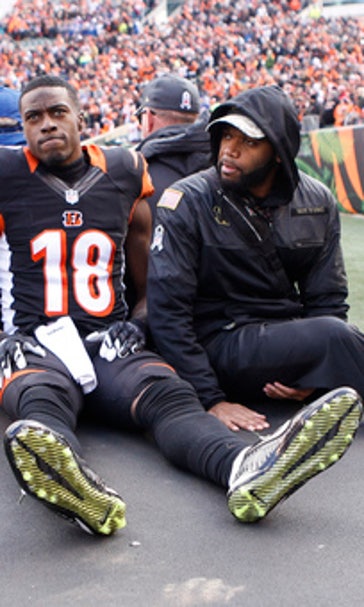 Bengals' A.J. Green hurts hamstring early in loss to Bills
November 20, 2016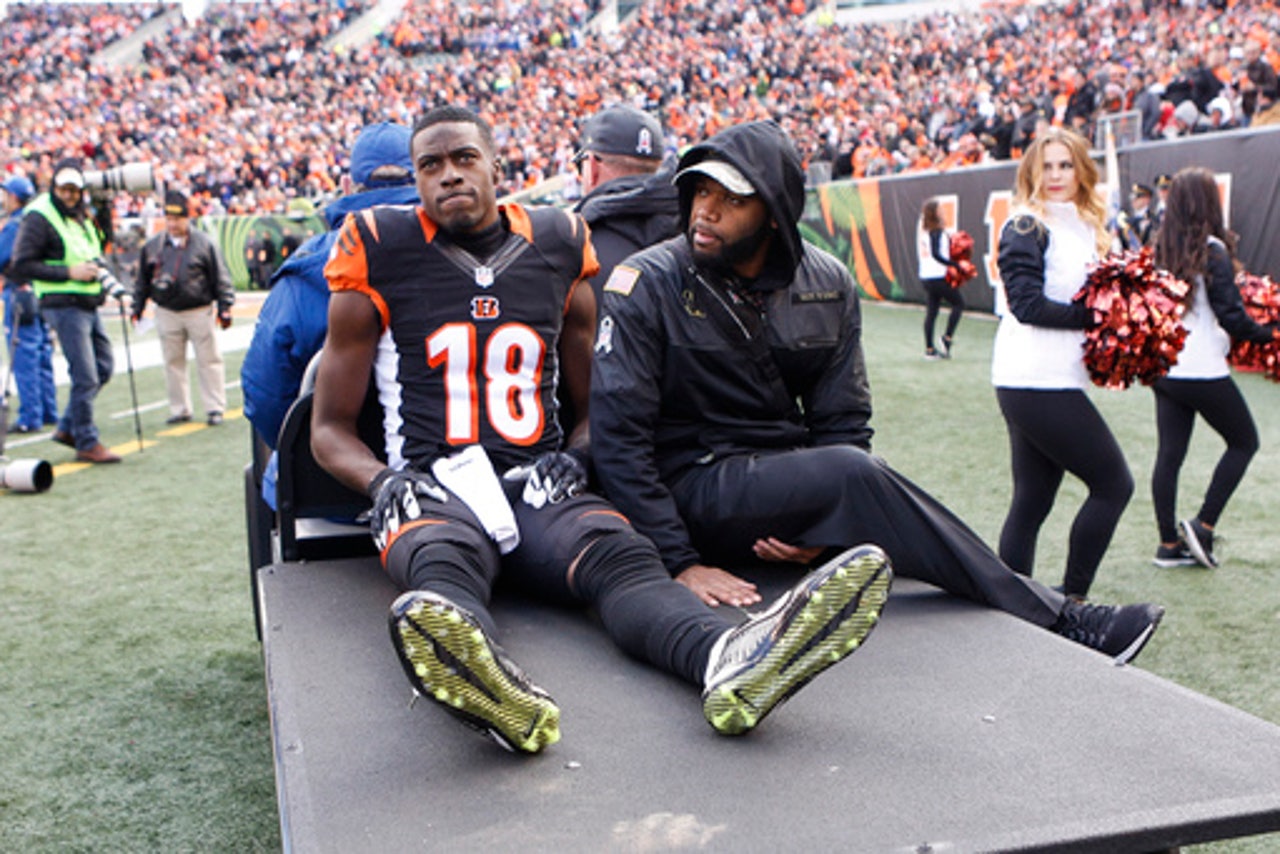 Cincinnati Bengals wide receiver A.J. Green significantly hurt his hamstring in the opening minutes of a loss to the Buffalo Bills, the most notable injury on a Sunday when plenty of big-name players were sidelined.
Green got his right foot caught awkwardly while trying for a contested catch on Cincinnati's first pass of the game. Green grabbed his right hamstring as he hit the ground and stayed down for several minutes.
Green barely bent the leg as he was helped to the sideline and then taken off on a cart. Bengals coach Marvin Lewis had no details on the extent of the injury, but it seems Cincinnati may be without its star receiver for the foreseeable future.
The Bengals-Bills game included plenty of other injuries to major players.
The Bills lost two of their top offensive players in the first half: receiver Robert Woods injured his knee being tackled after a catch, and LeSean McCoy hurt his left thumb late in the second quarter. It's unclear how long each will be sidelined.
A left knee injury knocked Bengals cornerback Dre Kirkpatrick out of the game, too.
Chicago Bears rookie linebacker Leonard Floyd had the day's scariest injury. The first-round draft pick from Georgia left on a stretcher with less than six minutes remaining in a loss to the New York Giants.
Bears coach John Fox said Floyd injured his neck.
''Some of his movement looked good or encouraging, but he's going through the necessary tests,'' Fox said. ''It appeared it was on a tackle. I'm sure they are evaluating him for a concussion as well. Anytime they bring the cart out and the board out, they have some neck concerns. He seemed to have pretty good movement skills at that point.''
The Bears also lost tight end Zach Miller to a foot injury after he caught three passes for 61 yards, including a 19-yard touchdown. Defensive back Cre'Von LeBlanc is in concussion protocol, and left guard Josh Sitton injured his right ankle.
The Philadelphia Eagles lost two of their top running backs as Ryan Mathews (knee) and Darren Sproles (ribs) were both knocked out of their game with Seattle.
The Seahawks also lost an emerging contributor when running back C.J. Prosise went down with a shoulder injury. The rookie had 66 yards rushing and 87 receiving in a surprising win over New England last week, then had a 72-yard run before exiting Sunday.
Kansas City's Dee Ford injured his hamstring and didn't play in the second half of the Chiefs' loss to Tampa Bay. Ford had entered the game with 10 sacks this season.
Tampa Bay cornerback Brent Grimes injured his quadriceps and didn't return.
Jacksonville Jaguars tight end Marcedes Lewis (calf), running back T.J. Yeldon (ankle) and left guard Patrick Omameh (foot) also got knocked out of action Sunday.
Jaguars quarterback Blake Bortles left briefly in the first half with a shoulder injury. Backup quarterback Chad Henne entered and took a knee to end the first half, then Bortles came back for the start of the second half.
---
AP NFL website: www.pro32.ap.org and http://twitter.com/AP-NFL
---
---