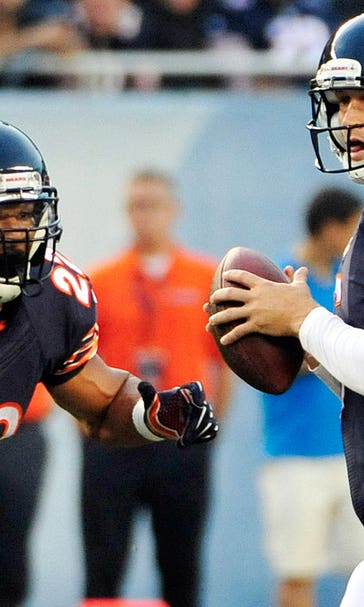 Bears quarterbacks shine in preseason win over Eagles
BY foxsports • August 9, 2014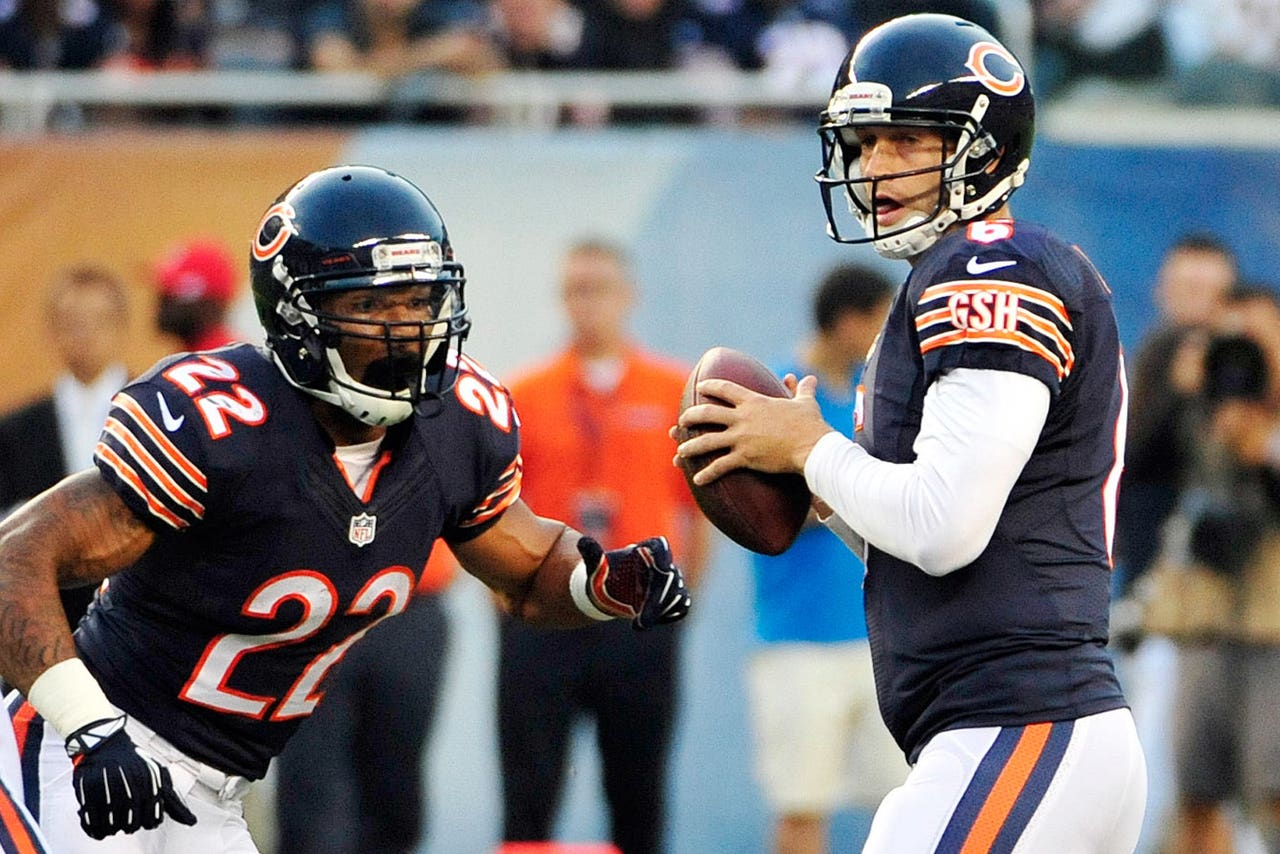 No matter who the quarterback was, the Chicago Bears had no trouble finding the end zone.
Jay Cutler, Jordan Palmer and Jimmy Clausen threw touchdown passes to help Chicago beat the Philadelphia Eagles 34-28 on Friday night in the preseason opener for both teams.
Cutler looked sharp in his brief stint. Palmer overcame an interception, and Clausen, the man he is fighting for the backup job, made a strong case, too.
"I like the way (Palmer) brought the team back," coach Marc Trestman said. "He came back and moved the football team. And the same thing with Jimmy. I thought he moved the football team, was poised for a guy who's been here so little time.
"I think we saw something there, as well, so that competition continues."
It was a different story for Philadelphia quarterback Nick Foles.
The Bears rattled him early, intercepting two passes even though they were missing Jared Allen. The five-time Pro Bowl defensive end and prized free-agent acquisition missed practices this week because his wife gave birth to a girl.
Tight end Martellus Bennett remained suspended by the Bears for his role in an altercation with cornerback Kyle Fuller at practice on Monday. Chicago also was missing right guard Kyle Long (ankle) and right tackle Jordan Mills (foot), but had no trouble moving the ball.
Cutler made the most of his two possessions, completing 9 of 13 passes for 85 yards. Then, he watched both contenders for the backup job deliver solid performances.
Palmer got the first shot and went 8 of 11 for 104 yards. He got hit attempting a deep pass to Chris Williams, resulting in an interception for Nate Allen, but redeemed himself late in the half with a touchdown pass.
Clausen started the third quarter and threw for 150 yards and two touchdowns, including a 73-yarder to Williams along the right sideline. Later in the quarter, he connected with Michael Spurlock on a 22-yard scoring pass and hit Dante Rosario on the two-point conversion to put Chicago ahead 31-28.
Zach Miller caught six passes for 68 yards, including touchdowns from Cutler and Palmer, and the Bears earned the win.
For Foles, it was simply a brutal night. The quarterback who posted the NFL's highest passer rating and threw just two interceptions in 13 games last season couldn't get in sync.
He wound up with 44 yards on 6-of-9 passing before Jets castoff Mark Sanchez took over.
"We can't have the errors that we had to start the game on offense, whether it be the interceptions or the penalties," Foles said. "What preseason allows is an opportunity to clean it up. That's what we'll do as a team. We'll clean it up and we'll move forward."
Sanchez was 7 for 10 for 79 yards against backups on defense.
Matthew Tucker ran for 40 yards and two touchdowns before leaving with a hamstring injury. Josh Huff returned a kickoff 102 yards late in the first half to give the Eagles a 21-14 lead.
Foles' troubles started on the game's first possession when he got pressured and threw the ball right to Chicago's Ryan Mundy, resulting in an easy interception for a player vying for time at safety.
Cutler led the Bears on a 69-yard touchdown drive on their second possession, finishing it with a 10-yard strike to Miller to make it 7-0.
Foles then had the Eagles threatening, but with the ball on the 32, a short pass intended for Zach Ertz got picked off by Sherrick McManis.
Sanchez was decisive, on target and a big reason why the Eagles scored touchdowns on three straight possessions to take a 21-14 halftime lead.
He led them on 53 and 51-yard scoring drives that ended with short runs by Tucker to put Philadelphia up 14-7.
Palmer answered with a 12-yard TD to Miller to tie it with just over a minute left, but in a flash, the Eagles regained the lead. Huff returned the kickoff 102 yards untouched up the left sideline to put Philadelphia ahead 21-14 at the half.
"I've learned a lot from Coach Trestman about moving on, the inevitability of success and adversity -- it's going to strike you," Palmer said. "For me, when something bad happens, you shake it off and move forward because you can't do anything about the last play."
Notes: Philadelphia's Jeremy Maclin had one 15-yard catch after missing last season with a torn ACL. ... Asked if Bennett will practice on Sunday, Trestman said, "It has not been decided." ... Trestman said safeties Chris Conte (shoulder) and Craig Steltz (groin) are "very close" to being cleared to practice -- possibly next week. Both are on the physically unable to perform list.
---
---