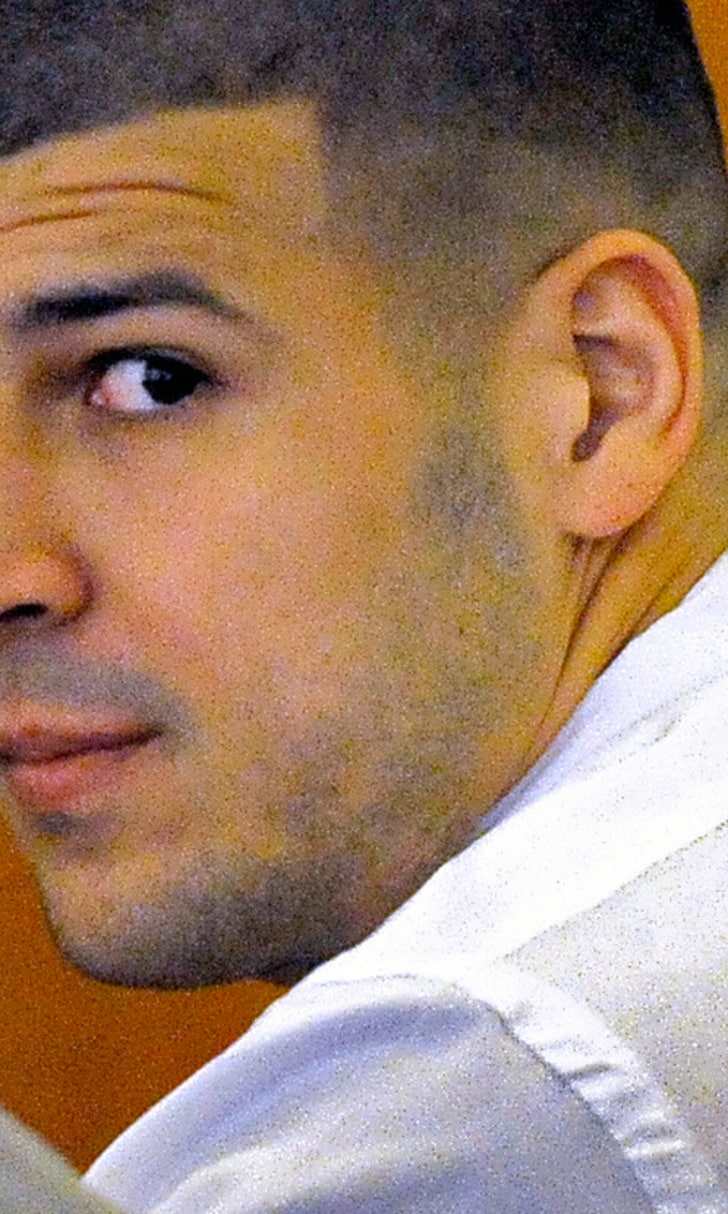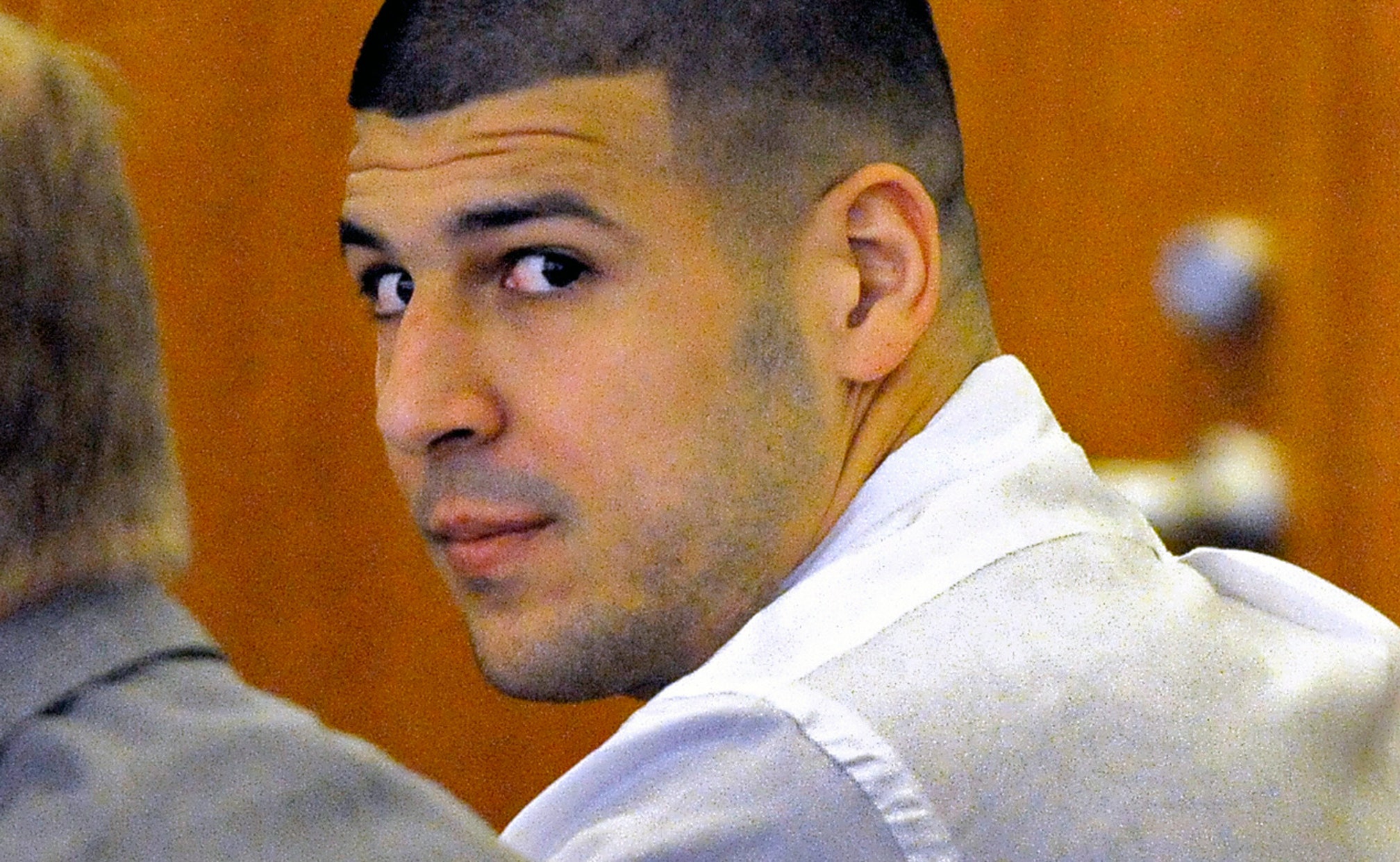 Aaron Hernandez's attorneys conclude arguments to exclude evidence
BY foxsports • October 2, 2014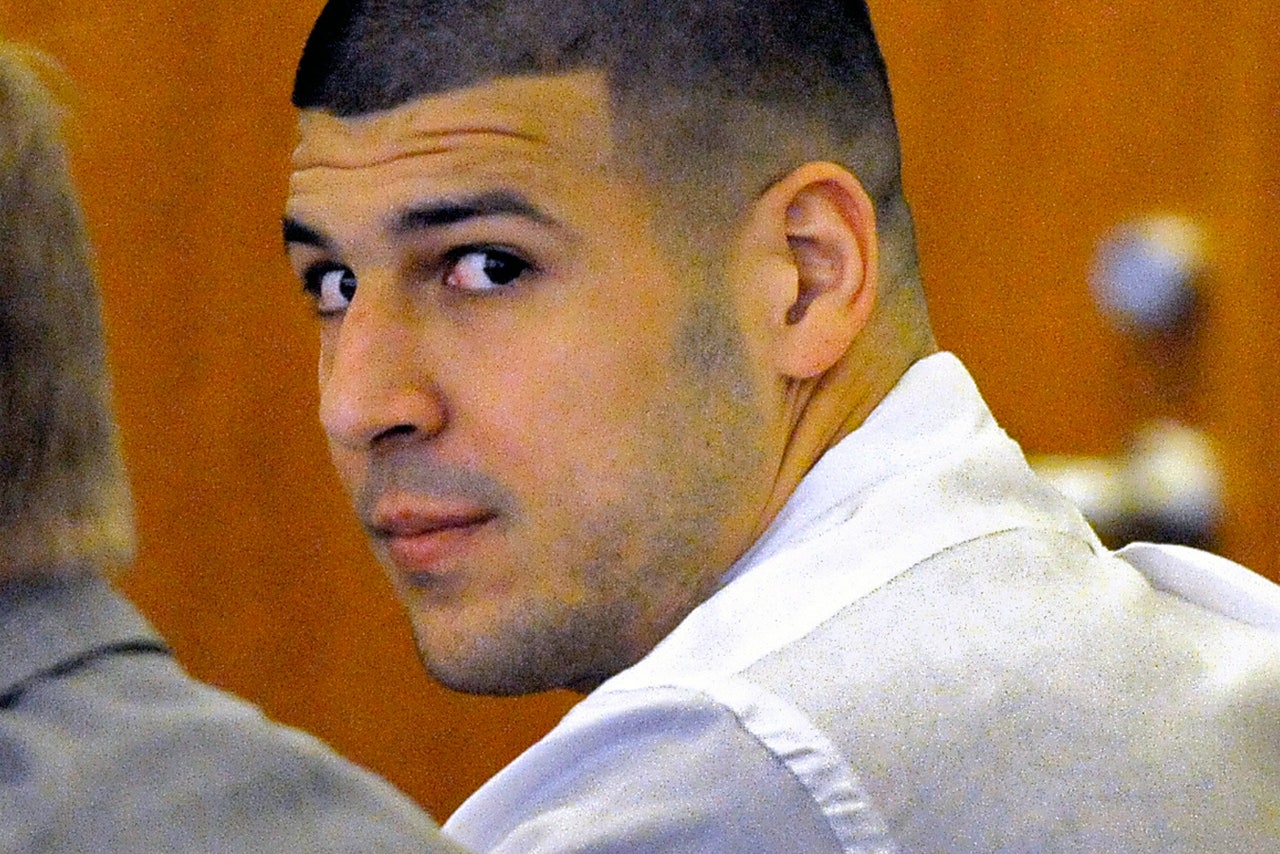 Prosecutors fighting to hang onto evidence in the murder case that ensnared Aaron Hernandez argued Thursday that a scale and a dish found in the former football star's home may have been used in the distribution of pot – potentially linking it to the scene where Odin Lloyd's body was found.
A Massachusetts state trooper, testifying as part of a series of hearings on defense motions to throw out evidence in the case, said the dish contained what he believed was pot residue, and that was significant because a marijuana cigarette was found next to Lloyd's body when it was discovered in a secluded field less than a mile from Hernandez's home on June 17, 2013.
The scale and the dish were discovered in a safe in the walk-in closet just off Hernandez's master bedroom, and attorneys for the former New England Patriots tight end are fighting to keep a jury from ever hearing about it or other potential evidence.
Hernandez is scheduled to go on trial in Lloyd's murder next Jan. 9.
At one point Thursday, Judge E. Susan Garsh asked state trooper Eric Benson about the scale and the dish after Hernandez's lawyers asserted that they were beyond the scope of a search warrant for the player's home and weren't tied to Lloyd's death.
"What's the evidentiary significance, if anything, of the scale?" Judge Garsh asked, then followed with, "To put it another way, why was the scale seized?
"The scale was seized," Benson said, "because it was next to the dish that contained residue that I believed was consistent with marijuana residue, and a dish and a scale together is – particularly with residue in the dish – is indicative of weighing controlled substances in order to divide them up for sale."
Prosecutors contend that Hernandez was angry with Lloyd after an incident at a Boston night club and subsequently summoned two friends, Carlos Ortiz and Ernest Wallace Jr., from his hometown of Bristol, Conn., to meet him at his mansion in North Attleboro. At the same time, Hernandez allegedly contacted Lloyd and arranged to get together with him.
Prosecutors have asserted that Hernandez drove Ortiz and Wallace to the Dorchester section of Boston, picked up Lloyd, and drove back to North Attleboro. There, Lloyd was shot and killed.
Although prosecutors have not disclosed their theory of the killing – including who fired the fatal shots – they have said in court that they believe Hernandez "orchestrated" the killing.
Thursday concluded three days of painstaking testimony on a series of motions filed by defense attorneys seeking to toss out evidence from Hernandez's cell phone and home ahead of the trial:
-- One motion seeks to toss out Hernandez's cell phone, and messages and call data retrieved from it, under the argument that two search warrants used weren't adequate for the BlackBerry because it was being held at his attorney's office, not at his home. Judge Garsh wrapped up testimony on that motion earlier this week and took it under advisement.
-- A second motion also seeks to toss the phone, under the argument that detectives carried out what amounted to an illegal interrogation of Hernandez when they were searching his home. Defense attorneys have asserted that an officer asked Hernandez where his phone was located, then used that information to locate it at his lawyer's office. Prosecutors have contended that it was one of the player's own attorneys who disclosed the location of the phone and that a warrant for it was adequate to take it from the lawyer. Testimony on that motion is on hold – there is still another witness who is expected to be called.
-- Finally, another motion seeks to throw out evidence taken from Hernandez's home under the argument that it was beyond the scope of a search warrant executed five days after Lloyd's death. In particular, defense attorneys contend that the scale and dish, a white towel, a bottle of Vitamin Water and a rifle and other firearms evidence taken from a car parked in Hernandez's garage should have been off-limits and had no link to the crime. The judge concluded testimony on that motion Thursday and took it under advisement.
The testimony about the evidence taken from the home shed new light on some of the potential links between it and Lloyd's death.
For instance, a white towel and a marijuana cigarette – Trooper Benson described it as a "blunt" – were found near Lloyd's body. When detectives searched Hernandez's home on June 22, 2013 – under a warrant that allowed them to take biological evidence, including DNA, firearms evidence, fingerprints and other evidence – they confiscated a white towel and the scale and dish.
And although the judge agreed that there was no testimony about whether the two towels were similar, she did suggest that the towel could have been seized because it was the source of potential DNA evidence.
In addition, Benson said troopers found a bottle of acai-blueberry-pomegranate flavored Vitamin Water in a refrigerator in Hernandez's home.
A worker at Enterprise Rent-A-Car had earlier found a bottle of the same flavor Vitamin Water in a Nissan Altima that prosecutors believe was used in the murder.
As for a high-powered rifle, a large capacity magazine and ammunition found in a Toyota parked in the garage, defense attorneys argued that the vehicle didn't belong to Hernandez and, therefore, detectives had no right to search it.
That firearms evidence forms the basis of three of the five weapons charges Hernandez faces in Lloyd's death.
It is not clear when the final piece of testimony will be taken, or how soon Judge Garsh could rule on the motions.
Next on the schedule is a Oct. 30 hearing on a defense motion to move the trial amid assertions that extensive publicity has poisoned the jury pool.
Ortiz and Wallace have also been charged with murder in the case but will be tried separately.
Hernandez separately faces murder and assault charges in a different case – the July 16, 2012, killings of Brian de Abreu, 29, and Safiro Furtado, 28, and wounding of a third man at a South Boston intersection.  That case is scheduled for trial beginning next May 28, although it is likely to be pushed back.
---
---