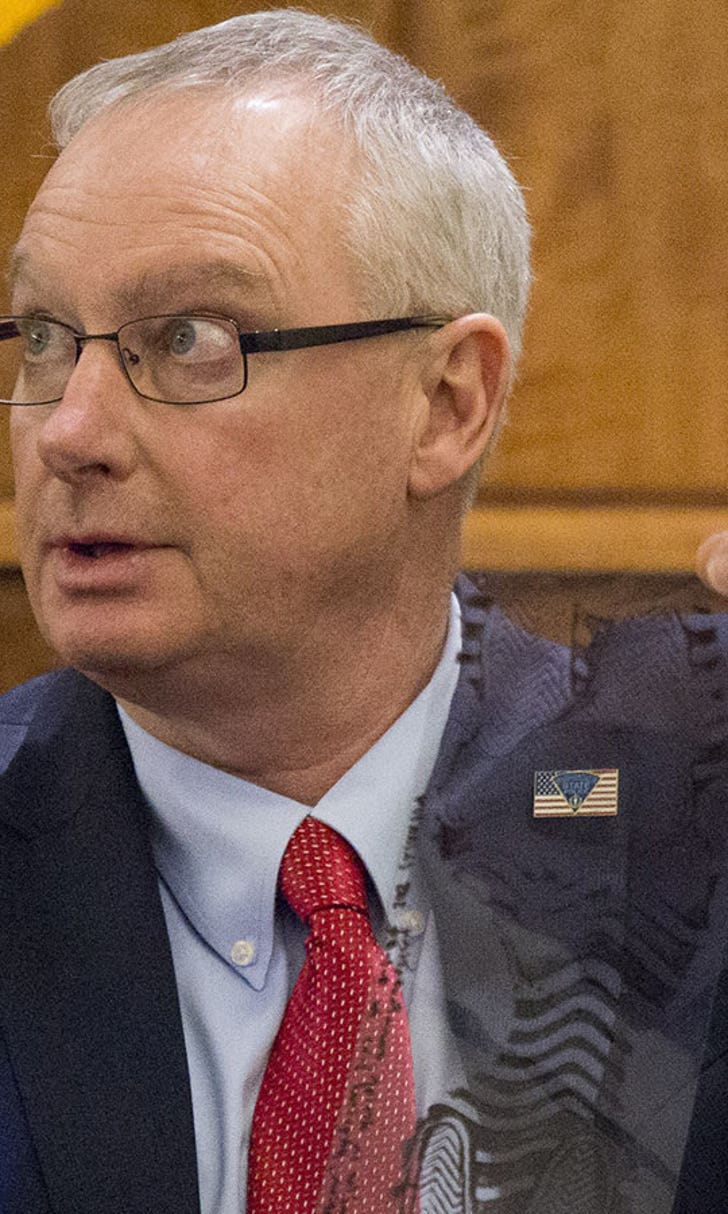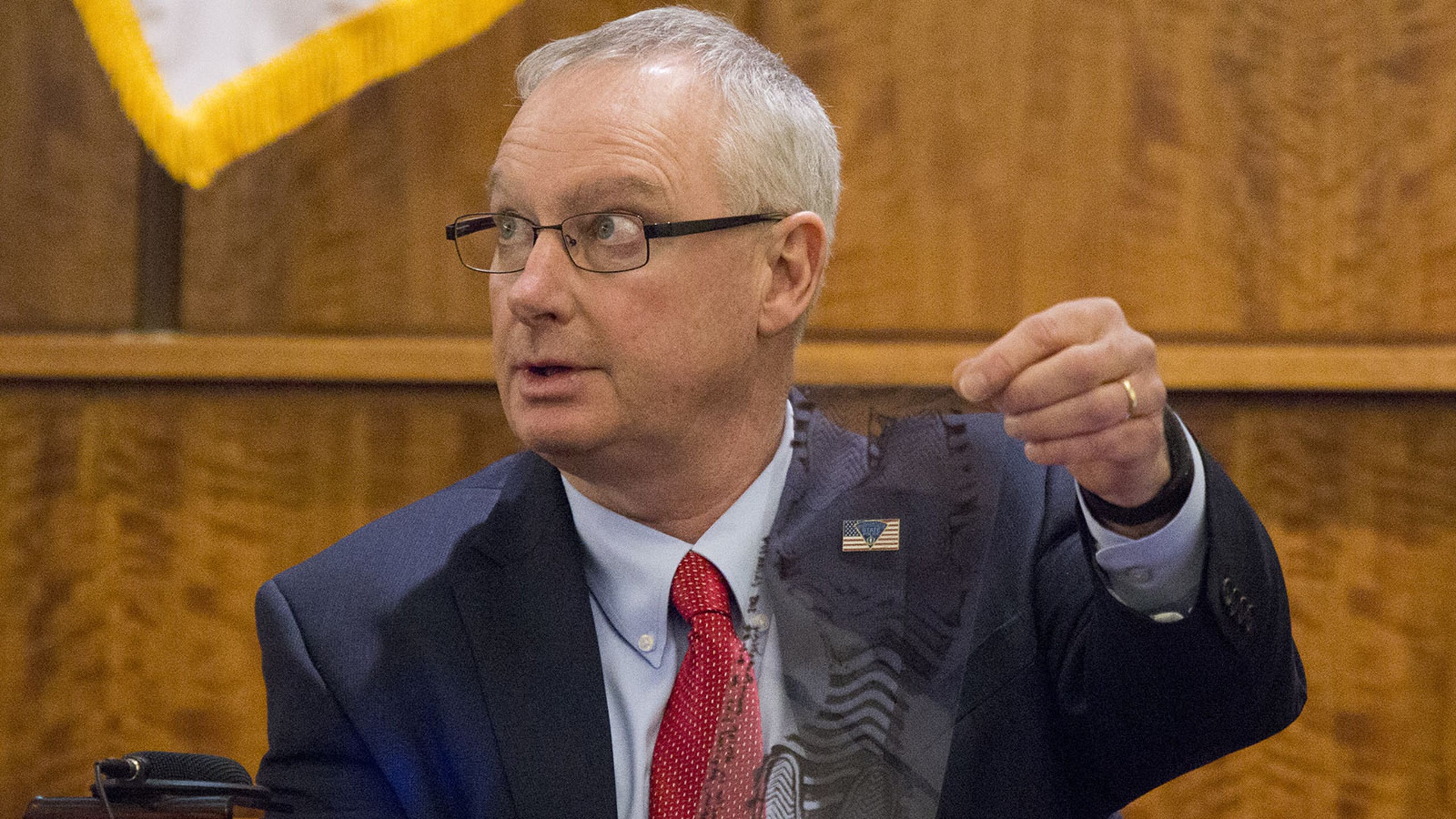 Aaron Hernandez trial: Defense chips away at footprint evidence
BY foxsports • March 18, 2015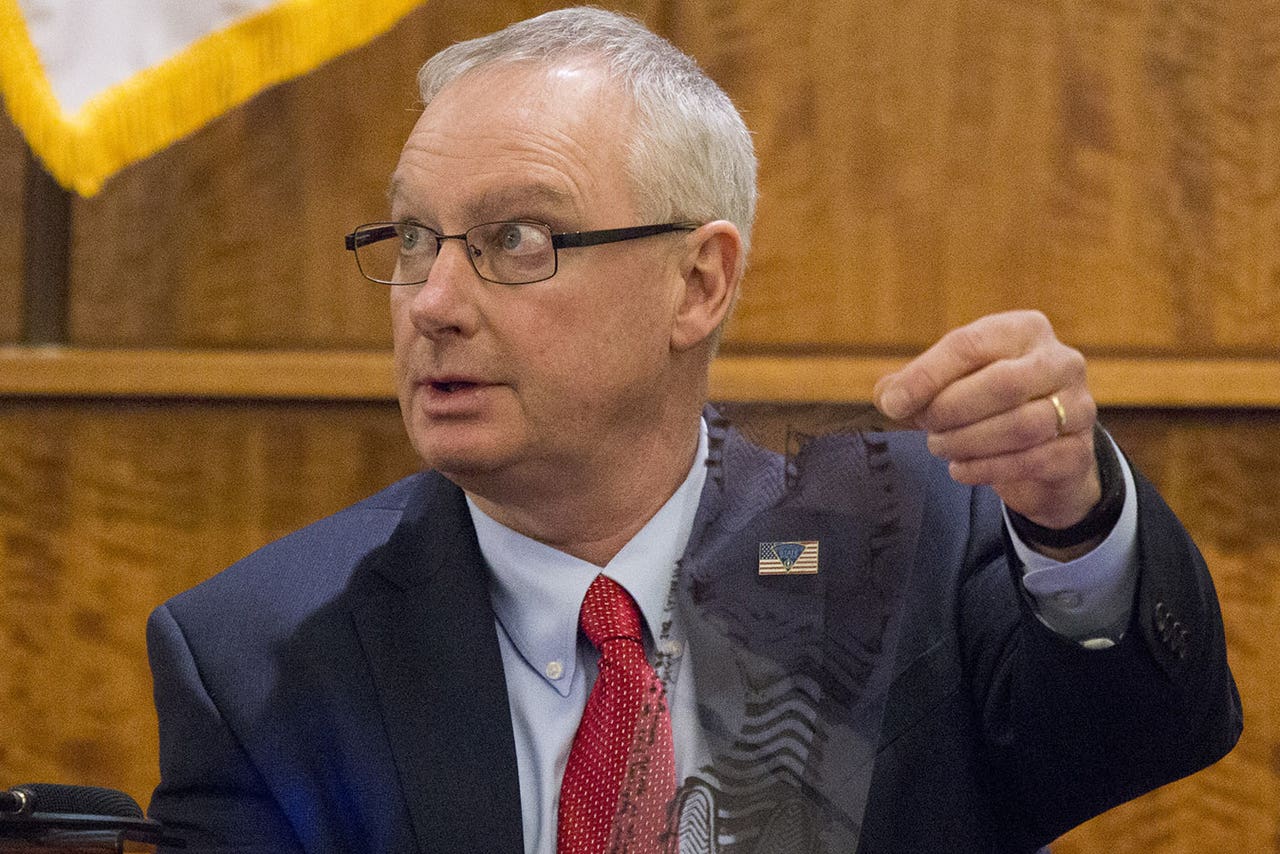 A detective matched a footprint near Odin Lloyd's body to a sneaker worn by Aaron Hernandez, but the impact of that revelation was thrown into doubt Wednesday by the disclosure of serious police missteps.
In opening statements at Hernandez's murder trial, prosecutor Patrick Bomberg heralded the discovery of a footprint at the murder scene from a Nike Air Jordan 11, the exact kind of shoe Hernandez can be seen wearing in surveillance videos captured both before and after the killing.
And Wednesday, lead prosecutor William McCauley spent several hours with Massachusetts State Police Lt. Steven Bennett on the stand, laying the groundwork for a question he finally asked after the lunch break: whether the officer was able to reach a conclusion about the comparison between an inked impression of the sole of a Nike Air Jordan 11 Retro Low shoe and that footprint.
"My opinion," Bennett said, "was that it was similar in manufacturing and design and physical size, and by physical size I mean the relative location of these components within the footwear impression, and were consistent with a retro 11 Air Jordan Size 13."
Hernandez wears Size 13, and in fact jurors already had seen surveillance images of the former New England Patriots tight end wearing a pair of the Nike shoes both before and after Lloyd's murder on June 17, 2013.
But the impact of the match may have been blunted by what came next: the acknowledgment that detectives photographed a pair of those shoes in a basement bedroom in Hernandez's home, and days later on a closet shelf, during multiple searched in June 2013.
And when they realized their mistake, in November 2014, they got another search warrant and went back to Hernandez's home. Those Nikes, and the shoes believed to have been worn by alleged accomplices Carlos Ortiz and Ernest Wallace Jr., were gone.
McCauley pointed that out before the jury. But how jurors will interpret the information remains to be seen.
And defense attorney James Sultan made the most of the disclosure.
"You had these photographs of these two impressions as of June 17, 2013, right?" Sultan asked.
"Yes," Bennett replied.
"Did you do anything with those to examine or analyze those photographs of those two impressions in June of 2013?" Sultan asked.
The answer was "no" — as it was for the following seven months.
In fact, Bennett disclosed that he didn't examine or analyze the photographs of the footprints until March 2014.
And Sultan wasn't done.
That month, Bennett wrote a report that said though he recognized a herringbone pattern in the footprint there wasn't enough detail in the photos to conduct further analysis. He did write that he could use the photos to eliminate from consideration any shoes that didn't have that pattern on them.
Then, in November 2014, as prosecutors and detectives pored over photos taken during the various searches of Hernandez's home, they recognized the Nike Air Jordan 11s and the shoes thought to be worn by Ortiz and Wallace. At that time, after being provided a sample pair of the Nikes in Size 13, Bennett said he made the match.
Sultan returned to a familiar theme of the defense: that investigators suffered from "confirmation bias," finding what they expected to find or what their colleagues wanted them to find.
Bennett denied that he was biased, but Sultan was still at the lectern questioning him when court ended for the day.
Bennett will be back on the stand Thursday morning.
Prosecutors have asserted that Hernandez, angry after an incident at a Boston nightclub two days earlier, arranged to meet Lloyd and at the same time summoned Wallace and Ortiz from his hometown of Bristol, Conn., to his mansion in North Attleboro, Mass., late the night of June 16, 2013. From there, the trio allegedly set out for Boston — roughly an hour's drive — about 1:10 a.m. on June 17.
After picking up Lloyd in Boston's Dorchester neighborhood, Hernandez allegedly drove the group back to North Attleboro, turning off the road and into a field that was less than a mile from the player's mansion. Lloyd's body was discovered in that field the next day.
Hernandez faces one count of murder and two firearms charges in the slaying of Lloyd, a 27-year-old semi-pro football player who was dating Shaneah Jenkins, the sister of Hernandez's fiancee.
Prosecutors have not said who they believe fired the fatal shots, and Ortiz and Wallace also have been charged with murder and will be tried separately. Under a Massachusetts law often referred to as "joint venture," a person can be convicted of murder even if someone else carried out the actual killing. To prove that, prosecutors would have to convince the jury that Hernandez knowingly participated in the killing and did so with intent.
Earlier Wednesday, jurors saw more grainy surveillance video purported to show the Nissan Altima used in Lloyd's shooting, and prosecutors used it to establish the roughly four-minute span during which the slaying was allegedly carried out.
First, prosecutors called on Scott Bazinet, who maintained the surveillance camera system on a metal refinery located a few hundred yards from the secluded field where Lloyd was shot and killed off a meandering country road in a wooded area where light industrial businesses are located.
Bazinet testified that the time recorded in the company's surveillance system was 8 minutes and 7 seconds ahead of the actual time. Prosecutor Brian Griffin then played a clip of video purported to show the Nissan heading into the area where the killing occurred.
Griffin asked Bazinet to make the adjustment, and the time was 3:23 a.m. on June 17, 2013.
Then the prosecution called Paul Belham, who owns another business in the North Attleboro Industrial Park.
Belham's video needed no adjustment.
As jurors stared at the video screens in front of them, they saw a view of a parking area outside Belham's business, with trees on either side and a truck parked in the distance.
And then a beam of light moved across the screen and a car went by.
The time: 3:27 a.m.
Prosecutors have alleged that in that four-minute span, Hernandez drove the Nissan Altima into an area surrounded by trees and mounds of dirt, gravel and asphalt.
To be sure, it was not clear from any of the five videos jurors saw Tuesday and Wednesday what kind of car was involved, how many people were in it or how fast it was going.
However, prosecutors have shown other videos before and after the killing that depict the car much more clearly: one from a gas station before Lloyd was picked up, one from in front of Lloyd's home, and one from Hernandez's home. Jurors have also seen a still image that shows the Nissan going through a toll booth without stopping at a time that prosecutors allege Hernandez was driving Lloyd to the spot where he would later die.
Defense attorneys did not cross-examine either Bazinet or Belham, or Christopher Mitchell of the North Attleboro Electric Dept. A surveillance camera there captured another image prosecutors assert was the Nissan heading toward Hernandez's home after the killing.
Wednesday was the 29th day of Hernandez's trial, and prosecutors have called 98 witnesses.
Hernandez has separately been indicted on multiple murder and assault charges in the July 16, 2012, shooting that killed Daniel De Abreu, 29, and Safiro Furtado, 28 in Boston. Another man was wounded.
Judge E. Susan Garsh has ruled that jurors will not hear any testimony about that case.
In the Boston killings, prosecutors have alleged that Hernandez became enraged after a man bumped him on a nightclub dance floor, spilling his drink and failed to apologize. They allege that Hernandez later followed the man and his friends as they drove away from the club, then pulled up next to their car at a stoplight and opened fire with a .38-caliber revolver.
That trial originally was scheduled to begin May 28, but the judge there indicated recently he would push it back given the anticipated length of the trial in the Lloyd case. No new trial date has been set.
---
---