San Francisco 49ers
San Francisco 49ers
49ers wrap up 2nd offseason under Shanahan in prime position
Published
Jun. 13, 2018 4:27 p.m. ET
SANTA CLARA, Calif. (AP) Jimmy Garoppolo showed what he can do in coach Kyle Shanahan's offense even before he fully understood it in an impressive five-game cameo at the end of last season.
With an entire offseason to learn the foundation of the San Francisco 49ers' scheme and build chemistry with his receivers and offensive line, he should only be better in his first full season as an NFL starter in 2018.
Whether that translates into even more prolific numbers is a different question.
''I don't know how much of a jump you're going to see,'' Shanahan said Wednesday before the team's final minicamp practice of the offseason. ''When you talk about expectations, I don't know how you're going to live up to that. He did very good last year. If we had 400 yards a game, does that mean we need to have 600 the first five games to improve? I don't know what the numbers will be, but we will be a better offense.''
The numbers were quite good after Garoppolo took over as the Niners won their final five games of the season after a 1-10 start under Shanahan. San Francisco scored on an NFL-best 56.6 percent of their drives after Garoppolo took over as starter and ranked in the top five in the league in scoring offense (28.8 points per game), yards per play (6.1) and yards per game (409.6).
That all came with Garoppolo being force fed a game plan each week in an offense he barely knew. This offseason he has been able to start from scratch and learn the whys behind the scheme, which should make him even better once the season starts.
''I think I've come a long way, especially from last season when I was just cramming everything in,'' Garoppolo said. ''But there's still a long way to go developing that chemistry between me and the skill positions and the o-line. It's a work in progress.''
That was evident Tuesday when issues with a new cadence led to several false starts or players not getting off on time early in practice. That led Garoppolo to keep a lot of the offense on the field after practice for some extra work to make sure those issues don't come up again.
Shanahan said he was pleased to see his players take the initiative to fix those issues without any prodding from the coaches.
''It wasn't any fun,'' Garoppolo said. ''When that goes wrong, it just screws up the rest of the play. First and foremost, we have to get that corrected.''
While the cadence issue was a one-time issue, a major focus this offseason for Garoppolo and the offense has been on becoming more efficient in the red zone.
San Francisco moved the ball with ease the last five weeks of the season but the offense too often had to settle for field goals. The Niners converted less than half of their chances inside the opponent's 20-yard line into touchdowns.
The team has excelled in that area in practice this offseason and Garoppolo hopes that carries over to the games.
''Those are point plays,'' Garoppolo said. ''Those are the ones that really matter. When you get those opportunities, it's hard to complete a touchdown, especially in the red zone like that. The windows are tighter, there's not as much room.''
While Garoppolo is the headliner, there has been significant change in the one-plus year since Shanahan and general manager John Lynch took over a struggling franchise.
Shanahan took over a two-win team that had gone through three coaches in the previous three years and now has it in position to be a legitimate contender in the power-packed NFC.
''We've put a lot of work in a year, we've gone through a lot of things, we've changed the roster over a ton,'' Shanahan said. ''We've been better as a coaching staff. We go through this every single day. What I'm happy about as I look over our players and our coaches is we're better. We're deeper. We're faster. We move together, our 11 guys, better together. That should happen. We've done it longer. We've had more time to build the personnel.''
NOTES: WR Marquise Goodwin won the Pro Football Writers of America George Halas Award, given to the person who overcomes the most adversity to succeed. Goodwin caught an 83-yard touchdown pass in a Week 10 win against the Giants just hours after he and his wife, Morgan, lost their infant son due to complications which led to a premature delivery. ... Third-round LB Fred Warner signed his rookie contract. ... Former 49ers LB Larry Grant has been named the team's 2018 Nunn-Wooten Scouting Fellow.
---
More AP NFL: www.pro32.ap.org and www.twitter.com/AP-NFL
---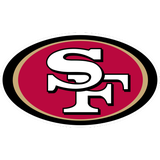 Get more from San Francisco 49ers
Follow your favorites to get information about games, news and more
---