4 factors that will decide if Patriots get past Chiefs
BY foxsports • January 14, 2016
For Patriots fans, the past 15 years of their football viewing lives have been much happier than those of other fans around the league.
But that doesn't mean they don't still have a list — that handful of bad memories the mere mention of which turns New England stomachs queasy.
One that's bound to show up near the top is the September 2014 "Monday Night Football" game in Kansas City against the Chiefs. This was the infamous game that spurned the phrase "We're on to Cincinnati" and was the low point for New England's season, one that turned around in dramatic fashion and ended in another Super Bowl championship.
Early this week, Patriots head coach Bill Belichick looked back and explained that "It was a pretty dominant performance by Kansas City, so I'm sure that there are things from that game that they may try to do or that they may feel like they can still do or want to do. We'll definitely have to take that into consideration."
He also went on to explain that thousands of plays have happened since that time, so there's bound to be plenty of irrelevance as it pertains to this Saturday's contest. Old games don't have any real bearing on future games — that football truth isn't ever going to change. That said, the lessons from the past can try to be replicated in future contests in the event the present conditions are similar. 
The injury to Chiefs wide receiver Jeremy Maclin and the late season resurfacing of Patriots offensive line concerns are the two major developments that make the lessons from that game more relevant than they otherwise would be.
As the teams prepare to do battle, here are the four major elements from that game that are bound to resurface, the handling of which should tell the story of who advances to the AFC Championship Game. 
TRAVIS KELCE TO THE STAGE
The "Baby Gronk" talk with stud Chiefs tight end Travis Kelce really caught fire after a national TV coming out party of sorts in that Monday night game — a game in which Kelce snagged eight balls for 93 yards and a score. The inability of Kansas City to score touchdowns with its wide receivers was still a big storyline, so Kelce was a welcome passing game addition. At the time, the Chiefs didn't have a top-end wide receiver like they do now in Maclin.
But if Maclin isn't available Saturday, scheming to stop a tight end as the top pass-receiving threat becomes the most likely coverage priority for the Patriots. 
The Chiefs weren't an explosive passing team a year ago, and even though Kelce and Maclin have had nice seasons, it's still not a particularly explosive passing group. That said, they build their formations and play-calls to peck away at defenses in hopes of taking advantage of some overplay or hole. 
Presuming the absence or modest effectiveness of an injured Maclin, getting the ball into Kelce's hands is bound to be a top priority for the Chiefs. Both teams obviously know this. Much like that game a year ago, expect the Chiefs to move Kelce around all over the formation, trying to free him by some sort of pick play or instigated confusion in the coverage.
In the example below, Kelce is hidden in the back of a three-man bunch alignment, with the other two wide receivers helping to soak up coverage players and create a dilemma for the defender responsible for the big tight end.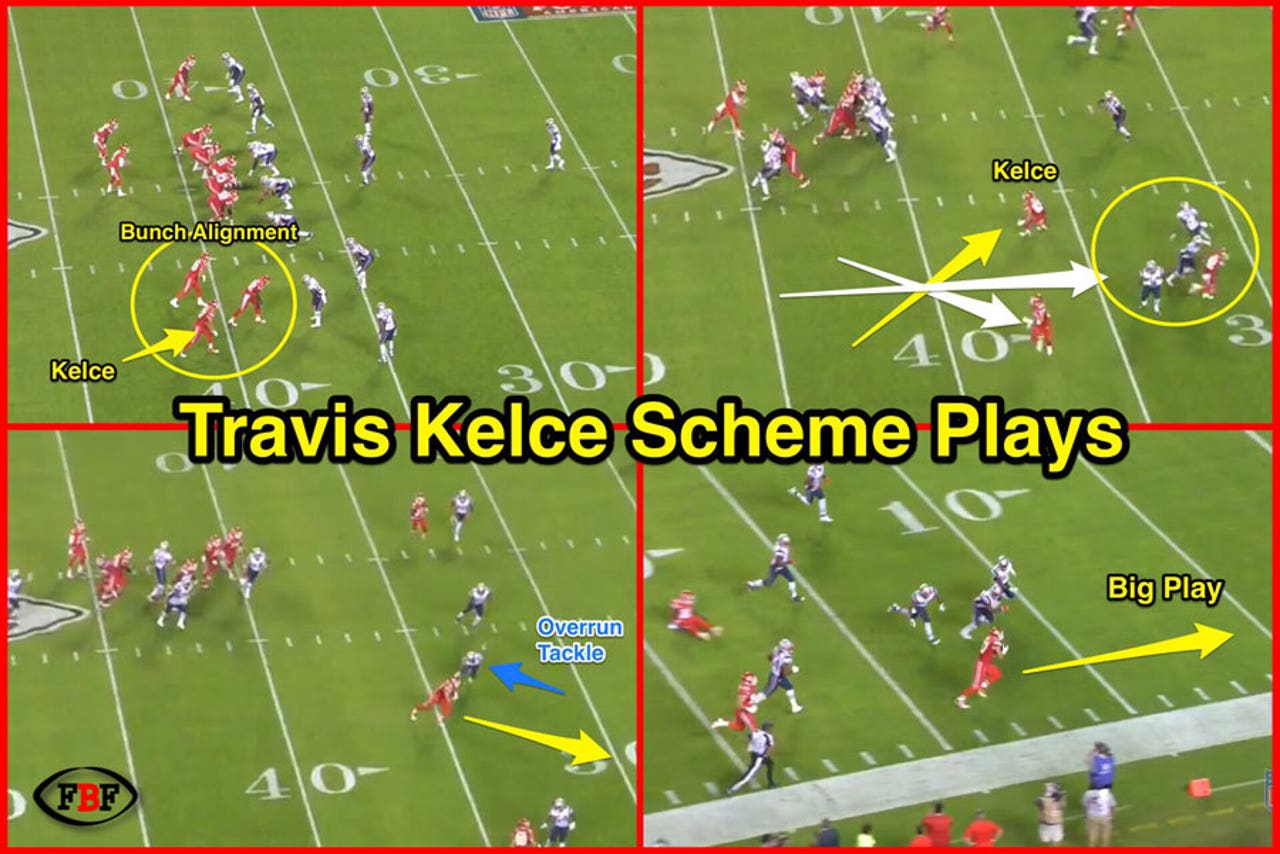 One of the big lessons I suspect the Patriots to come away with from this play is that the Chiefs have a propensity to use lots of bunches, stacked wide receivers and crossing routes to free up their receivers, so man coverage may be used at a minimum. Zone coverages allow defenders to let these crossing routes sort out before coverage players latch onto their respective guys. This helps to avoid picking one another, essentially switching responsibilities if the receivers cross paths. 
Handling the creative attempts to free Kelce will be a huge key for the Patriots, especially after they struggled in their last game to handle the myriad crossing elements Miami threw at them.
CHIEFS' UNIQUE RUN SCHEME
In that Monday night massacre a year ago, several unique scheme runs broke for big plays to make up the bulk of the running game, as opposed to the more basic stuff that simply features Jamaal Charles' athletic ability and individual creativity. With Charles now injured, Andy Reid's ability to draw up gameplan-specific runs to create confusion and holes in the Patriots defense much like they did that day moves back to the forefront. 
How the Patriots are able to survive these unpredictable new looks early, and then make the in-game adjustments to stop them, will be another major factor in this game. 
The biggest run of the day that both sides likely will have studied was a 48-yard scamper by Knile Davis that had the Patriots defenders spun in circles. The Chiefs motioned a wide receiver into the backfield, flashed the receiver back across the formation as a blocker while also showing reverse action, and then gashed the defense with what was really just a basic direct run (see below).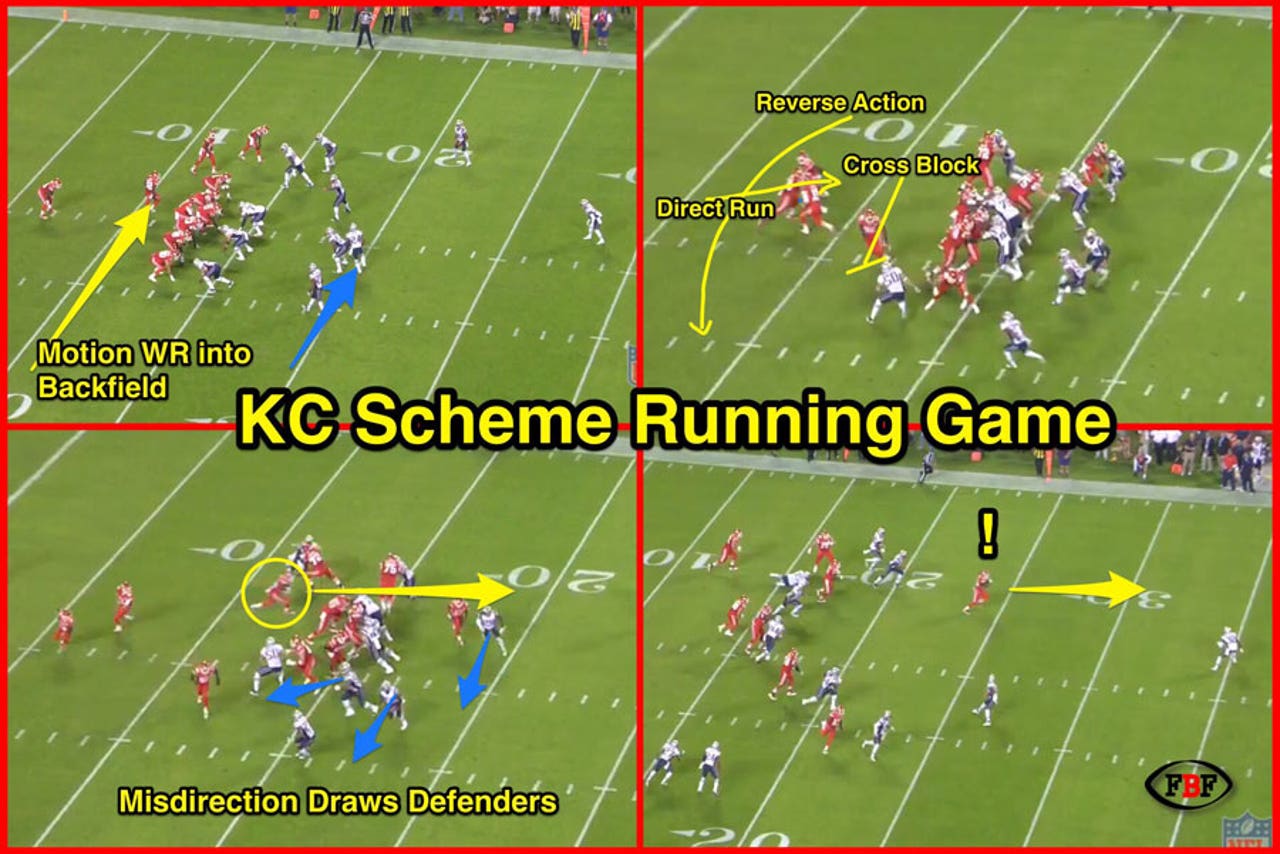 The idea here is very much smoke and mirrors, and in part, is taking advantage of the man-to-man passing game principles of the Patriots defense. When these unusual motions and backfield actions occur, you can get the defender responsible for covering them in the pass game to false-step with them and then subsequently drop out of their responsibility in the run game. 
Just like in the Kelce example, this quirk should prompt New England to play more zone coverages to prevent getting caught out of position in either aspect of the game. There most certainly will be some unique run-game look that the Chiefs will throw at the Pats on Saturday. How (or if) New England is able to handle this and adjust in-game will go a long way toward telling if this contest goes the unlikely way of that Monday night game. 
BATTLE FOR BRADY'S SPOT
Chiefs defensive coordinator Bob Sutton was my coach with the Jets, so I know he's well-versed in the concept of getting Tom Brady "off the spot" to keep him from picking apart a secondary. While plenty of attention is poured on edge rushers Justin Houston and Tamba Hali, winning off the edge is far less important than disrupting that area in front of Brady that allows him to step into throws: "the spot."
I don't expect exotic blitz schemes because Brady usually handles those expertly pre-snap. Instead, I expect the Chiefs will make pains to run stunts with their ends and tackles — stunts that attack the middle of the pocket more so than the edges (see below).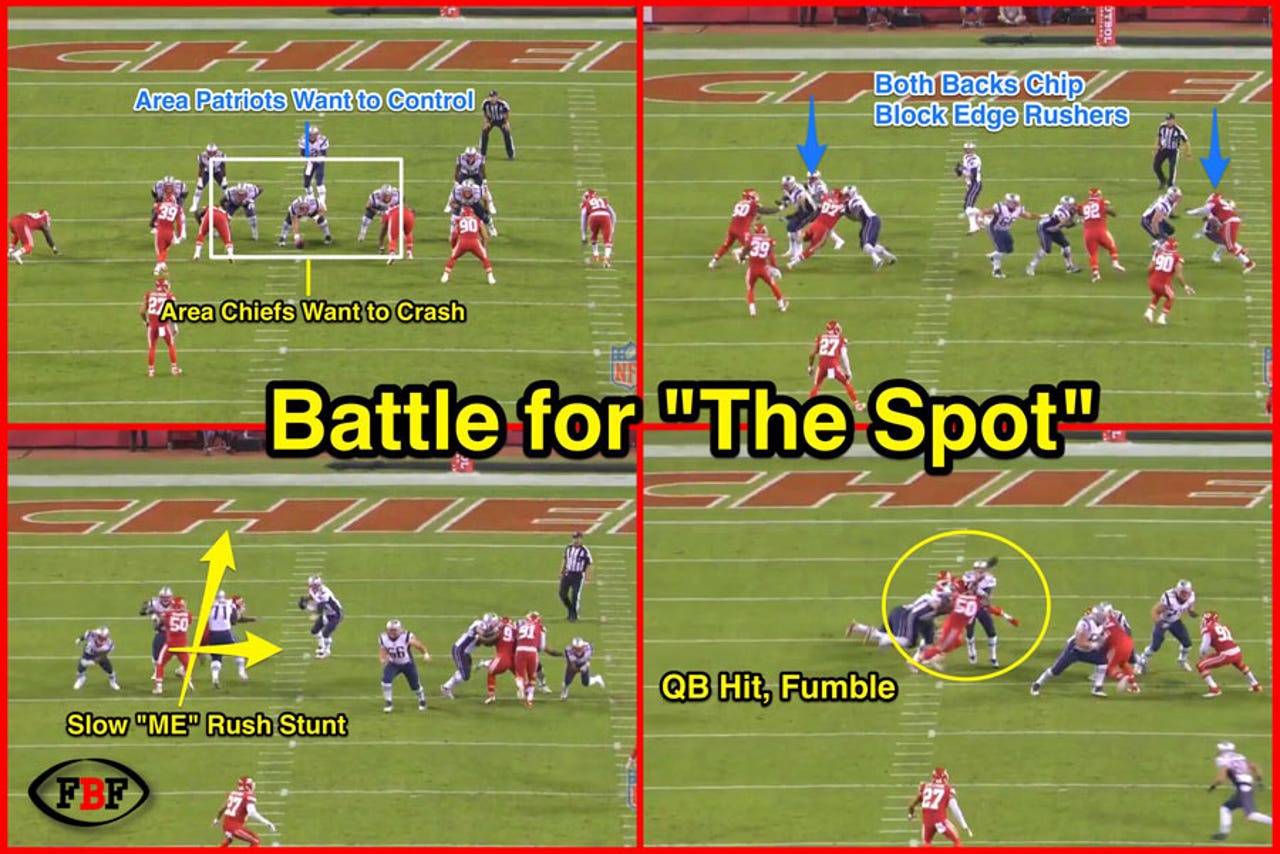 That Chiefs game was a hard lesson in the importance of offensive line play over the kinds of "weapons" a team has in the passing game. If you can't get the ball off comfortably, who's running the routes doesn't really matter.
While it's easy to gravitate toward conversations surrounding the return of Julian Edelman, my guess is the Chiefs will be more focused on how to destroy the pocket than unique coverage schemes to defend a player who's just returning from injury — especially with two rookies likely starting at the Patriots' interior guard spots.
How the Patriots' interior offensive line handles the exchanges between these stunts to make sure Brady can step into his throws and dissect the Kansas City defense is the most important battle of the day for New England's offense against that disruptive Chiefs crew.
ALEX SMITH: POCKET FUGITIVE
The one element that both teams likely are hammering now in preparation for this game that really wasn't an issue in the 2014 meeting is Alex Smith's escapability. Because the Chiefs were so effective with their scheme runs and passing game, there was little need on that day for Smith to make that handful of conversions he so often does with his legs.
The 2015 game tape screams for defenses to pay attention to pocket control with Smith, or he can change the course of a game all by himself, as was evidenced last week in the Texans game (see below).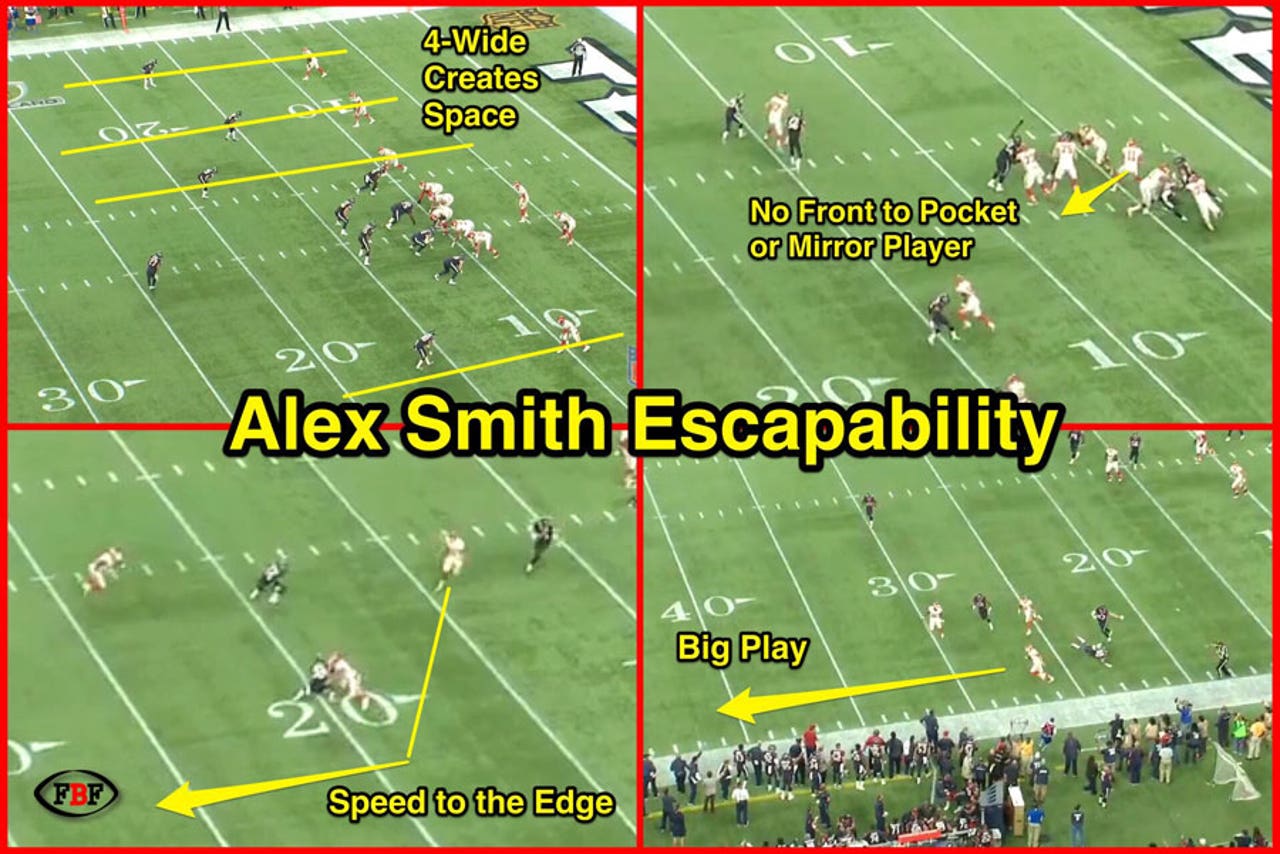 The question here is whether or not the Patriots will feel the need to use an extra defensive asset to front the pocket, or "mirror" Smith (something not done above that really hurt the Texans). A mirror player is something that's usually a smart play against someone of Smith's ability, but hard to stick with if the Chiefs start having success throwing the ball because that's an extra body that could instead be in coverage.  If Smith is running around converting third downs or breaking giant runs like he did against the Texans, the addition of the mirror player will be an absolute must. 
While this AFC divisional matchup is most certainly not going to be a repeat of 2014's contest, the major elements that drove that game likely will be contested again on Saturday. New history will be made as these teams battle to advance in the tournament, but considering the Patriots' propensity to learn and not repeat mistakes of history, the onus is on the Chiefs to figure out new ways to hurt New England in the context of ways they already know can work. 
STORIES FROM FOOTBALL BY FOOTBALL
Bad Football in NFL Wild Card Weekend Gives Coaches Teaching Ammo
Rocky's IV: NFL Divisional Playoffs Week
Matt Chatham played for the Patriots and Jets over nine seasons in the NFL, winning three Super Bowls. He is also the founder of footballbyfootball.com. You can follow him on Twitter.  
---
---