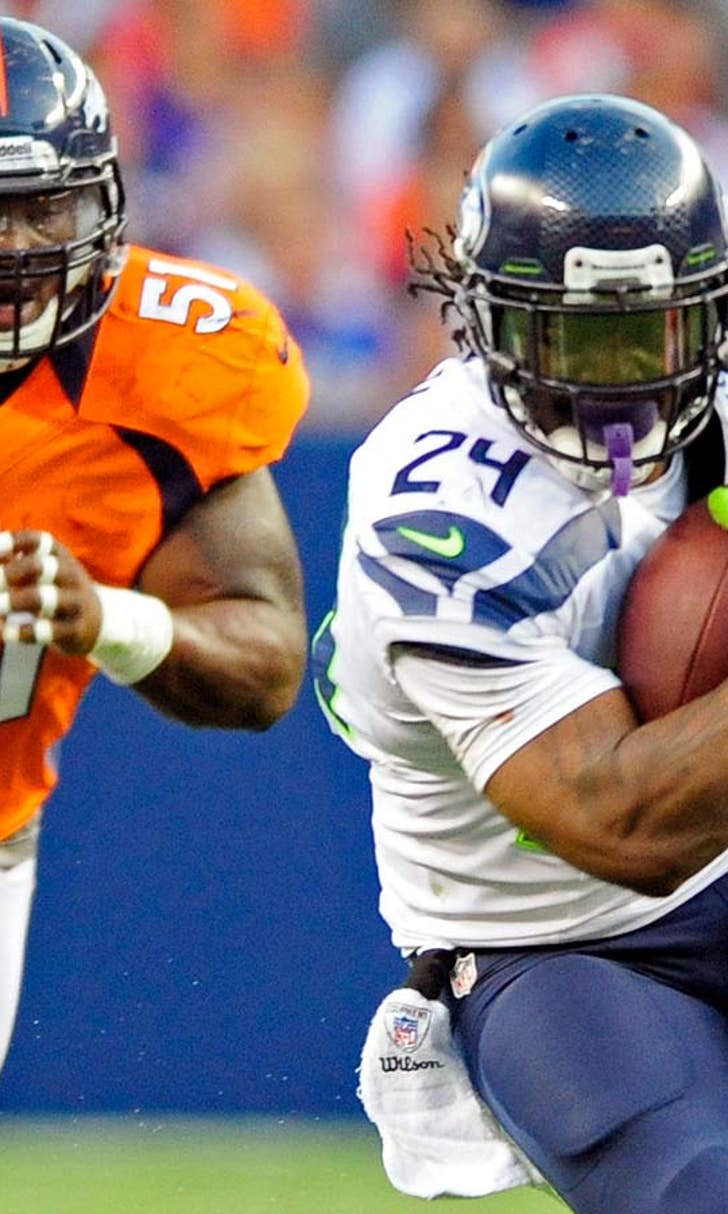 3 things to know: Broncos must corral Marshawn Lynch
BY foxsports • January 28, 2014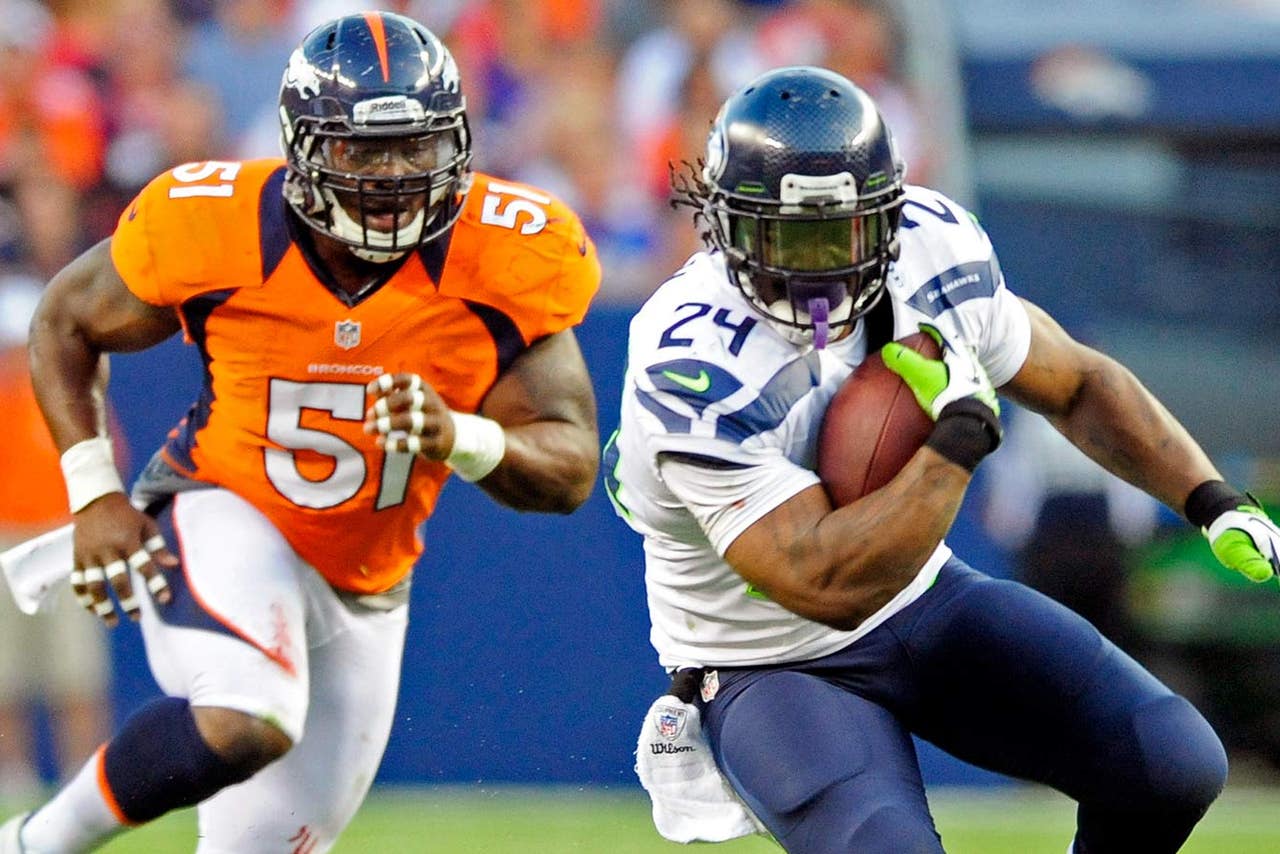 There are three things you need to know about each Super Bowl team, based on Tuesday's media sessions.
Mike Garafolo was with the Broncos, Peter Schrager with the Seahawks.
Denver Broncos
1. All last week during practice at Dove Valley, Broncos linebackers coach Richard Smith's yelling "Tackle! Tackle!" was roughly as prominent a shout as Peyton Manning screaming "Omaha!" The reason is obvious: Marshawn Lynch.
Though Lynch doesn't say much, as evidenced by his brief interview session at Media Day, his play is as loud as it gets. The coaches and the players along the Broncos' defensive front have certainly noticed plays like Lynch's 40-yard touchdown run in the NFC championship and realize they have to finish the play.
"We definitely have to swarm tackle there and get a lot of hats around the football against this great rushing attack we're facing on Sunday. We have to tackle well," linebacker Wesley Woodyard said, adding of Lynch: "He's a fighter. He never gives up on the play. He's fighting for extra yardage and that's what good running backs do."
2. The Broncos did not practice on Tuesday and return to work at the Jets' facility on Wednesday. The Jets have a full indoor field, but coach John Fox's plan is to continue with business as usual as much as possible, especially since Sunday's game will be outdoors in the cold. The Broncos have practiced outside whenever possible all season and braved temperatures near zero degrees as late as last week.
So as long as the weather holds up, the Broncos will be on the Jets' outdoor grass field. If that's not doable because of some light precipitation, they'll move to the outdoor FieldTurf surface. If it gets too bad outside, then and only then will they move inside.
The players likely won't be complaining.
"I believe if you're going to play in a cold-weather environment, you practice in a cold-weather environment," wide receiver Eric Decker said. "You prepare for what you're going to face. We're all professionals, we all understand what it takes to do our job, but if you can have time and experience throughout the week in the environment you play in, that's the best."
3. Perhaps the most under-appreciated Bronco (at least from the outside) is Shaun Phillips. Cast off by the San Diego Chargers after his ninth season there, Phillips signed a one-year contract with a base value of $1 million after Denver lost Elvis Dumervil following the fax fiasco.
Phillips has 12 sacks in 18 games, which has helped offset the loss of Dumervil and also fill in for Von Miller, who missed the first six games of the season due to suspension and then tore his ACL in December.
Safe to say the Chargers might've made a big mistake in not even contacting Phillips during free agency.
"That's one of the things that bugged me," said Phillips, who had 9 1/2 sacks in his last season with San Diego in 2012. "I don't say anything bad about them because they gave me my opportunity and I still love a lot of those guys, but it was kind of baffling to me that they didn't even want me to come back.
"But it's all good. It obviously worked out a little better for me."
Seattle Seahawks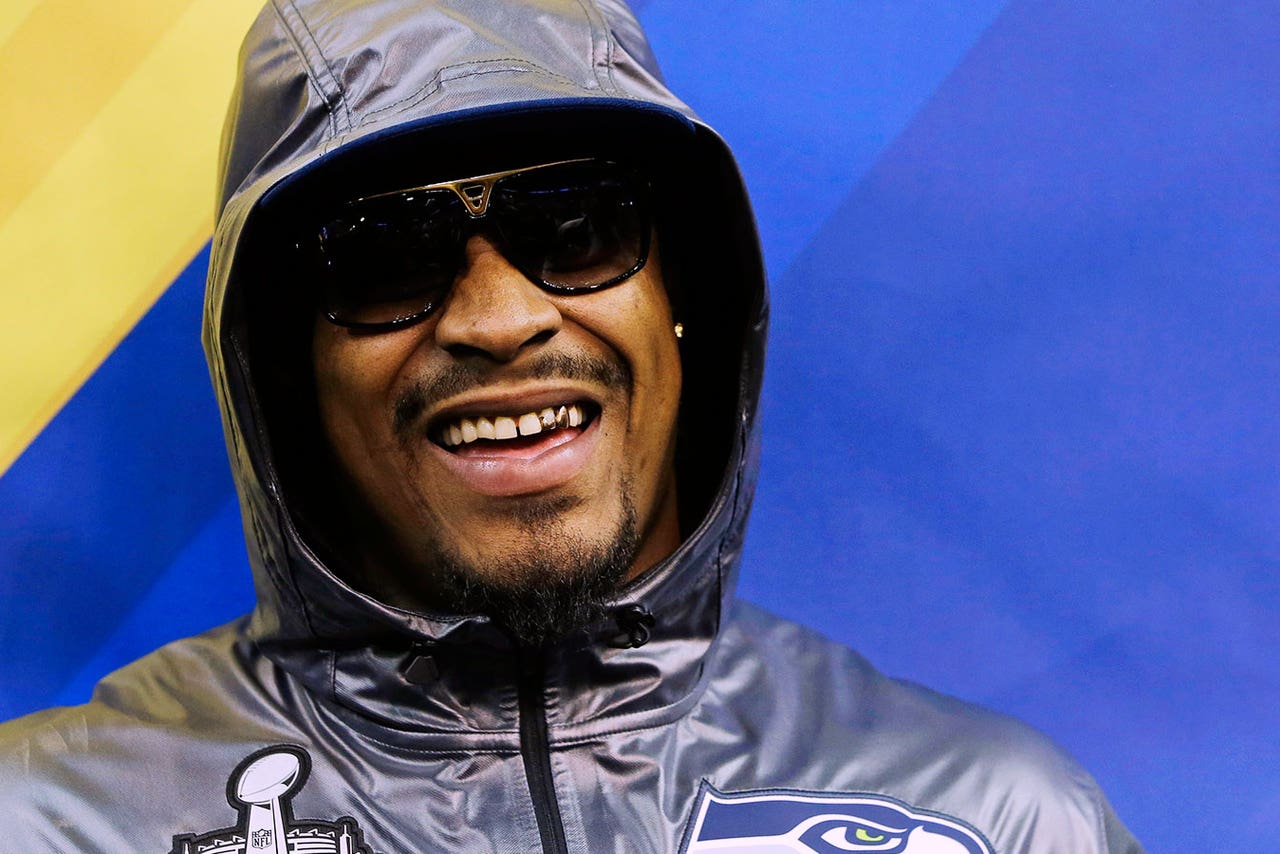 Beast Mode had an interesting day on Tuesday.
1. On a day where the biggest talkers and media personalities are expected to make the biggest splash, Marshawn Lynch stole the Super Bowl Media Day show by not saying much at all. Wearing sunglasses and a hooded jumpsuit, Lynch was a Media Day participant for precisely six minutes and 21 seconds before leaving the Prudential Center floor. In January, Lynch was fined $50,000 for not cooperating with the Seattle media throughout the 2013 season, but the NFL said it would consider rescinding the fine if his behavior improved. On Tuesday, Lynch briefly participated in an interview with Deion Sanders for the NFL Network, stood with a member of the Armed Forces Network, and offered several "yes" and "no" responses to a group of reporters looking for something -- anything -- from the Seahawks star. One exchanged went as follows:
"What is your mindset going into the game on Sunday?"
No response. Just silence.
"Any thoughts at all?"
Marshawn Lynch: "No."
"Players are required to participate and he participated. We will continue to monitor the situation," NFL spokesman Greg Aiello said after Lynch's media session Tuesday. The running back has required media sessions Wednesday and Thursday. Earlier in the day, the candy brand Skittles announced it was releasing a special Marshawn Lynch-inspired "Seattle Mix" flavor. And no, he didn't talk about it Tuesday.
2. Percy Harvin hasn't had the season the Seahawks hoped he would when they traded three draft picks and signed him to a six-year deal back in March, but the move could still prove wise if he makes a difference on Sunday. Back and fully practicing after missing the NFC Championship game, Harvin believes he can do just that. "I think I can be as explosive as I've ever been," Harvin said Tuesday. "My legs are feeling great. I am finally able to get drive in my legs that I need to come out of my breaks a little quicker than I was before the (concussion). So I definitely think I can be a factor in this game."
Harvin added, "We are going to be explosive. We are definitely going to be explosive. It'll be good to join the guys — Doug (Baldwin) and (Jermaine) Kearse and "Big Beast Mode" (Marshawn Lynch) and led by the man in charge, No. 3 (Russell Wilson). I think we are definitely going to be explosive, and we are definitely looking to make a lot of big plays in this game."
3. Richard Sherman was met by hundreds of cameras hungry for something Tuesday. Anything, really. What they got was a teammate and a guy very excited to play in his first Super Bowl. They didn't get a sideshow. "People think I'm a loudmouth, an angry guy," Sherman said. "That's a big misconception."
"All these cameras should go to my teammates," Sherman said, looking at his many Seahawks players spread out across the Prudential Center floor. "I have the best teammates in the world."
If anything, the media got an enlightened young man, unwilling to sacrifice the team's overall goals for a flashy quote. "Kids need a positive role model, and they need to understand that there are more options to the world than what they just see in their neighborhood," Sherman said. "They need to understand there's another opportunity, there's another path that you can take. If those kids take those paths and use those opportunities, they'll benefit and our future will be very bright."
Not exactly the type of stuff TMZ was hoping for.
---
---