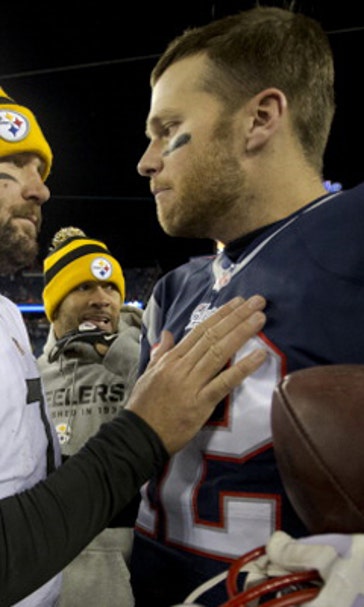 2015 NFL schedule released: 10 games to watch this season
April 21, 2015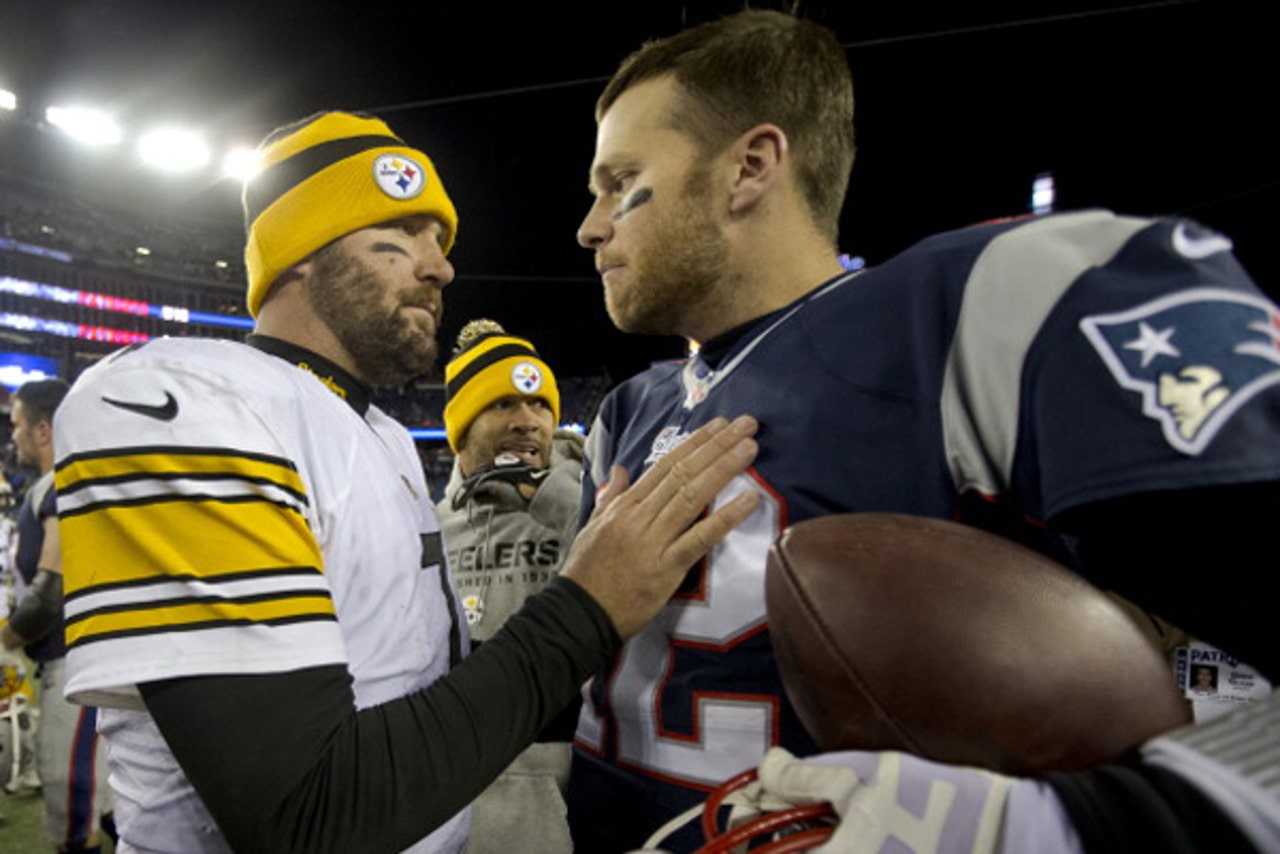 By David Kenyon
Fans, players and franchises have known where their team will play during the upcoming regular season, but they didn't know when. That changed Tuesday night when the league released the 2015 NFL schedule.
Now that the dates and times have been released, let's take a look at 10 must-watch games on the 2015 schedule, in chronological order.
Pittsburgh Steelers at New England Patriots; Sep. 10, 8:30 p.m. ET
Football will return on Thursday, September 10 as the Patriots will begin their title defense by hosting Ben Roethlisberger and the Pittsburgh Steelers.
Running back Le'Veon Bell will be suspended when the Steelers head to Gillette Stadium, but the Roethlisberger-Antonio Brown combination is among the most lethal duos in the league. Tom Brady should pick apart the Pittsburgh defense that must replace coordinator Dick LeBeau, safety Troy Polamalu, cornerback Ike Taylor and linebacker Jason Worilds.
Dallas Cowboys at Philadelphia Eagles; Sep. 20, 4:25 p.m. ET
 Chip Kelly is doing something with the Philadelphia roster. We're not positive what kind of symphony the maestro is conducting, since the Eagles' quarterback depth chart includes an eclectic group of Sam Bradford, Mark Sanchez, Matt Barkley and Tim Tebow.
What's more, Philly added former DeMarco Murray in free agency, so the Cowboys will challenge their division rivals without the NFL's leading rusher from last season. Then again, if the Eagles don't have an answer for Dallas' tremendous offensive line or Bryant on the outside, the lack of an elite running back won't matter in the slightest.
Seattle Seahawks at Green Bay Packers; Sep. 20, 8:30 p.m. ET
It doesn't get much better than a rematch of the 2015 NFC Championship Game. Green Bay re-signed Bryan Bulaga and Randall Cobb, shed some dead weight — cutting Brandon Bostick, who botched the onside kick recovery — and will certainly want revenge on Russell Wilson and company.
On one good leg, Aaron Rodgers nearly eliminated the Seahawks, so he'll presumably have a chance to redeem himself at full strength. Hopefully this regular season meeting happens again during the playoffs to decide which team represents the conference in the Super Bowl. One time isn't enough.
New England Patriots at Dallas Cowboys; Oct. 11, 4:25 p.m. ET
Prediction: There will never be more televisions thrown out of windows this season than when the nationally hated Patriots taken on the nationally hated Cowboys. Seeing Robert Kraft, Bill Belichick, Tom Brady, Jerry Jones and Tony Romo on the same screen in successive fashion might be too much for viewers.
The Patriots' secondary lost Darrelle Revis and Brandon Browner, so stopping a well-protected Romo from throwing to a dynamic wideout in Dez Bryant will be rather difficult. But we know better than to count out Brady on the offensive side, especially against a shaky Dallas defense.
Arizona Cardinals at Pittsburgh Steelers; Oct. 18, 1 p.m. ET
The matchup itself conjures up memories of Super Bowl XLIII, but some may forget the bigger connection that links the franchises. Bruce Arians served as the offensive coordinator of that Pittsburgh championship team, and he's now the head honcho in Arizona.
On the field, however, presents an interesting individual battle between Cardinals corner Patrick Peterson and Brown. Peterson is one of the highest-paid players in the league, but he's been known to get burnt on occasion. Brown has recorded at least five receptions in an NFL-record 32 straight games, which means Peterson can prove his worth — or not — in this battle.
Denver Broncos at Indianapolis Colts; Nov. 8, 4:25 p.m. ET
Until this matchup no longer exists, every time Peyton Manning battles his former team is must-see football. Manning's season-long absence in 2011 contributed to the Colts' 2-14 campaign, which resulted in the franchise holding the draft's No. 1 overall pick and spending it on prized prospect Andrew Luck.
Indianapolis earned a 39-33 victory in 2013, but Denver responded with a 31-24 triumph during the season-opener last season. However, the Colts later enacted revenge on the Broncos, toppling Manning 24-13 in the AFC Divisional Round behind a pair of touchdowns from Luck.
Buffalo Bills at New York Jets; Nov. 12, 8:25 p.m. ET
Unless top quarterback prospect Marcus Mariota somehow lands with the Jets, Buffalo should have a clear advantage in this one. But it's the underlying storyline that brings this AFC East tilt to the forefront: The Bills will have likely some extra motivation to earn a victory for their new coach Rex Ryan, who spent the last six seasons at the helm of New York. The press conferences leading into this Thursday Night Football matchup could be legendary.
Denver Broncos at Chicago Bears; Nov. 22, 1 p.m. ET
Though John Fox compiled a 46-18 while coaching the Broncos, the absence of postseason success led to his demise in the Mile High City. Denver replaced him with Gary Kubiak, whose ground-heavy offensive scheme is a strange fit — read: bad — for a shotgun-heavy passer in Manning.
Chicago fired Marc Trestman and scooped up Fox as his successor, and he'll take on his former team in an afternoon showdown. Strangely enough, this will be Jay Cutler's first outing against the franchise that drafted him in the first round of the 2006 NFL Draft.
Chicago Bears at Green Bay Packers; Nov. 26, 8:30 p.m. ET
Brett Favre won't play in this game, but his jersey will be there.
Da Bears will share a post-Thanksgiving dinner date with the Packers, and according to Tom Silverstein of the Milwaukee Journal Sentinel, there's a prize inside: Green Bay will retire Brett Favre's number that night.
The Packers have won nine of the last 11 clashes with the NFC North foes, including 38-17 and 55-14 beat downs last season. Chicago will host Green Bay in Week 1, but little would be sweeter for the Bears than to ruin a sentimental night at the expense of their rivals.
Baltimore Ravens at Cincinnati Bengals; Jan. 3, 1 p.m. ET
This AFC North outing isn't exactly a sexy choice, but both teams are in the postseason hunt every year. Cincinnati has fallen in the Wild Card round during five of the last six seasons, while Baltimore has made an appearance in six of the last seven.
A Week 17 matchup could decide seeding or — even better — if one franchise will miss the playoffs. Joe Flacco and Andy Dalton will headline the 'Are They Elite Yet? Bowl' that will likely have a division championship on the line.
More from Sportsnaut:
---
---