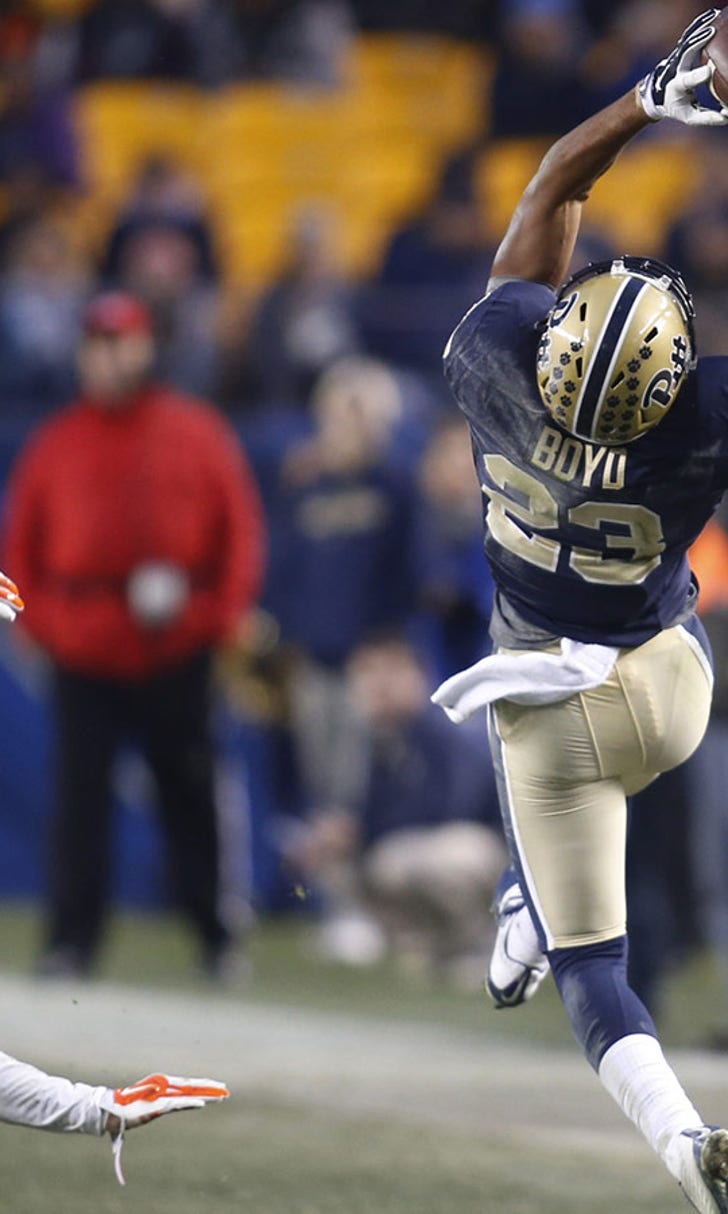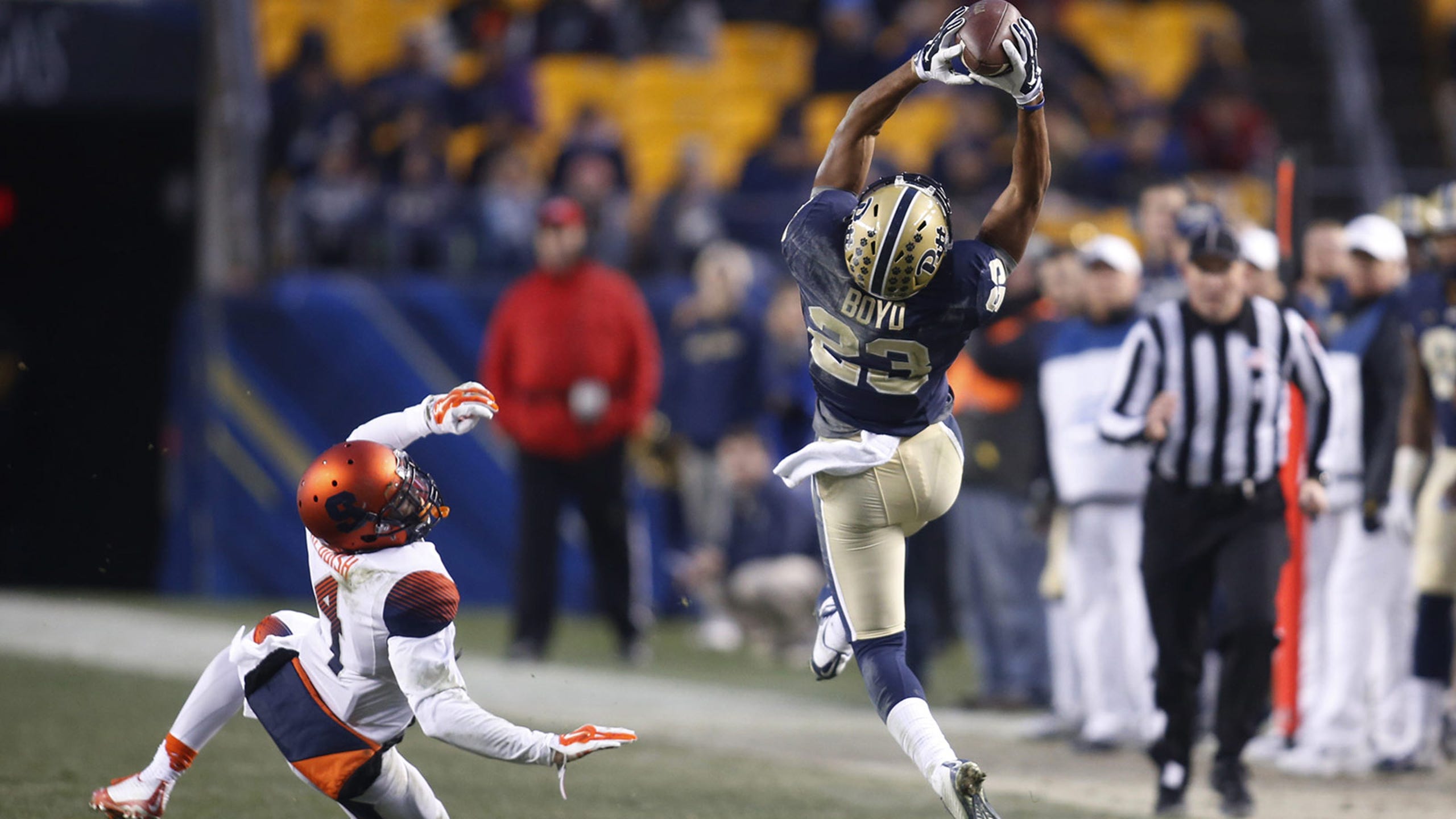 10 NFL Draft sleepers your team could snag in late rounds
BY foxsports • January 9, 2017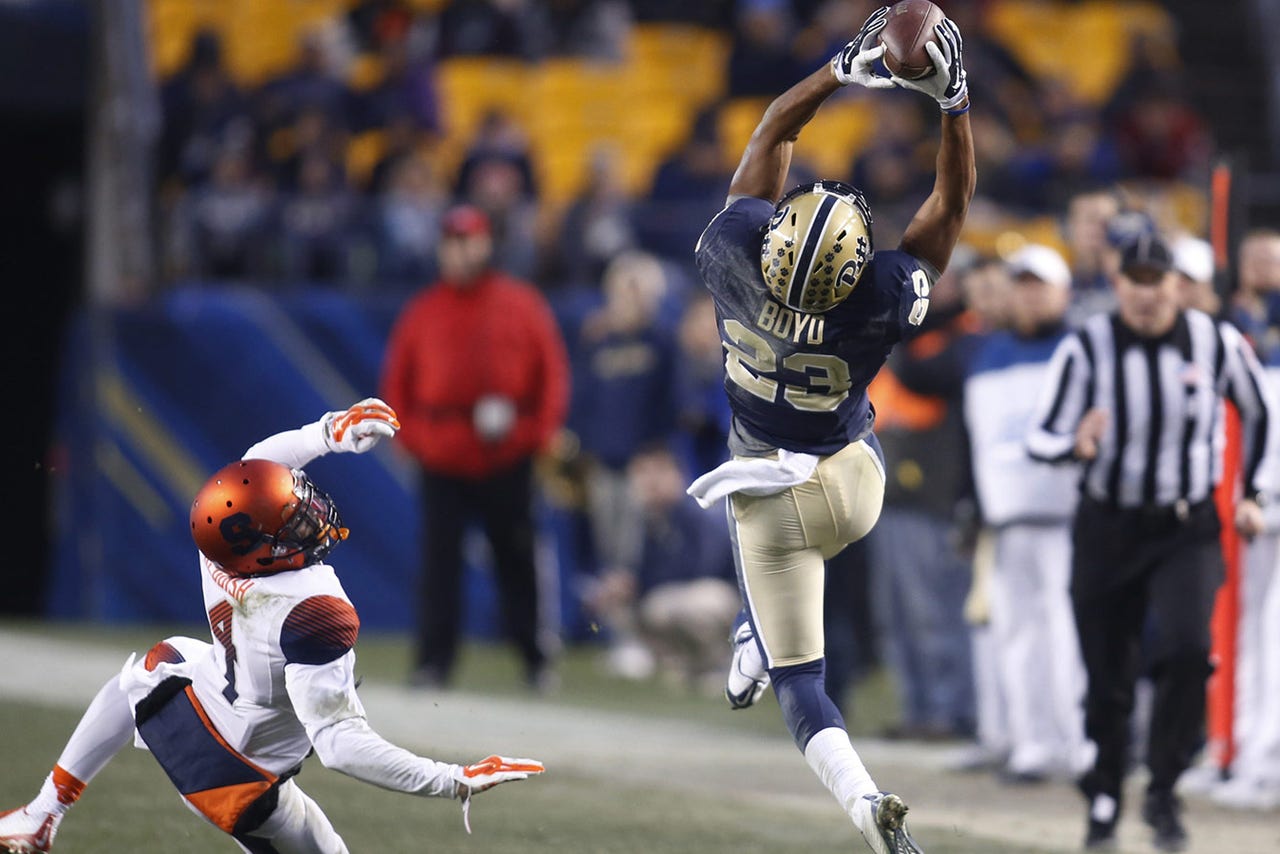 The one-time cottage industry of NFL Draft analysis has expanded into a mansion compound, and the conversation about prospects is now year-round. Even if you're not a big Draft fan, you know exactly who the top players are. 
At some point since the middle of the season, North Dakota State quarterback Carson Wentz went from a second-or-third round prospect out of an FCS school into the top-rated quarterback in the Draft. 
But there are other players out there who haven't surged up draft boards despite tremendous production, translatable skills and requisite NFL size. 
In fact, here are 10 that — unless a bunch of NFL teams get wise — will be available for your team on day three of the Draft. 
Are you interested in a wide receiver who did nothing but produce at a high level against high-level competition in college? You should be interested in Tyler Boyd. 
The top wide receiver prospects in this draft — the guys who could go in the first round — are Laquon Treadwell of Ole Miss, Corey Coleman of Baylor, Josh Doctson of TCU and perhaps Will Fuller of Notre Dame. 
But not one of those receivers has a "can't miss" resume, and drafting wide receivers is typically a crapshoot outside of those generational talents. 
Wouldn't it be better to draft a receiver who can do a little bit of everything? Boyd can play outside and in the slot, he doesn't drop the ball (one drop every 18 catchable passes, per Pro Football Focus) and his route running and athletic ability make him a fit in any offense at the NFL level. 
Boyd is projected as a third-round pick, so he might sneak into the second day of the draft, but it's not difficult to imagine him being on the board on Saturday, despite the fact that he has everything necessary to make it on Sundays. 
Stanford's offensive line was arguably the best in college football last season, and Murphy was a big reason why.
His transition to left tackle in 2015 after playing right in 2014 was hardly seamless, but Murphy was still a standout performer, particularly in the run game. 
Murphy might be the most technically sound lineman in the draft. And at 6-foot-6 and 305 with long arms, he has that prototypical left tackle frame NFL teams crave. 
Why isn't this guy a top-10 pick? Well, he's not strong. He's susceptible to being overpowered at the line of scrimmage and that's something that you don't want from the guy protecting your quarterback's blind side. 
That's also something that can be fixed with an intense summer and a weight coach. 
Murphy currently carries a fourth-round grade, but it wouldn't be a surprise to see him starting at right tackle — or even left — in his rookie year. 
A big-frame, big-play machine, Garrett led the nation in receiving yards last year with 1,588. 
He's 6-foot-3, 220 pounds and ran a 4.53-second 40-yard dash (Treadwell, at roughly the same, size ran a 4.65) but carries a fourth-round grade because of his inconsistency in bursting off the line of scrimmage and holding onto the ball. Those are problems a lot of NFL receivers have, and they don't have Tulsa's quarterback throwing to them. 
There are concerns, sure, but a look at Garrett's film shows a player who has first-round talent. In a draft with no blue-chip wideout prospects, wouldn't a team be smart to wait a few rounds and swoop up Garrett and his unparalleled upside?
Simmons might have been the best player on the best defense in college football last year. At 6-foot-2 and 202 pounds, Simmons alternated between cornerback and safety, but there's little doubt that he grades out as a free safety starter at the NFL level. 
Simmons was a big-game performer at Boston College, intercepting two passes against Notre Dame and one against Clemson last year. He also had a standout performance in the East-West Shrine Game. He hits with purpose and has excellent instincts. He's a high-character guy who performed well in every role he was given at BC. 
On top of that, Simmons was one of the top combine performers, running a 4.61 40-yard dash to go along with highly impressive marks of 40 inches and 126 inches in the vertical and broad jump, respectively. 
His name is starting to get some buzz, and there's no question he's the type of person and player that every team says they want to have on their roster. But Simmons is still projected as a fifth-round talent. 
This is the other wide receiver named Mike Thomas in the NFL Draft this year. The Ohio State version of MT is sure to go fairly early in the draft, but the Southern Miss edition is the better player. 
There's no receiver in the draft who has a better motor or drive than Thomas, and that resulted in some tremendous production in 2015, as he caught 71 passes for 1,391 yards to go with 14 touchdowns. The 6-foot-1 Thomas has good size, but he plays like he's 6-foot-8. 
There are negatives — he's not great at run blocking, he isn't all that explosive off the line of scrimmage, and he doesn't have the surest hands — but the dude makes plays, and Thomas rose to the level of his competition. 
Thomas carries a 5th round grade, but he could easily be the biggest steal of this draft. 
Let's go back-to-back with the Southern Miss guys. 
It's puzzling why Reed is a third-day prospect, because he might be the top performer on this list. According to Pro Football Focus, Reed allowed only 48.3 percent of passes thrown his way to be caught. On 20 percent of his targets, he intercepted or deflected the pass. He was only targeted 89 times last season because his reputation proceeded him. 
Reed is an outside corner with prototypical size and speed — 5-foot-11, 200-pounds, with a 4.3 40-yard dash. 
Reed should be a first-round pick. If he played for Miami or Texas or Oregon, he would be. But because he dominated at Southern Miss, teams have been knocking him for his lack of high-end competition, slapping him with a 5th round grade. 
That said, if a team could snag him on the second day, that would be a great value pick. 
The key performer on an excellent college defense, Ioannidis is a bit of an enigma to NFL teams. 
He has a motor that never stops running, but he lacks great pass-rushing moves. He can play techniques zero through 5 but didn't really stand out at any position. He made plays but isn't a great athlete. Ioannidis reads the play as well any defensive lineman in this draft, but he is probably better suited for a one-gap system.
It's hard to get a good read on Ioannidis, but it's easy to imagine his upside. He won't do anything sexy, but he's almost sure to be reliable and versatile at the next level. A player like that, at 6-foot-3 and 300 pounds, shouldn't be going in the fifth round, but in a deep class at DT, that's where he's projected. 
The blocking tight end is being phased out as the NFL moves more towards a spread-em-out and air-it-out style, so Morgan isn't going to be a fit for every team. But for those teams that still enjoy running the ball, Morgan is going to end up as a third-day godsend. 
Morgan is a beast. There wasn't a better blocker at tight end in college football last year. And while he is slow — oh, is he slow — he's a highly effective route runner with surprising agility and excellent hands.
In a few years' time, Morgan is sure to be a fan favorite of whatever team decides to draft him on day three. 
You remember Jeff Driskel, former Florida quarterback. You probably don't know much about Jeff Driskel, Louisiana Tech quarterback. 
It's almost hard to believe they're the same guy. 
Driskel was a dud at Florida. He showed just enough stuff just enough times to stay as the starting quarterback, but ultimately it wasn't happening for him in the Swamp. 
But the "next coming of Tim Tebow" was stellar in his one season at Louisiana Tech, posting a plus-26 Pro Football Focus grade while throwing 71 percent of his passes accurately. 
Add in Driskel's athletic ability — some think he could play wide receiver at the NFL level — and he's worth a flyer late. Driskel is not on many draft boards, and of those he's on, he's rated as a seventh-round pick. 
Another player inexplicably rated (or rather, not rated) heading into the draft. 
Harris is small — at 5-foot-11 and 180 pounds, he'll need to put on 10 pounds at least — but the guy performed at an exceptional level in the toughest conference in the country. 
Harris allowed only one touchdown last season and, according to Pro Football Focus, allowed only 275 receiving yards on 877 snaps. 
Harris might have the best hip-flip in the draft — even better than the cornerbacks that are going to go in the top-10 — and despite his size, he locked down bigger defenders this year. Harris might be a gambler of a cornerback, but he's one that, because of his instincts and skills, almost always comes up a winner. 
Yet Harris is rated as a 7th-round talent and is just as likely to go undrafted altogether. This comes down solely to size, and while Harris can't get any taller, he can fill out more. If that's the only problem with a player with his skills and production, any team would be wise to select him in the middle rounds. 
---
---