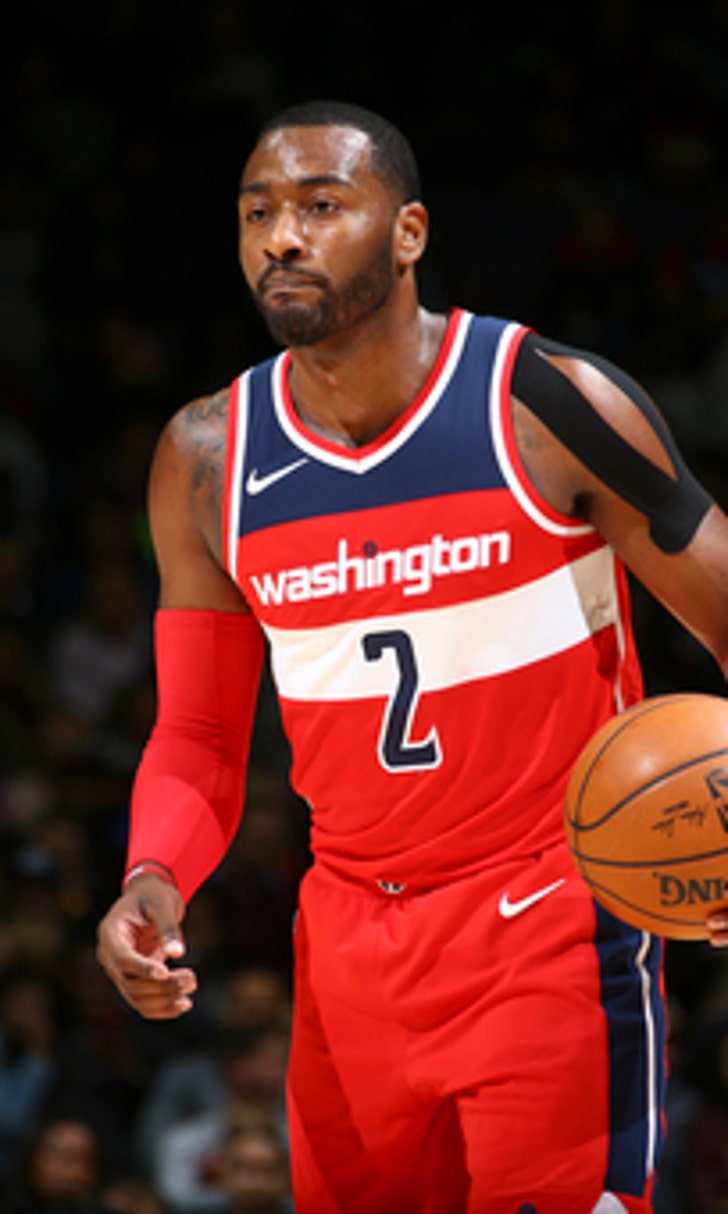 Wizards' Wall expected to miss 2 weeks with knee injury
BY AP • November 25, 2017
WASHINGTON (AP) Washington Wizards guard John Wall is expected to miss about two weeks with inflammation in his left knee, the team announced Saturday.
Wall, 27, underwent an MRI, coach Scott Brooks revealed Friday following the day's practice session, which the point guard missed. The four-time All-Star received platelet-rich plasma and viscosupplementation injections Saturday in Washington in the hope of reducing the inflammation that has caused discomfort for the past two weeks.
''We felt like this was the best thing,'' Brooks said before the Wizards hosted the Portland Trail Blazers on Saturday. ''We figure this is the early part of the season, and we're in no rush. Give him the best chance to come back.''
The injury occurred when Wall made knee-to-knee contact with another player during Washington's Nov. 7 loss to Dallas, according to the team statement. Wall, who averages 20.3 points and 9.2 assists, previously said fluid on his knee built up after he received IV fluids to deal with illness and migraines before the Wizards hosted Atlanta on Nov. 11.
Wall sat out Sunday's 100-91 loss at Toronto, but returned to play his usual starting role in matchups against Milwaukee and Charlotte. He had 31 points and 11 assists over 41 minutes in Washington's 129-124 overtime loss to the Hornets on Wednesday, but then didn't participate in Friday's practice.
''We had it drained and it actually felt pretty good,'' Brooks said. ''He played terrific in Milwaukee and then last game he had one of his best games of the season. . But after the game, the swelling came back.''
Dr. Richard D. Parker with the Cleveland Clinic Marymount was consulted about the injury. Parker performed a procedure in May 2016 to remove calcific deposits in Wall's left patella tendon. Brooks said Wall's current injury did not appear related to that procedure.
Washington is 1-1 this season without Wall, who also missed a game because of a shoulder injury.
''I'm fine with John missing two weeks if this is going to make him better,'' center Marcin Gortat said Saturday. ''Two weeks are not two months. We can cover for him for two weeks and then he's going to come back stronger, better, healthy and then hopefully we can go from there. That said, he's our leader.''
Backup Tim Frazier replaces Wall in the starting lineup with Tomas Satoransky moving into the rotation. Acquired by Washington from New Orleans during the offseason, Frazier is averaging 3.2 points and 3.9 assists in 16.6 minutes. He has 42 career starts including two this season and 35 with the Pelicans during the 2016-17 campaign.
''Next guy has to step up. That's it,'' said Frazier, who had eight assists in each of his two starts this season. ''Obviously we can't be John, an All-Star, our leader, our best player, but we just got to step up and be the best we can and get as many wins as possible.''
---
More NBA basketball: https://apnews.com/tag/NBAbasketball
---
---