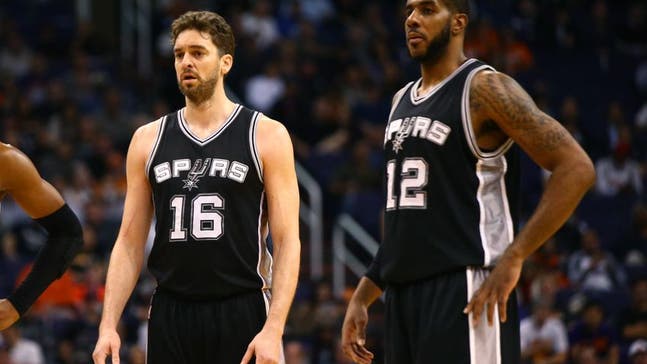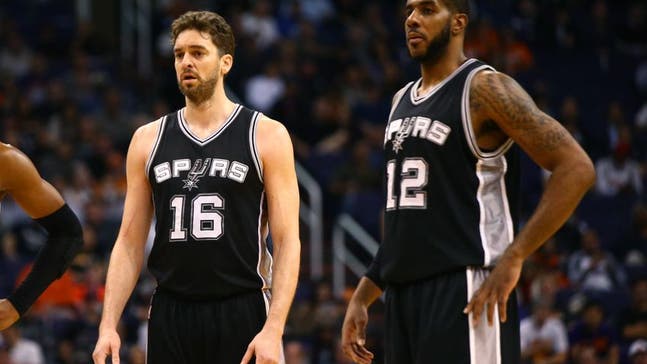 Will San Antonio Spurs Change Course And Trade Mid-Season?
Updated
Mar. 4, 2020 9:46 p.m. ET

Fansided, Simon Smith/FanSided via Hoops Habit
Mandatory Credit: Soobum Im-USA TODAY Sports
The San Antonio Spurs are currently second in the Western Conference and are heading for another 50-win season. But will they look to modify to their current outfit?
For the past two decades, the San Antonio Spurs have the been the epitome of stability and success. And barring any catastrophes, they are on pace to complete another 50-win season.
This will mark the 19th time they have achieved this under head coach Gregg Popovich (in the lockout shortened 1998-99 season the team won 37 games, equivalent to a 60-win pace).
The other guiding hand throughout most of this period has been general manager R.C. Buford, who took over from Popovich in 2002.
This has been an age where coaches and general managers are fired on a regular basis. But the Popovich-Buford alliance has not just stood the tests of time. It's flourished.
Four championships since their union began in 2002, and five for the franchise since 1999, is indicative of an incredibly successful business model.
First of all, Popovich has proven himself to be one of the greatest coaches in NBA history. Further, his resume recently received an added boost when he was named the next head coach of USA Basketball.
Buford has pulled off some incredibly shrewd moves in his time as the Spurs general manager, with the majority of these moves occurring during the offseason and on draft day.
But due to the incredible sustained success of the Spurs, Buford has been restricted to being handed draft picks late in the first round.
Draft Day Deal
The highest pick that Buford has utilised in his time in charge was via a draft-day trade with the Indiana Pacers in 2011. It was here the Spurs traded point guard George Hill to the Pacers for the 15th pick of that year's draft. This pick turned into Kawhi Leonard.
Further, Buford and the Spurs have been uncanny in their ability to sign unwanted or discarded players and transform them in their culture and environment.
Players such as Gary Neal, Danny Green and Matt Bonner are examples of players who have flourished in San Antonio after having bounced around the league.
So with all the exemplary late round drafting and under-the-radar free-agent signings, the Spurs rarely change things up mid-season via trade. The following transactions are three rare occasions where Buford has rolled the dice and traded mid-season.
Mandatory Credit: Soobum Im-USA TODAY Sports
Mid-Season Trades
Feb. 24, 2005: Traded Malik Rose, a 2005 first-round draft pick (David Lee was later selected) and a 2006 first-round draft pick (Mardy Collins was later selected) to the New York Knicks for Jamison Brewer and Nazr Mohammed.
Enabling them to add an extra big man in Mohammed to their rotation, the Spurs demonstrated tremendous foresight in pulling off this move. Clearly in the back of their minds when making this move were the reigning champion Detroit Pistons.
The Pistons duo of Ben Wallace and Rasheed Wallace was instrumental in Detroit winning the title the previous year. Adding an additional experienced center could only help the Spurs in the even they met them in the Finals.
The move did come up at a cost, forgoing two future first-round selections and a valuable reserve forward in Rose.
Result: San Antonio defeated Detroit 4-3 in the NBA Finals to capture the 2005 championship. Mohammad was the starting center throughout the playoffs and Finals and was a terrific contributor on the defensive end of the floor.
Feb. 20, 2008: Traded Brent Barry, Francisco Elson and a 2009 first-round draft pick (Rodrigue Beaubois was later selected) to the Seattle SuperSonics for Kurt Thomas.
This was again a move made to solidify their frontcourt. As Buford noted at the time of the trade:
"I think the landscape of the West has put a premium on interior defence. Now with the trades of recent days, that's only improved."
Despite coming off a season winning their third NBA title, the Spurs could see the landscape changing. Their Western Conference  arch-rival, the Los Angeles Lakers, had just acquired forward Pau Gasol, giving them one of the most formidable frontcourts in the league.
So Buford did what he thought was necessary and added the veteran presence of Thomas to try and combat the Lakers.
Result: The Spurs lost 4-1 to the Lakers in the Western Conference Finals. Thomas was a non-factor, playing just 8.8 minutes per game.
March 15, 2012: Traded T.J. Ford, Richard Jefferson and a 2012 first-round draft pick (Festus Ezeli was later selected) to the Golden State Warriors for Stephen Jackson.
In the midst of a lockout season, the Spurs were unhappy with their bench production. And with the playoffs quickly approaching, the Spurs decided to punt on a player with whom they had a past relationship.
Jackson was a key member of the 2003 championship team in what was just his third season in the league. Now a seasoned veteran, the Spurs hoped that Jackson would provide a boost to the team's second unit.
Result: The Spurs lost 4-2 to the Oklahoma City Thunder in the Western Conference Finals. The Spurs had reeled off 20 consecutive wins and had a 2-0 lead over the Thunder. However, things fell apart and they subsequently lost the next four straight games.
Mandatory Credit: Soobum Im-USA TODAY Sports
Potential Trades
From the outside looking in, it may appear crazy to break up a team that is presently 26-6 and just 1.5 games off the top spot in the western conference. But the Spurs have demonstrated historically in the Buford-Popovich era that they are:
Having a win-now mindset, trading future picks has been part of the equation when it comes to upgrading their team. But in saying that, one or more key parts of their rotation will clearly need to be included if the Spurs are looking to make a significant splash.
Pau Gasol
Gasol was acquired this offseason as a free agent to somewhat help fill the void left by the retired Tim Duncan. A six-time All-Star in his 16th season, Gasol's championship experience from his time with the Lakers was seen as a great fit for an experienced team.
But while Gasol has at times demonstrated his diverse talents, the overall fit alongside power forward LaMarcus Aldridge has clearly been a work in progress.
Both have seemingly overlapping skills, with neither coming close to replacing the defensive presence Duncan presented in his 19 illustrious seasons.
On the surface, Gasol's numbers have been solid. In 30 games, Gasol is posting 12.3 points, 8.0 rebounds and 1.2 blocks in 26.5 minutes per game. His offensive efficiency has been excellent, shooting 50.8 percent from the field.
However, the impact he has made on the team as a whole has not been as efficient.
Here are the numbers for Gasol and how they compare when he is on and off the court:
Offensive Rating (team points scored per 100 possessions):
On Court: 108.1
Off Court: 111.6
Defensive Rating (opposition points per 100 possessions):
On Court: 104.7
Off Court: 98.1
This represents a net rating of 13.5 when Gasol is off the court, compared to just 3.4 when he is on the floor. This equates to having the 12th-best net rating on the Spurs' roster.  In contrast, backup center Dewayne Dedmon leads the Spurs with a net rating of 15.0.
Granted, Dedmon plays just 15.1 minutes per game. However, his 4.9 minutes per game in the fourth quarter is only slightly behind Gasol's 6.5 minutes per game.
Naturally, any player coming to a new team is going to through a transition phase in adjusting to a new system. Now with a 30-game sample size for Gasol, the Spurs can potentially weigh up some trade options.
Mandatory Credit: Jerome Miron-USA TODAY Sports
Acquire Deron Williams and Andrew Bogut via three-team trade
Teams: San Antonio, Charlotte Hornets, Dallas Mavericks
San Antonio receives: Deron Williams and Andrew Bogut
San Antonio trades: Pau Gasol, 2017 first-round pick
Charlotte receives: Pau Gasol, Bryn Forbes, 2017 first-round pick
Charlotte trades: Frank Kaminsky, Jeremy Lamb, Roy Hibbert
Dallas trades: Deron Williams, Andrew Bogut
Dallas receive: Frank Kaminsky, Jeremy Lamb, Roy Hibbert, 2017 first-round pick
Click here to see how this trade pans out.
Despite statements to the contrary, there is no reason the Dallas Mavericks wouldn't blow things up if the right deal came about. Currently 9-23 and second-to-last in the Western Conference, things aren't looking rosy in Dallas.
But having two expiring contracts in Williams and Bogut can become very useful as the trade deadline approaches. In return, the Mavericks would receive a promising second-year center in Kaminsky, who they can use to rebuild alongside forward Harrison Barnes.
Lamb can provide added depth in the backcourt, while Hibbert's contract expires at seasons end. Importantly, they would receive the Spurs upcoming first round draft selection.
Situated in a small market like the Spurs, the Hornets are always in win-now mode. And the addition of a six-time All-Star and two-time NBA champion can only help come playoff time.
After losing Al Jefferson win the offseason, Gasol can provide the Hornets the veteran low-post scorer that is vital come playoff time.
And in regards to San Antonio, there are a number of advantages to such a move. Firstly, resident point guard Tony Parker will turn 35 come playoff time.
Now appearing in his 16th campaign and with an enormous amount of miles on his legs, reducing Parker's minutes come playoff time would be an amazing luxury for the Spurs. By adding Williams, it would provide an amazing 1-2 punch at the point.
A three-time All-Star, adding Williams is certainly a risk for any team, no less a contender such as the Spurs. Williams has played an average of 66 games over the past three seasons due to an assortment of injuries.
Williams And Bogut By The Numbers
But any trade will of course come with risk. Presently, Williams is in the midst of a form resurgence. Over his last nine games, Williams has averaged 17.1 points and 7.1 assists in 32.0 minutes per game while shooting 43.4 percent from the field.
Williams' fit with the Spurs would be terrific. The Spurs currently lead the league in field goal attempts taken between 15-19 feet from the rim. Overall, 27.8 percent of the Spurs total field goal attempts come in the range of 10-19 feet.
This season, Williams has excelled in this area off offence. Currently, 31.1 percent of his total field goal attempts are within the 10-19 feet range, where he is hitting at a 48.4 percent clip.
The other part of the deal is Bogut, who also comes at a risk. Bogut has had a lengthy injury list over his career. He has only returned from a recent knee injury. However when healthy, Bogut presents a tantalizing prospect for many playoff contenders.
He has posted 3.6 points 10.1 rebounds in 24.1 minutes per game. Granted, one could argue that the current backup center in Dedmon could fill a similar role to Bogut without forgoing an asset like Gasol.
However, the experience Bogut has gained during the past two Finals appearances with the Golden State Warriors is invaluable. And as recently as the 2014-15 season, Bogut was named to the NBA All-Defensive second team.
This season, Bogut's impact on the Mavericks defence has been enormous. When on the court, Dallas has a defensive rating of 95.1. When he's having a break, this balloons out to 111.6.
With the departure of Duncan, Bogut's overall basketball intelligence and veteran savvy would be a great fit with the Spurs.
Mandatory Credit: Gary A. Vasquez-USA TODAY Sports
Trade LaMarcus Aldridge; Acquire Serge Ibaka and Aaron Gordon
Teams: San Antonio, Orlando Magic
San Antonio receives: Serge Ibaka, Aaron Gordon, Mario Hezonja
Orlando receives: LaMarcus Aldridge, Spurs 2017 first round pick
This transaction would represent a major backdown from the Spurs, with Aldridge their biggest free-agent target in recent memory. Following their eventual unsuccessful pursuit of Jason Kidd in 2003, the Spurs have somewhat shied away from entering the pursuit of big-name free-agents.
And the Spurs were more than relieved when they signed their man in Aldridge. With Tim Duncan coming to the end of his career, Aldridge was viewed by the Spurs to be their next great big man for multiple years to come. And for his part, Aldridge has proven to be a good signing.
He posted 18.0 points and 8.5 rebounds per game and was named an All-Star in his debut Spurs season. Thus far this season, Aldridge is averaging 17.3 points and 7.1 rebounds per game.
However at just 31 years of age, Aldridge has significantly more currency that his frontcourt partner in Gasol. And with Aldridge and Gasol having seemingly overlapping skills, the Spurs could search in another direction in order to upgrade their defensive capabilities.
The widespread feeling around the league is that the Golden State Warriors and Cleveland Cavaliers are more than likely to meet for a third successive season in the Finals. This obviously means the Warriors are the direct obstacle to the Spurs advancing in the postseason.
The Orlando Magic are currently a team without a discernible identity following an offseason of questionable signings. They clearly have talent, but the mix has just not worked, as their 15-18 record will attest.
The Magic have two pieces who could help the Spurs immensely this postseason, and for the years to come. Serge Ibaka and Aaron Gordon are two highly athletic frontcourt players who would prove to be a great addition when matching up with the Warriors.
Ibaka has the ability to guard players both down low and on the perimeter, which would be invaluable when facing the firepower that Golden State possess. Gordon, meanwhile, is just 21 and a former No. 4 overall pick.
Currently, Gordon is the starting small forward in Orlando, a position that doesn't seem a natural fit at this stage.
How Each Team Would Look
Having a Spurs starting frontcourt of Ibaka-Gordon-Leonard is an exciting prospect. And Gasol playing as the team's sixth man would cause a host of problems for opposing teams.
Defensively, this starting trio's ability to switch and defend down low and on the perimeter would give them significantly more flexibility against the elite teams.
On the offensive end, the combination of the Spurs' renowned ball movement and the athleticism of these three would create nightmarish matchups for the opposition once they have acclimated to the Spurs' system.
And by retaining the veteran presence of Gasol, the Spurs would have the flexibility to throw an array of lineups at the opposition.
Furthermore, the Spurs receive an additional shooter in Hezonja. Having fallen completely out the Magic's rotation, the former No. 5 overall pick could very easily find a liking to the Spurs highly successful system.
For Orlando, this would give the Magic a legitimate number one scoring option which they have not had for some time. Accompanying defensive center Bismack Biyombo, Aldridge's scoring potency would prove an ideal addition for new head coach Frank Vogel.
With a number of players such as Elfrid Payton and Nikola Vucevic still developing, having a number one scoring option like Aldridge would help ease the pressure off the Magic's up-and-coming players.
Furthermore, the Magic's current general manager, Rob Hennigan, commenced his front office experience in San Antonio. In the event of discussions commencing, having a connection with an opposing teams front office would do no harm in potential trade talks.
Click here to see how the trade pans out. Note: first-round pick not included.
Mandatory Credit: Soobum Im-USA TODAY Sports
Trade Or Stand Pat?
These are the two simple options presenting the Spurs between now and the February 23 trade deadline. While heading down the trading route is not common for the Spurs, they're all in when they pursue this course of thinking.
Each of the trades detailed earlier involved parting with a first-round pick and also a key rotation player. Of course, trading future picks can back to bite you if they're used wisely. David Lee and Festus Ezeli are examples of this risk for the Spurs.
But of course, risk and reward comes with any transaction. The Spurs were richly rewarded with their 2005 deal for Nazr Mohammad, with the team prevailing 4-3 in the NBA Finals in what was a nail-biting series.
Also, the team won 31 of their first 33 games after acquiring Stephen Jackson before falling to the Oklahoma City Thunder.
Rumors
The Spurs front office, coaching staff and ownership have the set the standard around the league. They will be more aware than anyone if any trade rumors start to spark. In his preseason predictions column, ESPN's Zach Lowe stated the following regarding Aldridge's predicament:
The Spurs are self-aware. I have a hunch they know this is something of a placeholder season, and that without some injury luck swinging their way at the right time, they are a tier below Golden State. Aldridge is 31, six years older than Kawhi Leonard, and his trade value will never be higher; he can opt out of his contract after the 2017-18 season.
Lowe further added that the Spurs should listen to calls if their season doesn't go to plan. Of course, a 26-6 record is probably more than they could've hoped for. Having said that, the Spurs won't let their win-loss record to strictly dictate their movements.
The midseason trade in the championship year of 2005 was made when the Spurs had a 42-13 record and the second-best record in their conference.
While the rest of the NBA is trying to chase them, the Spurs will have more pressing matters. Is their current playing group good enough to get them over the hump? Or is a mid-season move necessary to take that next step?
The rest of the us will be eager to see what decision they decide to make.
More from Hoops Habit
This article originally appeared on
---
---