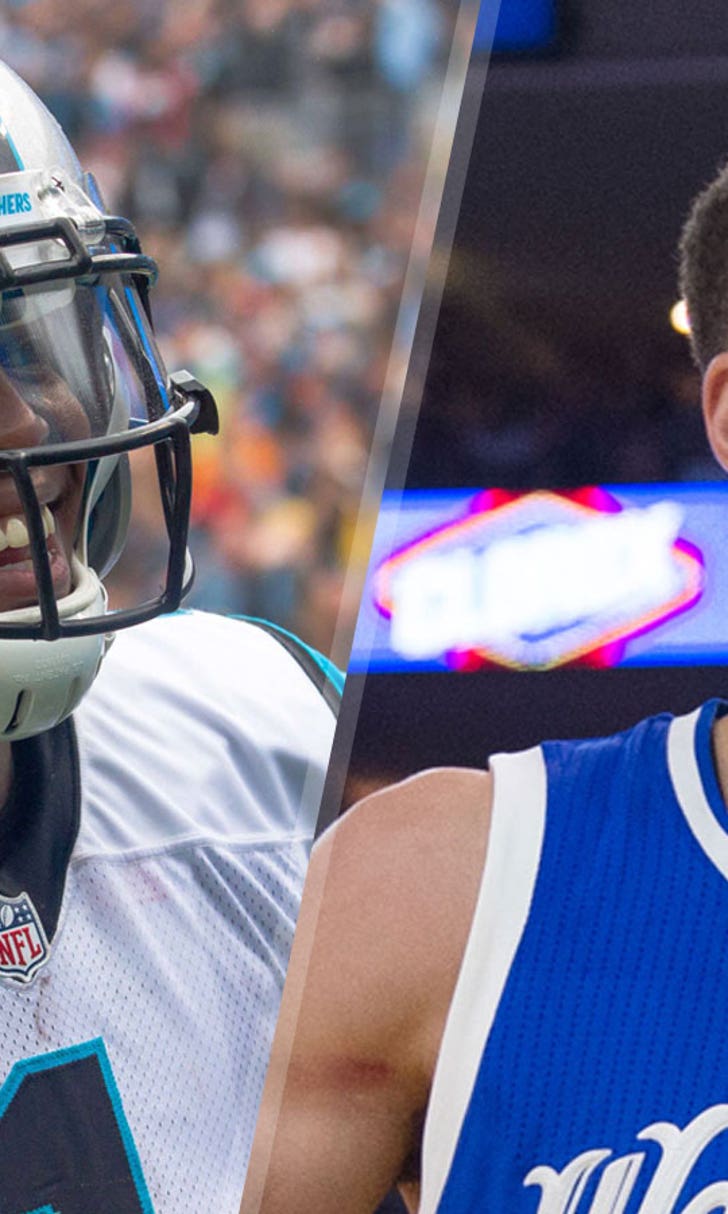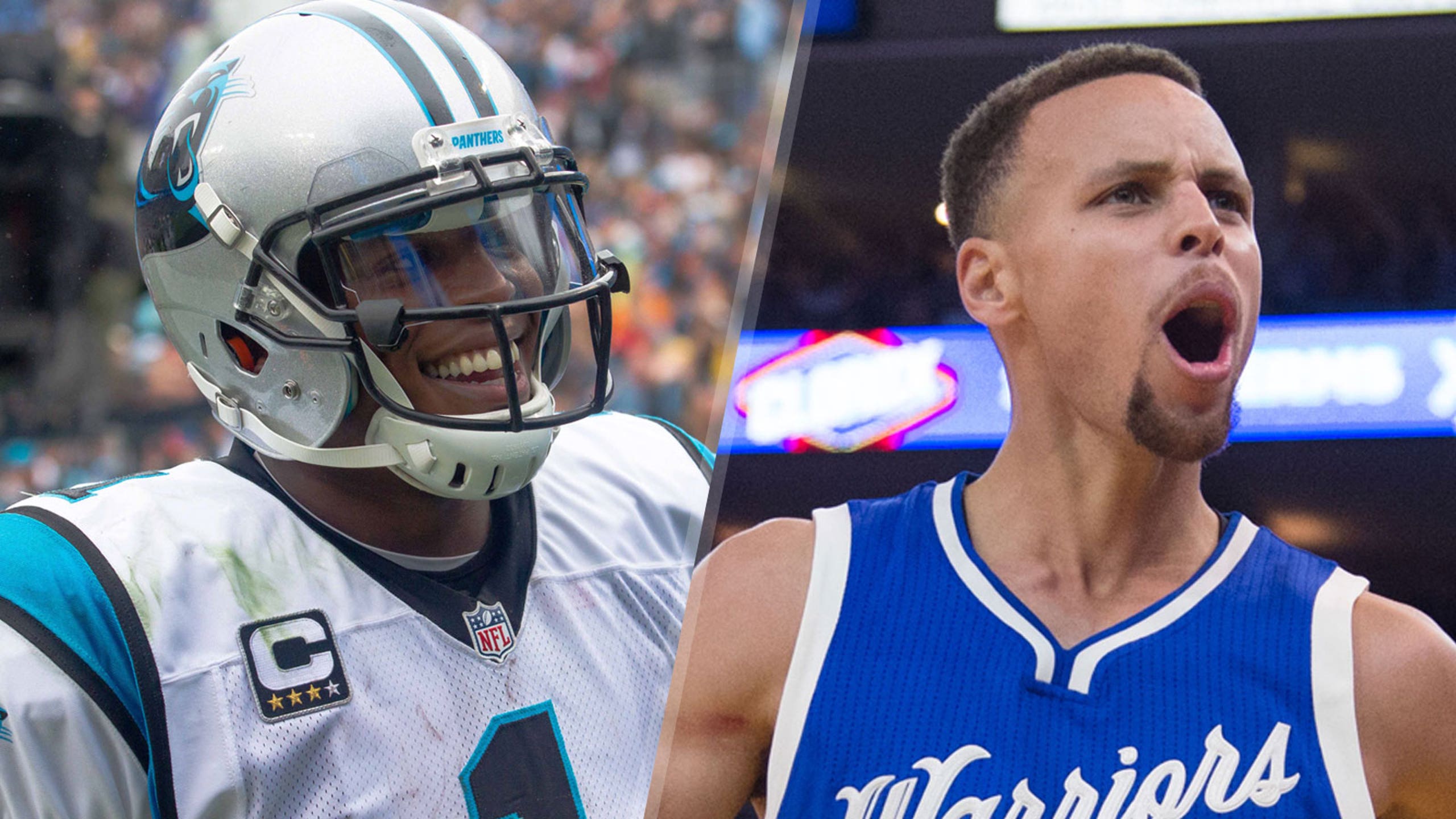 Why do we react so differently to Curry and Cam? The NBA MVP weighs in
BY Brett Pollakoff • February 5, 2016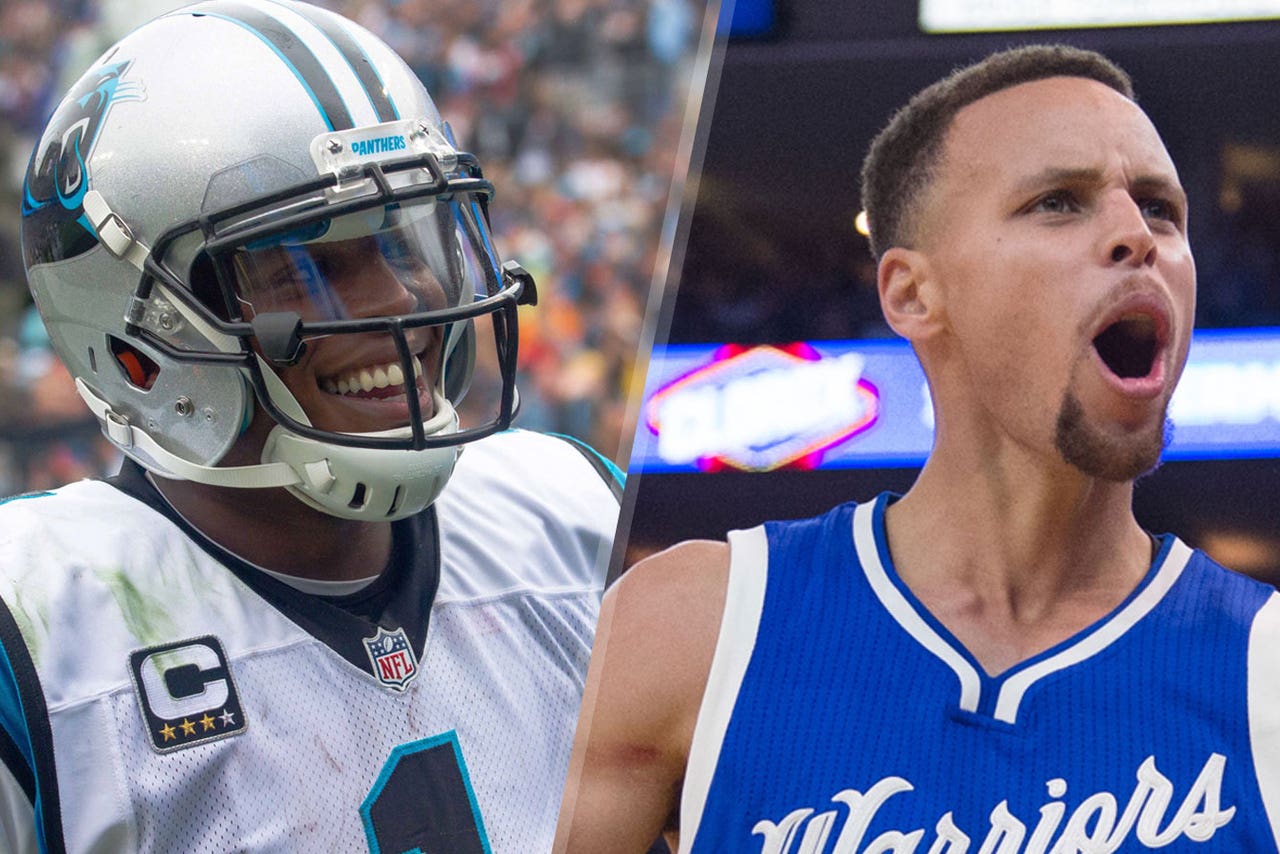 Stephen Curry is the reigning NBA MVP, and seems to be almost universally beloved. Even fans of opposing teams have a hard time hating him, because his style of play is not only revolutionary, but it's extremely entertaining to watch.
Things have been very different, however, for the best player in the NFL this season.
Cam Newton has led his Carolina Panthers to Super Bowl 50, and has had as much fun doing so as possible. But he's been widely-criticized about what seems like nonsense, and has managed to become a polarizing figure in the league even though he's seemingly done little to deserve it.
Both players can regularly be seen overtly celebrating their in-game success. Curry has been known to talk to an opposing team's bench or a courtside fan while his shot is still in the air, knowing that it's going to splash home. And Newton, of course, has Dabbed and danced his way through the season following seemingly every one of his touchdown-scoring performances. 
But Newton has had countless think pieces written about the way he conducts himself, while the only criticism Curry has received came on a television broadcast from his former head coach.
It's worth noting how both players came into the league as underdogs before they rose to greatness, albeit under very different circumstances. Newton had some trouble with the law over a stolen laptop which caused him to lose his scholarship at Florida, and he had to attend junior college before landing at Auburn and leading his team to a national title. Curry, meanwhile, played three years at Davidson University in North Carolina, a small private college with an enrollment of less than 2,000 students -- which isn't exactly Duke in terms of getting its players exposure on a nationally-televised stage.
Curry and Newton have both managed to arrive at essentially in the same position in their respective sports, and are both celebrating their recent dominance in much the same way. So why is Newton so widely criticized, when Curry is only praised for the way he plays the game?
"I don't know," Curry told FOX Sports. "He's addressed it a lot actually, and I respect him for standing up and answering those questions for sure. Obviously there's a lot of talk about race and just his uniqueness as a player. And there's so much scrutiny for the quarterback position in football in general. But the way he plays the game is so much fun to watch — he's smiling, he's joking, he's laughing, he has a flair about him. And obviously when he's dancing in the end zone and all that, he's not the first person to do it, he won't be the last person to do it. 
"The unwarranted scrutiny, I don't know really what the root of it is, but the fact that he continues to be himself despite whatever anybody might say, or any letter that a fan might write about why he's dancing in the end zone, Dabbing or whatever. He takes it well, and continues to be himself and just plays the game and has fun doing what he does. I try to keep that same mentality, regardless of if there's praise or scrutiny."
Curry is probably onto something when he mentions the quarterback position, and how it's traditionally been perceived. Wide receivers in the NFL, for example, have historically been known for excessive celebrations after scoring plays, whereas quarterbacks throughout history haven't ever consistently done anything as inflammatory as Newton has over the course of this season.
Players in the NBA obviously are not immune to this type of scorn, but it's not typically due to their on-court actions. Kobe Bryant was the most polarizing figure in the league at many points during his 20-year run in the league, for a variety of reasons. And LeBron James was Public Enemy No. 1 in sports after leaving the Cavaliers in free agency in what was maybe the cruelest way possible.
Curry isn't hated by fans, and there haven't been any negative narratives written about him by the media just yet. Is there anything he could do to change the public perception, and one day become one of the league's villains?
"I have no idea," Curry said with a laugh. "It's funny now how certain just off-the-cuff comments or whatever, even in the last month, started headlines. Me talking about the Super Bowl, we have a game Saturday and they have a game Sunday, I said hopefully it'll be a great 48 hours, a win and a win for us and the Panthers. That became a 'guarantee' that we're going to beat OKC, and this and that. The position I'm in, whatever I say is going to be analyzed and all that kind of stuff, which is fine by me. 
"But I don't know exactly what it'd take to be a polarizing figure. I just try to be myself and enjoy what I do. You can't really control that stuff, so there's no point in wasting energy on it."
---
---