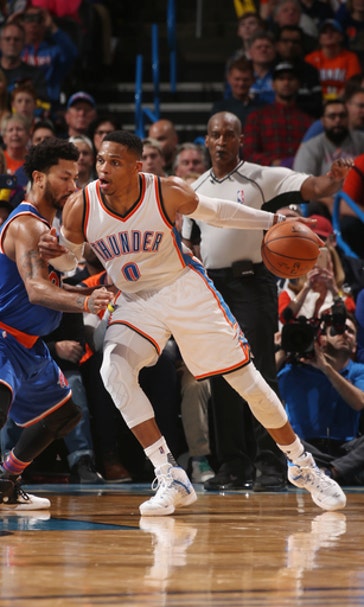 Westbrook scores 38 in triple-double as Thunder top Knicks (Feb 15, 2017)
February 16, 2017

OKLAHOMA CITY (AP) Russell Westbrook closed out the first half in familiar fashion - with a triple-double and a win.
Westbrook scored 38 points and posted his 27th triple-double of the season to help the Oklahoma City Thunder beat the New York Knicks 116-105 on Wednesday night.
Westbrook moved into sole possession of third place for the most triple-doubles in a season, behind Oscar Robertson's 41 in 1961-62 and Wilt Chamberlain's 31 in 1967-68. The star guard had 14 rebounds and 12 assists in the 64th triple-double of his career.
''The respect is obvious, man,'' Knicks forward Carmelo Anthony said. ''It's a mutual respect. Russell is like family to me. I love to see him out there doing what he is doing. I hope he can continue to do that throughout the rest of the season.''
Victor Oladipo scored 21 points and Jerami Grant added 13 for the Thunder, who snapped a two-game skid.
Westbrook enjoyed heading into the All-Star break on a good note.
''You want to have a good feeling, good taste in your mouth going into the break, and then make sure you come back ready to play,'' he said.
Anthony had 30 points for the Knicks after being selected to the All-Star Game as an injury replacement for Cleveland's Kevin Love earlier in the night. Derrick Rose scored 25 and Courtney Lee added 16.
The Knicks jumped out to a 16-2 lead and shot 73 percent in the first quarter to take a 39-27 lead. Anthony made his first seven shots and scored 19 points in the first quarter.
New York led by 17 in the second before the Thunder rallied and took a 62-60 lead at halftime. Westbrook had 19 points and 10 assists at the break.
Westbrook clinched his triple-double on a rebound with about seven minutes left in the third quarter. Oladipo's 3-pointer as time expired in the period put the Thunder ahead 88-80.
With about five minutes remaining, Westbrook caught Anthony on a pump fake before draining a 3 that put the Thunder up 105-94.
Anthony hit just four of his final 13 shots. Westbrook credited Andre Roberson for sticking with Anthony after the rough start.
''I thought he stayed with it,'' Westbrook said. ''He made it tough for him. Carmelo's one of those guys that if he gets going, it's hard to stop him. I thought Dre never got discouraged and stayed with it the whole game.''
TIP-INS
Knicks: C Joakim Noah and G Brandon Jennings sat out with injuries. Noah missed his fifth straight game with a sore left hamstring, while Jennings sat out with a sore Achilles tendon. ... Willy Hernangomez started in Noah's place and finished with eight points and 10 rebounds. ... Anthony was held to one point in the second quarter.
Thunder: G Alex Abrines was added to the Rising Stars Challenge as a replacement for injured Philadelphia big man Joel Embiid. Abrines joins Thunder forward Domantas Sabonis on the World Team. ... Thunder owner Clay Bennett presented Westbrook with his All-Star Game jersey before the opening tip.
STAT LINES
The Knicks shot 56 percent in the first half and still trailed, then dropped off to 40 percent in the second half.
STAR POWER
Former Thunder center Kendrick Perkins attended the game and got a standing ovation from the crowd. The enforcer from the team's trip to the 2012 NBA Finals visited the locker room after the game. He attended practice earlier in the day.
QUOTABLE
Knicks coach Jeff Hornacek on guarding Westbrook: ''We basically showed a wall and he was throwing at other guys, and they weren't making the shots early. Then, I felt there was too much space. He got around our guys, and when he gets around and has the full head of steam it's almost like you have to follow him because he's either going to dunk it or lay it in.''
UP NEXT
Knicks: At the Cleveland Cavaliers on Feb. 23.
Thunder: At the Los Angeles Lakers on Feb. 24.
---
Follow Cliff Brunt on Twitter: www.twitter.com/CliffBruntAP.
---
---