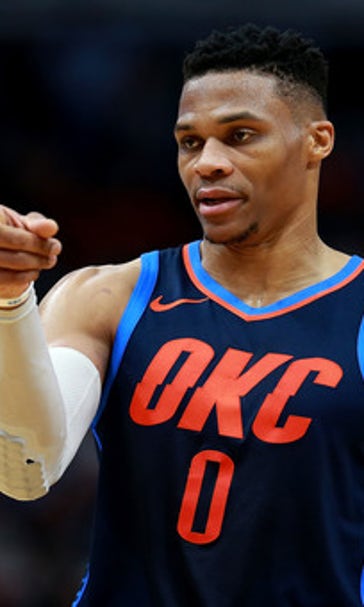 Westbrook gets triple-double, Thunder beat Pelicans 109-104
April 1, 2018
NEW ORLEANS (AP) Russell Westbrook got better as the game went along and ended up where he so often does - with a triple-double.
Westbrook had 26 points, 15 rebounds and 13 assists to lift the Oklahoma City Thunder over the New Orleans Pelicans 109-104 on Sunday night.
Westbrook didn't score in the first quarter but got his game together eventually. He had 10 points, six rebounds and four assists in the fourth quarter.
Paul George scored Oklahoma City's first 11 points of the second quarter and finished with 27. Carmelo Anthony added and Steven Adams had 14.
''We got great contributions from everybody,'' Thunder coach Billy Donovan said, ''and we needed great contributions from everybody.''
The Pelicans got within 104-99 with 1:57 left, but Westbrook scored on a layup, and after a basket by Anthony Davis, George made a 3-pointer.
Davis led the Pelicans with 25 points and 11 rebounds, but took just two shots and scored seven points in the fourth quarter.
''You can't guard him 1-on-1,'' Westbrook said of Davis. ''He's the second-leading scorer in the league and you have to do a good job of getting hands to bodies and making sure he's shooting over our whole team.''
Ian Clark scored 16 points and E'Twaun Moore had 15.
Both teams entered on three-game losing streaks that had weakened their playoff positions in the Western Conference.
The Thunder are in fifth place, a half-game ahead of Utah and one game ahead of Minnesota. New Orleans is in eight, ahead of Denver and the Los Angeles Clippers.
''We've got to make sure we just go out there and just play,'' Davis said. ''I don't want to say we are playing tight, but we are doing stuff that we normally don't do. We have got to get back to how we were playing.''
Oklahoma City has four games left and New Orleans has five.
The Thunder led by three points at halftime and by 10 during the third quarter before Clark and Darius Miller each made a 3-pointer to cut the lead to 80-75 after three quarters.
Jerami Grant and Westbrook scored six points each as the Thunder took a 96-85 lead with 5:42 left. Grant finished with 12 points.
''Offensively we have to get our mojo back,'' Pelicans coach Alvin Gentry said. ''We are having too many possessions right now where it's no-pass, one-pass. We have always been a team that has been in the upper echelon of the league as far as passes per game, passes per possession, and I think we have to get back to that.''
The first half featured hot and cold stretches for each team.
The Pelicans used a 16-0 run as the Thunder went scoreless for more than six minutes to build a 28-20 lead after one quarter.
After George got the Thunder going in the second, Westbrook scored six points down the stretch for a 53-50 halftime lead.
TIP-INS
Thunder: Oklahoma City scored 18 points on 21 New Orleans turnovers, the Pelicans' most since Dec. 13. ... The Thunder got their first victory against the Pelicans this season, who won the first two meetings and the season series. ... Anthony was called for three fouls in the first 6 1/2 minutes and went to the bench. While on the bench he was called for a technical foul. ... The Thunder were just 9 of 31 on 3-pointers after making a franchise-record 20 3-pointers in a 126-125 overtime loss to Denver on Friday.
Pelicans: Davis had scored at least 30 points in six of his last seven games against the Thunder and at least 36 in each of his last three games against them. ... He had his second straight subpar game after having just 16 points on 6-of-19 shooting in a 107-102 loss at Cleveland on Friday.
CHEEKS HALL BOUND
Oklahoma City assistant coach Maurice Cheeks was selected Saturday as part of the 2018 class for induction into the Naismith Hall of Fame. The former Sixers guard and Blazers head coach is in his third season on Billy Donovan's staff. ''To think about all the names of who's in the Hall of Fame and to think that my name is up there with those guys. It's an unbelievable, unreal feeling,'' Cheeks said.
UP NEXT
Thunder: Oklahoma City hosts Golden State on Tuesday.
Pelicans: New Orleans hosts Memphis on Wednesday.
---
More AP basketball: https://apnews.com/tag/NBAbasketball
---
---