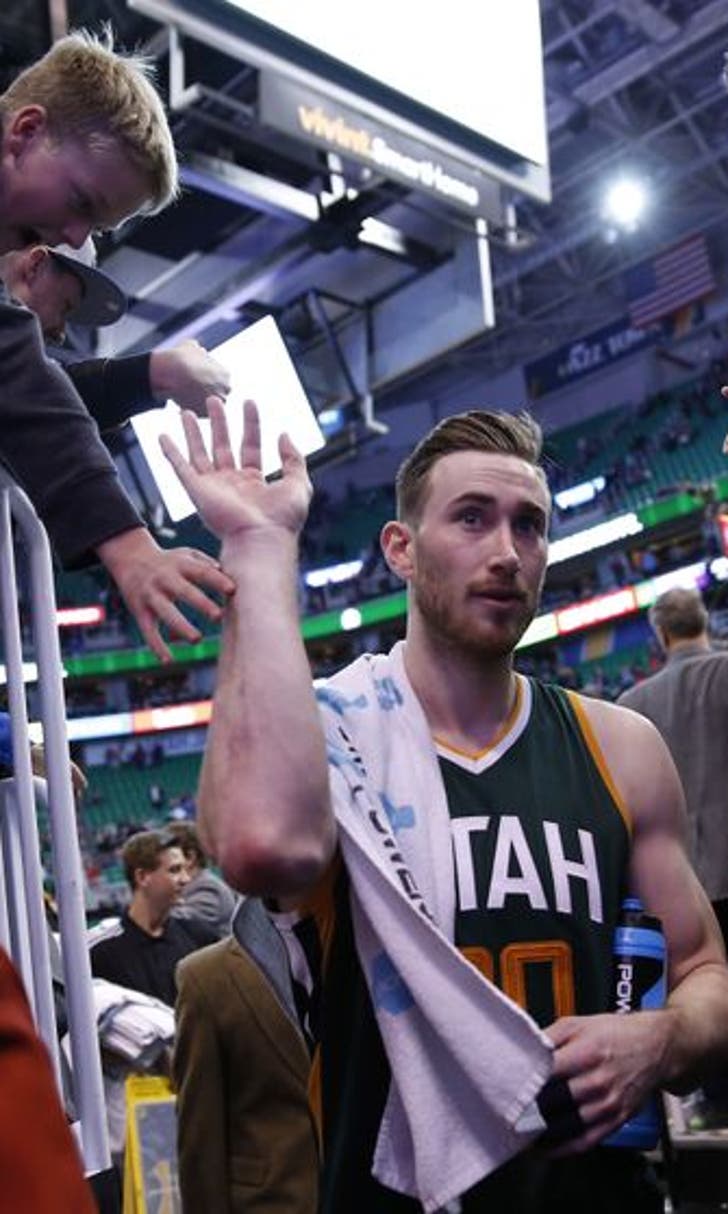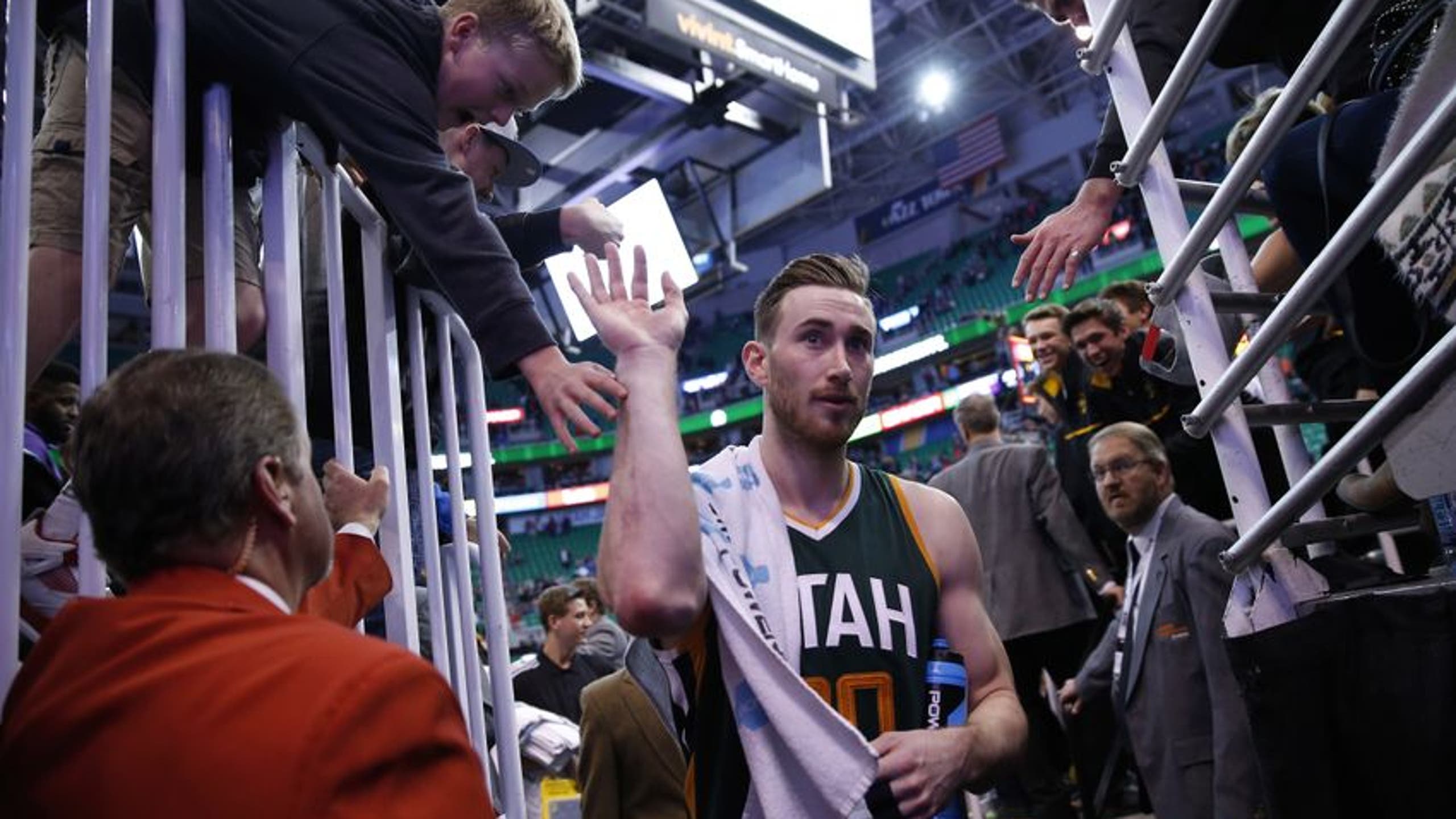 Way Too Early Utah Jazz Playoff Prognosis
BY Fansided and Jared Woodcox/FanSided via Purple and Blues • December 16, 2016
Given the Utah Jazz's solid play of late and the lackluster competition coming from the bottom half of the Western Conference, although it's early, Utah appears primed to nab a playoff spot this season.
Maybe it's the fact that the Utah Jazz recently won a big game over the Oklahoma City Thunder, taking sole possession of sixth place in the West in convincing fashion. Maybe it's because they currently rank in the top ten in both offensive and defensive efficiency. Or maybe it's the fact that they're doing all these things and currently hold a 16-10 record despite the fact that their projected starters have played just 12 minutes together.
Whatever it is, although I know there's a lot of season left to be played, I'm feeling extremely high on Utah's playoff chances.
In fact, outside of a few casual fans chirping on social media who don't truly follow the game and habitually associate the Jazz with the lottery because of the results of the last handful of years, I think there are few people left who actually doubt the Jazz's chances of making the playoffs.
Instead, the question is quickly becoming how high can they climb?
Last season, the Utah Jazz fell just one game short of the playoffs as a few dropped games down the stretch really came back to bite them. Thus it was apparent at the onset of this season that Utah would have to perform better than at least one of last year's playoff teams to steal their spot while preventing any up-and-comers from rising above them.
Well, so far the Dallas Mavericks, who finished with the sixth seed last season, have taken an extreme dive, plummeting down the standings where they now sit at 6-19, effectively dooming their playoff chances from the get-go.
Thus it would make sense considering that the other seven playoff teams haven't gone too far backwards in terms of talent (and some teams such as the Houston Rockets are looking much better than last year), that the improved Jazz team would be able to slide into that spot vacated by the Mavericks.
Nevertheless, it's not like Utah is the only team jockeying for a playoff spot as every squad in the conference has their eyes set on that prize. Nevertheless, when looking at the current teams ranked 9 through 15 in the conference, I can't foresee any one of those squads pulling things together in a big enough way to surpass the Jazz in the standings.
The Nuggets might be knocking down that door in a year or two, but so far at six games under .500 and with some mighty struggles with inconsistency, it doesn't seem likely that they'll join that rank just yet. The Lakers started out hot, but have since come back down to earth in a big way, losing nine of their last ten and the Kings, well, they're just the Kings.
Below them, the remaining teams, the Pelicans, Suns, Timberwolves and the aforementioned Mavericks, have all lost at least two-thirds of their games so far so this season and it would take a mighty turnaround for any of them to fight their way back in the mix.
This following tweet from David Locke from earlier in the month claiming that typically after 20 games, at least seven of the eight playoff teams are usually decided is seeming to hold even more true so far.
If the up and down Blazers fail to get things together, maybe, just maybe they could drop out of the top eight, but I don't think that's all that realistic. However, I find even that more realistic than supposing any of the teams outside of the mix currently will find a way to power past the Jazz who seem to be going nowhere but up.
So assuming this evidence holds up (along with my undeniable gut feeling) and the Jazz do indeed keep up their high level of play and succeed in qualifying for the playoffs as they look poised to do right now, what are some probable postseason scenarios and what would be best for them?
I know, I know, this is where the "Way Too Early" part of the headline truly comes into effect.
Any given team (including the Jazz) could be decimated by injuries. Perhaps a team hits a cold streak or one of the lower teams goes on an amazing run. The possibilities are endless, but it's still interesting to observe and speculate about where the Jazz will be come mid-April (and hopefully beyond).
If the playoffs started today, the sixth-seeded Jazz would be matched up against the third-seeded Los Angeles Clippers. Of course, the Jazz and Clippers have only faced off once this season in the third game of the year in a contest where Utah was handily defeated.
However, as these two teams will face off three more times this season, it will be interesting to see how they really match up against one another if both squads are at full strength.
Nov 29, 2016; Salt Lake City, UT, USA; Houston Rockets guard James Harden (13) shoots the ball over Utah Jazz center Rudy Gobert (27) during the second quarter at Vivint Smart Home Arena. Mandatory Credit: Chris Nicoll-USA TODAY Sports
The Houston Rockets actually have the same record as the Clippers going into Friday's games, so if it did end up working out that Houston was the three seed and the Jazz stayed steady at the six, I would not mind that at all. Not only do I think the Jazz and their stellar defense match up extremely well against Houston, but it would put them in the right spot in the bracket to avoid Golden State until the Western Conference Finals if they were to make it that far.
Of course, there's obviously the chance that if the Jazz continue their blistering play, they could surge up the standings and challenge for the fifth, fourth, or perhaps even the third spot themselves.
I personally think third is getting a little over-optimistic but then again the injury-plagued Jazz are currently just three games out of that spot, so it's not outside the realm of possibilities.
Yet on the flip side of all that, while I've already talked about how it seems unrealistic that any of the teams currently slotted at 9th through 15th could catch up to Utah, if OKC and/or Portland gets hot, there's also a chance that Utah goes backwards from its current spot.
Dec 8, 2016; Salt Lake City, UT, USA; Utah Jazz guard Dante Exum (11) defends against Golden State Warriors forward Kevin Durant (35) during the second half at Vivint Smart Home Arena. Golden State won 106-99. Mandatory Credit: Russ Isabella-USA TODAY Sports
Still, ideally it would be great and very plausible to see Utah finish at least sixth so they would avoid the Warriors and Spurs, who are almost sure to finish first and second, in the first round. I believe they're fully capable of doing so. If they do, the question then becomes who they would play in the first round out of what would likely be either the Clippers, Rockets or Grizzlies.
Reiterating my previous point, I really think Utah would match up best against Houston and while it would be great to see them finish better than sixth, the problem with finishing fourth or fifth means they would likely take on the Golden State Warriors in the second round.
But I suppose that the Jazz will have to get through them eventually if they hope to advance anyway, so if the options were to be the sixth seed and have an extra round to prepare for the Warriors or the fourth seed and earn home court advantage in the first round, I'd obviously prefer to see the Jazz finish fourth.
That's a mark that I think is definitely within reason, though it will be a tough battle. Memphis is looking phenomenal of late and now that Mike Conley is back, they could become a real force.
The Clippers have slipped a little since the start of the season, but I wouldn't be surprised to see them get back on track and seize tight hold of that third spot. And while Utah matches up relatively well against Houston, it doesn't mean that their prolific offense won't continue to bring them success and bolster their record against the rest of the league.
More from Purple and Blues
So while it's still far, far too early to predict what seed the Jazz will end up nabbing, I'm confident in saying that based on their recent performances and the lack of competition in the bottom half of the Western Conference, Utah is almost sure to grab a playoff spot and I truly think they'll find themselves somewhere in the third through sixth seed range playing either the Grizzlies, Rockets, or Clippers in the first round.
There's still a lot of basketball ahead of us, but indications have been positive for Utah up to this point. Be sure to stay tuned the rest of the season, and we'll see how my early playoff prognosis actually ends up playing out.
---
---