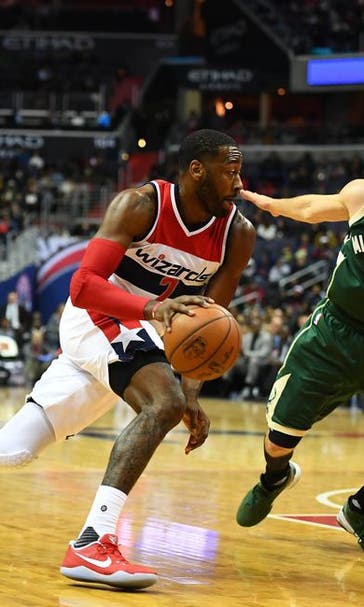 Washington Wizards: 5 Early Season Takeaways
December 27, 2016

Fansided, Jerran Anderson/FanSided via Hoops Habit
Dec 10, 2016; Mandatory Credit: Brad Mills-USA TODAY Sports
The Washington Wizards are off to a decent start. At 14-16 in the Eastern Conference, they're on the outside looking in at the playoff race in Scott Brooks' first season as head coach.
The Washington Wizards have won four of their last six games, getting a much-needed win over the Milwaukee Bucks on Dec. 26. It's been quite a start to the season for this young Washington team. They're a team with a strong backcourt, but its frontcourt and bench play are lacking.
On a squad that features point guard John Wall and shooting guard Bradley Beal, they've struggled to get much production from their supporting cast.
This is particularly true on the interior, where the Wizards rank 28th in the NBA in rebounds per game (41.5) and 28th in defensive rebounds per game (31.2).
Center Marcin Gortat is averaging 11.8 rebounds per game, a career-high. But after Gortat, the interior production falls off dramatically. There's Markieff Morris, who's listed at the power forward position, but he's at most a stretch-4.
It hasn't helped that recently acquired center Ian Mahinmi has been out since Nov. 28 with a knee injury. His return remains undetermined at this time, although team officials are hopeful he can return before the end of the month.
The Wizards' defensive effort has also been lackluster at best. They are giving up more points than they score, which has already posed some problems for them. The Wizards score 105.1 points per game, but allow 106.5, which ranks 23rd in the NBA.
They'll need to improve their overall team defense if they have the playoffs in their sights this season.
Here are five takeaways for the Washington Wizards from the first quarter of the season.
Dec 12, 2016; Miami, FL, USA; Mandatory Credit: Steve Mitchell-USA TODAY Sports
5. The Wizards are not a very good road team
The Washington Wizards are 14-16 and when you break it down, look no further than their road record for a cause of concern. They are just 3-10 on the road this season.
They have more road wins than the Brooklyn Nets (1-14) and as many as the Dallas Mavericks (3-14), but other than that, they just have not been that good away from D.C.
With more road games to come, the Wizards will need to get it together or they'll find themselves even further out of the playoff race. They are 1-4 in their last five road games.
Opponents out-rebound them 45.9-41.5 on the road. They also have some bad road losses. They lost to the Orlando Magic 88-86 on Nov. 5 and Philadelphia 76ers 109-102 on Nov. 16. The Magic are 15-18, the 76ers are 7-23.
Not a good sign for a team looking to get out of the bottom of the Eastern Conference.
Dec 14, 2016; Washington, DC, USA; Mandatory Credit: Mandatory Credit: Tommy Gilligan-USA TODAY Sports
4. The Wizards are on a 6-game winning streak at home
On the other hand, the Washington Wizards have won their last six home games. They are 10-6 at home this season.
In their most recent home win, the Wizards beat the Milwaukee Bucks on Dec. 26. John Wall and Bradley Beal played superb in the win. Wall scored 18 points and dished out 16 assists. It is the fourth game this season Wall has recorded more than 15 assists in a game.
Beal scored 22 points, dished out five assists and had four rebounds.
Beal is averaging a career-high 22.2 points, 3.7 assists and 2.7 rebounds per game this season for the Wizards. His shot attempts as well as his confidence are up, which is a good thing for this young squad. He is attempting a career-high 7.1 three pointers a game.
The Wizards will need to find a way to channel their home-game energy onto the road. Gortat is averaging a double-double (11.1 points, 11.6 rebounds) this season, but it's still not enough. They'll need to add another piece or improve the bench, at the very least.
Nov 25, 2016; Orlando, FL, USA; Mandatory Credit: Reinhold Matay-USA TODAY Sports
3. The Wizards need some solid bench production
The Washington Wizards starters are all averaging double figures. Production from the starting five of John Wall, Bradley Beal, Marcin Gortat, Markieff Morris and Otto Porter isn't the issue. The real issue is depth and quality bench production.
The Wizards bench ranks 29th in points per game (24.0), 30th in rebounds per game (10.3) and 20th in shooting percentage (42.6). The Washington bench has been abysmal for them so far through 29 games.
Back on Dec. 6, when point guard John Wall scored a career-high 52 points in their 124-116 loss to the Orlando Magic, the bench combined for just 22 points. The Magic bench scored 73 points.
Granted, the absence of Ian Mahinmi has hurt them some. The Wizards have gotten relatively nothing from reserve centers Jason Smith and Andrew Nicholson.
Smith is averaging 3.4 points and 2.3 rebounds in 10.3 minutes of play. He's appeared in 28 games. Nicholson is averaging 2.9 points and 1.3 rebounds in 9.3 minutes of play. He's appeared 21 games for the Wizards.
If they want to make the playoffs, they'll need to find more quality production from their bench.
Dec 26, 2016; Washington, DC, USA; Mandatory Credit: Geoff Burke-USA TODAY Sports
2. John Wall needs to get Otto Porter Jr. some shots
Last season, the Washington Wizards ranked 13th in the NBA in 3-point field goals made and 14th in 3-point attempts. This season, the Wizards rank 27th in 3-point attempts and 28th in 3-point field goals made. With a roster built for small ball, this is a hard stat to look at.
Granted, the Wizards are averaging 22.2 three-point shots per game, which isn't too far off last season's average of 24.2. But they've still got some adjustments to make under new head coach Scott Brooks.
Forward Otto Porter Jr. is having a career season. He's averaging a career-high 14.1 points and shooting 43.5 percent from the three-point line. Porter is seeing a spike in scoring despite attempting just 3.8 three-pointers per game. Last season, he shot 3.6 three pointers per game.
The problem is keeping Porter involved in the game. Porter Jr. has scored 30 points twice this season and the Wizards are 2-0 in those games. But yet, the Wizards still struggle to find shots for Porter Jr. at a consistent clip.
In the last 10 games, Porter is averaging 13.7 points, 5.6 rebounds, 1.1 assists and a steal per game. Hopefully, the Wizards have taken note of Porter's recent performance against Milwaukee. He scored 32 points and grabbed 13 defensive rebounds in the 107-102 victory on Dec. 26.
Dec 10, 2016; Washington, DC, USA; Mandatory Credit: Brad Mills-USA TODAY Sports
1. John Wall needs another solid big man to play with
The Wizards have really struggled to surround John Wall with a solid paint presence, but it shouldn't discourage them from searching still. They'll need to make a move soon, whether through trade or a veteran signing, in order to add a significant piece.
Trading John Wall should not be on the table.
John Wall is having a great season. He is averaging 23.3 points, 9.9 assists, 4.4 rebounds and 2.3 steals per game for the Wizards. He is shooting a career-high 45.8 percent from the floor this season.
Trading John Wall, with these numbers, would ruin any success the Wizards have built with him on the floor.
More from Hoops Habit
In games won, Wall scores 21.6 points per game. In games lost, he scores 24.9 points per game. In games won, Wall dishes out 10.4 assists per game. In games lost, he dishes out 9.3 assists per game.
He's shown his ability to be a floor general, now he just needs a post presence to complete his arsenal.
Kenneth Faried of the Denver Nuggets fits their style of play as does DeMarcus Cousins. The Wizards would be wise to knock on either team's door to see if any possible trade scenarios can occur.
Faried has played well of late in a reserve role for Denver. He is averaging 10.4 points, 7.0 rebounds and 1.0 block in his last five games.
Sacramento Kings center DeMarcus Cousins has played out of his mind in his last five appearances. He is averaging 34.2 points, 8.2 rebounds, 3.2 assists, 1.8 blocks and 1.6 steals in his last five games.
If the Wizards can find a way to bring Boogie or The Manimal (Faried) to Washington, they could become a force to be reckoned with.
---
---