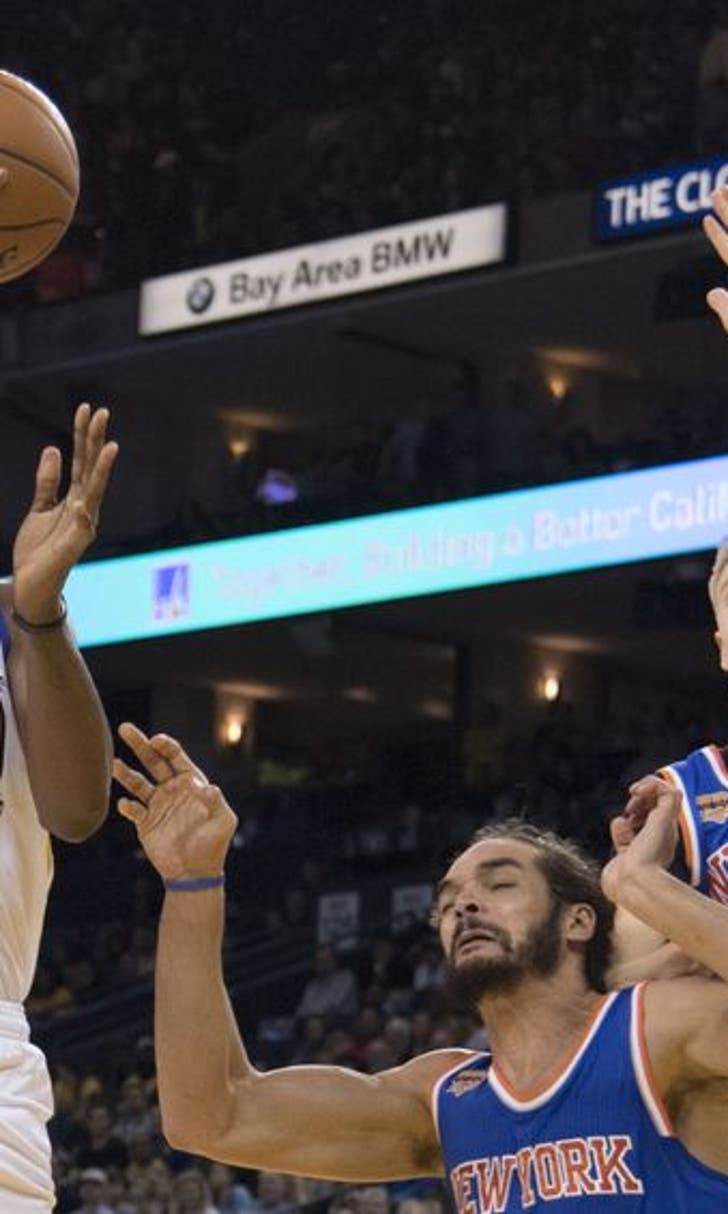 Warriors win battle of the super teams
BY Fansided and Carlos Murillo/FanSided via Blue Man Hoop • December 16, 2016
The Golden State Warriors defeated the New York Knicks with their incredible ball movement, winning the battle of the super teams.
The Golden State Warriors managed to win the Battle of the Super Teams…kind of. The New York Knicks were without Carmelo Anthony and Derrick Rose in this one. Timberlands everywhere filled up with tears as the Dubs cruised to a 103-90 victory.
The Warriors won this game with their ball movement. It was impeccable throughout the night. The ball hopped around effortlessly as Golden State finished with 41 assists on 45 field goal attempts. The team had a streak of 36 straight assisted field goals.
Golden State's attack was balanced. They had a few players come close to tallying a triple-double. Kevin Durant had 15 points, 14 rebounds, and 8 assists. Steph Curry had just 8 points, but added 10 rebounds and 8 assists. Draymond Green had 5 points, 11 rebounds, and 7 assists.
Klay Thompson led the way with 25 points on 10-17 shooting. JaVale McGee, starting in place of the injured Zaza Pachulia, had an exciting 17 points. It was a nice boost for the Dubs who mostly shot poorly.
Ahead of the game, the Knicks' young superstar Kristaps Porzingis called out his matchup with Green. He made special note of what it meant to him and how he wanted to best the Warriors' All-Star. He finished with 8 points and 5 rebounds on 4-13 shooting. It's safe to say Green took it personally.
There were circumstances that were bigger than basketball surrounding this game. Curry wore two special pairs of Under Armour shoes dedicated to the victims of the tragic warehouse fire in Oakland. The shoes will be auctioned off and the money will be donated.
The NBA world stopped and mourned collectively today after the news that beloved reporter Craig Sager passed away. It was truly heartbreaking, but Sager's legacy will be honored forever. He was truly one of the great individuals in sports.
Before the opening tip, Steve Kerr addressed the crowd. Both teams stood behind him on the court and everyone engaged in a Moment of Joy, rather than a moment of silence. Kerr said it's how the energetic and positive Sager would have wanted it. It's hard to disagree with that.
The Warriors improved to 23-4. They'll host Damian Lillard and the Portland Trailblazers on Saturday, but they might be without David West who suffered a right hip contusion in this one.
More from Blue Man Hoop
This article originally appeared on
---
---