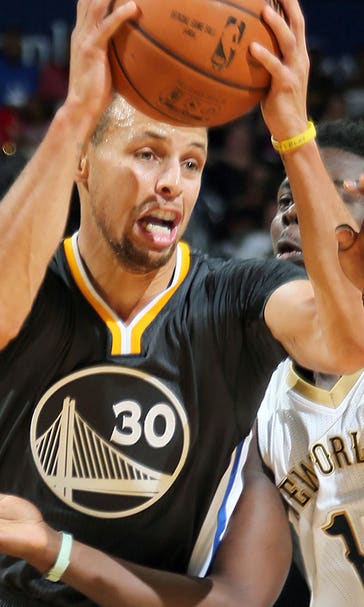 Warriors' Curry drops 53 on Pelicans, including 28 in one quarter
October 31, 2015

NEW ORLEANS — Stephen Curry couldn't get the smile off his face as he trotted back on defense.
He had just buried a 31-foot rainbow over 6-foot-10 Anthony Davis — a play he later referred to as "a dumb shot that went in."
"Everybody's having fun," Curry recalled. "I'm laughing at myself for taking the shot."
That's what it's like for a player who can't seem to do anything wrong.
Curry scored 53 points, breaking open a tight game with a 28-point third quarter, and the unbeaten Golden State Warriors defeated the winless Pelicans 134-120 in New Orleans' home opener Saturday night.
Curry outscored the Pelicans by two points in the third period, giving the reigning NBA MVP a career high for scoring in a quarter. It also gave the Warriors a 105-91 lead, allowing Curry to rest for much of the fourth quarter.
"I've always had confidence. You just get better as a player and try to take it to another level. So that's what I'm trying to do this year," Curry said. "I'm blessed to be healthy. I'm feeling pretty energetic, pretty strong out there on the floor, playing free, just having fun, so usually good things happen when all that comes together."
If he had played more than 36 minutes, he might have shattered his game career high of 54 points. As it is, he's now the first player since Michael Jordan in 1989-90 to score 118 points in his team's first three games. That total included 25 in a victory in Houston on Friday.
"He completely took the game over," Warriors forward Draymond Green said. "The second night of a back-to-back, it's easy to say, `Ah, we ain't got it. We're tired.' Not the way he took the game over."
Curry was 17 of 27 from the field, including 8 of 14 from 3-point range, to go with nine assists and four steals. Five of his 3s were from between 27 and 31 feet. He also caused New Orleans problems with creative, weaving dribbles into the heart of the defense for driving layups.
"He's getting to the hole a lot better, picking and choosing his spots when to go. He's turning the corner like crazy," Green said of Curry. "Most importantly, I said it on the court to him, I said, `Man, you're acting like this is your league.'"
Green scored 21 points and Klay Thompson added 19 for defending champion Golden State, which has won its first three games this season.
Davis had 26 points, 15 rebounds and two blocks for the injury-depleted Pelicans, who have lost their first three games under new coach Alvin Gentry. Two of the losses have come against Golden State, where Gentry was an assistant last season.
"I have to find a way to get through to these guys so that we move the ball more. I thought we were very stagnant offensively," Gentry said. "... I thought we played a little selfish offensively, to tell you the truth."
TIP-INS
Warriors: While the Warriors are renowned for their fast pace of play, they were called for a delay of game twice in the first quarter. ... C Andrew Bogut (concussion) missed his second straight game.
Pelicans: Kendrick Perkins, who started at center, came to the bench in the first quarter with what team officials said was a pectoral strain and did not return. ... Guard Toney Douglas made his season debut, a day after being re-signed. He scored 17 points.
SHORT-HANDED
While the Pelicans got Omer Asik (right calf) and forward Luke Babbitt (left hamstring) back from injuries, they remained without guards Tyreke Evans (right knee) and Norris Cole (left ankle sprain), as well as forward Quincy Pondexter (left knee).
"The injuries are the thing that knocked everything off track," Gentry said. "Hopefully we get everybody back eventually and we're not going to panic. We don't think that we have the wrong system."
Jrue Holiday, who has begun the season on minute restrictions as he works his way back from a lower right leg injury, scored 22 points in nearly 27 minutes against the Warriors.
DEFENDING DANTE
Warriors interim head coach Luke Walton said he does not view Pelicans forward Dante Cunningham as a dirty player. Cunningham was involved in the collision that resulted in Bogut's concussion last Tuesday night. Last season, Cunningham caught Harrison Barnes of the Warriors with an elbow to the face, causing a nasal fracture, chipped teeth and a cut in Barnes' mouth.
"There are some players that just play in a manner where they're always involved in collisions, and I think that's more (the case with) Dante than of actually being a dirty player," Walton said.
UP NEXT
Warriors: Host Memphis on Monday.
Pelicans: Host Orlando on Tuesday.
---
---