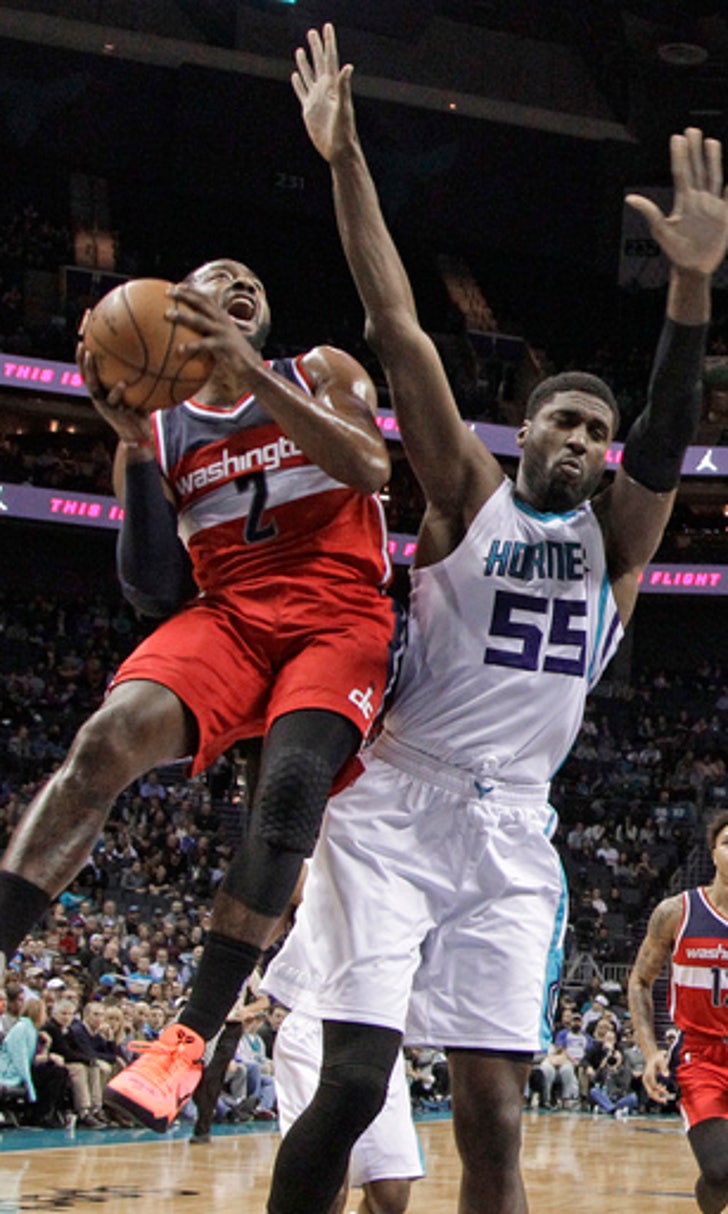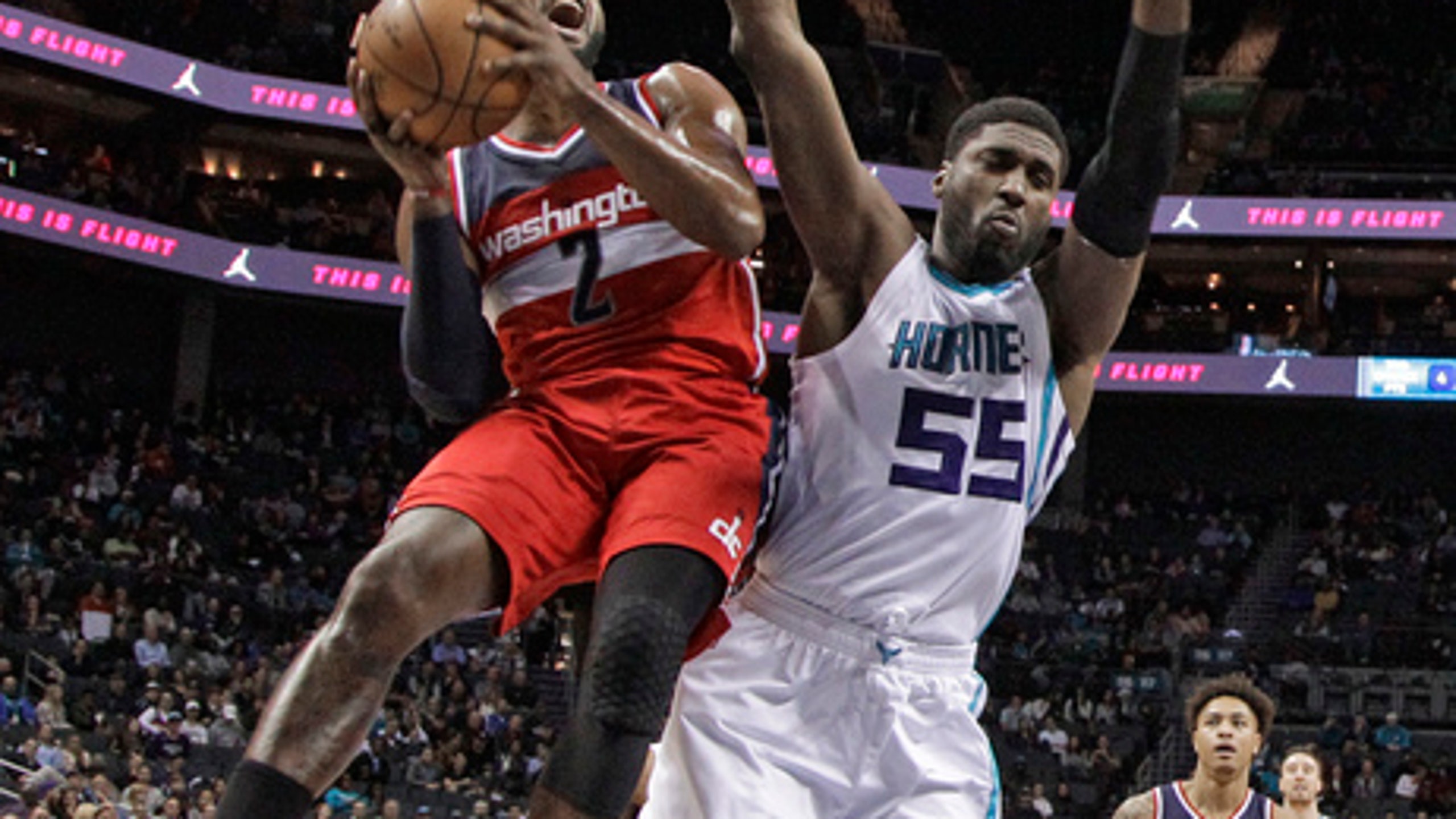 Wall scores 24, leads Wizards past Hornets 109-99 (Jan 23, 2017)
BY AP • January 23, 2017
CHARLOTTE, N.C. (AP) John Wall firmly believes the Washington Wizards are a good team with plenty of playoff potential.
The key, he said, ''is we just got to believe it every time we step on the court.''
Wall had 24 points and seven assists, and the Wizards looked plenty confident as they continued their run up the Eastern Conference standings with a 109-99 win against the Charlotte Hornets on Monday night.
Markieff Morris added 23 points and eight rebounds as Washington won for the fifth time in six games.
''It was a big game for us,'' Wall said. ''We are playing defense and moving the ball. We're improving. We're improving a lot of ways. ''
Otto Porter Jr. was active all night with 14 points and 13 rebounds for his seventh double-double of the season. Bradley Beal made four 3-pointers on his way to 18 points, helping the Wizards shoot 54 percent from the field while the Hornets struggled to stop the pick and roll.
Washington also held Charlotte to 39 percent shooting.
The Hornets had won nine of their last 10 home games, but the Wizards jumped on them early. Washington (24-20) shot 57 percent from the field in the first half and led 60-48 at the break.
Charlotte (23-22) pulled within five early in the fourth quarter, but the Wizards responded with an 11-0 run capped by a steal and breakaway jam by Kelly Oubre Jr.
''We waited way too long to really pick things up tonight,'' Hornets guard Kemba Walker said. ''The game was over when we really tried our hardest and you know it can't be that way. We kind of reverted back to the way that we've been playing, playing in spurts, making a lot of mistakes that we haven't made in the last three games before tonight. It hurt us tonight.''
TIP-INS
Wizards: The Wizards have won their last three against the Hornets, including both games this season. ... Improved to 12-2 when shooting better than 50 percent from the field. ... Wall registered his 25th 20-point game of the season.
Hornets: Walker picked up a technical foul in the second quarter for arguing a call after a frustrating start in which he opened the game shooting 1 of 9 from the field. ... Outscored Wizards 40-22 in bench points. ... Walker has now made 1,515 free throws as a Hornet, passing Larry Johnson for second all-time.
NOT PHYSICAL ENOUGH
For the second time this season, Hornets coach Steve Clifford expressed frustration over his team's lack of physicality against the Wizards.
''It was the biggest part of the game,'' Clifford said. ''We've got to regroup.''
DEFENDING KEMBA
Walker had 21 points for the Hornets, but only made 7 of 24 shots from the field. Wall and the Wizards big men kept him bottled up most of the night.
''He's having an All-Star year,'' Wizards coach Scott Brooks said. ''I thought John and our bigs did a good job of making him miss shots. He missed a couple of looks that he probably would make. He's as hard to guard as anybody in this league and he's playing very well.''
Added Wall: ''He got some good looks but our bigs did a good job in the pick and rolls of challenging him.
BEAL STEPS UP
Beal, who was drafted third overall in the 2012 NBA draft, one spot behind Charlotte's Michael Kidd-Gilchrist, has struggled shooting the ball of late. He was just 6 of 16 overall against Charlotte, but Brooks said his teammates haven't lost confidence in him as a scorer.
''You're going to go through stretches of the season where you're not going to shoot the ball well,'' Brooks said. ''It helps when you have teammates that are going to continue to believe in him and believe in each other. Sometimes it takes a shot to change your mojo.''
UP NEXT
Wizards: Host the Boston Celtics on Tuesday as part of a road back-to-back.
Hornets: Things get tougher on Wednesday when the Hornets host Steph Curry and the Warriors in his annual homecoming game.
---
---